Check out these top 7 best virtual machine for Mac in 2023 to run Windows, other operating systems, and Windows apps on Mac.
Software that emulates different operating systems on a computer is called virtual machine software. This allows a computer to run programs and deploy applications within other Operating systems. Using a virtual machine you can run an instance of Windows on macOS or vice versa. Additionally, it enables users to run a variety of operating system combinations, such as Linux, Solaris, etc. It adds advanced features and enhances the performance of your OS. Many users have queried about finding the best virtual machine apps for Mac. Although there are a lot of alternatives available online, we have curated a well-researched list for our users on which free virtual machines on Mac can be used.
The manufacturers in the virtual machine industry have made some software available for free, while others provide free trials that can be used before making a purchase. In this article, we have elaborated a list of the best virtual machine for MacOS. So without any further ado, let's begin.
Best Virtual Machine for Mac in 2023
The following part of our guide offers a detailed description of the best virtual machine for Mac. Go through the complete list and pick the best option for your Mac or Windows virtual machine software for Mac.
1. QEMU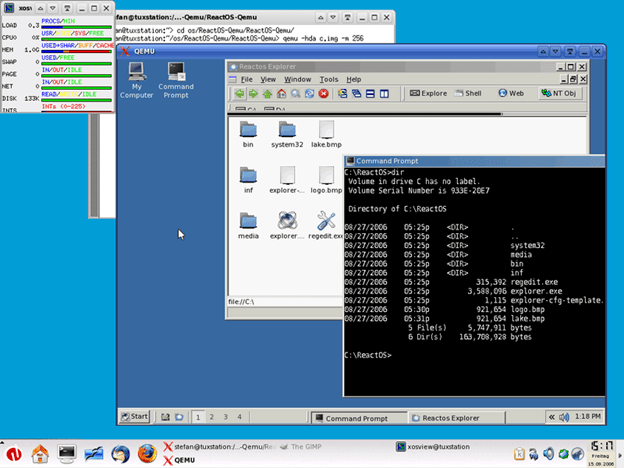 The first one on our list of best virtual machine software for Mac is QEMU. It is a generic open-source machine that can also perform the functions of an emulator and virtualizer. Despite being able to run a wide variety of operating systems, at the moment it can only host on Linux.
If the product is similar to existing virtual machine solutions, but has some different characteristics, it may function as both a computer emulator and a virtual machine host. QEMU is capable of emulating a wide variety of computer architectures, including SH4, RISC-V, ARM, SPARC, ETRAX CRIS, x86 PCs, MIPS64, PowerPC, ARM, etc.
This virtual machine for Mac accomplishes emulation with these architectures without the need for administrative privileges, and the performance of the operating VMs is comparable to that of the native installs. Instead of advanced interface resources, QEMU relies on inputs from the command line interface (CLI) in order to install and configure the machine users.
Also Read: Best Nintendo DS Emulator for Windows and Mac
---
2. Citrix Hypervisor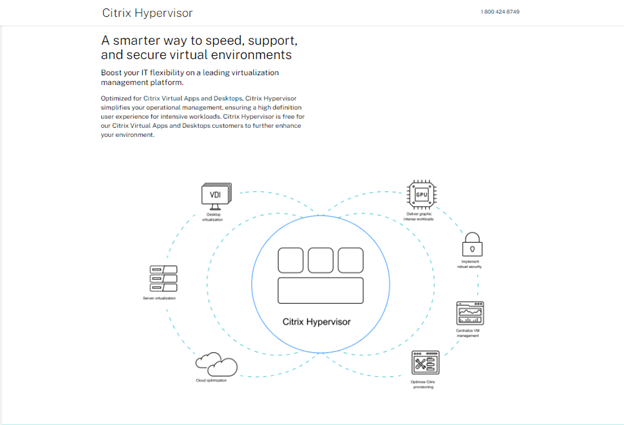 Citrix Hypervisor's open-source software can now be downloaded for free and installed without any further cost. This makes it our next choice for best Mac virtual machine on Mac. Although, basic version is free, the premium editions are the only ones with access to the advanced features. Customers are charged a fee in exchange for access to specialized management tools.
These advanced tools of virtual machine software for Mac have the ability to automate and distribute live environments at the customer's discretion. In addition to this, it offers GPU pass and virtualized GPU capabilities, which can be used to market products such as virtualized CAD.
A second objective of this free virtual machine for Mac is the development and parallel maintenance of the virtual data center. Also, this VM on Mac can easily handle both planned and unplanned interruptions of service.
---
3. VMware Workstation Player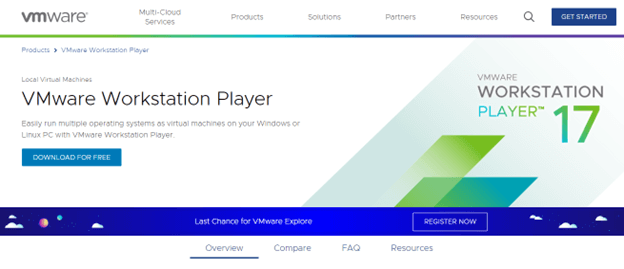 The next on our list of Virtual machine for Mac is VMware Workstation Player. It offers an exceptionally wide variety of virtualization products, including Workstation Player for Microsoft Windows and Fusion for Apple Mac computers.
Despite the fact that their names are different, these two products offer the same effective solution. In the case of Mac, which has a functional "Unity Mode," which enables Mac OS to run Windows applications from the Dock while giving the appearance that they are part of the host operating system.
Windows or Linux Workstations Player can be used without paying any cost. However, In order to operate restricted virtual machines that were created using Pro or Fusion Pro, business customers are required to have the Pro version of the software.
Get VMWare Workstation Player Here
Also Read: Best Free Scanning Software For Mac
---
4. Windows 365 Cloud PC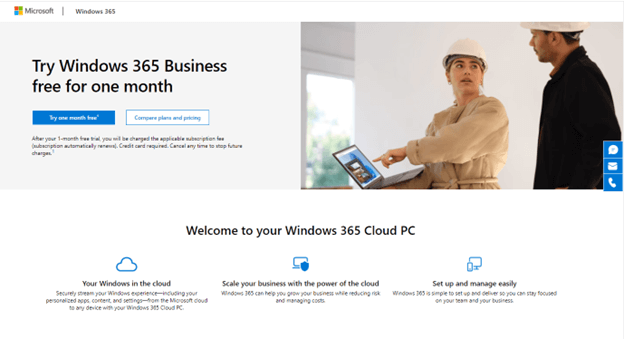 Windows 365 may prove to be a formidable competitor to a more established Virtual machine for Mac. This is because Windows 365 possesses the potential without any extra effort. However, at present, Windows 365 is fairly pricey, and it is geared mostly at large corporate users.
This free virtual machine apps for Mac operates on servers that are hosted by Microsoft. After that, the video picture of the Windows desktop that is stored on your cloud PC is streamed to your Mac – or any other device, such as an iPad or even another Windows PC – via your broadband connection. In its marketing materials, Microsoft refers to Windows 365 as a Cloud PC; however, the company's technical details make it abundantly obvious that it is a type of virtual machine.
In order to run Windows or apps, these Windows Emulators for Mac utilize the processing power, memory, and storage space that are native to your Mac. However, this Virtual machine apps for Mac is out of the price range of many home users, students, and owners of tiny enterprises.
---
5. Parallels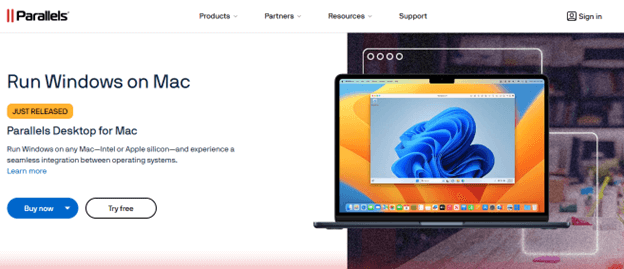 Boot Camp is a free utility that Apple provides for practically running a session of macOS; however, users that need to run multiple operating systems on their computers typically utilize Parallels. This Virtual machine software for Mac is now owned by the software giant Corel.
When users need software that is only compatible with that platform, it enables them to run Windows in a seamless manner. The ability to interact with a single clipboard and to display Windows alarms in the Mac Notice Center are two of the slick features of this Mac virtual machine.
This Windows VM on Mac not only enables users to use Windows VM but it can also be configured to run a wide range of Linux distributions, Chrome OS, etc.
Also Read: Best Download Managers for Mac
---
6. VMWare Fusion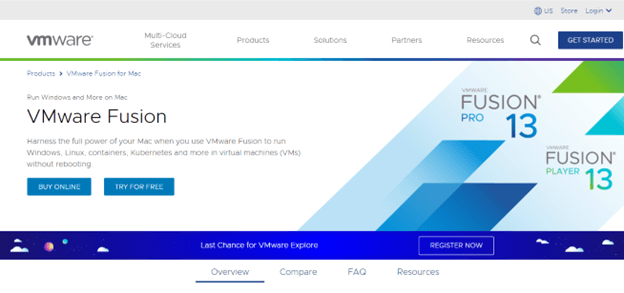 Over the course of several years, VMware Fusion and Parallels Desktop engaged in a closely contested rivalry, consistently delivering timely updates and vying for dominance to become the best Virtual Machine for Mac. In recent years, VMware's attention towards Fusion appears to have diminished, resulting in Fusion falling slightly behind. In fact, locating Fusion on the VMware website now requires some effort.
In July 2023, VMware, a trusted mac virtual machine, made an announcement regarding Fusion, where they released a tech preview of an upcoming update. This update is expected to bring performance improvements specifically for Macs equipped with Apple Silicon. In November 2022, Fusion version 13 was released, introducing the addition of ARM virtualization support specifically designed for Apple's M1 and M2-series chips.
Similar to Parallels (virtual machine for Mac), the Arm version of Windows is exclusively compatible with M-series Macs. Regrettably, the process of installing the Arm version of Windows through VMware is not as straightforward as it is with Parallels. VMware has informed us that users are responsible for purchasing a license from Microsoft, which poses a difficulty since it is not readily accessible to individual users.
---
7. CrossOver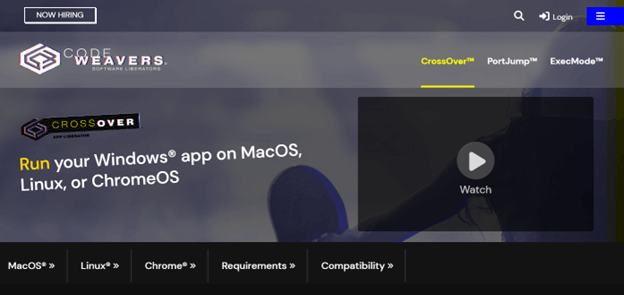 CrossOver is a Virtual Machine for Mac that is built upon the foundation of WINE, which is a compatibility layer. It employs a comparable compatibility layer to facilitate the execution of Windows applications on Mac systems, eliminating the need for a complete installation of the Windows operating system.
Despite being a free and open-source program, WINE is often deemed too complex for non-technical users. To address this issue, the team at Codeweavers created CrossOver as an alternative solution. In addition to offering technical support, they assist users in installing a diverse range of Windows games and software.
On the other hand, this virtual machine software for Mac should be noted that availing technical support for CrossOver comes at a cost. A single copy of CrossOver, accompanied by 12 months of support, can be obtained for $64.
Alternatively, users have the option to opt for lifetime support by paying $494. Additionally, users have the option to take advantage of a 14-day complimentary trial period, allowing them to thoroughly evaluate the compatibility of the software with their Windows operating system prior to making a purchase decision.
Also Read: Best Free Terminal Emulator for Mac
---
Best Free Virtual Machine Apps for Mac: Concluded
That was it. We hope the above guide on the best Virtual Machine for Mac helped you with your concerns or requirements. All these Windows VMs on Mac are 100% reliable and hence you can pick any of the suitable alternatives for your device.
Do let us know in the comments section if you come across any questions or suggestions. Also, for more Mac and Windows guides don't forget to subscribe to our blog.
Akshara is an Engineer turned Technical Writer. She is a tech reader who aims to deliver the best of her knowledge to the readers without complicating it. If not writing you can find her in the kitchen, because no place serves the good tea.
Subscribe to Our
Newsletter

and stay informed

Keep yourself updated with the latest technology and trends with TechPout.
Related Posts