Are you searching for the best download manager for Mac? If yes, then your search may end here. In this blog post, you will find 10 leading download management tools that can help you download and manage the downloaded files. Read more for complete details!
Downloading any audio, video, or any kind of document/file from the web browser is certainly a quick way but sometimes you want a little bit more from what has been already available on your Mac. Isn't it so? Well, it contains download managers which are specially designed for making the process of downloading large movie files, video games, apps, books, music, and torrents pretty much easier.
Not only download the documents/files directly, but download managers also offer a good variety of customization features for automation. With all that, they save your time & ample space on your hard drive by enabling you to choose what downloads should be running, & which ones need to be stopped/paused.
A plethora of download manager options are available in the market, both free and paid versions, but this article is only dedicated to providing you with the best ones. Continue reading!

A List of 10 Best Download Managers for Mac
After a thorough analysis, we have shortlisted the 10 top download managers you can use on your macOS. Check them out below:
1. Folx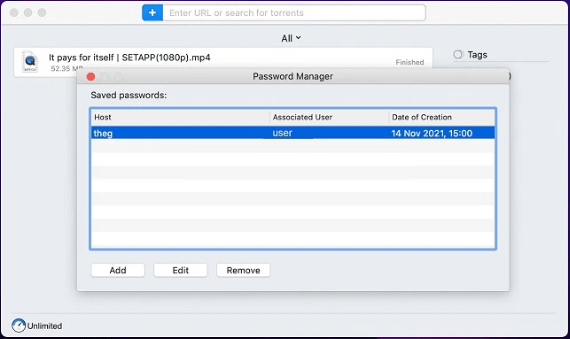 One of the popular applications for downloads. Most Mac users love this application for its good range of advanced features, ease of use, and compatibility with Apple's every operating system. This Mac download manager already boasts a Mac-style user interface with several convenient tagging features in order to save your download files conveniently.
Folx has a free version as well as a pro version. The free version of this download manager for Mac contains all the basic features and is perfect for those who do not prefer to download files from the internet frequently. But with the Pro Upgrade, you can access all the advanced features of Folx including password saver, built-in torrent search, smart speed control, and a lot more. The icing on the cake is – Folx works with all the popular web browsers like Google Chrome, Safari, Opera, and Firefox. In sum, if you are searching for a powerful and easy-to-use download manager for Mac, then Folx is definitely worth considering.
Also Read: Best Download Managers for Windows PC
---
2. JDownloader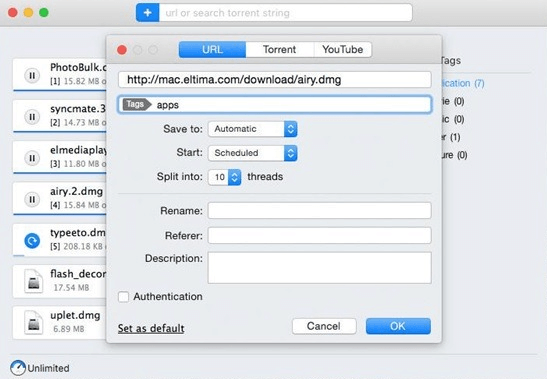 JDownloader is an open-source and completely free download management tool that makes the downloading process as simple and fast as it should be. With this tool, users can stop, start, or pause downloads, auto-extract archives, set bandwidth limits, and more.
The software can also be run on macOS Catalina & can easily be modified with easy coding features to function properly on any machine. The only drawback of this download manager for Mac is, it gets a little slow during the startup, and sometimes shows ads as well. With JDownloader, you can download numerous files at once with multiple connections. The tool has its own robust OCR module,  24/7 technical assistance, and multilingual support.
---
3. iGetter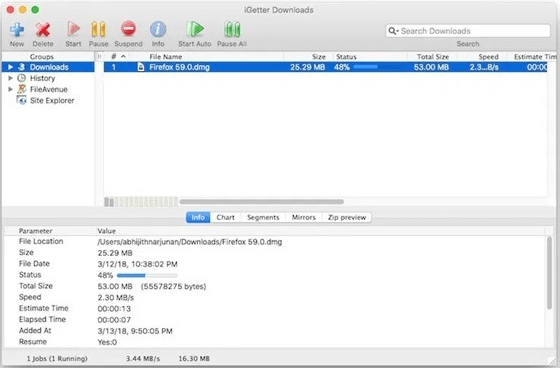 Another best download manager for Mac that you can use is – iGetter. It is a popular and entirely free-to-use application that can effortlessly integrate with your machine. The customization level of this tool is a big plus point as users can easily customize all the possible preferences such as connection timeout at a single location, download scheduling, and download speed on their own terms.
Some additional features incorporate built-in Site Explorer, File-Avenue support, and Site Manager. It is one of the most deserving full-featured download managers and accelerators. Apart from this, iGetter also enables auto resumes on broken downloads, auto shutdown/sleep on completion, download scheduling for low-traffic spells, and a lot more. If you are looking for a freemium and lightweight download manager for Mac, then iGetter is a perfect fit for you.
---
4. Ninja Download Manager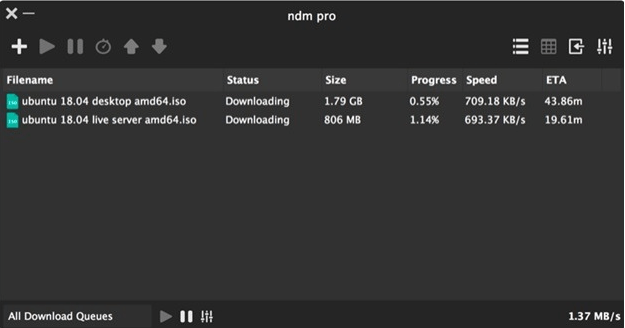 Next on this list of best download managers for Mac is Ninja Download Manager (NDM). The tool provides you with blazing-fast downloads as it can easily connect with multiple connections simultaneously. Plus, you can add various files that you want to download and start later.
Download scheduling, pause & resume downloads, sequential file writing, drag & drop, download queues, and full-speed control makes Ninja an excellent choice. Unlike others, this download management program comes with a built-in password manager which could securely keep a log of numerous sites' login credentials. However, it does not offer a free or trial version. But, investing in software like Ninja actually makes sense.
Also Read: Best Free Alternative of Internet Download Manager
---
5. Progressive Downloader
A lightweight and simple-to-use interface makes this download manager for Mac an ideal choice for users. Progressive Downloader is packed with rich features like scheduling downloads, pause & resume functions, and much more.
Apart from that, it also has a special clipboard-based download function. And, you can also use this tool for organizing content over FTP. It has integrated with all popular web browsers like Google Chrome, Safari, Mozilla Firefox, Yandex Browser, and more. Additionally, it comes with a built-in SFTP/FTP browser to control all your remote resources.
---
6. Xtreme Download Manager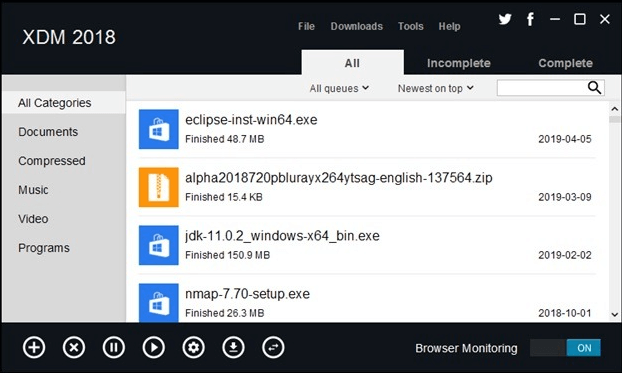 Xtreme Download Manager is another finest download manager for Mac that you can consider. As claimed by the organization, this tool can maximize the download speed by up to 500%, and boost overall productivity. What's more, the program can easily convert streaming videos from different platforms including Vimeo, Dailymotion, and YouTube. It can also integrate web browsers such as Opera, Vivaldi, Chrome, and Firefox.
---
7. Leech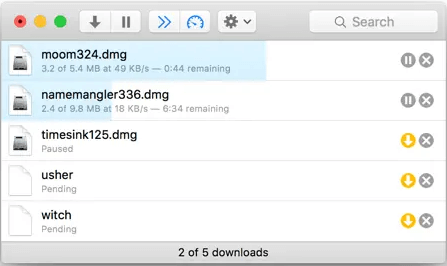 Last but not least, Leech is another great download manager for Mac that is highly capable of quick and smooth integration into your web browser. Furthermore, it is extremely easy to use, and you only need to drag & drop the URL in the download area and the rest is assured by the software.
Using the tool, you can set bandwidth limits or extend the same, and control the scheduling, and downloads. Its simple user interface is a significant aspect for newbies. Comparatively, Leech doesn't provide better services than others mentioned in this list. Do note that Leech may not work accurately with file hosting services that utilize custom authentication methods.
Also Read: Best Task Management Apps for Mac
---
8. Maxel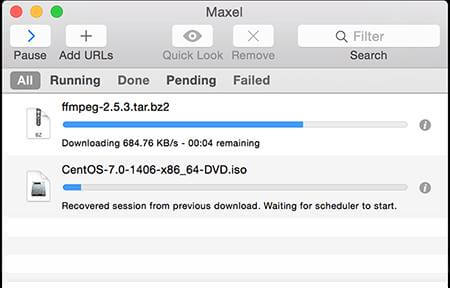 Here comes another Best Download Manager for Mac in 2023 i.e Maxel. The major purpose that is resolved by using Maxel is to offer ease in using the CPU and managing it. Apart from this, it also saves your files so you may revisit them later, extract links from them, and download larger items automatically. Additionally, it also speeds up your downloads.
Maxel operates in the manner of a Mac App, with familiar and easy keyboard shortcuts, Quick glance, and other features. Thus it's simple in its operation and even on your CPU.
---
9. Neat Download Manager for Mac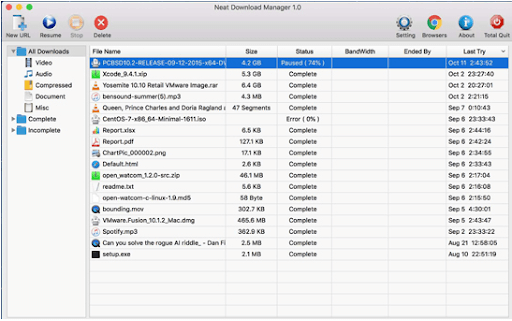 If you are looking for a free download manager for macOS, then Neat Download Manager is an ideal option for you. It uses an optimized dynamic segmentation advanced algorithm to deliver the best results. Additionally, the download manager speeds up your downloads up to your total available Bandwidth. Also, it organizes your downloads based on the File Type and Download Status.
Neat Download Manager for Mac supports HTTP. HTTPS, HTTP Proxy, SOCKS, and FTP protocols. It comes with simple drag-and-drop functionality and also allows you to set Bandwidth limits on your downloads even when downloading is in progress. In sum, it is the best download manager and accelerator for macOS that you can try.
---
10. Download Shuttle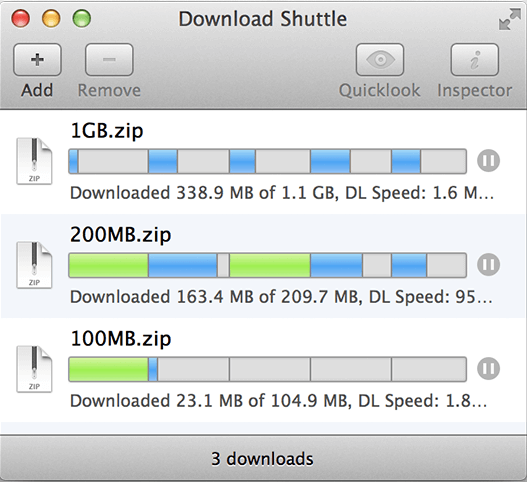 Download Shuttle is an excellent downloader for Mac that you can use. It allows you to pause & resume downloads whenever you like, and it automatically captures clipboard content when you copy and paste. Download Shuttle is another service that offers quick downloads thanks to its segmentation of the file being downloaded. However, some users have reported that this extension does not function properly in a variety of browsers; therefore, you should check to see if it is compatible with your browser.
This download manager for Mac is also compatible with files that require a password. This is completely a free-to-use program and the extensions available on this platform make it one of the most effective download managers available for Mac.
---
Final Words on Best Download Manager for Mac in 2023
We think that the above-shared applications would help users download all types of files they need on their Mac. Most of the apps are completely free to use however some offer paid versions. Although, you can use the free version for basic downloading features, but if you wish to get the most out of them, then you should rely on the premium version.
Whichever download manager for Mac you will choose, it will help you in the best way possible to store your downloaded files. That's all! Hopefully, you have liked the information in this guide. Please share your queries, questions, or any better suggestions with us in the comments box below.
Do subscribe to our Newsletter so you never miss an update. Lastly, you can also follow us on Facebook, Twitter, Instagram, and Pinterest.
Harshita Sharma is a technical writer with quite a distinct understanding of the tech realm. She is a tech enthusiast who believes that tech knowledge should reach one and all and tries to convert the sketchy knowledge into the simplest possible form for making people understand the tech world better. When not playing with words, she loves to travel and explore new places. And, is a coffee & cricket connoisseur.
Subscribe to Our
Newsletter

and stay informed

Keep yourself updated with the latest technology and trends with TechPout.
Related Posts