Top 10 Best Twitter Apps for Android in 2020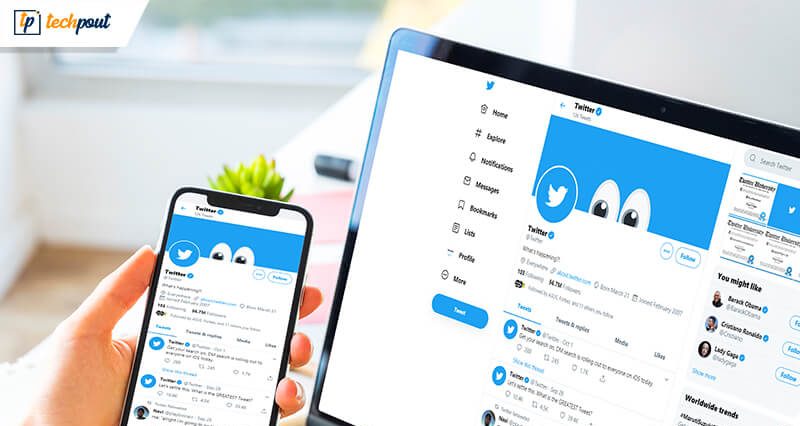 Social media activities form an integral part of smartphone users, Twitter being one of the most used platforms. With millions of users, It serves as the best option for sharing the latest trends and news. 
Twitter wears many hats; it serves as the most popular platform for news, memes, GIFs, personal stories, along with numerous images and pictures. Fortunately, there are tons of Twitter apps for Android which can be used to elevate your overall experience.
With so many benefits adding to its aesthetic beauty, it's essential to find the best Twitter apps for Android.
Here, in this article, we have listed a few incredible third-party apps that can serve as the best replacement for its official app.
What are the Best Twitter Apps for Android Devices: 
1. Official Twitter App
Well, the official Twitter app undoubtedly deserves to be on the top of the list of best android Twitter apps. Despite all the recent allegations, it leaves no stone unturned to give you a desktop-like experience.
This incredible app has a plethora of features to offer which includes mute features, night theme, Twitter footage, moments, and many more. 
It is entirely free of cost and comes with an easy synchronization feature. Use this official app to take your Twitter experience to the next level. 
2. Fenix 2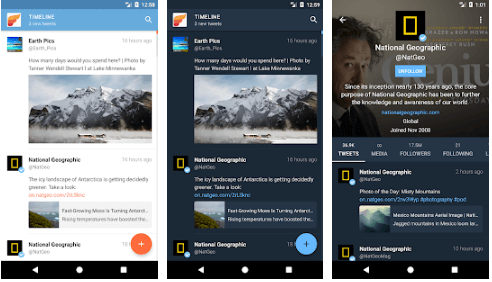 Fenix 2 is a refined and sequel version of one of the third-party Twitter apps. The updated version can support multiple accounts, comes in a supreme design, and has a mute system along with many other functionalities. 
You can also customize its main screen as per your preference and choice. It is a relatively new addition to the list of third party twitter apps for android.
Although it does not come for free, it ensures easy affordability. 
3. Plume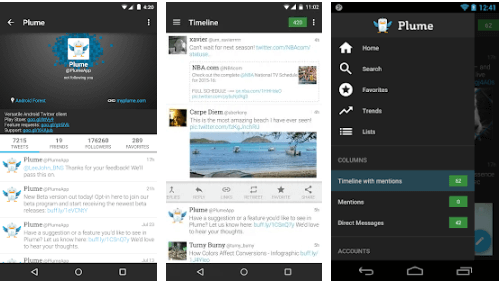 This is one of the oldest yet one of the best Twitter apps for android to consider. It has seen many upgrades in all these years, which has drastically improved its performance. Its latest version uses a Material design based user interface.
Prominent features comprise various functionalities including:
It can be integrated with your Facebook account. 
It can support multiple accounts. 
Includes various customization options. 
It's premium and free version offers a similar list of benefits, besides the one which comes only with its Pro version, the advertising feature.
You can also delete and add columns if required using this stunning application.
4. Twidere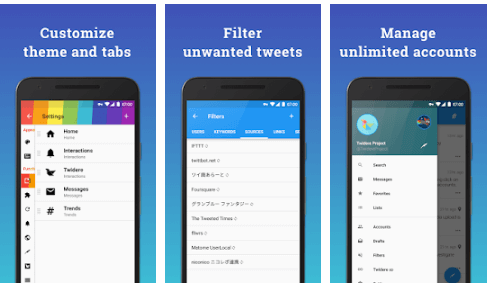 Twidere for Twitter is a relatively new addition to the list of twitter apps for Android devices. However, it's lightweight and simple design adds on to its incredible working.
It comes with an array of benefits, including open-source setup, tweet expansion, and security procedures and uses material design. You can also use its customization and configuration features to give the app a different look and feel.
It comes in both free and pro version; it's premium version comes with a few additional functionalities like tweet cards.
All in all, the app is enough to meet its customers' expectations and keep them satisfied.
5. Hootsuite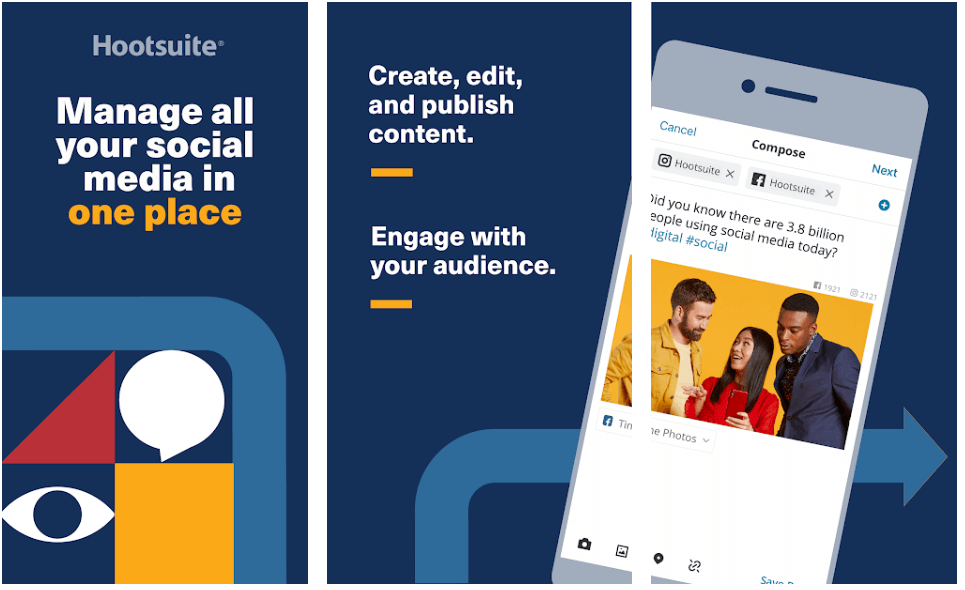 Hootsuite is one of the original Twitter apps that can support multiple accounts, including Facebook, Linkedin, Instagram, Twitter, and many more.
Initially, you might find it a little confusing, but once you are aware of its functionalities, it's like a breeze of air. You can do a lot with this incredible app, get notifications from Facebook and Twitter, post on multiple platforms, and many more.
Opt for its free version if you want the basic features, but if you want the full list of offerings, you will require a subscription.
6. Owly for Twitter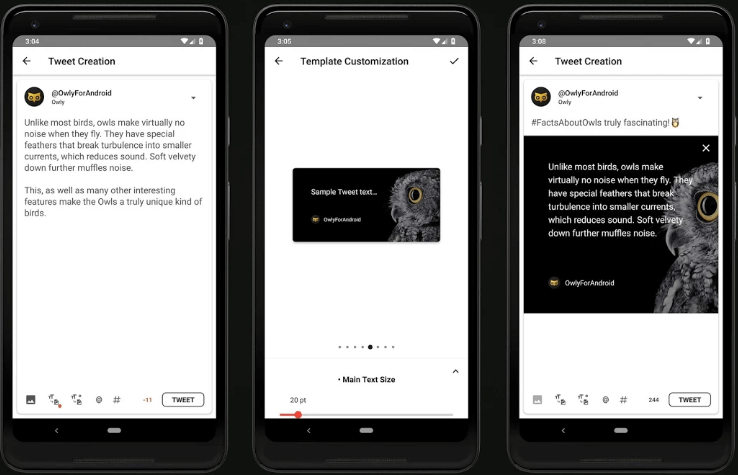 Owly is truly a beautiful and straightforward twitter app for android gadgets. With its massive list of features, you can enjoy a desktop-like experience and stay updated with the latest news and trends.
It can effortlessly perform all necessary functions like tweet search, user search, tweet management, and advanced filtering options.
Overall it's a decent and straightforward application. The app, however, has some scope of improvement.
7. TweetCaster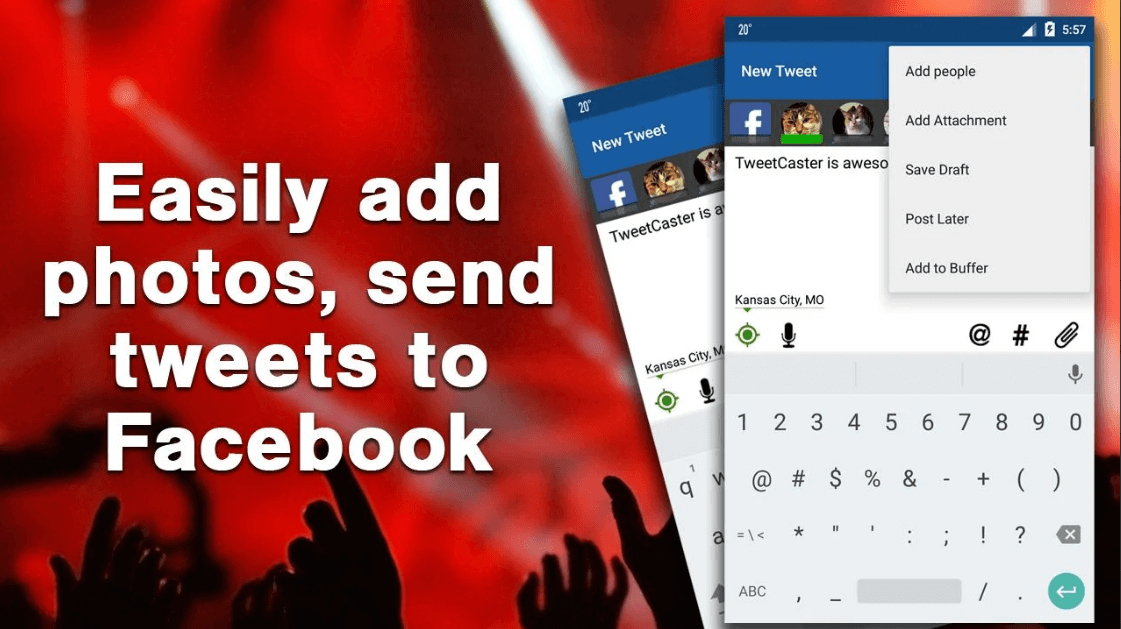 TweetCaster is one of the most loved and best android twitter apps. It is considered as a perfect alternative for the official Twitter app.
This simple to use application is packed with a ton of useful benefits.
You can easily manage multiple accounts with it and post various images with effects and cool features. Use it to check Twitter stats, themes, etc.
8. TwitPane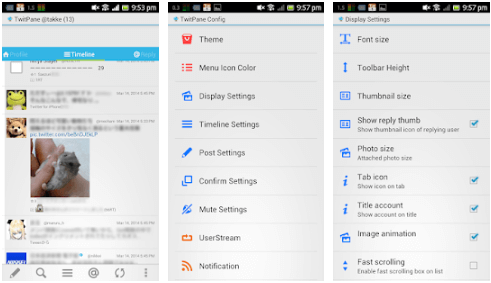 If you are looking for a customizable, lightweight twitter app for your android phone, then TwitPane can be a decent option for you. You will only see the tabs that you wish to see on your main account page.
It also allows you to add and delete various items as per your choice. You can access up to three accounts with its free versions, whereas its paid version gives access to 5 accounts at a time.
9. Talon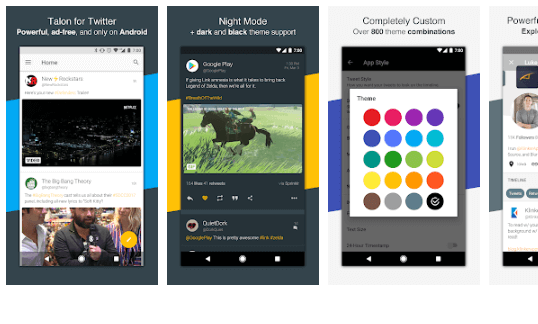 Talon is believed to be one of the first Twitter apps with Material Design, and since then, it has managed to increase its popularity day by day.
It comes with a convenient user interface, night mode, native youtube player, Android Wear support and can support two accounts at a single time.
You can also enjoy quick access to your Twitter account without opening the app. There is no free version, and the app only comes as a paid application.
10. Ubersocial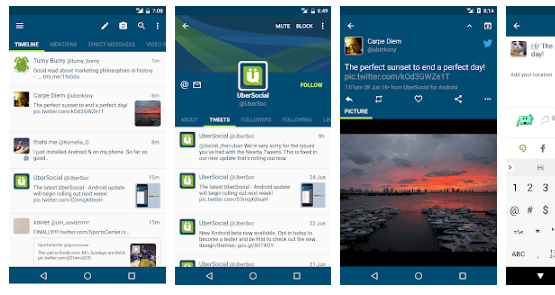 Last in our list of best Twitter apps for Android is Ubersocial. It comes from the developers of the well known Twitter app, Plume. 
Use it to integrate various social media platforms, along with secure posting options. This highly functional app has a lot to offer, which includes multiple account support, conversation views, post muting, and many more.
You can also customize your screen as per your preference.
Conclusion: 
So, this is it. Our extensive list of well researched Twitter apps for Android devices. These apps are equipped with multiple features and offerings. Download one today and start tweeting like a pro.
Image Source: Play Store
Prachi Dani is a technical content writer who specializes in areas of science and technology. She is highly up to date with technological transitions and transformations. Writing is not her passion but the only thing that carries satisfaction in life. If not writing, you may find her engrossed playing action games on her treasured smartphone.
Subscribe to Our
Newsletter

and stay informed

Keep yourself updated with the latest technology and trends with TechPout.
Related Posts