Here's Everything About Secret Facebook Messenger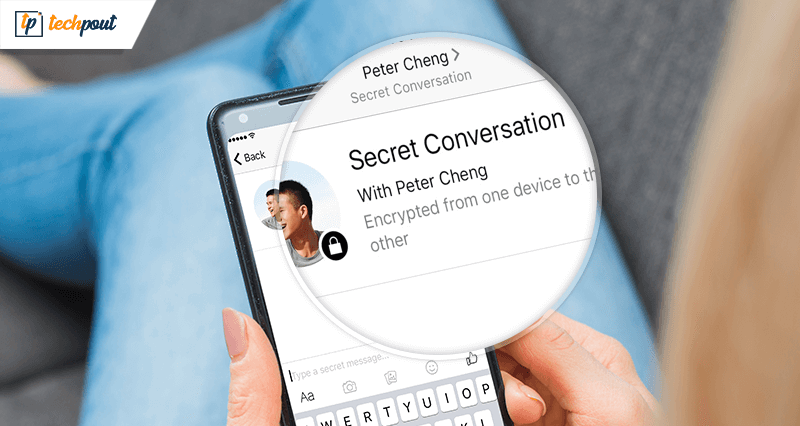 What are Facebook's "Secret Conversations"?
It is not that your messages on Facebook Messenger aren'tsecure, it's just that they are not encrypted from end-to-end (like onWhatsApp).
End-to-end encryption means that nobody can decipher themessages being exchanged between the two parties, not the messenger service,not the hackers, and not even the government. This encryption is a safety guardfor those who need it.
The feature called "Secret Conversations" provides users with device keys that ensure no one can sneak a peek at what they say to each other. It uses the widely-trusted Signal encryption system, developed by Open Whisper Systems.
The chat's on Facebook messenger are usually enclosed in a blue bubble with a blue background. But Secret conversations have a black theme.
Also, it will read 'Encrypted from one device to the other' next to the person's image, signaling that they are engaged in a secret chat.
The messages that are shared are only available to read on the device used to either create or open the conversation.
Secret Conversations also form transient nature to exchanges by allowing the people to control the length of their message visibility. Which means that they can set a limit on all the chats sent. In simple words, it means that you can set a timer for the amount of time the chats will be available for once seen by the receiver (highly inspired by Snapchat).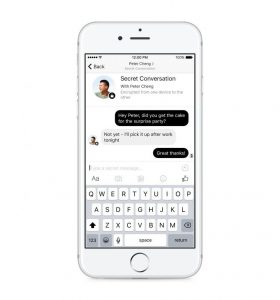 Issues in Parent Zone Viewing:
For parents, there are always safety implications to consider when their child uses any social networking app. It is painfully notable in itself when they create the accounts and utilize them without any straight thoughts.
Now with secret messaging, children can delve into the darkworld of cyberbullying. They can even fall prey to bad things that can affecttheir lives.
And the parents can't even operate their secret accounts from other devices as it would vanish all the previous chats.
How to Use Facebook's Secret Conversations?
Usually, the applications come equipped with automatic encryption of messages (that should always be the case), but Facebook asks its users to turn on the Secret Conversations mode (I don't know why?).
Follow these steps to have encrypted Facebook chats:
Step #1
Go to your Messenger app, and then to your "Me" screen. Just choose the options from there, to opt for Secret Conversations. You'll then receive a message about the mode activation on Messenger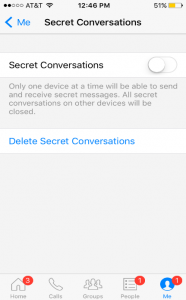 2. The next steps are the matter of actually using the mode for chatting with other people. Just open a new message and tap on "Secret" in the upper right corner, and select the person you want to send the message to. After that, tap on the little clock icon to set or change the timer (the amount of time after which the message will vanish).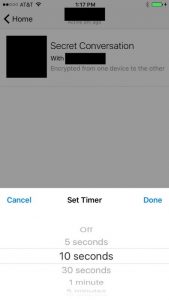 3. And you are ready for your exchange of chats. Happy secret conversing!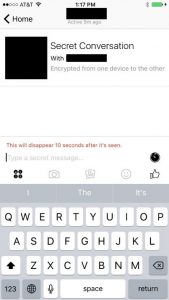 How to Delete Secret Conversation History?
In the case that you didn't turn on the option of instantdeletion of messages, you can delete your conversations. Just tap the profileicon, select Secret Conversations and opt for Delete Secret Conversations. Afterthat, click on Delete All. This way you can clear your secret chats.
But the messages will still be visible to the other party on their devices.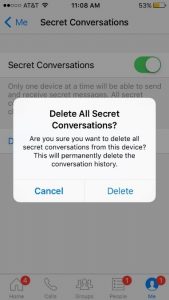 How to Check If Your Messages are Encrypted or Not?
In Secret Conversations mode, both the people have a devicekey.
This key is used to compare and verify the encryptionauthenticity (Facebook says that it is optional).
Just open a conversation, tap their name, and click on Device Keys.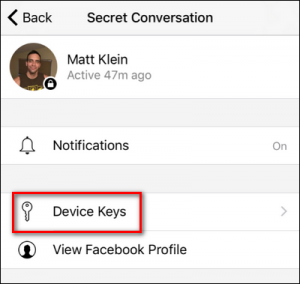 This secret conversation key is a number (like 123) that should be the same for the parties involved in the dialogue. It then means that the chat is encrypted.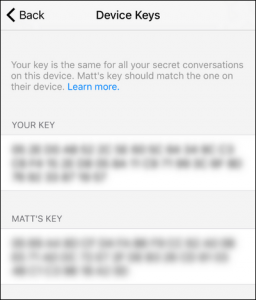 How to Remove the Device from Secret Conversation Mode?
It is quite easy to remove or change your devices in thesecret messenger application. One just needs to just turn off the SecretConversations mode to exit and resume with normal messenger chats andactivities.
To change devices, one just needs to start a newconversation from a new device. But with it, all the previous conversationswill vanish. They would no longer be visible on any of the devices.
Some limitations toFacebook's Secret Messenger
Secret Conversations are like any other normal chats thatpeople have on various messenger apps, except the fact that it has to beactivated and is encrypted. It can include pictures, videos, and voicerecordings.
It is designed only for one-to-one conversations, which means there can't be any encrypted Facebook group chats. There also isn't any accommodation of voice and video calls, or of resources to send payments (this might change soon with the launch of Libra).
Are "Secret Conversations" Actually Making a Difference?
The way people exchange their thoughts through chats ormessages has evolved quite a bit over the last few years.
Many people like the concept of end-to-end encryption chats,but they get it quite easily with WhatsApp and without even turning on anytoggle. Hence Facebook's secret messenger app is not a fan favorite.
Most people like to do stuff hassle-free and therefore don't go the extra mile just to have chats on their devices.
Now that was our outlook on Facebook's "secret Messenger" app. If you have something to share too, please comment down below.
Diksha Lalwani is an aspiring content marketer and a self-declared bibliophile. An English honors graduate, she likes to keep up with the recent happenings around the world and form an opinion. Her interest in anything and everything tech made her follow the path into becoming a technical writer.
Subscribe to Our
Newsletter

and stay informed

Keep yourself updated with the latest technology and trends with TechPout.
Related Posts