The 9 Best Free News Apps For Android & iOS 2020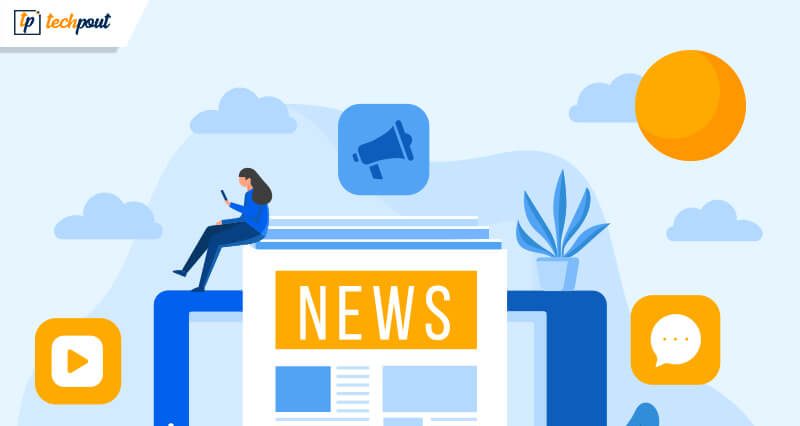 Stay up-to-date with the best news apps. Things have changed with time and unlike earlier times when the news was only available on a radio channel and newspapers. Today, you can easily access it over your smartphones. 
With the growth in technology and the evolution of the internet, media streaming has become quite an effortless task. Whether you are traveling, are at the office or at school you can easily stay informed with the latest news with the help of news aggregator apps. 
The market is full of multiple options that claim to be the best news apps for Android and iOS. Unfortunately, not all app manages to deliver what they promise. 
To save you from unwanted hassle here we have prepared a list of best news apps in terms of performance, effectiveness, and compatibility. 
Stay informed with the Best News Apps | Android and iOS
1. Google News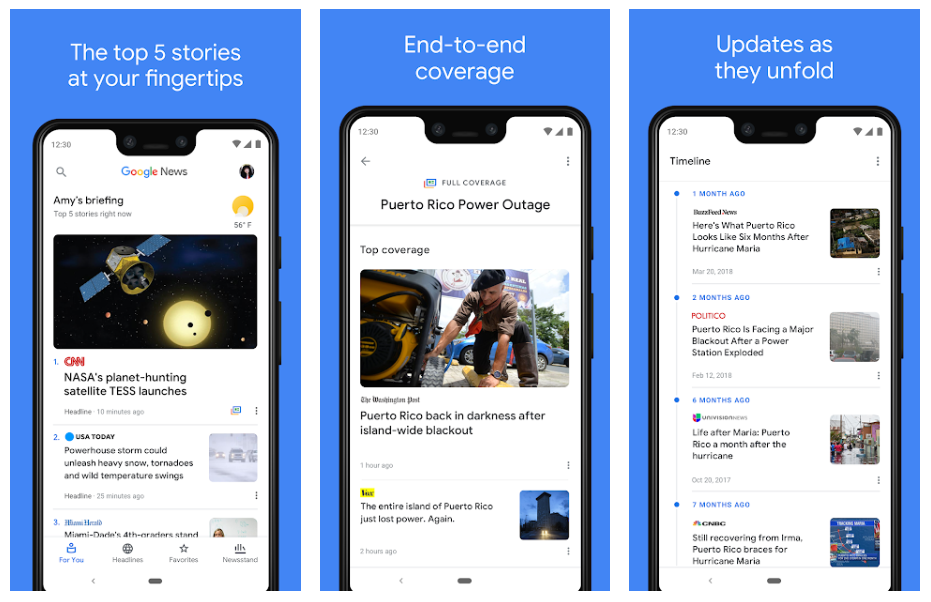 Well Known for delivering relevant and original content, Google News does not need an introduction. Initially known as Google Play Newsstand, it ensures that top-quality news reaches its users. 
It enjoys millions of positive reviews and works on a Google recommendation Engine, which means you will get news according to your interest. 
This stunning software works incredibly well on both Android and iOS devices. You can use it to download videos, podcasts, and various news articles. 
All-in-all Google news undoubtedly tops the list of best news apps in India. 
Prominent Benefits:
It delivers Full Coverage of all news.
You get personalized content as per your likings.
Ad-free app.
It's an AI-powered news app. 
2. Microsoft News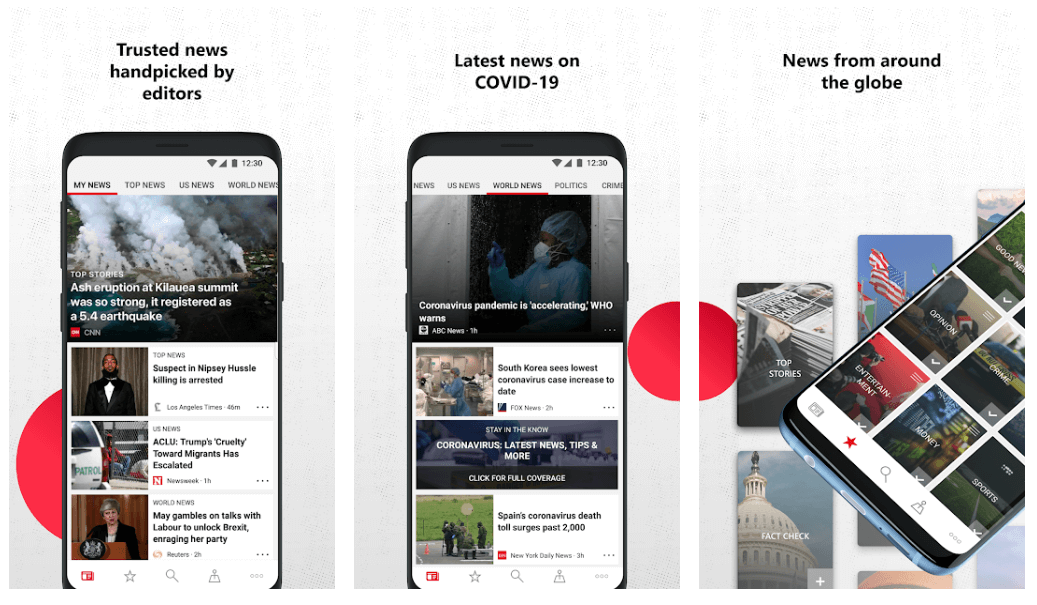 Initially known as MSN News, Microsoft News offers an easy and straightforward way to stay updated. 
One the first use, users are asked to specify their field of interest and likings. 
All the relevant news will be shown on the main screen, but you can still scroll between various news options. It also allows you to choose from light and dark themes along with a separate column of breaking news. 
Download this lightweight yet excellent app to refer to both organic and sponsored news. 
3. Flipboard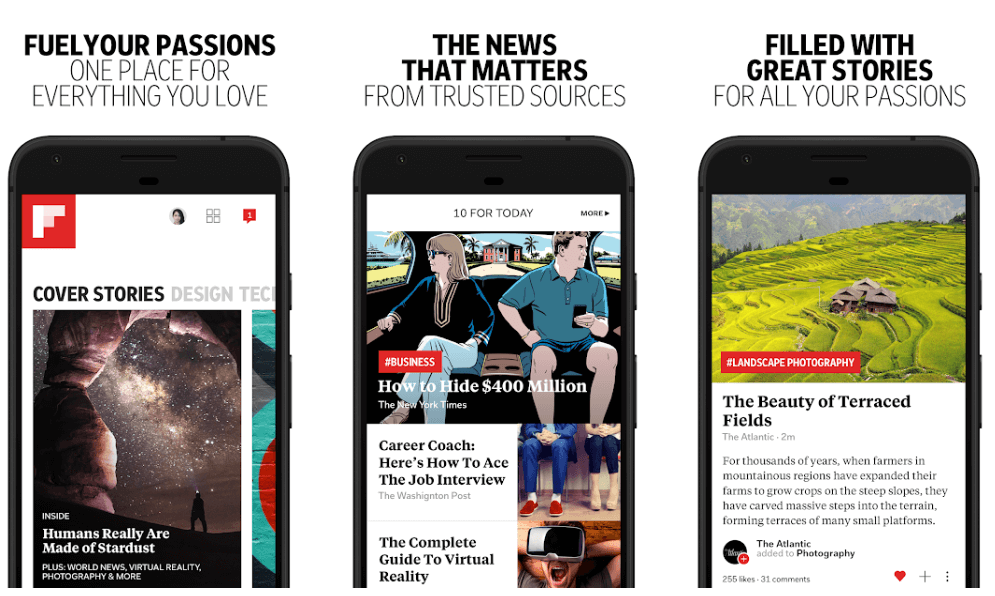 No list of news app is complete without Flipboard. It is designed in a user-friendly design, and it's print style page layout makes it easy for the users to navigate across. 
It observes your pattern and displays similar content and stories. 
It also gives an option to add news stories to a customized magazine. Users can also opt to see fewer content with its "Mute Site" and "See fewer news stories like this" feature.
4. News Republic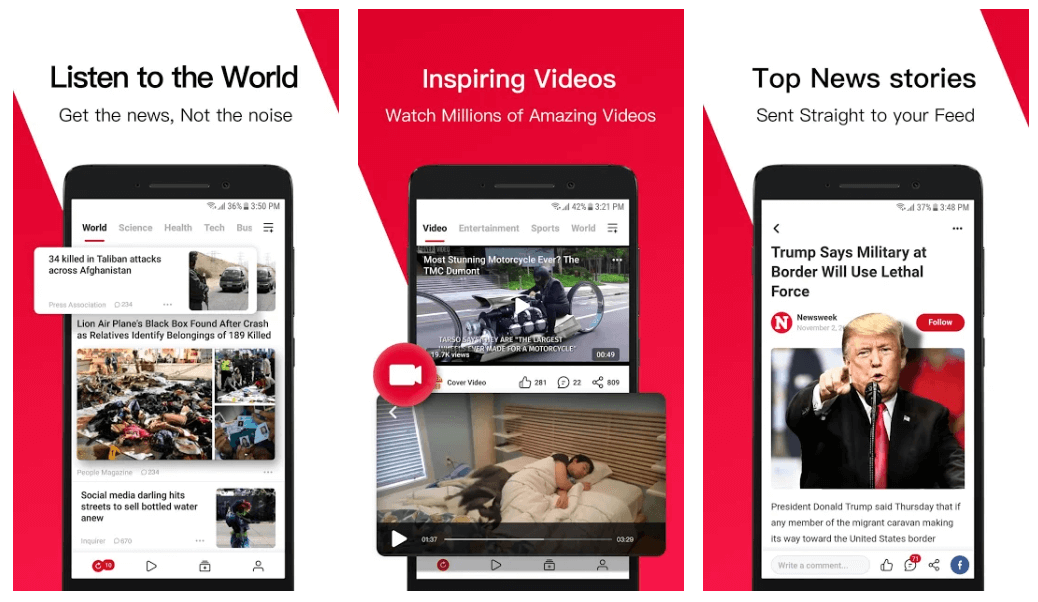 The News Republic is the best option if you wish to see an array of stories, all in one place. From popular youtube videos to different news outlets, you can access almost everything on this stunning platform. 
You can also personalize it according to your favorite news source and likings. With over 10,000 news sources, you can easily access any breaking content and most trending videos. 
Users can also leave their reviews in the feedback section. The All-in-all New Republic is one of the best news apps for android and works equally well in iOS devices. 
5. Smart News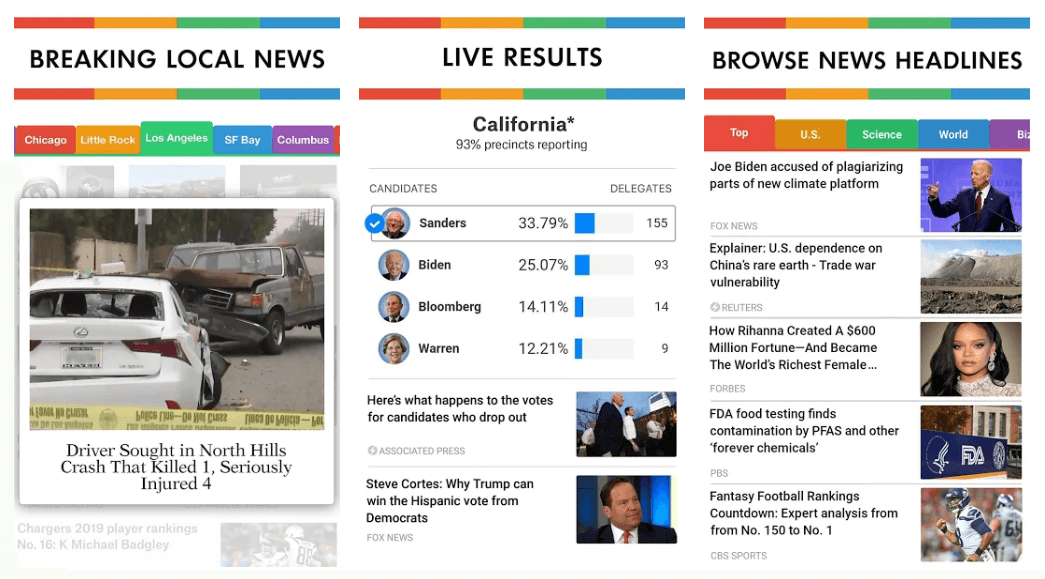 SmartNews is a stunning piece of technology that promises originality and effectiveness. It smartly analyses all trending stories and clubs similar content to ensure that its users get what they are searching for.
It aims to deliver fast news and does the job quite well with its user-friendly browser, clutter-free interface, and advanced algorithm that can show fresh content anytime, anywhere. 
6. Reddit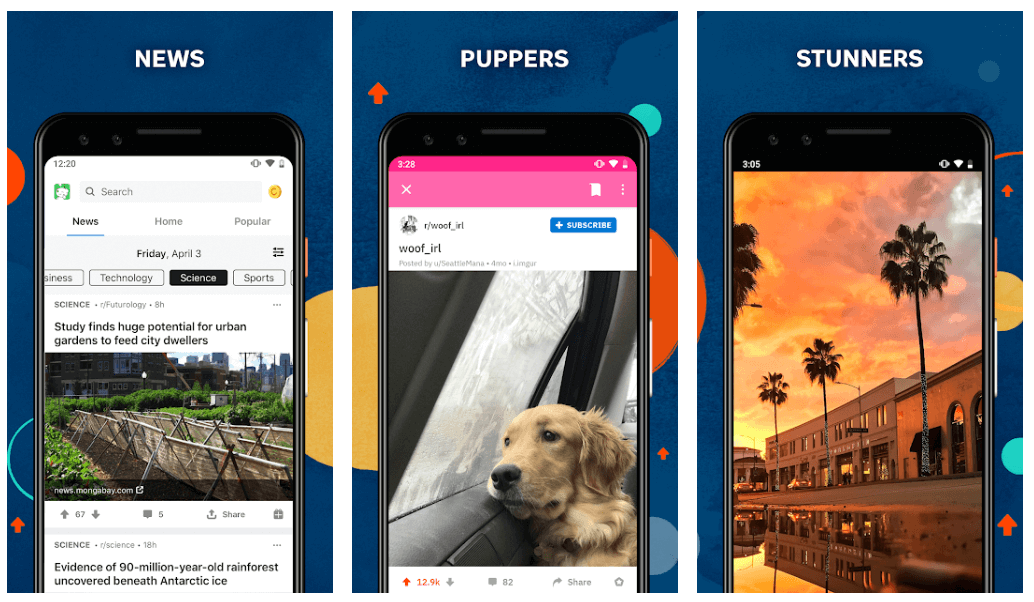 Although it's not a well-known name in the category of free news apps, Reddit does not go unnoticed with its incredible features and functionality. 
Reddit launched its official news app recently in 2016 and offers a great way to stay updated with current news and latest stories. 
7. Apple News

Apple news comes as a built-in feature in all iOS devices; but, it is not compatible with the Android platform. 
Its primary focus is on placing quick-loading videos and relevant images on the main page. It has also partnered with well-known publications like National Geographic and New-York times to deliver original news. 
8. BBC News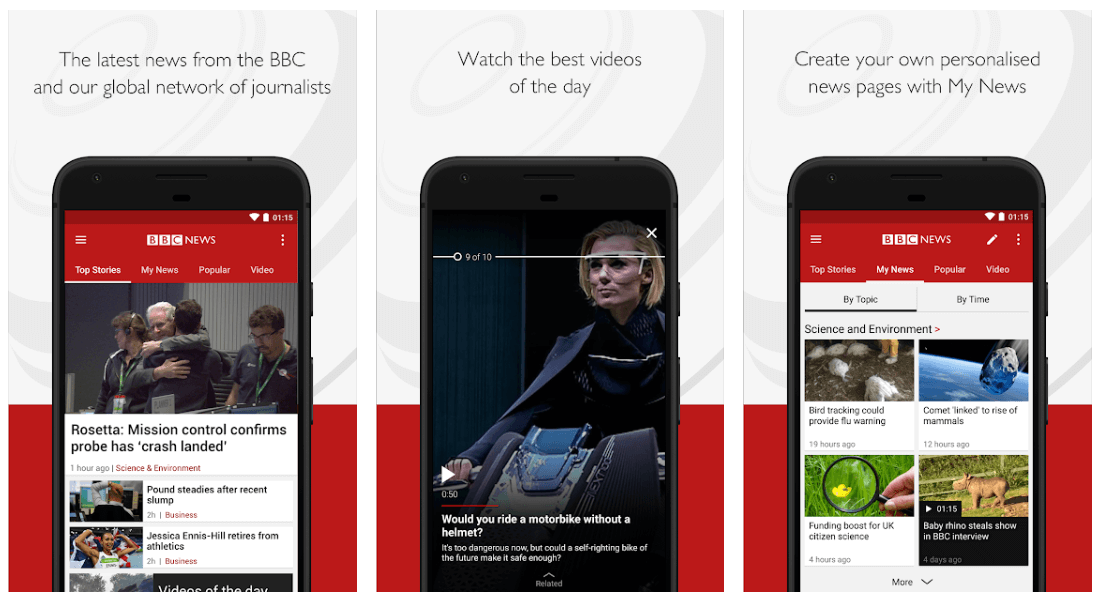 The BBC is one of the most respected and universally known news organizations with decades of existence. 
To add onto the benefits, it offers a live-streaming channel that comes as an in-built feature with the app. Overall it's a fantastic way to keep oneself updated.
9. CNN News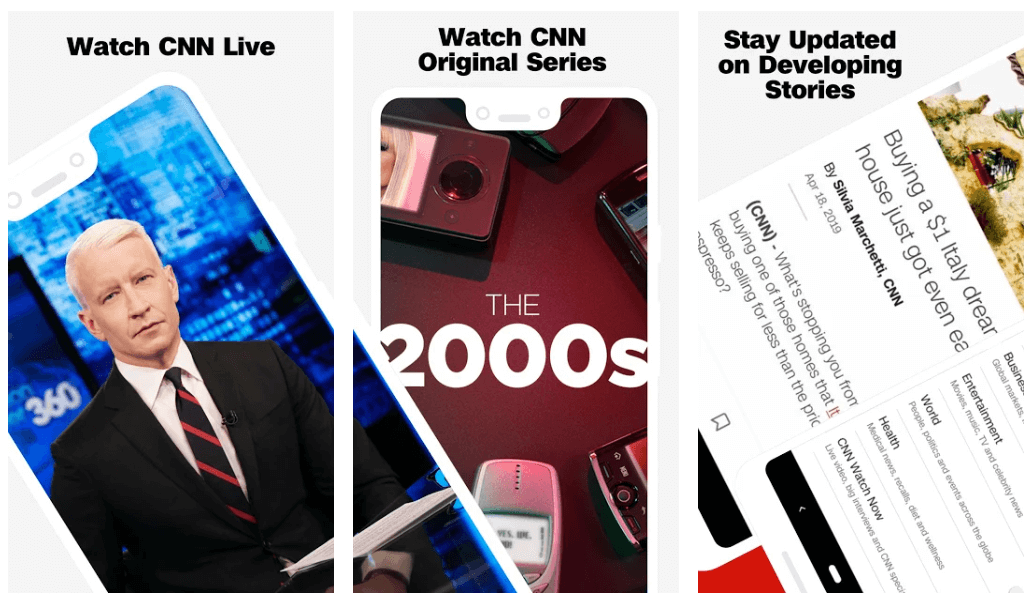 CNN is another well known best free news app and was the first one to run a 24-hour cable news channel. 
Its app version can be considered as a condensed version of the original site and offers a range of articles and trending news. It also has several video news as a part of its offerings. 
So, this is a roundup of some of the best news apps for Android and iOS devices. Whether you are sitting ideal at home are traveling to your office, you can quickly know what's happening in the world. 
The apps mentioned above are undoubtedly the best in the category. Download one today to stay informed.
Prachi Dani is a technical content writer who specializes in areas of science and technology. She is highly up to date with technological transitions and transformations. Writing is not her passion but the only thing that carries satisfaction in life. If not writing, you may find her engrossed playing action games on her treasured smartphone.
Subscribe to Our
Newsletter

and stay informed

Keep yourself updated with the latest technology and trends with TechPout.
Related Posts