Roblox Error Code 267 [FIXED] | Top 10 Methods

In this article, you will find the best possible solutions to Error Code 267 in Roblox.
Developed by Roblox Corporation, Roblox is a gaming platform allowing players and game creators to turn their fantasies into reality. It lets you create the game you have always dreamed of playing and enjoy games developed by others. However, recently many users reported an annoying Roblox Error Code 267, preventing them from logging into the game they wish to play.
Are you also troubled with Error Code 267 on Roblox? If yes, you have landed on the right article. Through this write-up, we acquaint you with the tried and tested solutions to this problem.
However, before proceeding toward how to fix Roblox Error Code 267, let us shed some more light on it to help you understand it better.
What Is Error Code 267 on Roblox
Roblox Error Code 267 is a server-based problem that can occur on any device. This error code appears with a reason shown in the pop-up window. The reason behind this error can be any of the following.
Using third-party software to cheat, hacking, or any other suspicious activity
Roblox banned you for a few days or hours due to your actions on the platform
You got kicked off from a Roblox experience by admins
The Firewall or antivirus is preventing you from accessing Roblox
Server connection issues due to slow internet connection and high latency
Above was what this error is and the possible reasons behind it. Let us now discuss its best fixes.
100% Working Fixes for Roblox Error Code 267
The following are some solutions you can apply to fix Error Code 267 on Roblox.
Fix 1: Wait for the ban duration to end
Sometimes, the Roblox ban is temporary and for a particular duration. In this case, the ban duration is visible in the error message you get, it can range from a few hours to days. The best course of action in this situation is to wait for the ban to be over. After the ban is over and you can log in again, kindly refrain from engaging in activities that led to the ban.
Also Read: Best Games Like Roblox
---
Fix 2: Try joining a private server
Many times the error exists only on a single server. Hence, joining a private server can help you fix it. All you have to do is join a private server from the game's main menu, leave the server after joining it, and then try to rejoin the original server. There is a high chance that your problem will be fixed. If it does not, you can proceed to the below solutions.
---
Fix 3: Check the internet connection
If the Roblox Error Code 267 accompanies the message that you were kicked out of the game, you should check your internet connection. A smooth and stable connection is necessary for Roblox. Hence, you can switch from a wireless to an ethernet connection to get more bandwidth and high-speed internet.
Also Read: How to Repair Internet Connection in Windows 10/8/7 PC
---
Fix 4: Update your Roblox application
Data bugs can also lead to Error Code 267 on Roblox. However, the developers release app updates to fix the issue. Hence, you can update your Roblox application from Microsoft Store, Google Play Store, Apple App Store, Amazon App Store, or Xbox Store depending on the platform you use.
---
Fix 5: Try creating a new account
You can create a new account to fix the Roblox Error Code 267 if your account is banned or you got kicked out from a particular Roblox experience. Below is the series of steps to do it.
Firstly, navigate to the official website of Roblox. Log out of the website if you are already logged in.
Now, you can input the required information, such as your username, birthday, password, etc., and click on Sign Up to create an account.
---
Fix 6: Reset your browser's settings
If your browser settings are not appropriate, you may get the Error Code 267 message on Roblox. Hence, you should reset the settings of your browser. Below is how to do it on Google Chrome.
Firstly, open Google Chrome and click on the three vertical dots at the top-right corner of the browser window.
Now, select Settings from the menu you get on the screen.
Go to the Advanced Settings.
Now, navigate to the Reset and Cleanup section and choose the Restore settings to their original defaults option.
Finally, click on the blue-colored Reset settings button and relaunch Roblox.
Also Read: How to Track Internet Usage in Windows 11
---
Fix 7: Clear the cache on Roblox
A corrupted Roblox cache may also be responsible for various issues, such as Error Code 267. Hence, you can clear it to fix the problem. Below is the step-by-step way to do it.
Firstly, if Roblox is running, close it.
Now, press the Windows and R keys in conjunction with each other to open the Run box.
Type %temp%\roblox in the on-screen box and press the Enter key or click OK.
Now, use the Ctrl+A keyboard shortcut to select all the folder contents.
Right-click the selected folder contents and choose Delete from the on-screen menu. Alternatively, you can press the Delete button on your keyboard.
Now, open Roblox.
From the left pane of the Roblox window, choose the three-dot icon. 
Click on the Log Out button.
Select Log Out again to confirm your actions.
Now, Log In to Roblox.
Input your credentials and log in.
Ensure Roblox Error Code 267 has disappeared. Try the next solution.
---
Fix 8: Update Drivers (Recommended)
In many cases, outdated network drivers are the reason behind most of the problems, such as Error Code 267 in Roblox. Hence, updating the driver can be a sure-shot solution to the problem.
You can update the driver manually using traditional methods (via Device Manager, manufacturer's website, or Windows update) or smartly using an automatic program.
We prefer updating drivers automatically in a snap of the fingers using Bit Driver Updater. It is a one-click driver updater with numerous benefits, like driver backup and restoration, driver download speed acceleration, scan scheduling, and more.
You can try this incredible software yourself from the following link to download and install it.

After installing the software, allow it to scan your computer for a few seconds. Once the scan results appear, review them and click on the Update All button to update all problematic drivers automatically in an instant.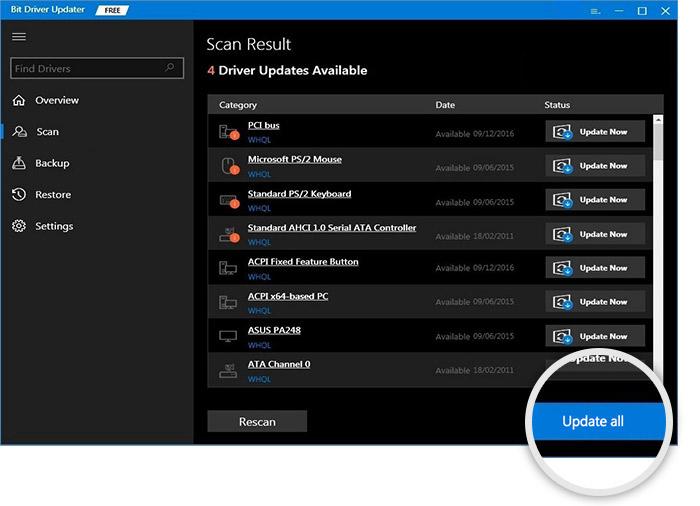 If you wish to update only the network driver, you can do so using the Update Now option. However, updating all drivers is a smart choice as it ensures smooth computer performance.
---
Fix 9: Disable the ad-blocker extension
Ad-blockers interfere with the game and prevent it from loading. Hence, below is how to disable the ad-blocker extension on Google Chrome to fix the Roblox Error Code 267.
Firstly, open the browser and select the Extensions icon.
Now, disable the ad blocker.
After disabling the extension, relaunch Roblox.
---
Fix 10: Uninstall and reinstall Roblox
You can uninstall Roblox and reinstall it as the last resort to fix the 267 Error Code on Roblox. Below are the steps to do it.
Firstly, type Control Panel in the search bar and select it from the results.
Now, choose Programs and Features from the on-screen menu.
Click Roblox and select Uninstall. 
After completing the uninstallation, reinstall Roblox from here.
Also Read: How To Increase Upload Speed On Internet? Tips to Improve It
---
Fixed Roblox Error Code 267
This article guided you through various fixes to Error Code 267 on Roblox. You can start troubleshooting from the first fix and keep moving down the list until your problem is solved.
If you are short on time, you can update drivers using Bit Driver Updater, as it is among the sure-shot fixes to the issue. In case of any questions or suggestions about this write-up, please contact us through the comments section.
Niharika is a passionate soul who finds immense satisfaction in putting all her thoughts in writing. Being a technology enthusiast, she loves learning new things about tech and making everyone technologically literate through her articles. When not composing tech articles, you can find her bringing characters to life in her fictional stories, reading something intriguing, or spending time with her near and dear ones.
Subscribe to Our
Newsletter

and stay informed

Keep yourself updated with the latest technology and trends with TechPout.
Related Posts