pCloud Storage Complete Review with its Features, Pros, Cons and Price

With the limited storage capacities of devices, the need for cloud storage services has emerged over the past few years. The name pCloud came into existence in 2013 and since then has increased its user base across the globe. The service has two data centers i.e in the United States ( Dallas, Texas) and the European Union (Luxembourg). As you sign up for a pCloud account you can select your data region. Both these centers offer top-notch physical and technical security. Your pCloud account can offer remarkable services for both individuals and businesses. And this makes it one of the most hyped cloud services with over 16 million users.
The guide below explains all that you need to know about pCloud. We have reviewed the service and provided Features, Pros, Cons, and Pricing details. Read the complete guide to find out if the pCloud service is worth the hype.
Before we proceed to the review, check out some exciting Black Friday sale discounts offered by the cloud service. With the one-time payment lifetime plan, unlock the complete offerings of the cloud platform. Back up all your data from different source devices in one place and accessible anywhere. And all this with the Black Friday Sale discount can be availed with up to 85% discount.
Get the Offer Here before it's Gone!!
Introduction to pCloud
There is a difference between pCloud and other storage services. pCloud stores all the data in one place and encrypts it through high-level encryption algorithms. pCloud account can be accessed through the web browser, or through its app on Android, iOS, or desktop app pCloud on Windows, Linux, or Mac.
---
Features of pCloud
The list of features of pCloud is quite long. Below we have mentioned some of the notable ones that are responsible for its outstanding performance.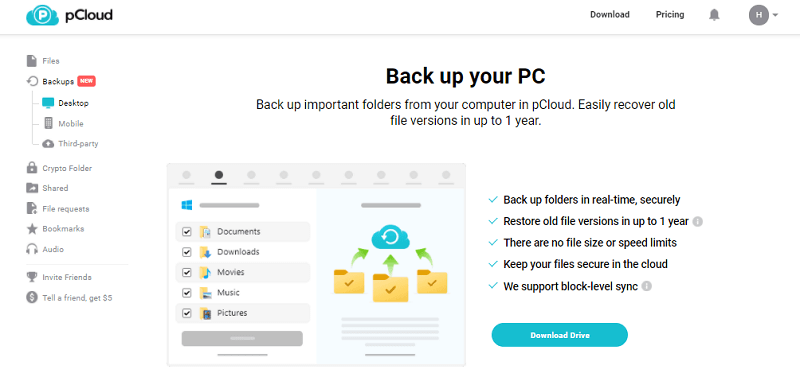 1. Ease of Use
All your files stored on pCloud can be accessed through your Browser, Mobile, or desktop application. Use the Copy Download Link option present in the drop-down menu to share your files with other users. All the changes and updates are automatically added on pCloud when you are connected to the internet.
2. Backup
Manual backup of data can be a complicated task when you have a large number of files to store. But for pCloud backups are automatic. Select the files or even entire folders you wish to backup on your pCloud. This also updates the changes made in the source file.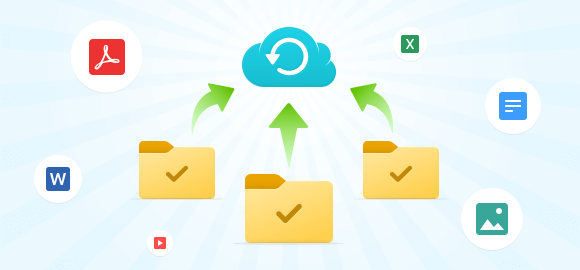 In case you are not connected to the internet, all the updates will be saved as soon as you are online again. Also, your previous version history is stored for 30 days which can be accessed if required.
In addition to the data stored on your device, you can add Cloud data stored on other services. Moreover, pCloud enables the backing up of data from social accounts.
3. File Management
In case the user edits the existing files on pCloud the backup files on your pCloud drive are also updated. The older version of this data is available for up to 30 days. Also, pCloud can act as a data recovery tool in case of loss of data. Manage your files in different folders and according to your requirements.
4. Collaboration
Another handy feature of pCloud is that it makes sharing data easier with other users. Share the link and invite users to view the shared folder. Also, you can use these shared links for branding purposes. There are 3 options available for sharing data:
Share link for Preview and download
Invite to Folder which grants th e Edit access
Request File
Under the Brand Shared link option and customize the links such as redefining the headline, description, and title image.
5. Media
The software is suitable for multimedia content and makes an ideal choice for cloud storage of media. It has a built-in video and audio player with playlists. The video player allows users to play videos without downloading them on their devices. And because of this feature, it is one of the top cloud storage services for videos. Also, it has unlimited file size & speed.
6. Security
The software has gained a lot of popularity because of its focus on the safety and security of data. The TLS/SSL and Zero-knowledge encryption technique of sharing data with servers makes it the safest option. This means if you lose your password not even the professionals working in pCloud can retrieve your data.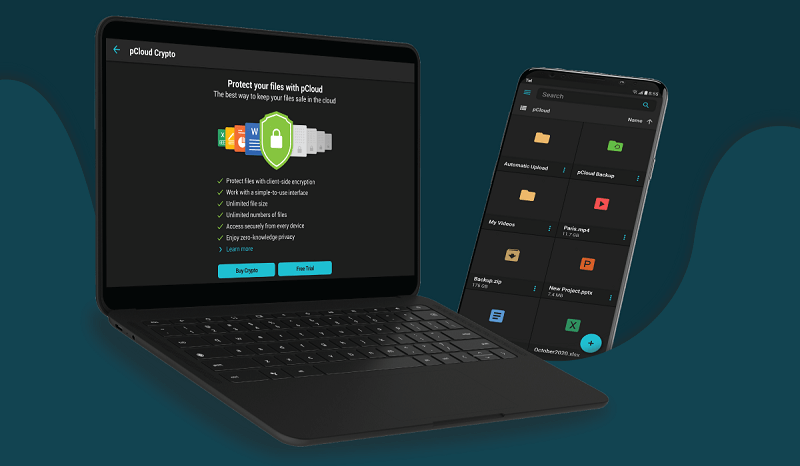 pCloud Crypto service allows you to create your Crypto pass to lock or unlock files. This is similar to password managers for your data on the cloud.
The AES 256 encryption is used to keep your Crypto data safe. Also, this data is stored on different servers to keep their safety intact.
7. Access & Synchronization
With pCloud, you can sync your data from all your devices. Also, turn on the Automatic upload option to backup files from the Camera roll. Apart from this, the cloud is accessible offline too on your device. This cloud storage acts as a virtual drive on your device. Your device memory is not used.
Also Read: Cloud identity governance spotlight on the Ransomware "Industry"
---
Pricing of pCloud
One of the advantages of pCloud is that its plans are available at very competitive prices.
The Free plan that offers up to 10GB of storage is available for all without any distinction.
However, with the ongoing Black Friday sale avail up to 85% discount on the lifetime subscription plans of the pCloud service 
500GB: 139 USD (Current Promo Price) One-Time Payment
500 GB Storage
Fair Sharing and Shared Link branding
500GB shared link traffic
30 days trash history
2 TB: 279 USD ( Current Promo Price) One-Time Payment
2 TB Storage
Fair Sharing and Shared Link branding
2 TB shared link traffic
30 days trash history
10 TB: 890 USD (Current Promo Price) One-Time Payment
10 TB Storage
Fair Sharing and Shared Link branding
2 TB shared link traffic
30 days trash history
---
Pros
A 14-day trial version is available that offers up to 10 GB of Storage
30-day version tracking
Quick syncs
Backup from Dropbox, Google Drive, Google Photos, Facebook, and OneDrive.
With pCloud Crypto, you get end-to-end encryption.
In-built media player
Simple drag-and-drop backup feature
Shareable links that can be customized as per user requirements.
GDPR Complaint
Sync the unencrypted data with Facebook or other social accounts.
The lifetime payment plan is available
Accepts payments through bitcoin
Pricing is competitive
Cons
Live chat support is unavailable
For Crypto & EFH i.e Extended File History you need to pay an extra amount.
---
Frequently Asked Questions
Q.1 Is it safe to use pCloud? 
The safety features offered by pCloud are impressive. The software uses SSL encryption & AES encryption techniques to keep your data secure.
Q.2 What is pCloud? 
One of the most trusted cloud storage services, pCloud allows users to keep their important data in cloud storage. This makes the data accessible from anywhere with 100% security through AES, SSL, and other encryption techniques.
Q.3 Is pCloud good?
pCloud services are improving day by day. Also, the software is now on the list of competing cloud services such as Dropbox, and others. It offers some notable services with amazing storage features. Most of the reviews available online of pCloud are positive which makes it a must-try.
Ques. How Trustworthy pCloud is? 
No hindrance in the privacy laws as the HQ is located in Switzerland, which makes the software trustworthy. Also, the company claims that none of its data is sold to third parties.
Q.4 Is pCloud available for Free?
Yes, the pCloud software is available for free. But to unlock the complete potential of the software and keep your data secure switch to the Paid version of the tool.
Q.5 Is pCloud safe? 
The software is completely safe and uses AES 256-bit data encryption. Also, the pCloud Crypto ensures that all your files are accessible anywhere.
Also Read: Best Cloud File Managers
---
Final Verdict on pCloud
Overall pCloud is a good deal to make with some amazing features and a great user experience. The hybrid system is interesting and offers a cloud storage solution depending on user needs. However, The services offered can be increased to give a tough fight to the available competitors. But the overall working of the software is perfect for beginners and users in search of affordable storage solutions.
Have any questions? Feel free to reach out to us in the comment section below. Also, for similar reviews and tech guides don't forget to subscribe to our blog.
Akshara is an Engineer turned Technical Writer. She is a tech reader who aims to deliver the best of her knowledge to the readers without complicating it. If not writing you can find her in the kitchen, because no place serves the good tea.
Subscribe to Our
Newsletter

and stay informed

Keep yourself updated with the latest technology and trends with TechPout.
Related Posts