pCloud Pass Complete Review Guide with Its Features, Pros and Cons

If managing passwords for different accounts is a task for you let me tell you about applications that can be used as password managers. Although there are multiple alternatives available online, in our review guide we will talk about the pCloud pass. With a successful existing name the brand, pCloud released pCloud Pass password manager in 2023.
pCloud pass safeguards data with high-security encryption techniques. Additionally, it also has a password generator and secure sharing of details. It enables auto saving and filling features.
However, that's not it. In the coming sections of our review we have, in detail, explained the working, features, pros, cons, and pricing of the pCloud Pass. So without any further ado let's begin with the procedure to use pCloud Pass.
How to use pCloud Pass?
To get started with pCloud Pass, all you need to do is create an account, download the software, and then begin adding your credentials. Getting started with pCloud Pass is a simple process.
To begin with pCloud Pass, just follow the following steps that we've provided below.
Step 1:  Sign up for an account with pCloud.
Signing up for pCloud is a simple process. There's an option to sign up for a paid membership to pCloud Pass. Although you can start a free trial of pCloud Pass Premium, or stick with the free version of the service.
Go tothe website for pCloud Pass and click on the button that says Start for Free. After entering your email address and coming up with a safe password, click the Create Account button. You also have the option to sign up for an account by using an existing Google, Facebook, or iCloud profile.
After you have successfully registered, you will get an email containing a verification link. Launch the email, choose the link provided, and follow the instructions to create a Master Password. When you've finished with this, you'll be close to being able to begin.
Step 2: Download and Install pCloud Pass Browser Extension
After successfully checking in for the first time, you will be prompted to select the pCloud Pass extension that is compatible with your web browser. To install the extension on your browser, select it from the drop-down menu and then follow the on-screen instructions. We decided to go with Google Chrome.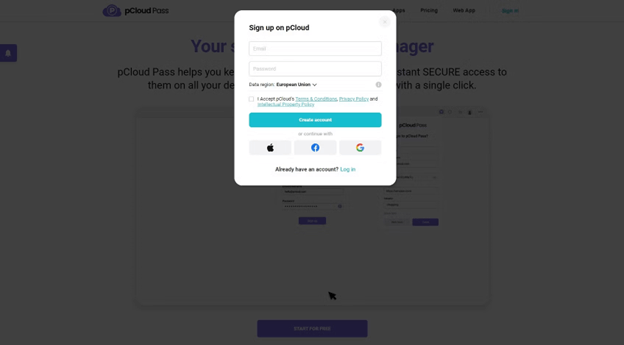 The procedure of installing extensions is unique to each browser.
Step 3: Authenticate via pCloud Pass Browser Extension
It ought to be possible for you to locate the pCloud Pass extension within the browser at this point. You will need to log into the extension independently from the site; you may do so by clicking the icon for the extension and entering your credentials at the prompt that appears. In order to proceed with this, we will want both your typical password as well as your Master Password.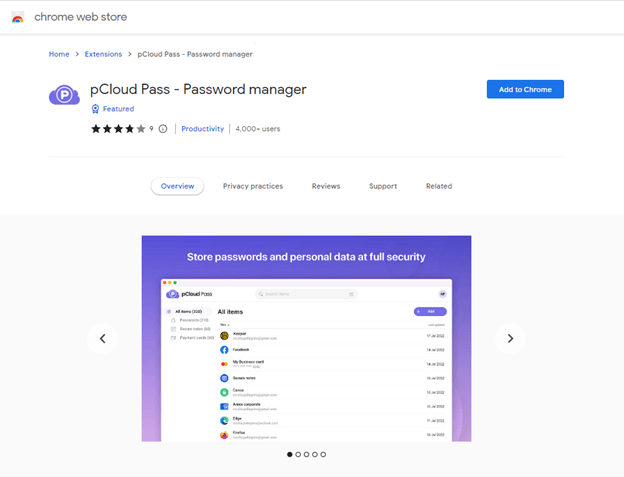 Step 4: Import Existing Secure Passwords or Create New
As soon as you have the extension installed and have entered it into your account, you will be able to use pCloud Pass to begin. Here you can import the existing password data and establish fresh passwords that are comparatively secure.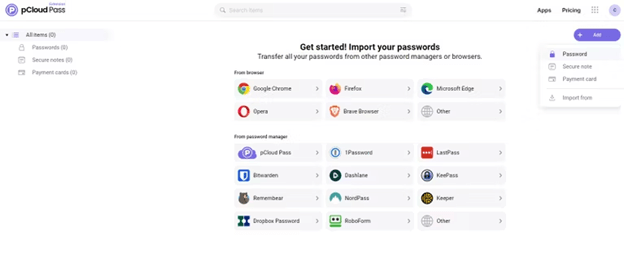 It is as easy as uploading a CSV file or connecting to a separate password manager program in order to begin the import process for passwords. It is not necessary to do this as soon as you begin. However, you should begin the process by generating new passwords, notes, and payment cards.
Now that we have learned about the working let us find out the pricing details of the Paid version of pCloud Pass.
---
Pricing:
Although the pCloud Pass protector is available for Free it has multiple paid options available that are as follows:
1. Monthly Plan: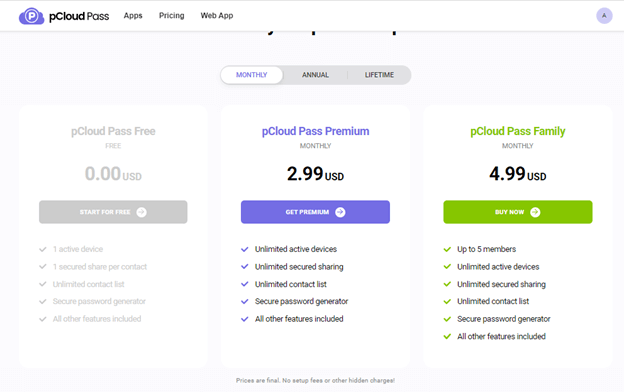 pCloud Pass Premium: $2.99
pCloud Pass Family: $4.99
2. Annual Plan: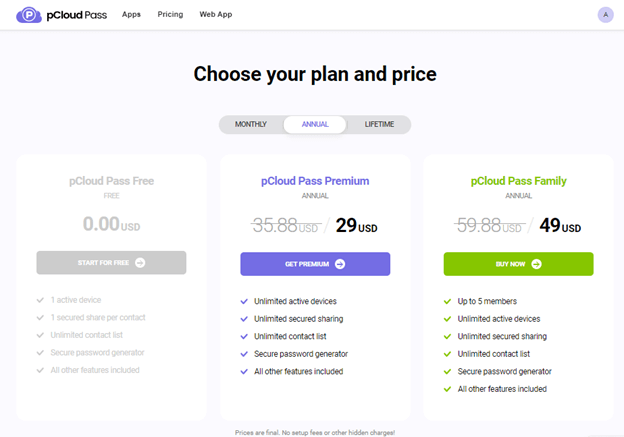 pCloud Pass Premium: $29
pCloud Pass Family: $49
3. Lifetime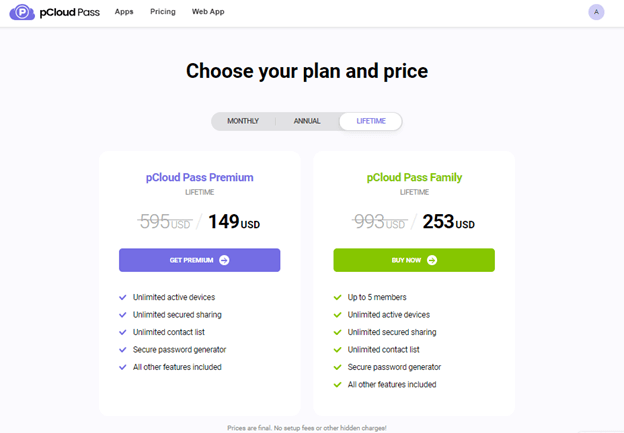 pCloud Pass Premium: $149
pCloud Pass Family: $253
---
Features of pCloud:
Now that we have learned about what pCloud pass is, how it works and its pricing let us proceed to its notable features.
1. User-Friendly and Intuitive Interface:
Password manager with a high level of user-friendliness and strong security that also has a high level of intuitiveness. It includes support for all of the fundamental safety functions, such as biometric unlock for mobile devices, safe data sharing, auto-fill and auto-save, and account recovery options.
2. Two Variants of Customer Support:
Email support and a comprehensive knowledge base are the two channels via which customers may get assistance. The latter has Frequently Asked Questions, privacy choices, and release notes, all of which were found to be really helpful in answering questions. For instance, in order to get an understanding of the data that pCloud Pass gathers, check available privacy settings and become familiar with the manner in which the password manager deals with user information.
3. 256-bit AES Encryption:
It protects your master password using a 256-bit Advanced Encryption Standard (AES) encryption that meets military standards. The password manager also makes use of client-side encryption, which means that it encrypts all of your data on your device before sending it to the servers hosted by pCloud. As a direct consequence of this, your information is shielded from the prying eyes of any and all third parties, including pCloud itself.
4. Shared Vaults:
Nonetheless, it does allow for the safe exchange of data and the creation of shared vaults. You are able to share any of your passwords or things with a friend or family member. Moreover, you even have the option of granting the contact either view access or edit access to the shared information.
5. Data Import from Different Browsers:
Import data from a variety of browsers, including Google Chrome, Firefox, Microsoft Edge, and Opera, as well as from other password managers, such as 1Password, Dashlane, RoboForm, and Keeper, amongst many more. Import data from other password managers.
6. Multiple Options to Login:
You may either use your master password or biometric identification (either face ID or fingerprints), depending on which is most convenient for you. On the other hand, the absence of a biometric login option for Macs was a minor source of disappointment for me. Popular companies such as 1Password now enable users of macOS to unlock their accounts by using the Touch ID on their devices.
7. Mobile Applications:
Mobile app interfaces are also incredibly user-friendly. We were able to download and install both the iOS and Android applications in under three minutes each.If you already have an account, all that is required for you is to sign in. The applications were easy to use and offered no trouble gaining access to their many capabilities. In addition to this, one of the best features is how effectively they sync with the desktop application. As we add anything to the collection using the software for macOS, it can be seen on different devices.
8. Applications for the Desktop
Moving on from the plugins for web browsers, it is quite exciting to discover that pCloud has also produced desktop-based password manager tools for all of the main operating systems, including Windows, MacOS, and Linux!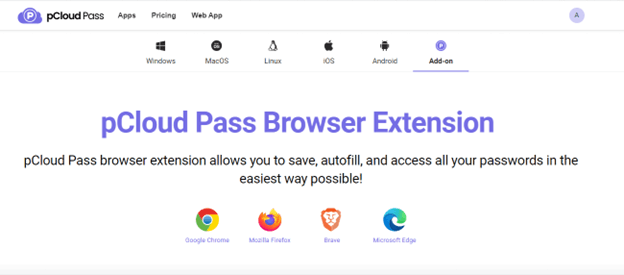 9. Strong security measures:
The excellent features also include encryption with 256 bits of AES, auditing of passwords, a password generator, and numerous login choices are all essential. In addition to this, it provides you with recovery words as an alternative for recovering your account, and that you can use tags to organize the things you have.
On the other hand, pCloud does not have any special features or extras, such as surveillance of dark websites, emergency access, or sophisticated two-factor authentication. Having said that, each of the supplied safety measures performs exactly as described.
---
Pros
Free Version Available
Pricing for Paid version is Reasonable
User interface is easy and clean
Available for Windows, MacOS, Linux, iOS, and Android.
Browser extension available
Can be used along with other pCloud products
Cons
Support can be worked upon.
No Biometric login support for macOS.
---
Conclusion:
When compared to pClouds other applications, pCloud Pass is comparatively a new addition. However, it has gained high user trust and popularity as one of the best password managers. Since the usage is simple it is preferred by both beginners and professionals. With reasonable pricing updates, you can unlock the complete potential of the password manager. Try the lifetime plan for 30 days with a complete money-back guarantee for up to 10 days.
If you think we missed out on something please let us know in the comments section. If you found the guide helpful don't forget to subscribe to our blog for more tech reviews and troubleshooting write-ups.
Akshara is an Engineer turned Technical Writer. She is a tech reader who aims to deliver the best of her knowledge to the readers without complicating it. If not writing you can find her in the kitchen, because no place serves the good tea.
Subscribe to Our
Newsletter

and stay informed

Keep yourself updated with the latest technology and trends with TechPout.
Related Posts