OneStream Live Review: Features, Benefits, Pricing, and More

Welcome to a comprehensive review of OneStream Live! In this review, we'll explore the various features, advantages, disadvantages, pricing, and other essential details about the OneStream Live platform. Whether you're considering using this tool, we've got you covered with all the information you need.
Streaming content online is very popular nowadays. People like Instagram influencers and online gamers use streaming to connect with their followers and others worldwide. Streamers not only make content using simple streaming but also earn money. So, streaming is getting more and more popular, and even beginners are joining and becoming popular quickly.
To stream online, you can use different platforms and services. Many developers are making streaming platforms with lots of features to help users. In this article, we'll talk about one streaming platform called OneStream Live.
This article provides information about a Finnish online streaming service that offers four exceptional products:
OneStream Live Studio
Pre-recorded Streaming
RTMP Source Streaming
Hosted Live Pages
We'll see if the software is good for different users. We'll talk about everything: features, prices, pros and cons, how to use it, and more. This will help you decide if you should use this streaming service or try something else.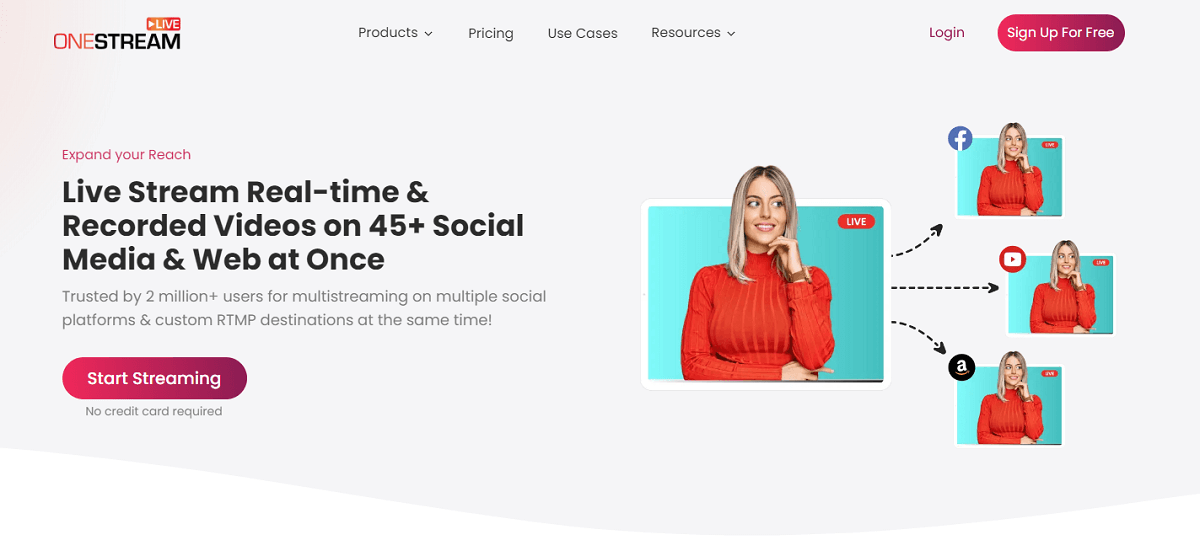 Features of OneStream Live: A Smart Streaming Solution
Social Media Live Streaming
We really liked OneStream Live's social media streaming features. The platform supports over 45+ different social media platforms for both live and recorded streaming, including popular ones like Facebook, LinkedIn, Instagram, Twitter, YouTube, and Twitch.
Third-Party RTMP Source Streaming
You can easily start a live video using other apps like Zoom, Webex, OBS, XSplit, Ecamm, and Streamyard, and send your stream to OneStream Live for multistreaming. By using both platforms together, you can make your livestream more exciting for your viewers. Just send the video from the other app to OneStream Live, and it will share it on over 45+ social platforms and the website at once.
Also Read: Best Free Sports Streaming Sites
Personalized Web Page Streaming
OneStream Live provides a user-friendly feature called Hosted Live Pages. This allows you to make your very own web pages easily where you can live stream. With Hosted Live Pages, you're able to craft your video landing page, put in an interesting title and description that works well for search engines, and start your live stream.
Universal Embed Player
The Universal Embed Player lets you easily put all your events on your website or anywhere online. Once you've added the player, all your events will appear there automatically, unless you choose otherwise. Not only this, you can embed the chat alongside your live stream to make it interactive.
Cloud Storage Integration
Another great feature that you get with OneStream is the option to upload videos directly from cloud storage. For this, the platform supports a number of different cloud storage platforms like Google Drive, pCloud, DropBox, OneDrive, Zoom, S3 Storage, and many others.
Team Management and Sharing
The Team Management feature is really handy when you want another person to upload videos and do live streams on your social accounts, but you don't want to give them full control over your accounts. When you add someone to your team, you'll be the team owner, and the person you add will be a team member. You can make them the admin or manager, according to the level of access you want them to enjoy.
Subtitle Support
If you have decided to stream a pre-recorded session, then OneStream Live allows you to add subtitles or captions for your viewers. You can upload the SRT file to manually add captions to your live streams.
Smart Insights and Analytics
During and after a live stream, you may need statistics and data related to the stream and its viewers. Thankfully, OneStream Live meets this requirement perfectly. With the help of the platform, you can check real-time insights and analytics collected from the live stream, during and afterward. Use the data gathered as necessary and make amends if required.
Recording
You can use the platform itself to record and/or download the content you stream. You can share this downloaded video afterward with other potential seekers and followers as you want. This way, even if someone fails to attend or watch the livestream, he/she can do it afterward.
Multiple Scheduling Feature
With OneStream Live, you can set up as many scheduled videos as you want, all at once! You don't have to think about how many slots you have. This is really helpful because you can plan and arrange your videos ahead of time without any concerns about space. It's a smart way to keep your viewers interested and having fun, while also giving you more time for other important stuff.
Multiple Video Uploads
Using OneStream Live, you have the ability to upload not only one, but several videos all together! This will help you avoid the trouble of uploading videos one after the other.
Wide-Angled Streaming
Some streamers like to take advantage of advanced cameras with 360° and 180° video recording and capturing. Various popular streaming platforms lack support for such cameras, but not OneStream Live. The platform allows you to stream the content as you want with any camera for a better streaming experience.
Playlist Streaming
With the help of this streaming platform, you can create playlists by uploading recorded video files to your storage and then choosing the order in which you'd like them to stream in a single stream link easily. You can also schedule them to go live on your desired date and time, and the preferred time zone.
Live Unified Chat
OneStream Live offers a feature called Unified Live Chat. This feature lets you easily handle messages, comments, and replies from viewers while you're streaming live or sharing pre-recorded videos. You can manage all of this on just one screen, even if the messages are coming from different platforms. People often don't realize how important live chats are for making live streams better. They make the experience feel like you're really there, interacting with others. Live chats also encourage the audience to join in and get quick responses, making the whole thing more engaging.
So, these were the most notable features of OneStream Live as an advanced and versatile streaming solution. To learn more about the platform, let's examine the pros and cons of OneStream Live.
Also Read: Best Anime Streaming Sites to Watch Anime Online
---
Pros and Cons of OneStream Live
The following pros and cons of the streaming service will help you better in judging this platform.
Pros
Supports high-quality audio and video streaming
Smart and interactive UI
Advanced analytics
Android and iOS apps are available
Allows you to invite guests to the live show
Professional streams with branding tools
Apply virtual effects and filters
Create 5 Hosted Live Pages
Pocket-friendly subscription plans; you can get started for FREE
Cons
Does not support 4k resolution
Supports limited video formats and extensions
If you are wondering how this streaming platform works, then take the help of the next section to understand the same.
---
Flexible OneStream Live Pricing

Taking this review further, now it's time to discuss the OneStream Live pricing structure. The pricing structure of the app is quite flexible. The developers of the platform offer multiple plans for users. There are 3 different paid plans that you can try apart from the free one.
The free version allows you to stream content with others but with restrictive features.
There are other restrictions to using the free version as well.
The paid versions are divided into two categories: Monthly and Yearly. Refer to the below table for more details:
| | | | |
| --- | --- | --- | --- |
| Plans | Basic ($/month) | Standard ($/month) | Professional ($/month) |
| Monthly (payable per month) | 10 | 39 | 79 |
| Yearly (payable per year) | 8 | 32 | 66 |
---
Frequently Asked Questions: OneStream Live
Here we have answered some of the most commonly asked questions related to OneStream for your ease.
Q.1 What does OneStream Live do?
OneStream Live is a live streaming platform that allows you to multicast live streams as well as pre-recorded videos on 45+ social media platforms and the web at the same time.
Q.2 For whom is OneStream suitable?
OneStream Live is suitable for all kinds of users including working professionals, gamers, artists, influencers, and every other individual who wants to share content online via streaming.
Q.3 Can anyone use OneStream for free?
Yes, any user can use OneStrem Live for free. However, you can also check out the paid subscription plans to enjoy advanced control and access more features of the platform.
Q.4 Does OneStream Live support multiple video formats?
Yes, OneStream Live supports various video formats including MP4, MOV, etc. Moreover, it can also process 360° and 180° videos.
Q.5 Does OneStream Live support recording?
Yes, you can download and/or record all the streaming videos with the help of OneStream Live.
Q.6 Does OneStream Live allow subscribers to cancel at any time?
Yes, you can cancel your OneStream Live subscription any time.
Q.7 Does OneStream Live allow subscribers to pause at any time?
Yes, any subscriber can get the subscription paused at any time.
Also Read: Best Free TV Streaming Sites To Watch Online TV Shows
---
Summing Up: OneStream Live Review
So, that's everything we wanted to share with you. To sum it up, OneStream Live is both reliable and valuable. The platform's developers have added smart, unique, and extensive features that are not commonly found in similar streaming platforms. If you're unsure about the tool, we recommend giving it a try. You can use the tool for free up to a certain point, which will help you understand how it works.
We hope this OneStream Live review has been helpful. If you have any questions about the review or want more details, feel free to ask in the comments section. Please share your questions and concerns thoroughly. We'll respond as quickly as possible. If you enjoyed this review, follow us on social media: Facebook, Instagram, Pinterest, Tumblr, and Twitter. Additionally, consider subscribing to our blog newsletter to receive instant updates about new content. We look forward to connecting with you in the next post.
Remy is a technical writer at TechPout. Being an IT enthusiast, he inclines to write about contemporary technology and growing security for machines. One steadfast follower of Baseball, Remy is an active social worker and a gastronome.
Subscribe to Our
Newsletter

and stay informed

Keep yourself updated with the latest technology and trends with TechPout.
Related Posts