26 Best Anime Streaming Sites to Watch Anime Online

Are you a fan of Death Note, Naruto, and Dragon Ball Z? Do you love watching anime and don't know which are the best and legally approved sites to do so? Though there are many available anime streaming sites yet some of these sites are loaded with annoying ads, or some are even fake. 
I have, therefore, reviewed and put together some of the best anime sites that can allow you to watch anime online absolutely free of cost and without any issue of legality. The following websites have been arranged according to the quality of the content offered.
Hence, if you are a newbie in the wonderful world of anime, then you can go through this list of best anime streaming sites and watch anime online hassle-free.
What is Anime?
The Japanese term "Anime" or "Manga" refers to a video cartoon animation, and one of the features which distinguish it from other cartoon forms is that most of the characters have exaggerated eye size. 
Anime originated in Japan in 1917. There are over 430 Anime production studios, and Studio Ghibli, Gainax, and Toei Animation are among some of the famous ones. 
This form of animation gained worldwide popularity due to the captivating storylines and striking visual effects. 
Just like there are many online streaming sites for regular movies, similarly, there are many sites for watching anime for free online as well as watching cartoons online.
---
Quick Look at the Top 5 Anime Streaming Sites
Take a quick look at the table below to get a brief idea on the best sites for anime:
| | | | |
| --- | --- | --- | --- |
| Anime Site | Free vs Paid | Dubbed & Subbed | Ad-Free |
| Funimation | Free & Premium | Yes | Yes |
| Animelab | Free & Premium | Yes | Yes |
| Crunchyroll | Free & Premium | Yes | Yes |
| KissAnime | Free & Premium | Yes | Yes |
| TubiTV | Free | Yes | No |
---
List of 26 Best Anime Streaming Sites to Watch Your Favorite Anime
In this blog, we will inform you about the best anime websites where you can watch your favorite anime shows.
1. Funimation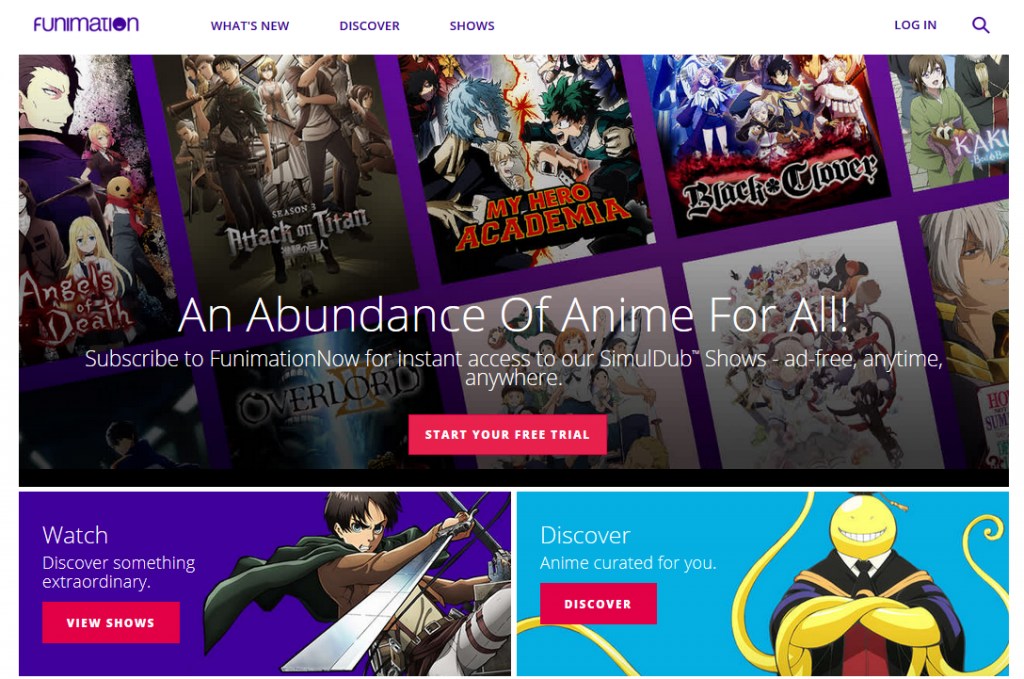 Funimation is an American entertainment company, which is primarily owned by Sony Pictures Television (a division of the Japanese conglomerate of Sony) and is the best site for anime. This site is only available in the USA. 
What does it offer?
You can watch classic anime as well as the latest shows.

Content is available without annoying ads.

Interestingly you can watch shows with English subtitles. 

You can also watch dubbed anime shows on this site.

Most of the content is available for free though premium plans can also be opted for availing more benefits.
Read Also: 14 Best Cartoon Streaming Sites
---
2. Animelab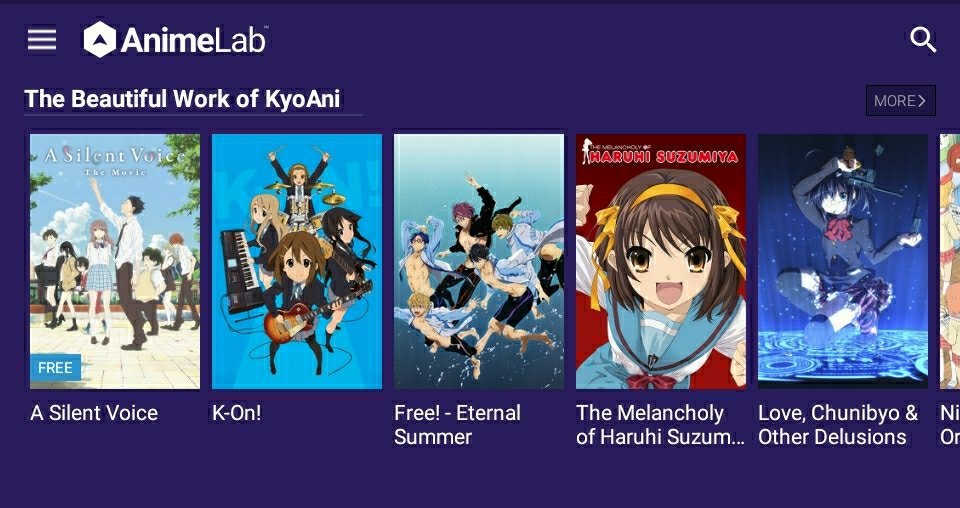 This is another trending anime streaming site. Animelab is available in New Zealand and Australia. As this is a legal site, therefore you can watch anime for free online on this site. Shows are streamed directly from Japan. However, you can be a premium member to get access to the dubbed shows. 
What does it offer?
The website is easy-to-use.

Dubbed and subbed videos can be accessed with the premium version.

You can even avoid ads with the premium version.

Latest episodes of shows are available in just an hour after broadcast.

Anime content is categorized neatly as per popularity and their availability in the dubbed and subbed form.
---
3. Crunchyroll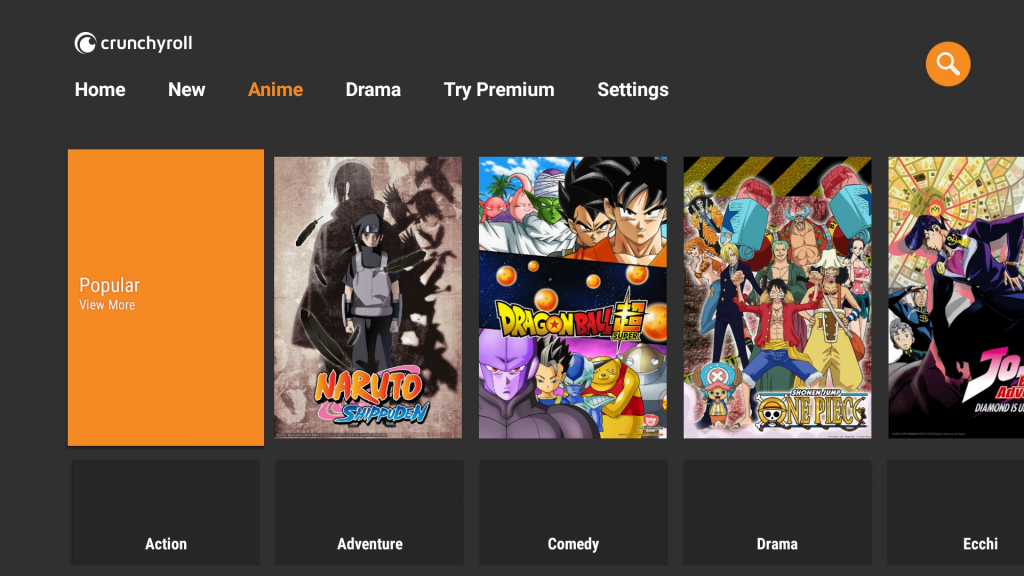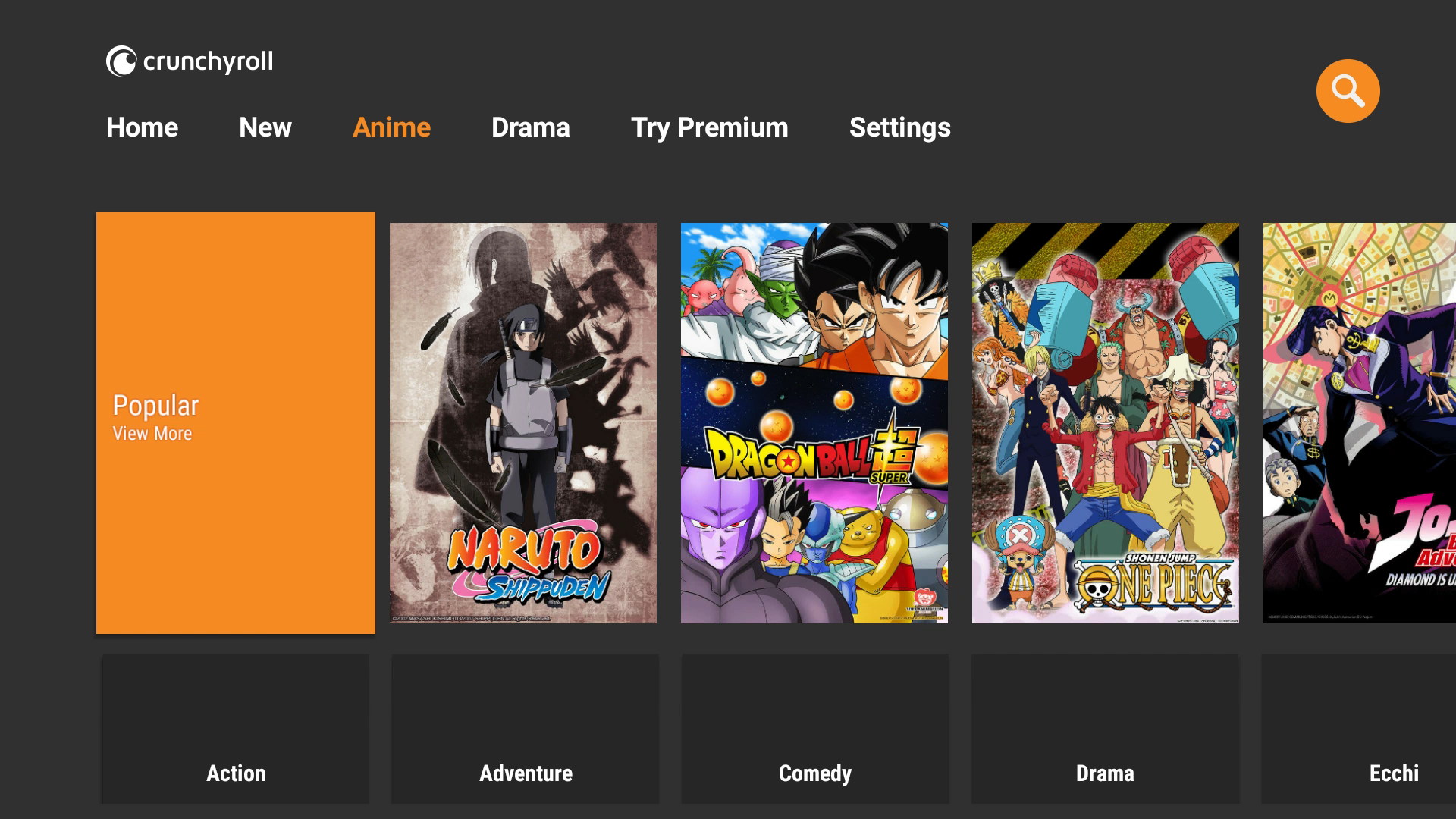 This is an excellent site to watch anime shows online. Crunchyroll has a splendid collection of anime content owing to its large database. It is in business for quite a long time and has tremendously expanded over the last 14 years.
What does it offer?
The free video streaming service offers 480p video quality, and one episode has three ad breaks. 

You can also upgrade to the paid membership account where you can watch unlimited videos without ad interruptions.

The premium plans do offer HD quality videos. 

They have a regularly updated database.

You can watch Manga news, shows, and avail forum facilities with Crunchyroll.
---
4. KissAnime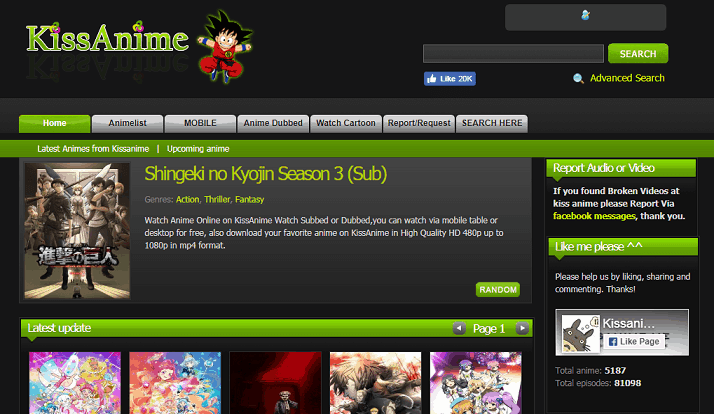 This is another fabulous site to watch anime online. KissAnime offers a huge variety when it comes to the quality and genre of movies and anime shows available for viewing. 
What does it offer?
You can watch dubbed shows in Englishor also opt to watch them with subtitles.

This is the best anime website offering content in HD quality. 

You get most of the shows with all the episodes. 

You can even request shows on this website if they are not loaded on the site. 

There is also a discussion forum where you can discuss your favorite shows.
---
5. Tubi TV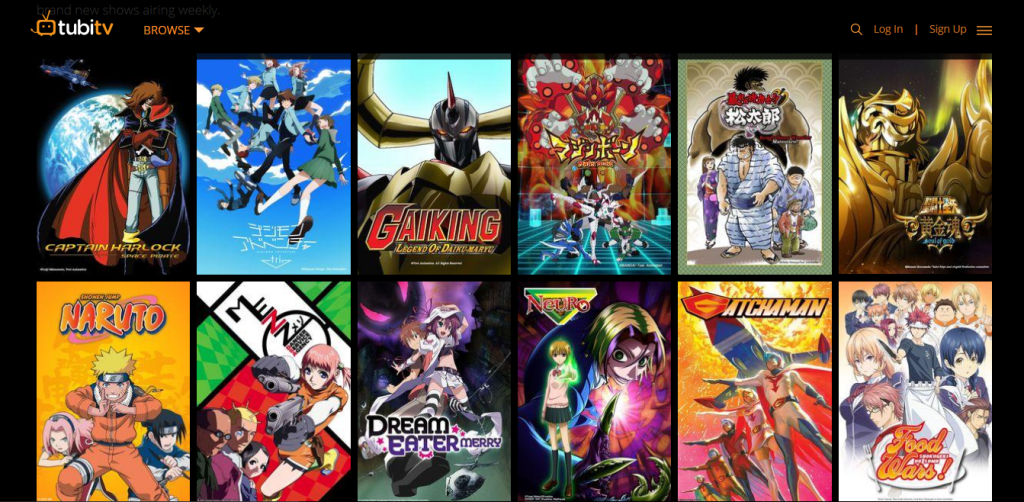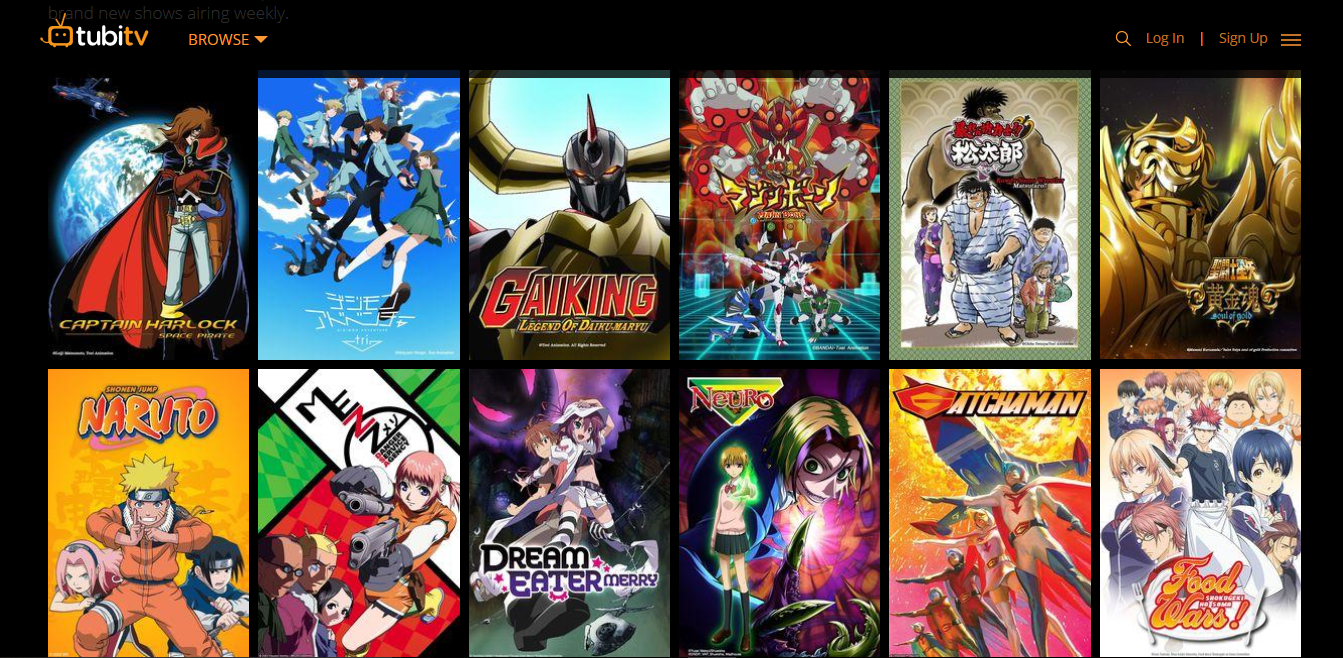 This is also an American anime streaming site that is free but an ad-supported platform. The two major drawbacks of this site are a limited collection of shows and unskippable ad breaks during the shows.
What does it offer?
This site offers dubbed and subbed anime shows.

You can view anime movies in HD video quality. 

The database is huge which is frequently updated.

The streaming speed is commendable.

The UI is neat and users can also set a dark theme.
---
6. JustDubs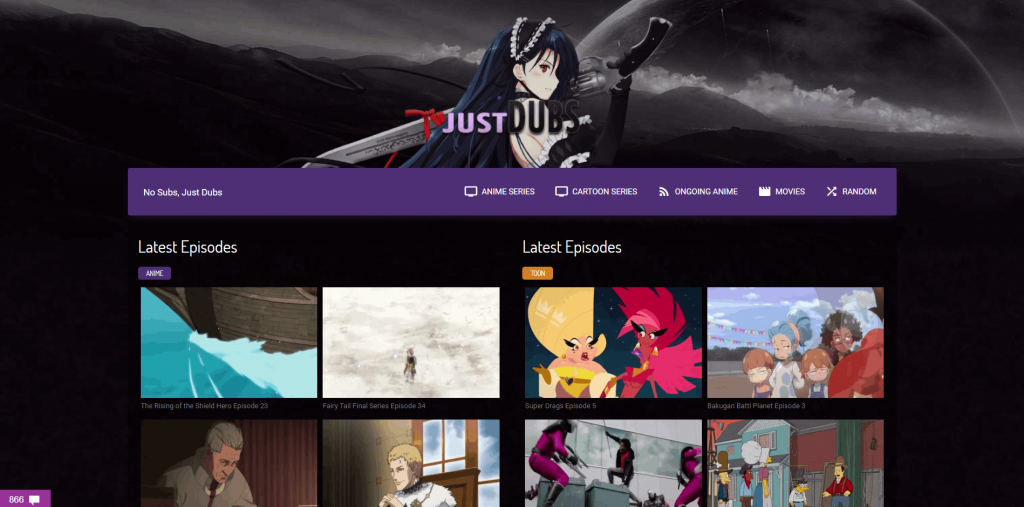 With a wide variety of movie genres ranging from horror, drama, comedy, action, romance, mystery, and thriller, you can choose to watch your desired anime shows for free on this anime streaming site. JustDubs is a promising Kissanime alternative for anime lovers.
What does it offer?
You can download your favorite anime shows from this website.

The video quality offered is excellent.
---
7. Viewster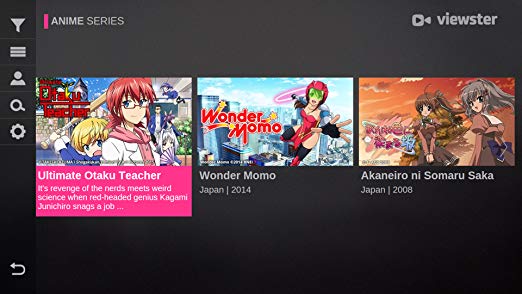 Viewster is a legal site to stream anime online for free. You get a fabulous collection of Hollywood movies, TV shows, and also anime shows on this site. However, video content may vary across different nations. This website is accessible in 120 countries currently. 
What does it offer?
English subtitles are available for all episodes. 

There are fewer ads on this site, which makes it a preferred choice site to watch anime.

Users can enjoy watching anime with the mobile app too.
Read More: Best TV Streaming Sites To Watch Online TV Shows
---
8. Crackle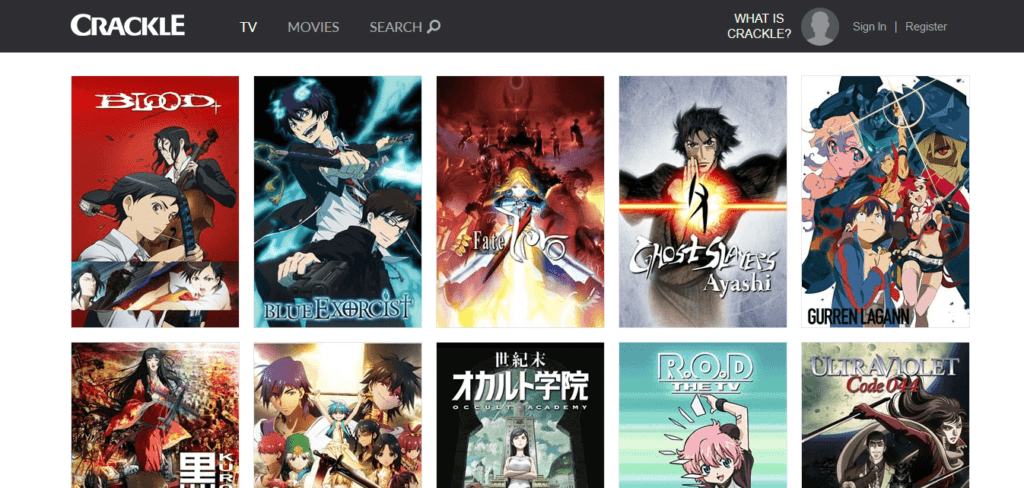 Looking for a website to watch anime? You can go for Crackle to watch good anime content. Sony owns this anime website which has some high-quality videos without any ads. There are some TV shows and non-anime movies collection on this website also. This website is available in 21 nations currently.
What does it offer?
Crackle offers in-flight entertainment services.

It is also available in some popular hotel chains. 

Viewers can use a single account to watch videos across many devices.
---
9. Netflix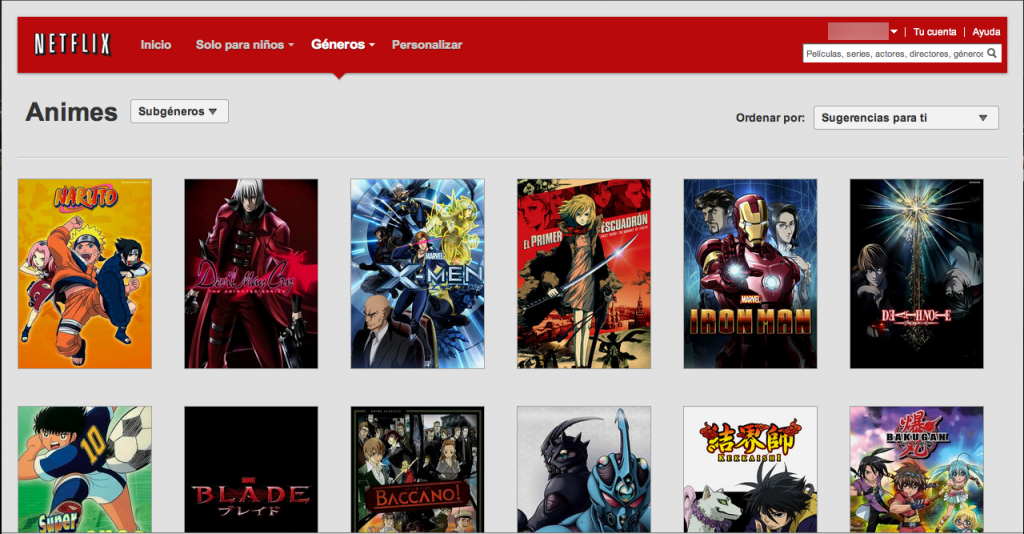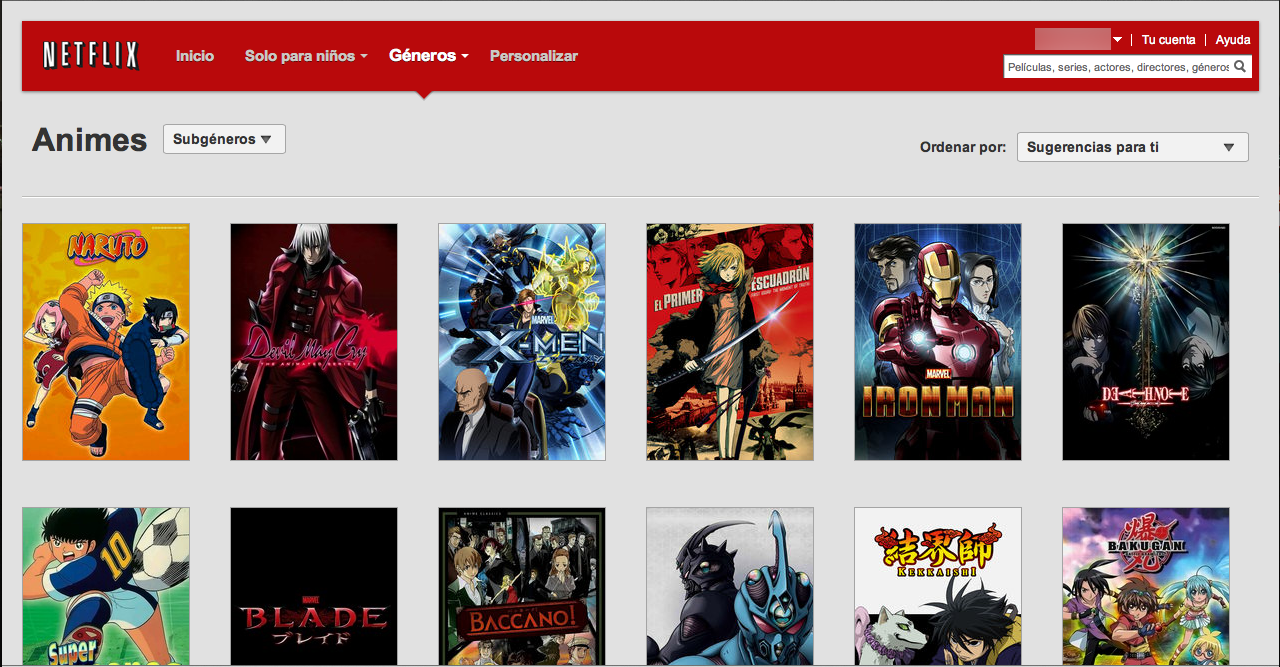 With 118 million subscribers worldwide with an increasing number of subscribers with each passing day, this is currently the most renowned site for watching a great number of TV shows, Hollywood movies, and web shows. It is also a wonderful site to watch anime. 
Netflix also hosts a huge collection of original content both in the form of web series as well as movies. Netflix is also a member of the Motion Picture Association (MPA). 
Netflix has cross-platform compatibility working across a wide range of devices like PCs & laptops, smart TVs, smartphones & tablets, gaming consoles, set-top boxes, Blu-ray players, and streaming media players.
What does it offer?
Currently, there are four membership plans with one month free trial period available to all first-time viewers.

Netflix is a preferred platform to stream anime videos due to the absence of commercial breaks.

This site offers top-notch video quality. 

The site also has subbed anime shows and movies.
Read More: Best Netflix VPN: Watch Unlimited Movies & TV Shows
---
10. Hulu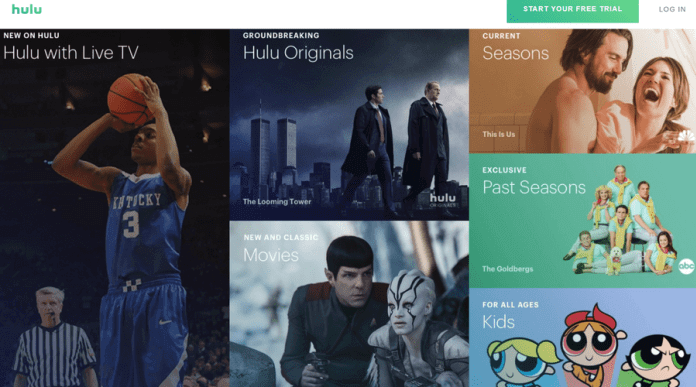 Owned by The Walt Disney Company, this video on demand site has a variety of content but does not offer a free service. This anime streaming site hosts a huge variant of anime movies as well as anime series belonging to different genres. 
What does it offer?
The videos are offered in HD quality.

The streaming speed is quite good.
---
11. Ani.me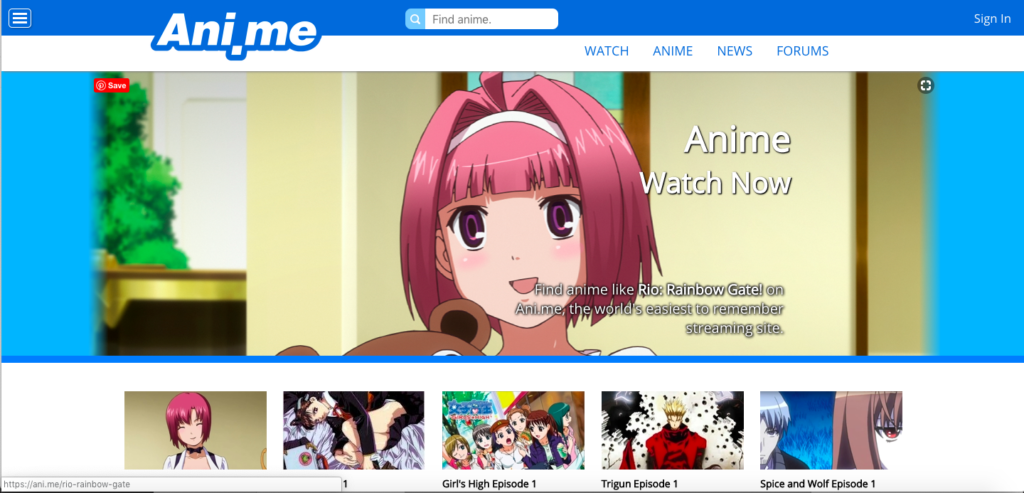 This is a new anime website that contains all the US-based anime movies and also has new movies collection. There are no ads to disturb the streaming of the movies but have limited availability across the globe.
---
12. Anime-Planet
This best site for anime is legal and operates in partnerships with many other video streaming sites. You get a recommendation as per the content history, and there is not much interference caused by ads.
---
13. 9Anime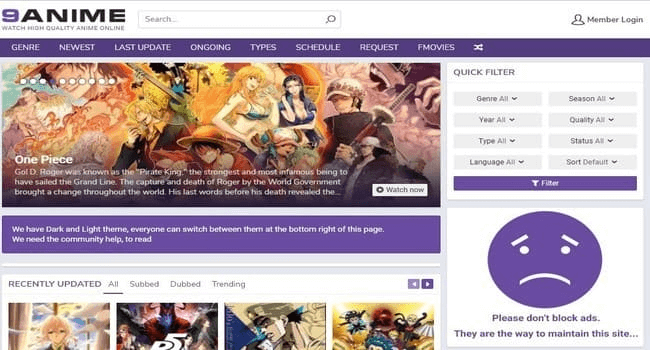 You can watch HD movies without creating an account and without paying anything from your pocket with this best site to watch anime. You can also request for certain anime shows if they are not already loaded in the database. 
The most advantageous thing about this anime website is that they have three to five servers for each anime show, which can stream your favorite show continuously. Even if one server fails to load, you can connect to the other one.
---
14. AnimeSeason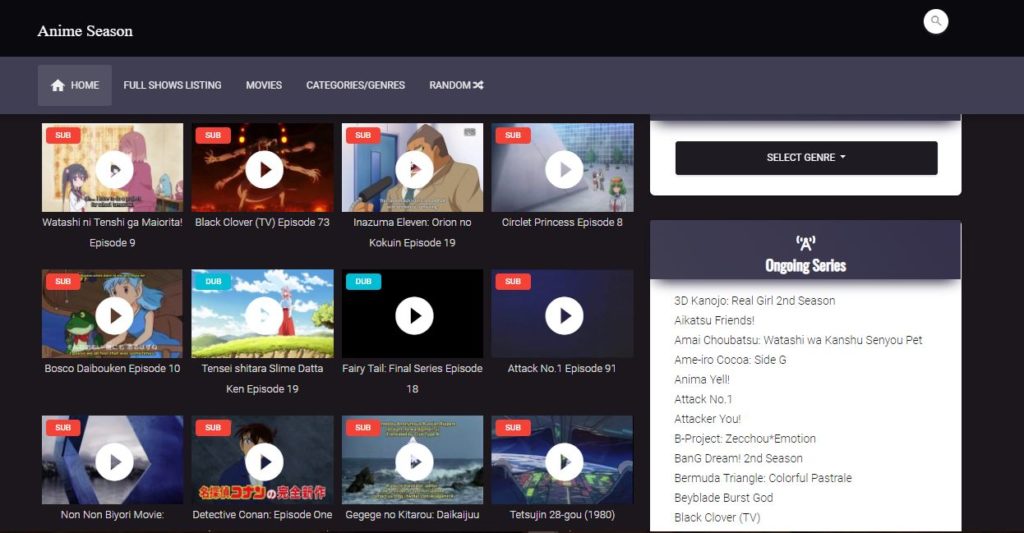 This anime streaming site is safe to browse, and it offers anime shows completely free of cost. There is also no need to create an account, and there are two to three servers for hosting the shows. 
Apart from the plus points, ad pop-ups is one drawback of this site that can mar the viewer experience.
---
15. Masterani
With a beautiful user interface, Masterani is a great site to watch anime online and download your favorite subbed anime shows with just one click. Most shows can be streamed in HD quality for free.
---
16. Animestreams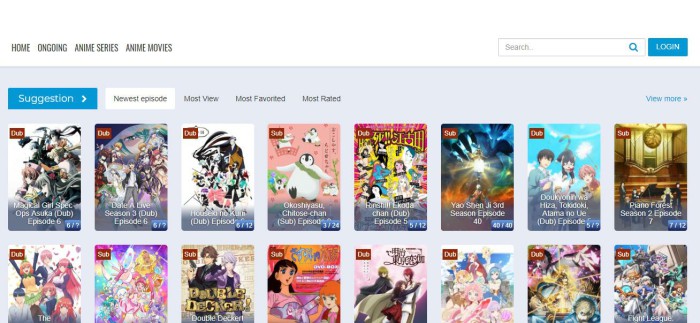 This is a superb anime streaming site because you can watch dubbed and subbed anime shows without worrying about payments and undesired commercial breaks. This website also gives you the liberty to download anime shows, and you can also request for movies which are not loaded on the site. You can choose to watch anime in English as well as Japanese subtitles.
---
17. AnimeHeaven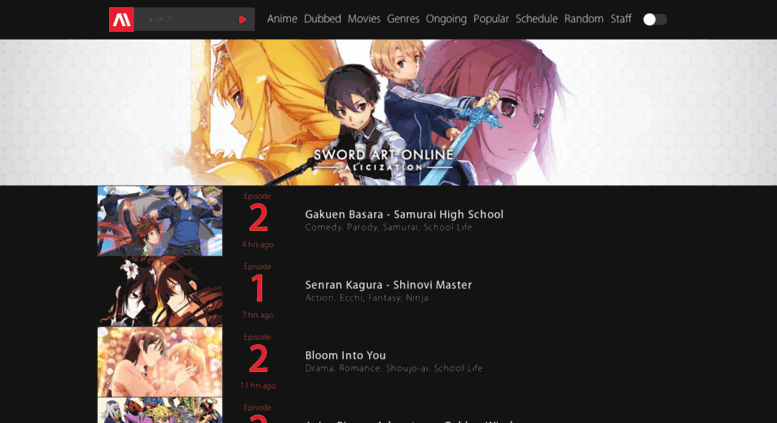 With an attractive UI, you can view popular anime shows for free in HD quality. There is also an option to download anime series. This is a regularly updated website that can prevent you from missing even a single action of the anime world.
Read More: Best IPTV Players For Windows PC
---
18. Sidereel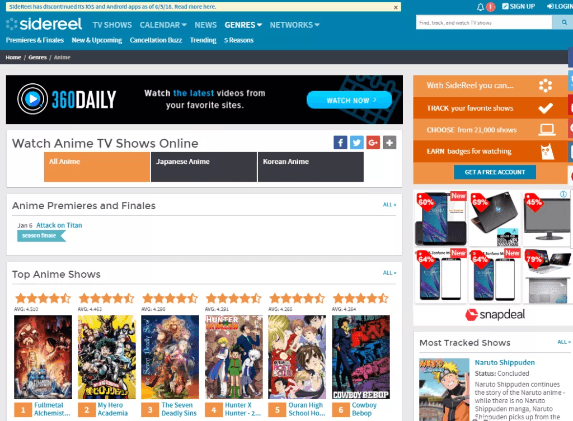 This anime streaming site has been around in the market for quite a long time now and hence is popular among anime viewers. You can create a free account to watch loads of anime shows.
---
19. Anilinkz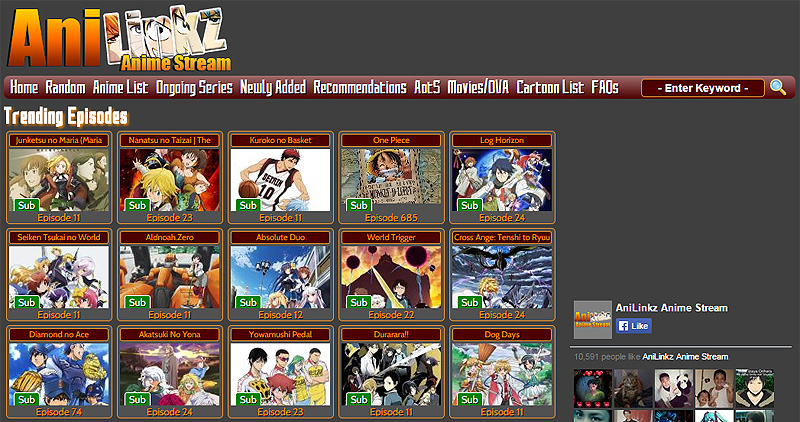 This anime streaming site is an excellent choice for the latest anime shows; however, you have to be careful to not click anywhere else on the screen, otherwise you will trigger ads to pop up.
---
20. Animenova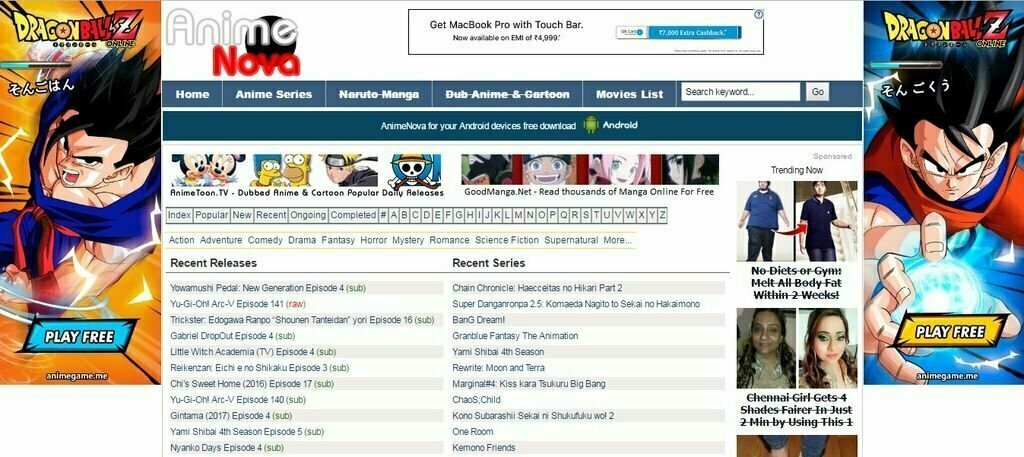 This is again an awesome site for watching anime online because of its vast database of anime shows. You can catch the latest episodes of your preferred anime series here. There is no limitation imposed on the number of accounts created.
---
21. Chia-Anime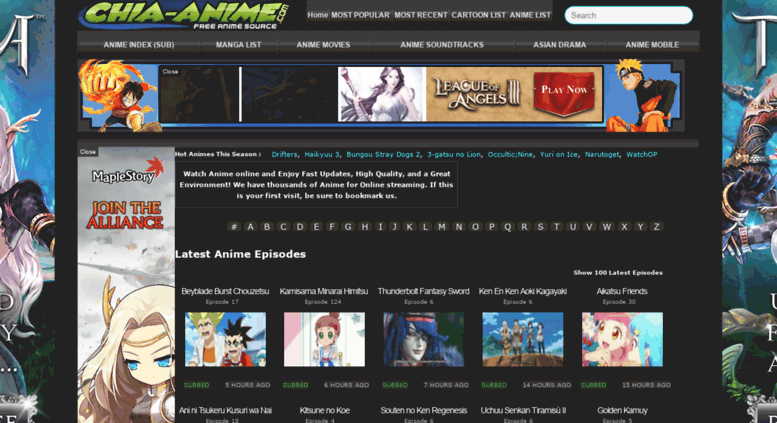 The management of the website is of superior quality with the availability of multiple servers to give a smooth loading experience. You don't need to register on this anime streaming site, and you can easily download selective shows for watching them later.
---
22. Anime Take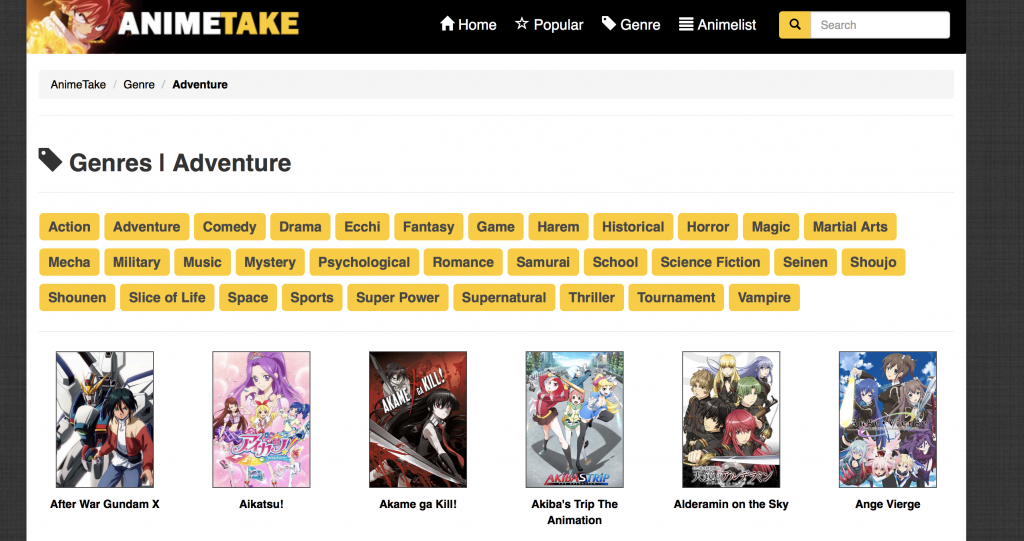 This anime streaming site has earned a name for itself in the due course of time due to great content without interruption from advertisements. The website is also regularly updated.
---
23. GoGo Anime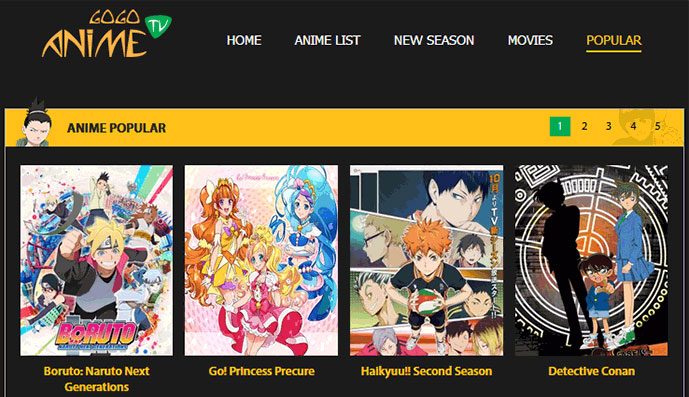 All the latest anime shows are delivered straight from Japan directly on your device. This anime website is a great option to watch anime online and has an extensive collection of anime shows from different genres, which can be streamed on a simple video player enabled with the autoplay feature.
---
24. Anime Simple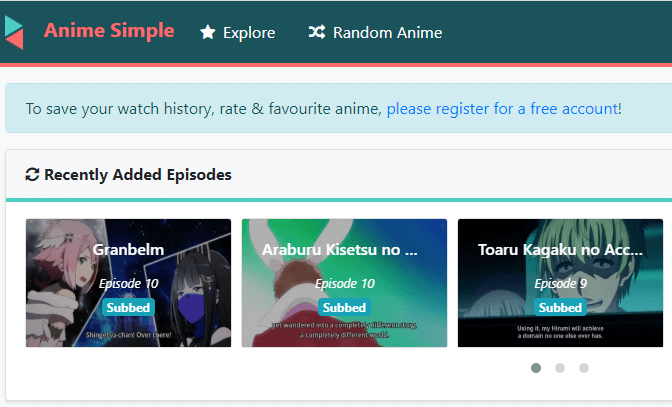 The site is as simple as the name sounds. You can simply open the site and watch anime online. You can select your desired show with the preferred resolution, and you are good to go. 
This site is comparatively new in the anime movie streaming market, and you get Englishdubbed and subbed movies. The user interface is simple and effective.
---
25. Ryuanime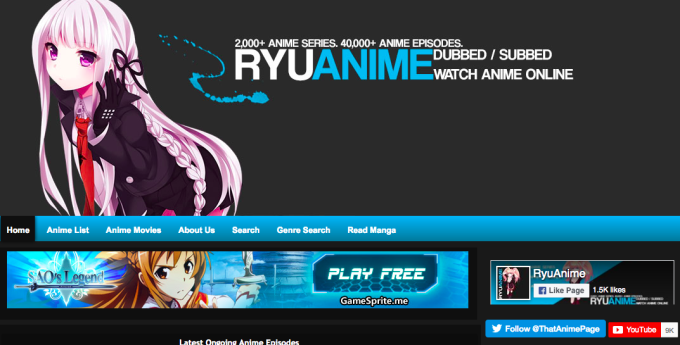 Still looking for a site to watch anime online? Here is another praiseworthy site called Ryuanime. The most significant advantage of this site is that if you are typically new to the anime world and lack an idea of where you should start, then this website offers a random button that can suggest to you the trending shows to start your anime journey. 
This site has most of the dubbed and subbed shows in English. There are also fewer ads to create a hindrance.
---
26. WCOFun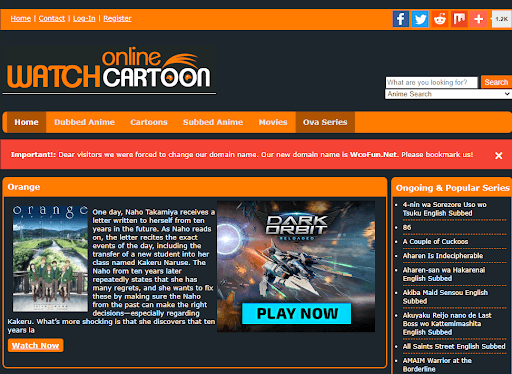 At last, we have another source for you to watch anime online. WCOFun allows you to watch tons of anime and cartoons for free. You can use the web browser present on your Windows, Mac, Android, iOS, or any other operating system and run the website. Here, you will find a plethora of titles to watch. It also contains popular anime in dubbed languages for you.
Additionally, you can also control the quality of video while using the WCOFun website to stream anime and cartoons.
---
Frequently Asked Question For Anime Websites
Q1. How to Identify a Good Anime Site?
Ans. Things that you have to look for in an anime site to judge if it is going to be a good choice are the following:
Subscription plan rates are cheaper or not.

Whether dubbed and subbed versions of content are available or not?

How is the quality of the content?

Whether the library is updated regularly or not to add newer episodes?

Does the site have some provision of ad-free streaming?
After you have considered the above points and researched accordingly, you can decide if a particular site is good or not.
Q2. How to Legally Watch Anime Online For Free?
Ans. You can watch anime online for free from various legal sites mentioned in our list above like Hulu, KissAnime, Crunchyroll, Tubi TV, etc.
Q3. Where to Watch Anime Without Ads?
Ans. The sites to watch anime are often not ad-free as they earn a lot of revenue from the ads; however, you can try sites like Hulu or KissAnime that are available at quite a cheap subscription rate to stream anime movies and shows without ads.
Q4. Which are The Best Anime Streaming Sites For Obtaining Dubbed Movies?
Ans. There are a lot of good anime streaming sites that offer shows and movies with English dubbing. You can refer to our list above to find out which sites offer dubbed and subbed anime movies and shows.
---
Wrapping Up
In conclusion, it can be said that if you are an anime lover and want to get your hands on the best sites to watch anime, then this article can guide you towards finding the best anime streaming sites for you. 
Though there are anime sites available yet finding legally approved websites with good video quality and less or no ad interference is always a challenge for viewers. 
Thus, bookmark the sites provided in the list of best anime websites to watch anime online. If you are aware of any other site to watch anime, then do let us know in the comments section below.
Snigdha is a technical content writer with expertise in the field of science & technology. Though she has a very diverse academic and professional profile yet she finds writing to be a creative form that she was unable to explore so far. When not writing, she can be found indulging in other forms of creativity like painting or travelling.
Subscribe to Our
Newsletter

and stay informed

Keep yourself updated with the latest technology and trends with TechPout.
Related Posts