Mario Kart Tour for iOS and Android | Review, Price & Features
Published Date :
Oct 04, 2019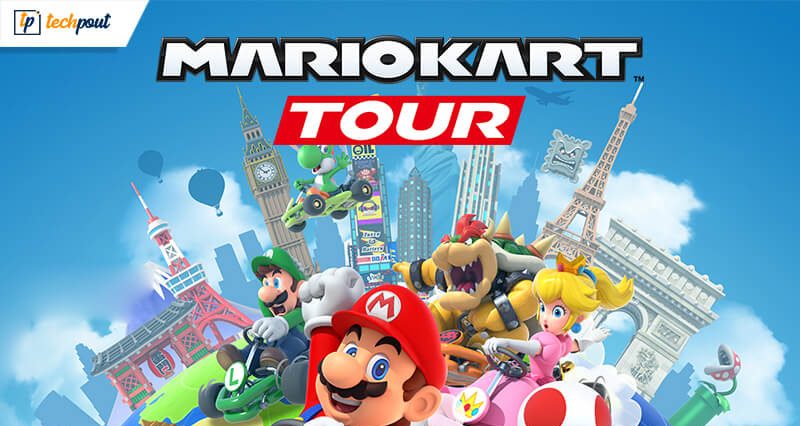 Know the latest update regarding Mario Kart Tour. Well, What's new to it?
This news is about the release of the Mario Kart Tour. This week, i.e 25 September,  seems to be the releasing date of Mario Kart Tour, as per the latest update. 
It's the first popular racing game series of Nintendo, which will be available to download on your Android and iOS devices.
The excellent news about Mario Kart Tour is that it'll be the original new game series since 2017's. 
For the Nintendo Switch, Mario Kart 8 Deluxe is a Wii U game version that will be a collection of new characteristics for Nintendo's portable console.
Mario Kart sees the Super Mario characters jump into go-karts to place their driving talents to test over various funny ways.
Those dreaded blue shells, special abilities, and power-ups all are included, making it one of the top-notch series of games. In the week of September, this multiplayer game is set to hit on your smart devices like iOS and Android. 
Let's have a quick look at its cost, reviews, features, and more.
What is Mario Kart Tour?
Mario Kart Tour holds a bag full of unique characters, exciting features, and an additional classic Mario Kart courses. 
It's one of the best racing series games inspired by real-world towns with traditional Mario Kart courses.
In the trailer, we saw a course inspired by Paris, with a structure of Eiffel Tower and the destinations that will be featured in "tours" that rotate every two weeks.
You wouldn't believe that Nintendo is also focusing on the ability to play with one finger like in case of Super Mario Run, to get your Mario Kart to set while standing on a crowded bus to run.
As per the updates, "In just one touch, you can easily drift and steer, and sling destructive items as you drive for the gold in cups loaded with new standard Mario Kart courses.
"In the game, it's isn't about always the goal for individual races. However, also new bonus challenges courses ask for a unique approach when it comes to strategy and gameplay. Amazing!
Now, let's get to know about the costing.
Also Read: 10 Best Fire Emblem Games From Nintendo
How Much Does It Cost?
When it comes to the costing of Mario Kart Tour, it'll be "free-to-start." This means you can download and play it for free on your smartphone, whenever required. 
"Patrick O'Rourke, tech analyst and managing editor of Mobile Syrup said to Bloomberg that later, there might be an in-app purchase.
Like other Nintendo mobile games. It's foreseen that while downloading new tracks and characters, there will be an in-app purchase along with a limit on how long you can play."
You must be wondering about the announcement date of the game!
When Can I Play It?
Recently, the Japanese gaming company mentioned by "confirming" that the game was yet on track for an early-2019 announcement.
That early-2019 release time didn't come yet, but now Nintendo has introduced a more exact date, i.e., 25 September and you'll be surprised to know that the game is available for both Android and iOS devices. So, hurry up and pre-register your devices now!
Let's get to know about its Features & Reviews. Here you go.
Mario Kart Tour Features
When it comes to Mario Kart Tour features, hopefully, the game will certainly carry all the zoo-gravity elements of the 5-star game i.e., Mario Kart 8: Deluxe and underwater which is arguably the best series you have ever seen in your life.
The element with the name 'Tour' might give you some hint about the game that suggests- "Nintendo will be putting more focus on online multiplayer, in speech with its other smartphone. Expect online leaderboards, multiplayer races, and some friend mechanic and more."
Mario Kart Tour Review
Mario Kart Tour has officially broken all the records with 10.1 million worldwide downloads. It's a simple, more accessible and free to play version and a fun racing game of classic Mario Kart series.
While playing the game, the steering is a little "Floaty" and is quite a challenging one. The courses are full of big jumps, ramps, immediate hazards, boost panels, and more.
Mario Kart as a franchise is arguably the biggest successful series in Nintendo's Lineup with 100+ units sold over the last 27 years. Overall, it's been said that no real weak spots are found in the core lineup. 
Now, coming to the Mario Kart Tour challenge Guide. What does it carry?
Mario Kart Tour Challenge Guide
If you're not yet signed up for this challenging game, you'll be finding yourself under no progress zone towards the pipe badge. But there's a way to get into it. 
1. Pick SNES Mario Circuit 1 
2. Pick a three items character
3. Pick the lowest speed wheels (vital for sandbagging)
4. Pick a ++ item luck glider- To increase the chance of getting the desired item.
5. Pick 50cc (more comfortable to hit pipes )- Simple to hit pipes.
6. To burn out, Start, and Press down the accelerator during the countdown. Ride in the reverse direction of the track until you're in 6th or 7th place and strive to stay there. Make sure you never get hop or sparks. 
7. Quickly use all things except for Mega Mushrooms.
8. Disable auto items in the settings menu, once you get mega. 
9. Wait for the section where two pipes on the right half of the road are there, and drive over them, if performed correctly. Congratulations! You hit three pipes with one mega.
10. Repeat as it can take six tries, as per your luck with items. It's helpful if you are low on stars. You can unlock the 200 coins with a baby driver badge, so, quite a bonus for you.
Prachi Dani is a technical content writer who specializes in areas of science and technology. She is highly up to date with technological transitions and transformations. Writing is not her passion but the only thing that carries satisfaction in life. If not writing, you may find her engrossed playing action games on her treasured smartphone.
Subscribe to Our
Newsletter

and stay informed

Keep yourself updated with the latest technology and trends with TechPout.
Related Posts