Try the best free ping reducer for gaming available in 2023 to improve the overall gaming experience. Read More!
Any dedicated gamer who takes their hobby seriously has at some point experienced ping and latency problems. When other team members depend on you in online games, having a high ping might be disastrous, making you wish you had a ping reducer.
However, it can be resolved by utilizing a ping reducer when playing online. In order to save you time and allow you to return to your game as quickly as possible, we hand-selected the top professionals in the field.
Use Bit Game Booster to Enhance Overall Gaming Experience
Are you an avid gamer? If yes, then you should definitely try Bit Game Booster to get a wonderful gaming experience, especially while playing high-end PC games online. The software has the potential to take your gameplay experience to the next level. Bit Game Booster has everything you need to ensure glitch-free gameplay including backup settings, PC scan, performance booster, single click update, and more. What's more, you can use it for Free from the button provided below.

List of Best Ping Reducer for Gaming in 2023
Here we have brought up a comprehensive list of the 7 best free ping reducer for gaming that you can consider in order to accelerate your gaming journey. Without further ado, let's get started!
1. LagoFast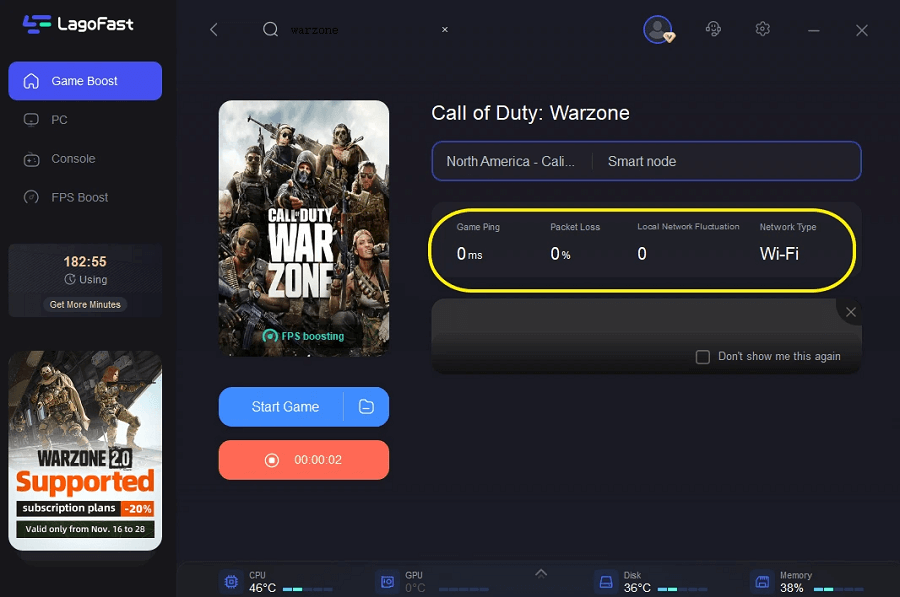 The best free ping reducer for gaming is LagoFast. The top ping reducer, LagoFast, is endorsed by 3,000,000 players worldwide. It runs several servers spread over more than 150 cities and 60 different countries. All game servers feature enhanced stability and lightning-fast performance. More than 2000 online games can benefit from LagoFast's smart network connection, which significantly lowers ping and lag problems.
Key Features of LagoFast:
Intelligent network traffic optimization.
Reduce Lag & Ping instantaneously.
Boost FPS for support of Smoother Animation Simple Lobby for Cod Series and PC Applications.
Support for Console Games 2000+ well-known online games, such as Roblox, Fortnite, and Call of Duty Warzone.
---
2. WTFast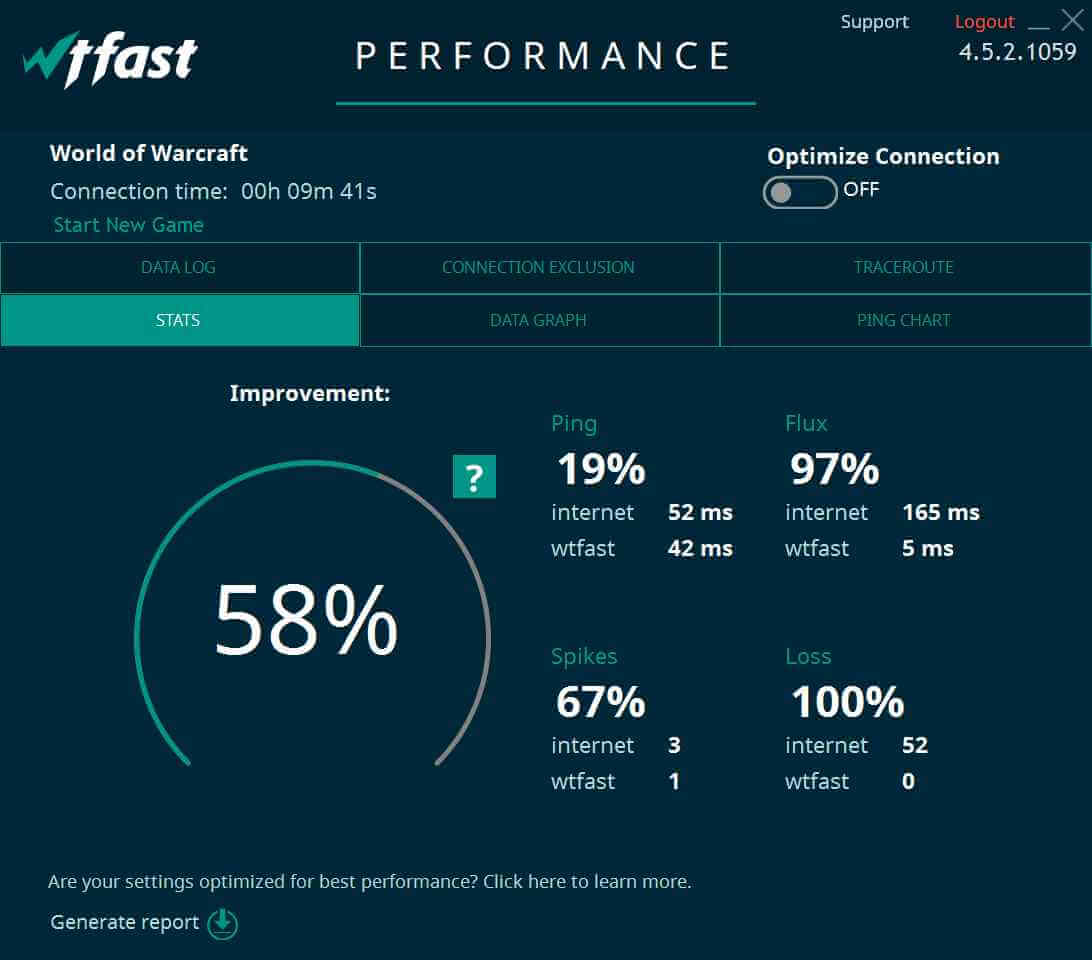 WTFast is a best gaming ping reducer for Valorant, a GPN similar to Kill Ping, and was created to optimize the data of your game connection and enhance your overall gaming experience by reducing the ping time. It can also be used to resolve jitter problems.
You don't need to locate the game server & then connect to the matching WTFast server in order to use this plug-and-play ping booster. Instead, everything is automated. Simply choose the game and begin playing while WTFast is active in the background.
Key Features of WTFast:
Over 1500 games, incorporating some of the most well-known ones, are supported by WTFast.
Several open beta games are also included.
You can get in touch with the WTFast team and make a request if you wish to play a particular game that isn't currently supported.
It can also be installed on iOS and Android mobile devices.
---
3. NoPing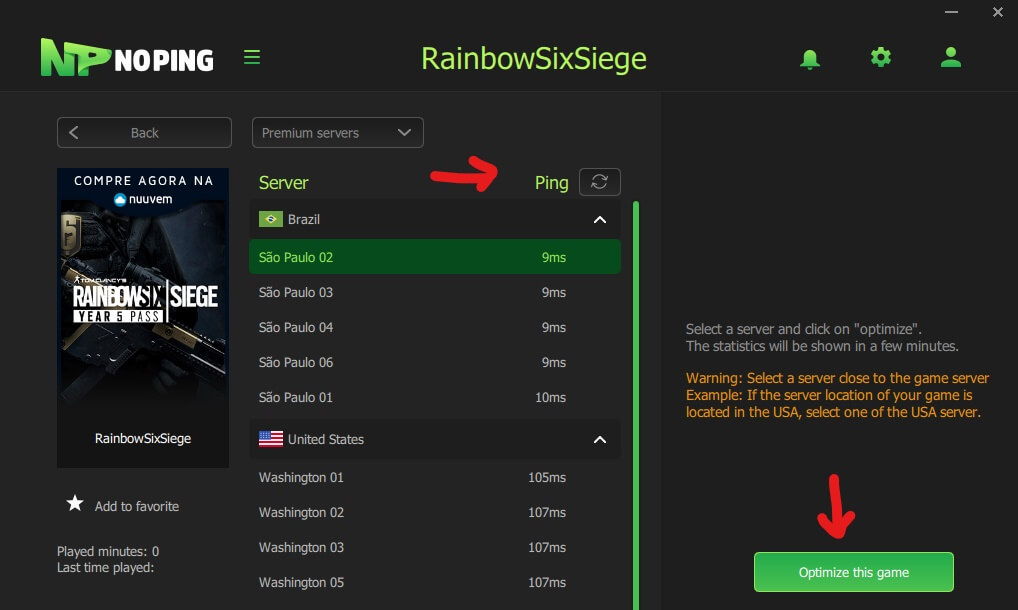 Another best free ping reducer for gaming that you can use is NoPing. The dedicated gaming app NoPing analyzes your connection to determine the best and quickest route you may use to connect to reduce ping. Pro-level gamers of many online games, including League of Legends, Fortnite, CS:GO, & COD, use the program, which has been shown to effectively alleviate latency and ping issues.
Using your connection and the game servers, this program checks both of them and provides you with a list of the most dedicated servers you can connect to depending upon the ping times.
Key Features of NoPing:
More than 15,000 dedicated servers are accessible through it.
The software can currently assist with latency concerns in over 1000 different games, including all of the well-known and well-liked online games like LoL, Ragnarok Transcendence, COD, and DOTA 2.
NoPing allows customers to choose the server location and reduce ping rates at the same time because of its enormous number of servers spread throughout the globe.
Using this ping stabilizer, like VPN tools, can be used to unblock games that are geo-restricted.
---
4. Kill Ping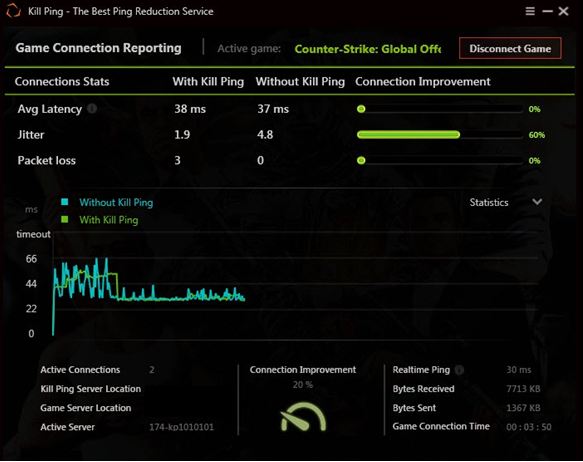 In order to lower your ping, Kill Ping is a best free ping reducing software that chooses the shortest route to your gaming server automatically. This will guarantee the least amount of latency for you. It is a fantastic ping reducer for League of Legends that enables you to play fast-action games like FPSs and MOBAs without having to be concerned about lag. Compete and establish your value while Kill Ping handles the rest. You should be aware that, in contrast to a VPN, it is unable to encrypt your gaming traffic, disguise your IP address, or modify your location.
Key Features of Kill Ping:
This program can be used in conjunction with a Windows game or gaming platform like Steam because it is only compatible with Windows machines.
You can change the location of your server as frequently as you'd like with Kill Ping. Over 100 servers are spread over 30 different locations.
You have the option of choosing your server manually or letting the software choose the best one for your network and area automatically.
---
5. Razer Cortex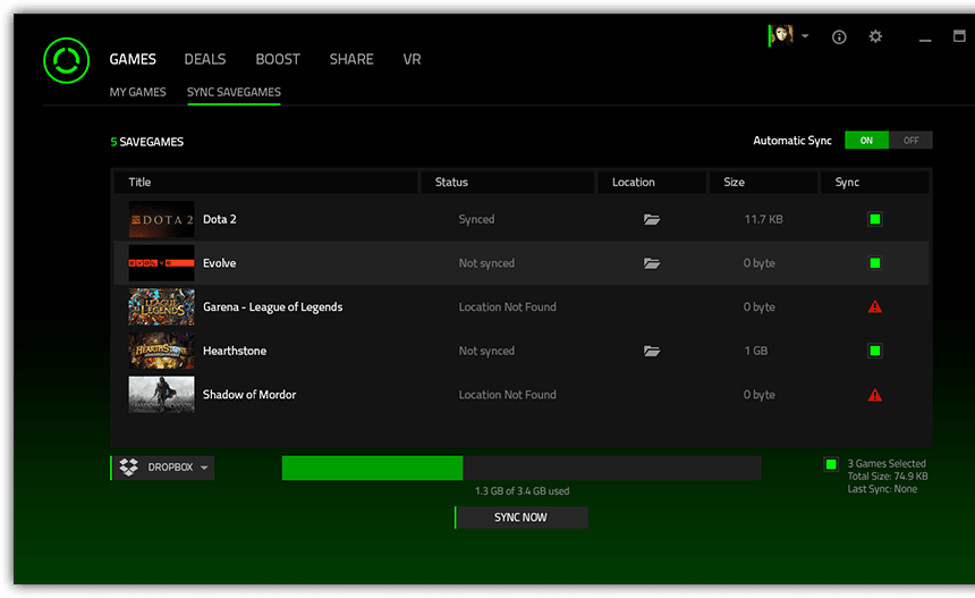 Razer Cortex is another best ping reducer for gaming. It handles everything and gives you the finest gaming experience imaginable, including the ability to get the best gaming deals, a game booster for both your PC and your mobile device, and more. This ping-reduction software is completely free to use.
Despite being cutting-edge, stylish, and engaging, the Razer Cortex's interface is one that even a rookie user will have little issue understanding. Additionally, it is a fantastic ping reducer for League of Legends fans. The problems with ping and low FPS while performing the triple kill are well known. Kill Ping is a service that requires a membership. It is compatible with Windows Vista and later operating systems.
Key Features of Razer Cortex:
Redirects all of that extra processing power away from those that aren't absolutely necessary.
It will automatically restore your PC to how it was before once you've finished playing games.
This best free ping reducer kills programs in the background in order to extract every last bit of performance from your device.
---
6. Exitlag 3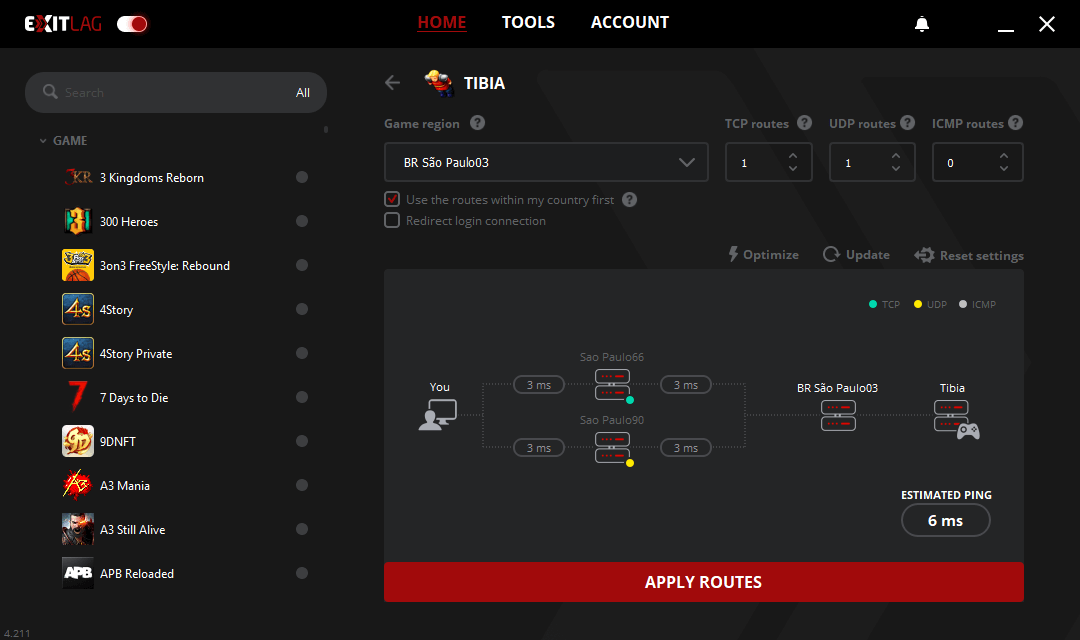 Exitlag and LagoFast are comparable, but Exitlag does not offer services for driver updates and graphics overclocking. It can be used by gamers to switch servers and nodes, which will help to lower ping. Exitlag exclusively enhances games on Windows PCs and functions as a gaming VPN. You can still give this free ping reducing software a try if you play games on Windows.
Key Features of Exitlag 3:
With a specific software for Windows, the utility is a fantastic ping enhancer for computers. It also collaborated with ASUS to develop routers that are game-ready.
Redirects your Internet traffic to a different server that is situated closer to the game server.
---
7. Ping Booster 7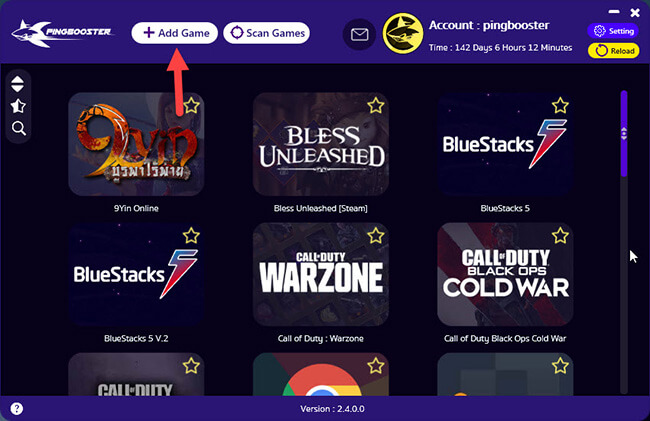 Last but not least Ping Booster 7 is another best free ping reducer for gaming available in the market. You cannot use Ping Booster to upgrade drivers or overclock the graphics card because it does not support FPS boost. There are already hundreds of online games that Ping Booster supports.
Key Features of Ping Booster 7:
Optimizes your network traffic.
Extremely easy to use.
Offers numerous servers in different locations.
---
Frequently Asked Questions Related to Ping Reducer in 2023
Q.1 Why do gamers need ping reducers?
As was already noted, ping issues are frequently related to game lag issues. You will have a high ping issue if your network or bandwidth is crowded, your network connection is inconsistent, or your game's routing is poor. Additionally, there are times when a WiFi connection is slower than a cable one. A decent ping reduction optimizes your computer to transfer the data packets in the most efficient way possible, which solves congested network and bandwidth issues.
By reducing bounces within your local NSP, the ping reducer can also provide more stable connections to fix the unstable connection. This decreases rubber banding risk and jitter and ping spikes. A ping reduction can also assist you in managing the computer processes that are operating so that there is more processing power available for the game.
Q.2 Is A Ping Reducer Effective?
Different ping reducers operate in various ways, but they all lower your ping in accordance with how it affects gaming. The following characteristics should be included as an all-in-one ping decrease for online gaming:
Intelligently select/change game servers and nodes;
Many nodes for different internet games;
An in-game ping test in real-time;
Minimize ping and latency problems;
FPS increases through driver updates and graphics card overclocking.
---
Which is the Best Ping Reducer For Gaming in 2023?
Choose a ping reducer from the options above based on your preferences to improve gaming performance. LagoFast is one of the best free ping reducer for gaming if you require an all-in-one solution. It is simple-to-use software that runs automatically and is exclusively for gaming. Improve your gaming experience by using the ping reducer.
That's all, we hope you found the article interesting and helpful. Please feel free to drop your queries, doubts and further suggestions in the comments section below.
Harshita Sharma is a technical writer with quite a distinct understanding of the tech realm. She is a tech enthusiast who believes that tech knowledge should reach one and all and tries to convert the sketchy knowledge into the simplest possible form for making people understand the tech world better. When not playing with words, she loves to travel and explore new places. And, is a coffee & cricket connoisseur.
Subscribe to Our
Newsletter

and stay informed

Keep yourself updated with the latest technology and trends with TechPout.
Related Posts