Why is Instagram Not Working? How to Fix this Issue (Quickly & Easily)
Published Date :
Apr 15, 2022

This tutorial is all about how to fix Instagram not working issues. Here we have put together some tested and tried hacks to fix this issue. Read an entire article for complete details.
Undoubtedly, Instagram is one of the most popular photo and video-sharing social media platforms with more than a billion active users. The app lets the users upload media like photos, videos, or stories that can also be edited with filters and managed by hashtags. In addition, the post can be shared either publicly or privately with only pre-approved followers.
People can see trending content like videos & photos. Not only that, but users can also follow the other users in order to add their content to a personal feed. Now those who are apt to social media or the latest trending updates every single minute or day don't like the concept of their favorite app going down. Also, it can be an irritating experience when you find Instagram not working. But, nothing to worry about, we have got you covered. This post consists of numerous ways to fix Instagram not working issues, easily & quickly.
Why Isn't Instagram Working?
Generally, servers are responsible when Instagram won't open, but we have also put together a few other points that can also cause Instagram not to work.
Maybe the Instagram server is down.
Due to network issues.
When required app permissions are not granted.
In-app glitches.
Also Read: How to Fix Instagram Music Not Working
Easy Tips to Fix Instagram Not Working in 2022
Instagram not working: "Oops! My Instagram is not working properly. How would I make reels and post stories now?" This is what you are struggling with. Nothing to worry about, here are 7 troubleshooting tips for you to fix the issue in no time.
Tip 1: Close and Re-Open the App
Whenever you find that your Instagram not working fine, then always consider closing and reopening the application as a very basic hack. If Instagram does not have any major issues, then the issue could be resolved using this tactic. If this didn't work, then you can also try to sign out and sign in back. One of these hacks could put all the settings back in place and get everything back to its normal state.
Also Read: Fixed We Limit How Often Instagram | Instagram Limit Glitch
---
Tip 2: Check Instagram Outage Report
Another thing you should check when your Instagram won't open is checking the outage report of Instagram across the work. To do so, you can also use sites like Outage. report or Downdetector.
---
Tip 3: Update the Application
If you are having problems with your Instagram and searching for how I can fix my Instagram not working, then try this tip too. It's likely to happen because of a bug in the application or a new update that you might not be familiar with. Therefore, uninstalling and reinstalling the app is recommended.
You can do that simply by going to the App Store on iPhone or Google Play Store on Android. Search for the application and check if there are any latest app updates available. If yes, then tap on Update.
Once Instagram is updated to its latest version, then try to open the app in order to test the issue.
Also Read: Best Free Instagram Followers Apps
---
Tip 4: Reinstalling the Application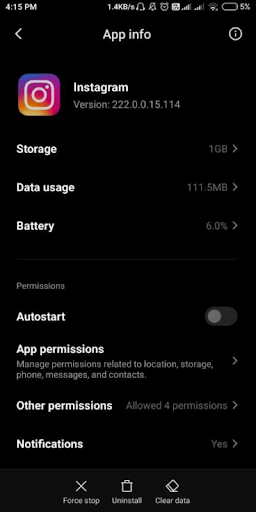 If your Instagram won't open, even after upgrading to its latest version, then you need to reinstall the app. To do so, you need to first uninstall the currently installed version. Before uninstalling, you need to clear the unnecessary data and cache.
Android users can first go to the Settings of their phone, then tap on Manage Apps. Scroll down until you see Instagram, later on, long press to clear data and clear cache. Thereafter uninstall the application and reinstall it from Google Play Store.
iPhone users can visit their devices' settings and uninstall Instagram. After that, visit the App Store and reinstall the application.
Now, try to access Instagram again to check if Instagram not working is fixed. If not, you may try other tips mentioned below.
Also Read: Best Instagram Alternatives For Android, iPad, and iPhone
---
Tip 5: Use Instagram's Web Version
Nothing has helped from the above suggestions to fix Instagram won't open? Don't panic, try to use its web version because sometimes the app doesn't work on mobile. Just go to your preferred web browser and log in through it. If you observe, that it is working over there fine, then using Instagram through a web browser is recommended at least for some time.
But, unfortunately, if Instagram is still not working on the system, then you have to wait till the app is up.
---
Tip 6: Check for App Permission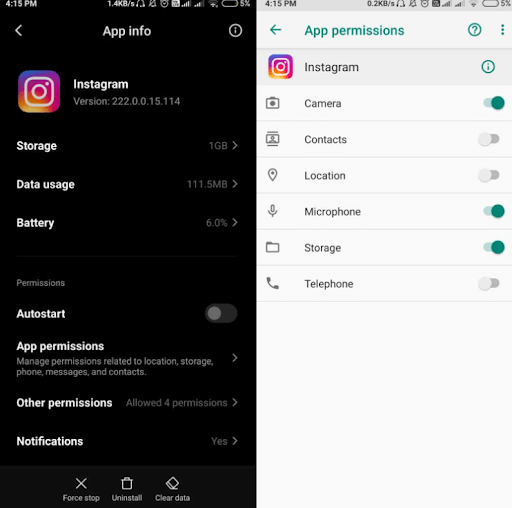 Apps required special permission to work properly. Likewise, when required app permissions are not provided to Instagram, you may experience issues that prevent your Instagram from functioning accurately.
To fix 'why won't Instagram load' you need to check app permissions. All you need to do is, go to Settings, choose Apps & Notifications, and tap on Instagram. Here you can check the app permissions. For the right functionality of Instagram, enable storage, camera, location, contacts, and microphone at least.
If in case, you check for the Other permissions, then make sure that all the required points or permissions are enabled.
Also Read: How To Download Instagram Reels On Android And iPhone
---
Tip 7: Check for the Network Issues
Anyways, this may sound a little bit weird but probably, there could be some network connectivity issues. If that is the case, consider connecting the device with the WiFi and confirm Instagram is loading. You can also ask your friend just to lend you some data via a mobile hotspot.
This should definitely get Instagram not working fixed.
---
Instagram Not Working: FIXED
Hopefully,  now you won't face issues with Instagram anymore. In this article, we have tried our best to teach you "how to fix Instagram not working".
If none of the tips mentioned above helps you learn ' why isn't Instagram working' and how to fix the issue, then we would suggest you look into Instagram's official help center for further help.
Was this article helpful to you? Please tell us in the comments below. You can also drop your queries or additional suggestions in the comments.
And, if you want to read more tech-related articles, do subscribe to our Newsletter. Along with this, you can also follow us on Facebook, Twitter, Instagram, and Pinterest.
Harshita Sharma is a technical writer with quite a distinct understanding of the tech realm. She is a tech enthusiast who believes that tech knowledge should reach one and all and tries to convert the sketchy knowledge into the simplest possible form for making people understand the tech world better. When not playing with words, she loves to travel and explore new places. And, is a coffee & cricket connoisseur.
Subscribe to Our
Newsletter

and stay informed

Keep yourself updated with the latest technology and trends with TechPout.
Related Posts