Fixed We Limit How Often Instagram | Instagram Limit Glitch
Published Date :
Apr 04, 2022

Are you getting the 'we limit how often Instagram' error message? Don't worry, simply try these robust and effective solutions to get rid of this error. 
Instagram rules the world of visual content. The application has been one of the swiftly-growing social networking services on the web in the last couple of years. It is acknowledged that this app might even overtake the legendary YouTube and Facebook in the forthcoming time.
Using Instagram's vivid features, people can make awesome reels or IGTV videos and showcase their talents or skills via pictures or videos. Usage of Instagram is rapidly increasing with every single passing day. Be it in the fitness, humor, fashion, travel, or art niche, every kind of social media influencers are highly active on the platform and also finds it the best place to share/upload a good variety of content.
As we are aware, social media platforms like Instagram are a common source of hate content and have threatened innocent people. Therefore, in order to safeguard its users from such mishappenings, Instagram comes with some rules and limitations, which help the users to find any odd activity on the application and take strict action against it.
The, 'We Limit How Often You Can Do Certain Things on Instagram is one such limitation that many Instagram users have recently encountered on the app. Nothing to worry about, if you are thinking about what this error message means and how to fix it, we have got you covered.
We have prepared this comprehensive guide highlighting the most potential solutions to fix We limit how often Instagram…error messages. So, continue reading in order to get the answers to all your queries or doubts.
Also Read: Is "security@mail.instagram.com" Legit and How to Prevent this on Instagram
What Does, 'We Limit How Often You Can Do Certain Things on Instagram' Mean?
No matter what kind of social media application you are using, there are always some rules and regulations that need to be considered. Likewise, Instagram has placed numerous rules & limitations just to protect its overall community from offensive, harmful and more content or accounts that might jeopardize its platform.
Coming back to the point, whenever Instagram observes any rare or uncommon activity from your preferred account, then it will show you this error message: "Try again later. We limit how often you can do certain things on Instagram to protect our community. Tell us if you think we made a mistake." Furthermore, this error message also appears as a pre-ban or warning. That indicates, if you fail to pull it back, then perhaps your Instagram account can be banned by official authorities.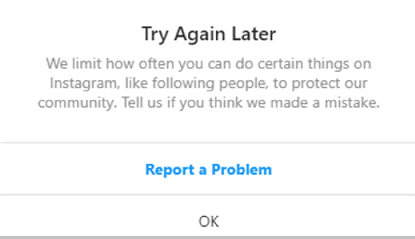 How to Fix We Limit How Often You Can Do Certain Things on Instagram
So, if you are getting an error message saying, "We Limit how often Instagram…", then there are a couple of things that you can consider in order to deal with the issue. Now, without further ado, let's have a look at them below:
#1 Delete Story or Post
Do you get 'Instagram We Limit how often error' because of a specific story, post, or video you have recently posted? If yes, deleting or removing that particular post or content immediately is the best way to fix the problem. This works and solves your problem but not in all scenarios. It is just a first and very basic step toward the issue. So, don't panic, if the error pops up relentlessly even after deleting the content. All you need to do is, just proceed with other helpful tactics.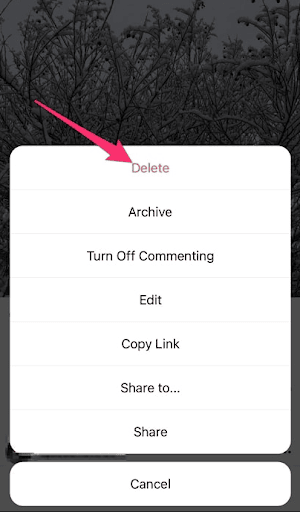 Also Read: How To Add a Link To Your Instagram Stories
#2 Report Problem to Instagram
Imagine you have got the, "We limit how often you can do certain things on Instagram" error, but you are unable to point out any unusual action by yourself. And, now you are wondering, how will you resolve this error?
Well, you can reach out to Instagram and ask them for further help. Additionally, it is quite easier than it may sound. Simply follow the steps below to get it done quickly:
On your profile, head to the Settings option.
Here you will see a Help option. Make a tap on it and then you'll find 4 other options.
Choose the first one that reads Report a Problem.
After that, you'll see three other options when you make a tap on Report a Problem. To proceed, you need to select the last option.
Now, you will be landed on a page, where Instagram will ask you, "explain what happened or what is not working in a brief." In addition, you can also add or share a screenshot to explain your problem in a precise manner.
Once everything is done, then hit Submit.
Now, you need to just sit back and wait for the Support Team of Instagram to resolve the problem.
Also Read: Best Ways To Check Who Viewed Your Instagram Profile
#3 Modify your Instagram Account's Password
This resolution has worked for so many Instagram accounts to fix the Instagram limit glitch. So, you can also give it a shot. It is just about changing your Instagram profile's password. To do so, you have to follow the steps below:
Open your Instagram account.
Navigate to the Settings option on your Instagram profile.
Tap on the Security option.
Now, you will see multiple options, wherein you need to select Password under the Login Security section.
On the next page, you will have to input your current password, and later on, type or re-type the new password which you want to set.
By entering both your current and new passwords, you will be automatically logged out of your Instagram profile. And, when you try to log in again, you might have access to all its features without any sort of restrictions or limitations.
However, it's worth noting that modifying your password might or might not work for you in order to deal with your limitations. So, if it didn't help, then you should wait for 24 hours to revive your limitations.
Also Read: How To Download Instagram Stories Using Story Savers
#4 Use Instagram Automation Tool
You can also seek help from Instagram Automation Tool. This tool can help you with handling the time you spend on the app, be it your post scheduling, content management, or DMs. Moreover, it will also keep complete track of restrictions or limitations set by Instagram so that your profile will never experience the risk of suspension.
#5 Be Careful While Using Hashtags
It might seem quite weird, but the usage of the same hashtags repetitively can also make you face problems on Instagram. The Instagram Algorithms see redundant hashtags with suspicion and could even ban or restrict an account because of it.
Hence, you should avoid using the same hashtags on every post. Instead of that, you should try to discover other different hashtags that are suitable according to your content.
Also Read: How to Know When Someone Unfollows You on Instagram
Frequently Asked Questions (FAQs)
In this section, we are going to address some most common questions about the Instagram limit.
Q.1 How Long Does Instagram Limit Last? 
Based on your action, Instagram's ban might last for an hour or up to 48 hours. However, the follow-up actions can make the time longer or shorter.
Q.2 Why Does Instagram Limit My Account? 
If numerous people keep on reporting your account on Instagram, then the platform will sooner or later block your Instagram account. In addition, if you try to breach Instagram's policy by promoting any offensive content which jeopardizes its ecosystem, then the platform will suspend your account.
Final Words:
This post explained how to fix the "Try again later. We limit how often you can do certain things on Instagram to protect our community" error. We hope you find this guide helpful and informative.
Do you have any better suggestions or further tips regarding the same? Then, please feel free to drop them in the comments section below. You can also share your doubts or questions in the comments.
Lastly, before you go, do subscribe to our Newsletter for more useful articles related to technology. Along with this, follow us on our Social Media Channels: Facebook, Twitter, Instagram, and Pinterest.
Harshita Sharma is a technical writer with quite a distinct understanding of the tech realm. She is a tech enthusiast who believes that tech knowledge should reach one and all and tries to convert the sketchy knowledge into the simplest possible form for making people understand the tech world better. When not playing with words, she loves to travel and explore new places. And, is a coffee & cricket connoisseur.
Subscribe to Our
Newsletter

and stay informed

Keep yourself updated with the latest technology and trends with TechPout.
Related Posts