7 Tips to Improve Your Employees' Mobile Security
Published Date :
Mar 19, 2021

Cyber-security threats are pervasive nowadays. Business owners are increasingly looking towards mobile-ready solutions for shoring up the safety and security of handheld devices. The proclivity towards BYOD policies in the workplace has created a network of interconnected devices. While this certainly benefits in terms of cost-savings, it presents as the perfect storm for adware, malware, viruses, Trojans, hacks, and vulnerabilities in the network.
Enterprise-owned connected devices are inherently safer to use, but cost is a major disincentive. With BYOD policies in place, employees can use their own mobile-ready smartphones, tablets, and personal computers. The company bears the risk if it does not practice due diligence. The following 7 tips to improve your employees' mobile security are failsafe ways to guard against this risk, while maintaining low costs of operations. This allows for cost minimization and profit maximization for business owners.
1. Set up a Mobile Security Policy
Device usage policies are essential when allowing employees to bring their own devices to work. A clear and unambiguous framework is required to establish norms, procedures, and security measures. If employees flout these rules, the company may suffer the consequences. Mobile security is only as strong as the weakest link in the network. Security measures must be implemented to mitigate the potential damage from fallout. Employees should be inculcated regarding the importance of security-conscious behavior when using mobile devices for work purposes.
---
2. Always Update Your Mobile Devices with The Latest Antivirus and Software
It comes as no surprise that regularly updated firmware, software, operating systems, and antivirus updates are sacrosanct. The reason why updates and patches are released is to plug the vulnerabilities that exist in older versions of the software. As new security patches are uncovered, they guard against older versions of the existing software. Viruses are adept at infiltrating old software, stealing data, and wreaking havoc on systems. Avoid these security threats by staying abreast of the latest releases.
Also Read: 8 Best Free Antivirus Apps For iPhone In 2021

---
3. Keep Employees Informed and Educated
BYOD policies are necessary whenever a company allows employees to bring their own devices to work. Since all devices – smartphones, tablets, tablets, wearable tech, and others – are likely to be using company Wi-Fi, or accessing company servers via username/password combinations, a security plan must be implemented. To this end, the data protection practices such as powerful, encrypted passwords must be implemented, and regular backups must be performed. Educating employees about the need for security vigilance is a top priority. As far as apps go, the company may wish to provide a list of acceptable apps, and a list of blacklisted apps.
---
4. The Web of Trust
Despite opinions to the contrary, mobile browsing is not safer than any other form of browsing. As soon as a connection to the Internet is made, a gateway is opened, and bad actors have access to sensitive, personal, or business data. This presents myriad opportunities for phishing, pharming, and other forms of hacking activity. Web of Trust is a downloadable application which presents as a reliable site safety checker. It separates safe websites from unsafe websites. If the website is safe to browse, it highlights as green, and if it is unsafe to brass, and highlights as red.
MyWOT operates as a community-based system where ratings are assigned by over 6 million+ users regarding the safety and security, or the risk of websites. The system performs website security checks for any website in the world, and uses powerful algorithms to accurately assess the risk factor. With safe browsing practices in place, business owners can stress less about employee activity on mobile devices. Plus, MyWOT provides secure browsing and real-time virus alerts.
---
5. A Clearly Formulated Password Policy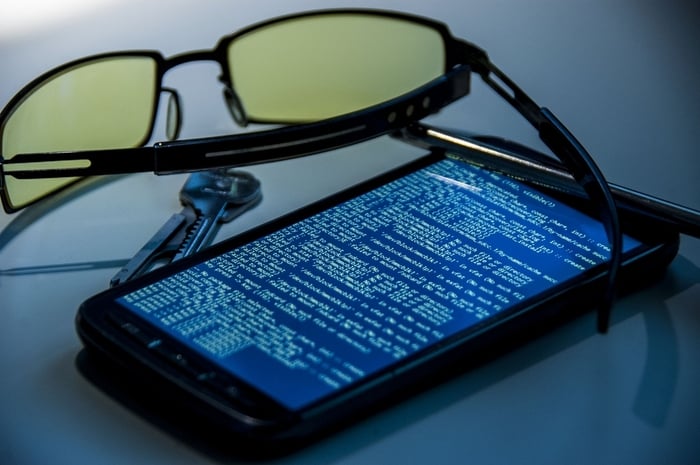 Users are given access to company Internet, and company servers, and this access is secured by way of password-protected content. If at all possible, business owners should encourage multi-factor authentication protocols to safeguard the username/password combinations of employees on mobile devices. To this end, employees should change passwords regularly, and not keep passwords anywhere where they are readily accessible to hackers.
Other measures include clear guidelines for creating 'unbreakable' passwords, with multi-string characters (alphanumeric) without any clear or logical sequence of password characters. Additionally, browsers should be beefed up with security measures to prevent hackers from simply stealing passwords from unsafe Firefox, Chrome, Safari, Explorer, or other browsers. A password is only as safe as the virtual space where it is saved.
Also Read: 7 Best Parental Control Software To Track Your Kids Online Activity In 2021
---
6. Opt for Mobile Device Tracking Software
Business owners may wish to go a step further by requiring employees to download and install device tracking software, if it is not currently available through iOS/Android systems, or other applications. This way, a lost or stolen device can easily be tracked and deactivated with the software, to prevent compromising data. Fortunately, all modern Android and iOS systems allow you to locate and recover missing mobile phones. Wearable tech like iWatches also feature a phone pinging option.
---
7. Enlist the Support of Risk Management Assessors for Peace of Mind
Despite a business owner's best intentions, network vulnerabilities may continue to exist. If this is the case, it is well worthwhile investing in the services provided by security consultants, particularly if high-value, sensitive information is involved. Strategic risk advisors are adept at providing a suitable framework, with rules, regulations, and constructs to follow. This tip should be considered if companies are looking for a comprehensive, ironclad approach to maintaining safety and security with mobile connected devices. Naturally, security consultants will tout each of the tips listed above, and possibly others including sandbox options, and IP scramblers.
Remy is a technical writer at TechPout. Being an IT enthusiast, he inclines to write about contemporary technology and growing security for machines. One steadfast follower of Baseball, Remy is an active social worker and a gastronome.
Subscribe to Our
Newsletter

and stay informed

Keep yourself updated with the latest technology and trends with TechPout.
Related Posts