How to Fix Snapchat When it is Not Working
Published Date :
Aug 12, 2021

Don't we all love having fun with Snapchat filters? Yes, but do you know how to fix your  Snapchat app when it is not working? Like all software applications, even Snapchat can be interrupted with bugs and issues. Users might sometimes come across message pop-ups like "Unfortunately Snapchat is not responding," or "Snapchat is not refreshing."
Snapchat is "the fastest way to share a moment" with your friends and family but when something interferes with the service and performance of the application, then users must be aware of how to fix Snapchat app and this article can provide guidance regarding it. 
Top 9 Solutions to Fix Snapchat Not Working Issues
The list below will guide you on how to troubleshoot the issues when your Snapchat app keeps stopping.
1. Check your Internet Connection:
First things first, whenever your apps are not loading appropriately or facing frequent interruption and interference while sending or receiving messages, then check to see if you have lost your internet connectivity. You can turn it off and turn back your data connection to eliminate this problem. What more you can do is to check your Wi-Fi settings if you are on a Wi-Fi and ensure that the router is functioning correctly. 
Also, if you use a VPN, then it may sometimes slow down the speed of your internet. In this case, disable your VPN connection and then reload your app. Getting back your internet connectivity properly may prevent your Snapchat from pausing.
---
2. Review App Permissions:
If there seems to be no issue with your network connection, then the next thing to try is to ensure that your Snapchat app is able to access and use all the required permissions to function smoothly. If you are wondering how you can fix your Snapchat app in this way then read on to check if the app permissions are have been altered:
Go to Snapchat Profile and then to the Settings.
Further, go to the Permission section.
Enable the inactive permissions. This action will redirect you to the Device Settings, where you can turn on the settings which appear to be disabled.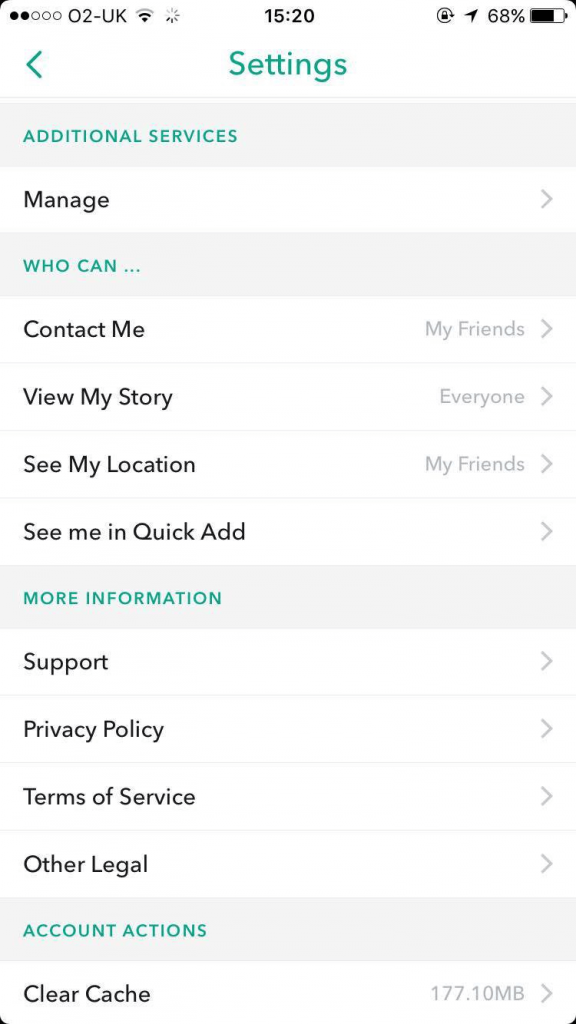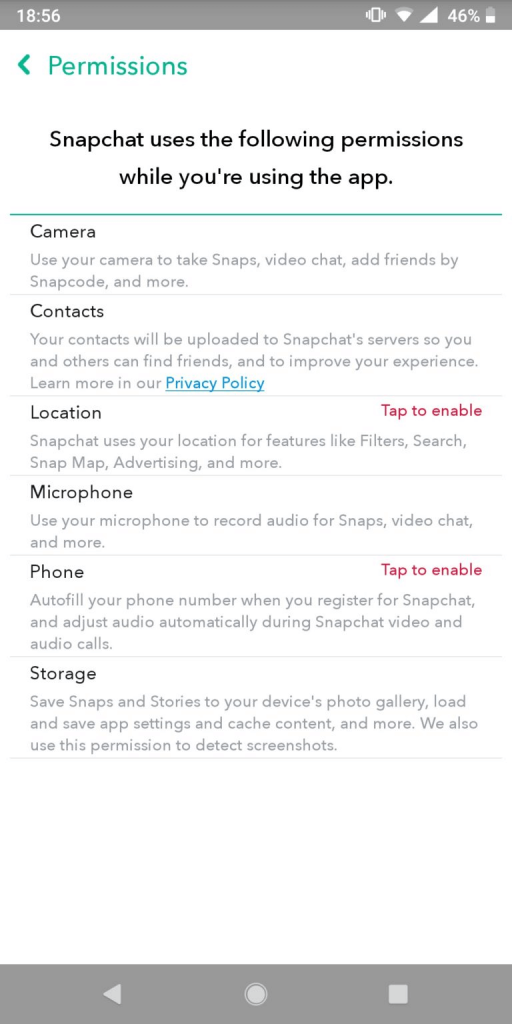 Also Read: How To View Someone's Snapchat Story Without Them Knowing
---
3. Clear Snapchat App Cache:
Sometimes, temporary cached data can also be the reason behind why your Snapchat app is not functioning. This sort of data occupies the app storage space over time. As this data is unimportant, you can clear the cache data by the following method:
Go to Snapchat Settings.
Towards the bottom, you can locate 'Clear Cache' underneath the Account Actions section.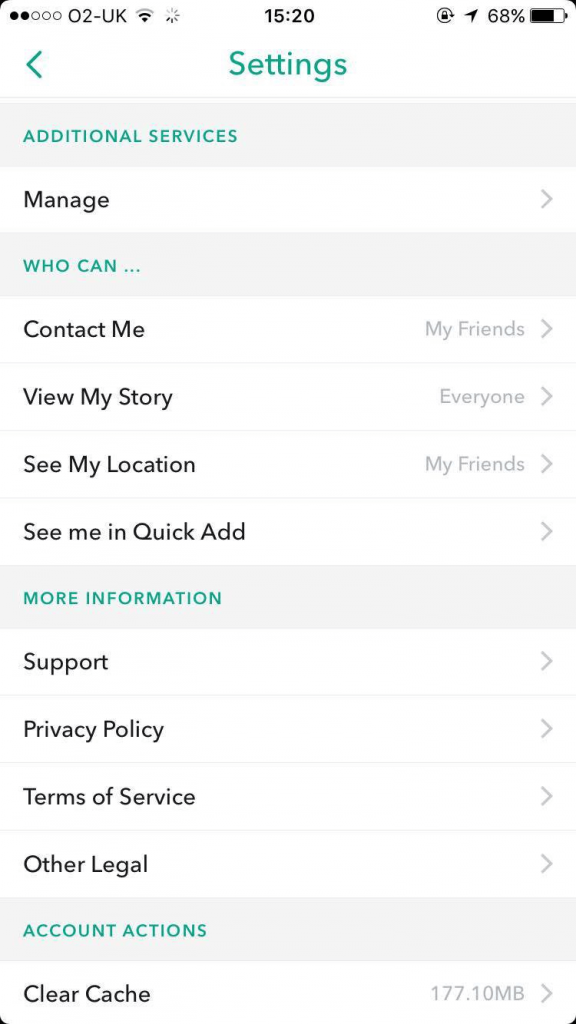 ---
4. Verify if Snapchat is Down:
Have you ever wondered how you can know if there is a technical issue happening globally and how you can fix the Snapchat app under such a condition? Down Detector is a website to track if any app service is down worldwide or in a specific region due to some technical glitch on the software programs. The site shows on the Snapchat page if there are no issues at Snapchat or else if there are reported problems. The Live Outage Map shows a more specific area update to determine if there are any reported problems in your geographic region.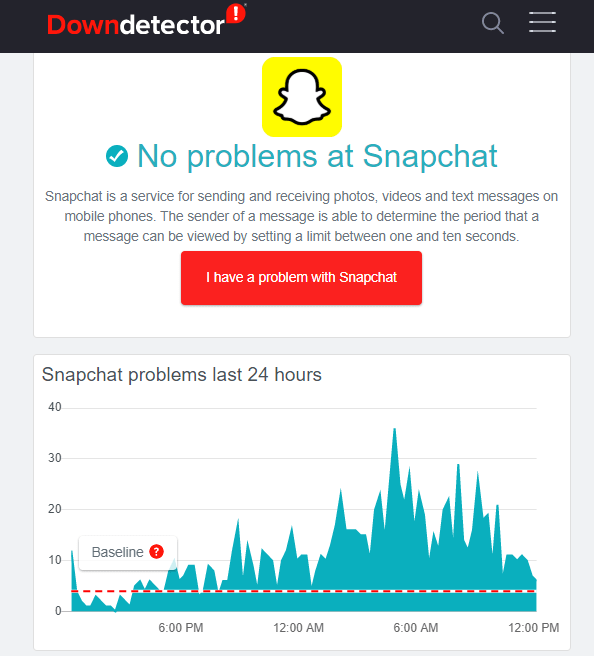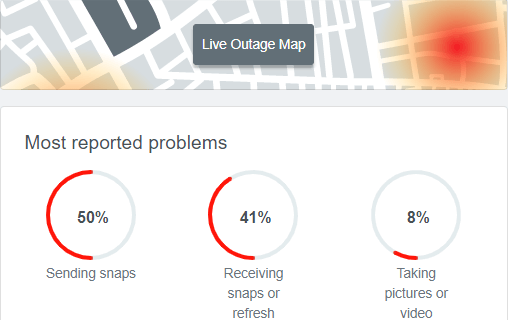 ---
5. Restart your Smartphone:
If there is some kind of malfunction in the OS of your smartphone, then rebooting your phone can eliminate all problems due to corrupt codes and this also helps to restart all the apps too. This can sometimes help to fix your Snapchat filters and the messaging interface.
---
6. What to Do When Snaps aren't Sending:
Just in case, if you are unable to send snaps to your friends even after having an active internet, then there are a few tactics you can try. First of all, try to reboot your smartphone. If in case, it doesn't make any difference, then go to Google Play Store if you are using Android or App Store if you are using iPhone to update the latest version of Snapchat. Unfortunately, if it doesn't work too, then try to clear the conversation. Here is how to do so with simple steps:
Step 1: Open Snapchat and click on your Bitmoji presented at the top on the left side.
Step 2: Then, click on the Settings icon.
Step 3: Scroll down to Clear Conversation and click on it.
Step 4: Choose the Conversation you wish to clear and confirm.
If in case, even after clearing the conversation you are still unable to send the snaps to your friends, then try to remove the friend and later on add them back. This will surely fix the inconvenience and you can continue with your daily streaks. Here's how:
Step 1: Open your Snapchat profile.
Step 2: Choose Add Friends.
Step 3: Then, choose My Friends.
Step 4: Now, from the list of your friends choose the one you wish to remove.
---
7. Low Storage Space:
Filled storage space is another reason because of which Snapchat may stop working. Therefore, you need to delete some duplicates, unnecessary videos, or photos in order to free up some space. Freeing up the storage space possibly helps you make your Snapchat work again, especially, when you need to export the pictures or videos from Snapchat's Memories to your mobile phone's gallery.
---
8. Enter Safe Mode:
If your Snapchat is not working, then you can try to enter safe mode. It did a miracle for numerous Snapchat users so it can help you too. For this, you need to first switch off the mobile phone. After this, you have to press the Power button and hold it until your handset starts and displays the company's logo.
To proceed further, press the volume rocker down button until you see the Safe Mode in the specific part of your handset, later on, release the volume button.
Now, you are in safe mode, try to check whether Snapchat is working now or not. To turn off the Safe Mode, just reboot your mobile phone.
---
9. Solve Application Related Issues:
Troubleshooting the application related problems can also help to resolve Snapchat's functioning issues.
Restart the application –

Apps can sometimes encounter bug problems while running. Sometimes if the app is being used on a multitasking window, then also they might become unresponsive. Such scenarios can be resolved by force stopping the application, which can reset all abnormalities and then re-initiating the app can enable it to function appropriately. 

Re-Login to Snapchat –

Snapchat also uses backend servers to send snaps, therefore if it is a server related issue, then it can be solved by logging out. A re-login to the application would

fix Snapchat filters

and snap related issues.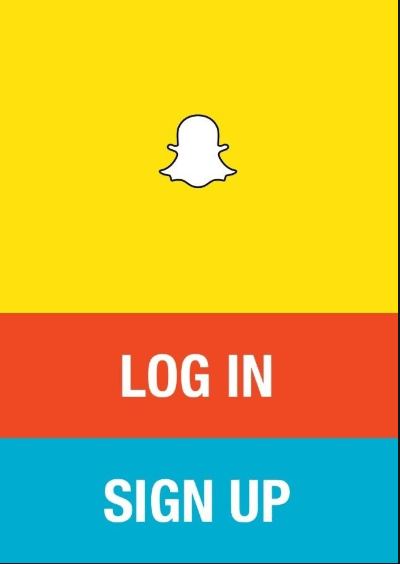 Update the application –

App updates are often released by the developers to fix bug issues. Therefore, ensure to see if an update is available on the Play Store or the App Store and quickly install it.

Reinstall the app –

Although this is

a more complicated method, yet sometimes if nothing seems to work out, then this can be tried as a last resort to

fix Snapchat's functional issue

. The app can be uninstalled from the mobile device and then reinstalled from the Play Store or the App Store. You can log in using the same credentials of your previous account and use it freely as before.
Read Also:- Check Who Viewed Your Instagram Profile
---
Final Word
Sometimes, if you have mistakenly started using beta version then, you might end up facing lots of bugs on all your applications as this version is generally used for testing apps. Just ensure that you are on the correct version by going to Play Store and checking if you have accidentally not become a beta tester from the 'My Apps & Games' section.
The various ways to resolve the issues when Snapchat is not working for you have been discussed in this article. We hope that these fixes can help you out.
Snigdha is a technical content writer with expertise in the field of science & technology. Though she has a very diverse academic and professional profile yet she finds writing to be a creative form that she was unable to explore so far. When not writing, she can be found indulging in other forms of creativity like painting or travelling.
Subscribe to Our
Newsletter

and stay informed

Keep yourself updated with the latest technology and trends with TechPout.
Related Posts