Best Ways To Check Who Viewed Your Instagram Profile
Published Date :
Nov 26, 2019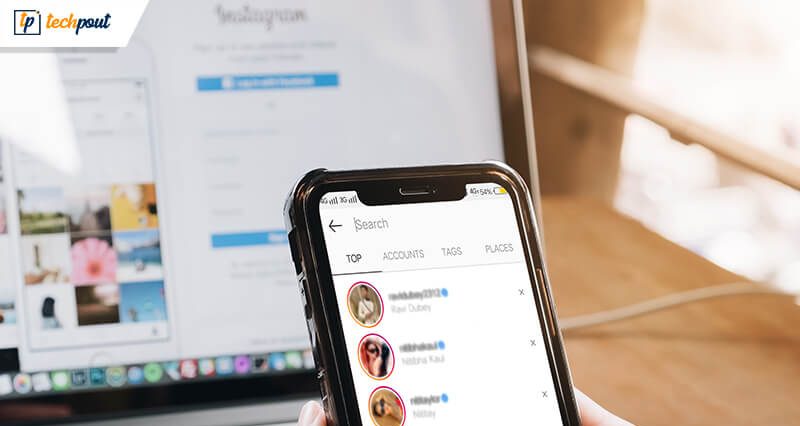 Being an active social media user has its pros as well as cons. Have you ever wondered who viewed my Instagram? Instagram is currently in demand because it is a great site for creative artists, photographers, both amateur and professional, public figures, and of course, millions of people from different walks of life.
What connects masses to Instagram is it's easy to use interface, story sharing feature, and the ease to stay connected to people and pages in a not so predominant manner. Users can get instantly started on Instagram without any hassles.
However, on the downside, there is constantly a milder risk of being exposed to unknown people. There are many online stalkers on Instagram who create fake profiles for free to stalk and disturb others. Only some notable people can get the privilege of owning verified Instagram accounts. It is otherwise a difficult process to differentiate a fake account from a genuine one on Instagram.
Thus, in this article, we will look at the best possible ways to know who viewed your account on Instagram.
Best Methods To Know Who Viewed Your Instagram Profile:
If you have a public profile, then you may have many new visitors on your Instagram page daily. There is an option to keep your Instagram profile private, but this is only available if you have created a personal account. In the case of a professional or business account, your Instagram profile page can only operate in public mode.
Thus, to get awareness about your visitors, you can try the following methods:
1. Using Instagram Story/Highlights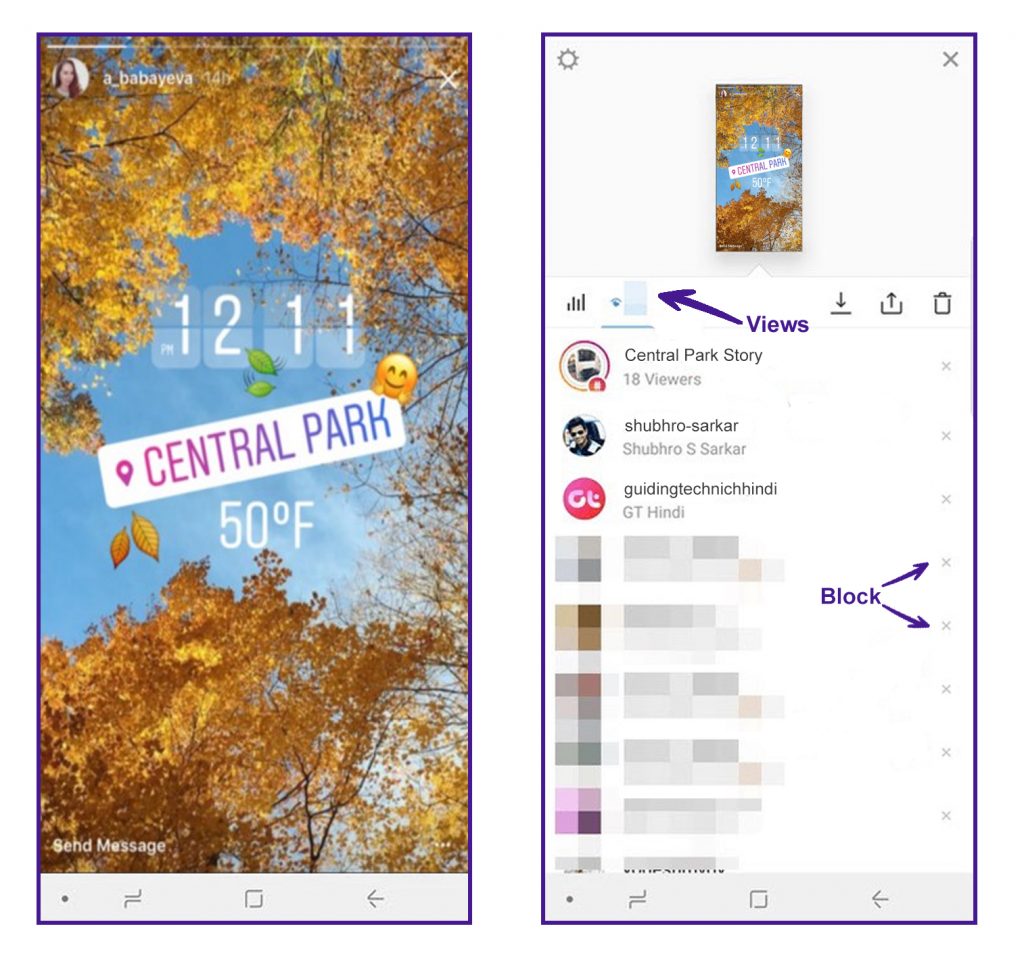 The story sharing feature is an interesting feature that was first introduced by Snapchat. Quickly, this feature was adopted by Instagram, and then it became a trend for every other social media site to adapt to it.
Once you share a picture, video, or post as a story on your Instagram page, you can find the number of profiles views on your Instagram story at the bottom left corner on your mobile screen. You can tap on the profile picture icons on the bottom left corner of your latest Instagram stories. This will open up the list of all the profiles that viewed your story and hence will give you an idea of who all are stalking you.
Since Instagram stories vanish after 24 hours; therefore, you can also add your story to the highlight section, which can retain the story post 24 hours on your profile page. The highlighted stories will also keep showing the story viewers forever.
Thus, in this way, you can understand who is stalking you and doesn't belong among your followers. Also, you can alter the settings of who can view your stories and replies by modifying the story settings.
You can use the below path of navigation to hide your story from unwanted people or profiles:
For hiding story from specific account holders:
Settings > Privacy > Story > "Hide Story From"
For hiding story from specific account holders:
Settings > Privacy > Story > "Allow Message Replies (you can choose from the below options)"
Your Followers
Followers You Follow Back
Off
Must Read: How To View Private Instagram Profiles?
2. Using Instagram Posts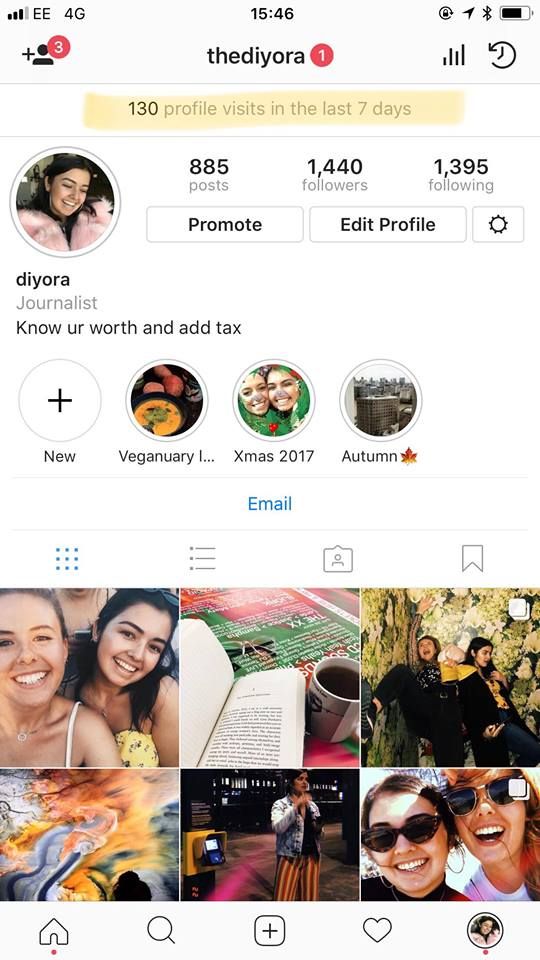 This method can be used to see whoever is visiting your profile, liking your posts, and commenting on them. Whenever you post any pictures or videos on your Instagram page, if random people visiting your page, like your posts or comment on it, then you can see this detail on the details below the post. This way, you can get an idea of the Instagram users who are stalking your page for no good reason, and you may choose to block them out.
3. Using an Instagram Business Account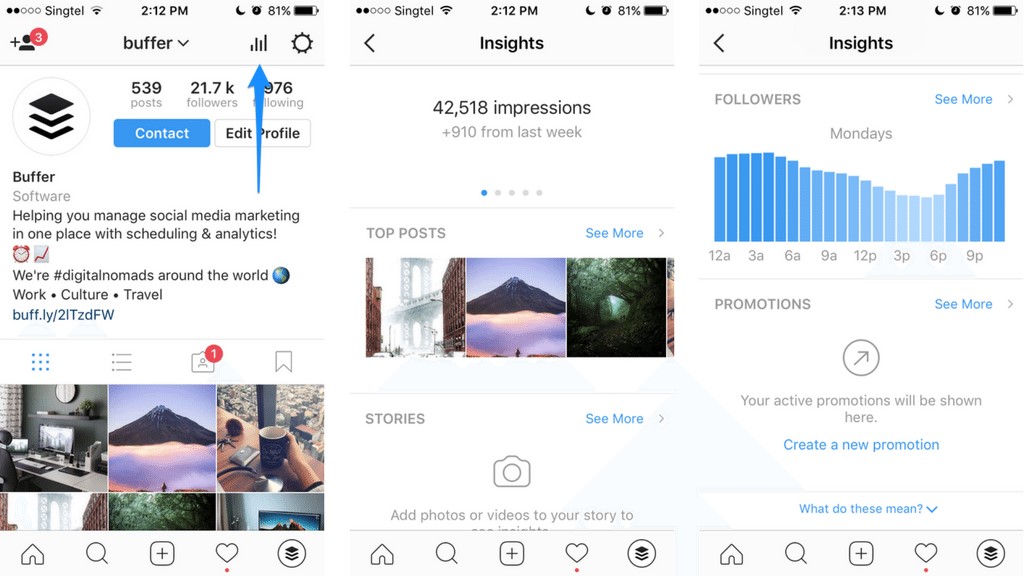 If you are using a business or professional account, then you can make use of the "Insights" section to get an idea of the name of your Instagram profile visitor. Although the Insights information won't disclose the names of the users who visited your profile but what it does help you to derive demographic details of the people who visited your profile and also their usual online timings. 
This kind of information can help you generate a vague idea about whether people are following you out of genuine interest based on the products or services that you offer or if their activity on your profile seems spooky and irrelevant to your business.
4. Using Third-Party Apps
Using third-party apps can help you to determine to an extent visitors on your Instagram profile. The below-mentioned apps can do the job for you:
Follower Insight for Instagram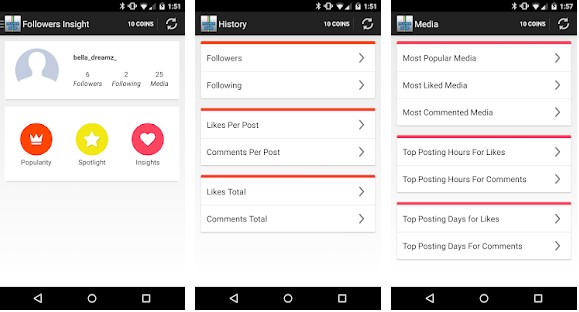 This app is presented by MonoMosaic. This app has a simple UI that is very easy to use and has excellent performance about showing who has visited your Instagram profile. This app can be downloaded from Play Store and can inform you about the users who follow, unfollow as well as block you on Instagram. 
You can also learn about the growing trend of followers, following, likes, and comments. This app is free to use and can be used for more than one Instagram accounts. Apart from learning about user engagement patterns, you can also find out the most suitable time for publishing content on your Instagram page.
Follower Analyzer For Instagram – Follower Tracker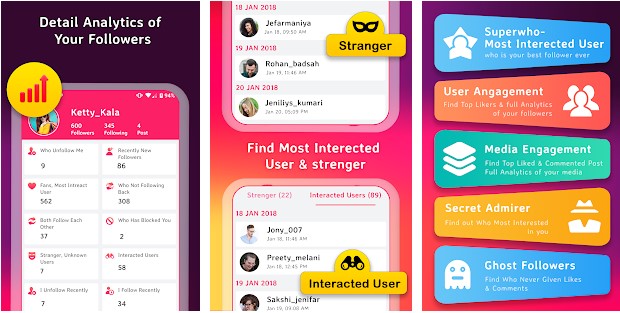 This is again, an excellent tool for knowing about who checked on your Instagram profile. An offering from Follower Analyzer Tool, this tool has a very easy user interface and is capable of generating reports to see the names of your profile visitors. Though you need to make subscription payment and there are some ads as well as in-app purchases, yet this app is useful in the following ways:
You get the complete status of your profile:
Who is following you, who unfollowed you or blocked you?
Who are the ghost followers?
Insights about your followers:
Who are the people who interacted most with your profile?
Who are the top people who like your posts and comments?
You can also get a detailed analysis of your content: 
Find the posts which have been liked the most.
Find the posts which have been commented upon the most.
Read More: How To Start An Instagram Business? 10 Simple Ways
Follower Analyzer for Instagram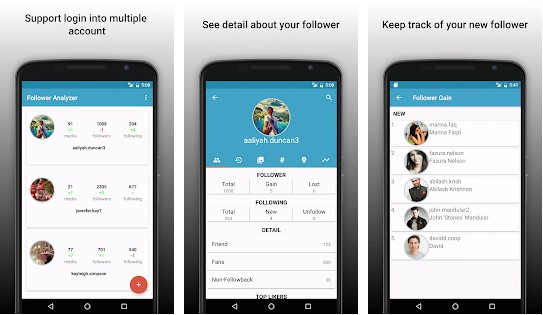 This app by Maximo Lab can be found in both the Play Store and App Store. You need to create an account and let you know who has viewed your Instagram profile. 
It also analyzes and tracks who is visiting your photos and stories. You can also see the top liked posts and the posts with the maximum comments with the help of this app. Also, you get insights about the top watched videos. 
The most striking feature of this app is that you can also view your friend's account or any other account that you follow to monitor their account performance stats as well.
This app doesn't support devices with less than 2GB RAM.
Follow Meter for Instagram
With almost 10,00,000+ installs, this popular app has been designed by BeakerApps and can help you manage your Instagram account along with tracking users who follow or unfollow your Instagram profile. This app is again compatible with iOS as well as the Android platform.
The app helps in the following ways:
Lets you know the ghost followers.
It gives you insight into who followed or unfollowed you.
There is a discovery section that can help you attain more followers by showing you suggestions about relevant user profiles who might be interested in your page.
You can also find out who likes your posts and also find out the list of people who visited your profile anonymously.
Visitors Pro App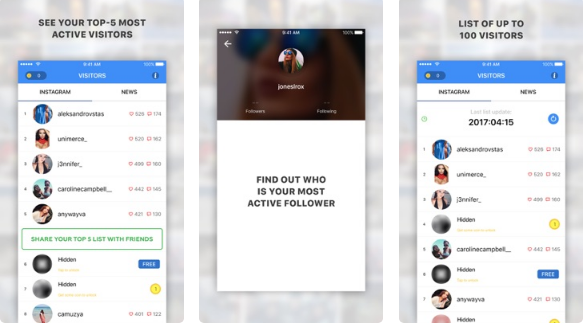 This app by ROM Games lets you know who viewed your Instagram by collecting data from your profile and then, after appropriate calculations, lets you know about your stalkers and ghost followers. This app is available on the iOs platform is very efficient in performance.
You can try the above tricks and methods to get a clear idea about who is stalking you on Instagram. If you use the apps, then you can also let them manage your Instagram account on your behalf. The apps not only help in discovering who has checked your Instagram profile but also enable you to gain valuable insights on how to increase your popularity by tracking your profile's performance. 
Although many apps are available in Play Store, yet all may not provide satisfactory results, and some may even seem not to work; therefore, the recommended apps in this article can help you achieve your goal.
Snigdha is a technical content writer with expertise in the field of science & technology. Though she has a very diverse academic and professional profile yet she finds writing to be a creative form that she was unable to explore so far. When not writing, she can be found indulging in other forms of creativity like painting or travelling.
Subscribe to Our
Newsletter

and stay informed

Keep yourself updated with the latest technology and trends with TechPout.
Related Posts