How To View Someone's Snapchat Story Without Them Knowing (2020)
Published Date :
Aug 06, 2020

With digital advancement and growth of technology, Social media has become the hub of everything. 
From sharing essential life aspects to uploading videos and photos networking sites are being used for everything, Snapchat being one of the most used platforms. A massive number of people worldwide are using it to share pictures and connect with friends and family.
Are you new to Snapchat? Well, I'm sure you must be wondering, how to use Snapchat? What are the Snapchat stories? And how to view someone's Snapchat Story without them knowing?
Keep reading ahead, our next segment will educate you about the same.
What is a Snapchat Story?
With Snapchat stories, you can club and share pictures with your friends along with a narrative revolving around them. Your narratives stay live on your profile for 24 hours and then gets automatically deleted. Around it, you will be able to see how many times your story was viewed and who all have viewed it. 
However, if you want to view someone's snapchat stories without letting them know, It's quite a tricky task. Although Snapchat has enhanced its privacy policies, it's not free of loopholes.
Fortunately, several features allow you to view someone's profile anonymously. If you are looking for a quick guide to do so, keep reading ahead for a ready reckoner.
Let's now move on to learn how to view snapchat stories online.
How to Watch Snapchat Stories Anonymously (Without Notifying the User)
Here are step-by-step instructions on how to see someone's Snapchat Story without them knowing:
To start with, open your Snapchat application, and from the bottom-right corner, click on the "Stories icon."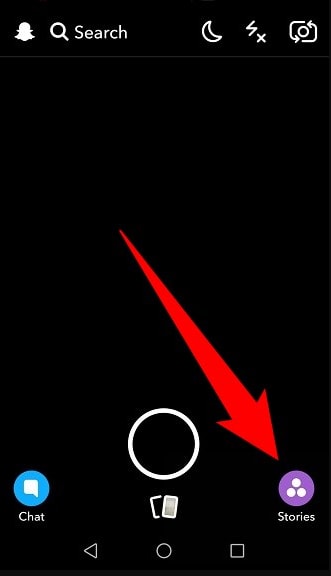 Once you are on the Stories page and keep refreshing it until your stories are being loaded, do not open or view any stories while they get uploaded successfully if you do so the account holder will get a notification alert saying that you tried to see their story page. 
Once all the stories are successfully uploaded, quickly close your Snapchat application and turn off your mobile internet connectivity, mobile data, or wi-fi whichever mode you are using. 
Another option is to turn on the Airplane mode on your phone. 
Next step is to relaunch your snapchat account followed by the stories button in the below-right corner. 
Doing the above steps will allow you to watch all previously loaded Snapchat stories.
You are now just a click away from viewing someones snapchat stories without letting them know. Just ensure that you turn off your internet connectivity while viewing stories. 
You can turn on your internet connection once you are finished seeing stories on Snapchat.
Read Also: How To Screenshot On Snapchat Without Them Knowing
Well, the only loophole in the entire process is that, if you forget to turn off your net connectivity, your details will get passed on to the account holder. To avoid getting caught, you should try this when the story is about to expire, as post expiry the account holder will not be able to view your details. 
Use this simple process to spy on someone's stories; this unofficial workaround is the best way to hide your tour to someone's snapchat stories anonymously. 
Prachi Dani is a technical content writer who specializes in areas of science and technology. She is highly up to date with technological transitions and transformations. Writing is not her passion but the only thing that carries satisfaction in life. If not writing, you may find her engrossed playing action games on her treasured smartphone.
Subscribe to Our
Newsletter

and stay informed

Keep yourself updated with the latest technology and trends with TechPout.
Related Posts