How to Remove Snapchat Filters from the Saved Photo?
Published Date :
Apr 20, 2022

Check out the complete article to find the best methods to remove Snapchat filters from your images.
Relish snappy life by capturing memories and sharing them with your loved or close ones on Snapchat. Snapchat is a renowned multimedia messaging app that has gained wide popularity amongst youngsters who are bored with emoji chats and regular text messages.
It lets you make your videos and pictures more vocal with its numerous Snapchat filters, Bitmojis, and stickers. You can share them with your friends and family as Snapchat Stories.
Being a Snapchat user, you can be at the top of the world. Snapchat offers tons of lenses all over the world. Including funnier, romantic, adventure, musical, and many more. However, if you're someone who loves originality, you can easily remove Snapchat filters from photos in just a few taps of your fingers. 
Moreover, you can share your daily life with the Snap family and create daily streaks. This will not only create day-to-day streaks but also increase your snap score. And, Snapchat also predicts your relationship and compatibility with your snap friends. What can be more exciting than this!

In this article, we will give you a clear insight on how to remove face filters on Snapchat photos in the most hassle-free manner.
Can You Remove a Snapchat Filter?
As said earlier, yes, it is very much possible to remove Snapchat filters from your pictures. Tools like Snapchat Magic Eraser and other Snapchat filter remover apps online are widely being used for this purpose. The tool helps you effortlessly remove Snapchat face filters and erase real-world objects from your photos.
Our next segment focuses on how to remove filters from Snapchat from photos. Keep reading ahead to know the same!
---
List of Trending Snapchat Filters & Lens
Before we go over the app that removes Snapchat filters and other methods to do the same, let's know more about Snapchat filters.
Are you getting bored enough? Then, we've something that will make your day. Surely, you must have been aware of Snapchat, don't even try to say no. Because Snapchat is the one that litters up your life. Whether you are new to Snapchat or a regular snapper, here is something quite crucial that you need to know.
Snapchat is overloaded with tons of funnier and amusing filters & lenses that make your picture even more beautiful. Yes, you can remove the Snapchat face filter but, do you know which are trending ones? If not, then there is no bit of worry, as below, we've listed down the trendsetter filters and lens. So, without any ado, check out the entire list below!
Cute Dog Face with tongue (now available in glittery version too)

Little Baby Face

Mask Face (spread awareness about COVID-19)

Adorable Pink Heart-Style furry ears

Devil horn

Butterfly Diadem.

Funky Glasses.

Face Swapping

Black mouse 

Flowers around head

Good day 

Diamond Shine 

Cycle on Beach 

Vogue

Blue-heart 
So, these are some trending hit-list Snapchat filters that snatch your heart. Now, let's move ahead to know everything in-depth about Snapchat. Below, we've mentioned everything, for instance how to remove Snapchat filters, stickers, and emojis from the saved photo.
Know How To Install Snapchat on PC
---
How to Remove Snapchat Filters from Saved Photos?
Snapchat Magic Eraser can do wonders without putting in a lot of effort. Here are simple steps to remove Snapchat filters from saved pictures using Magic Eraser:
Step 1: To start with, select a picture with a Snapchat filter and an unwanted object.
Step 2: Once selected, click the scissors icon, followed by the Magic Eraser tool (Star icon).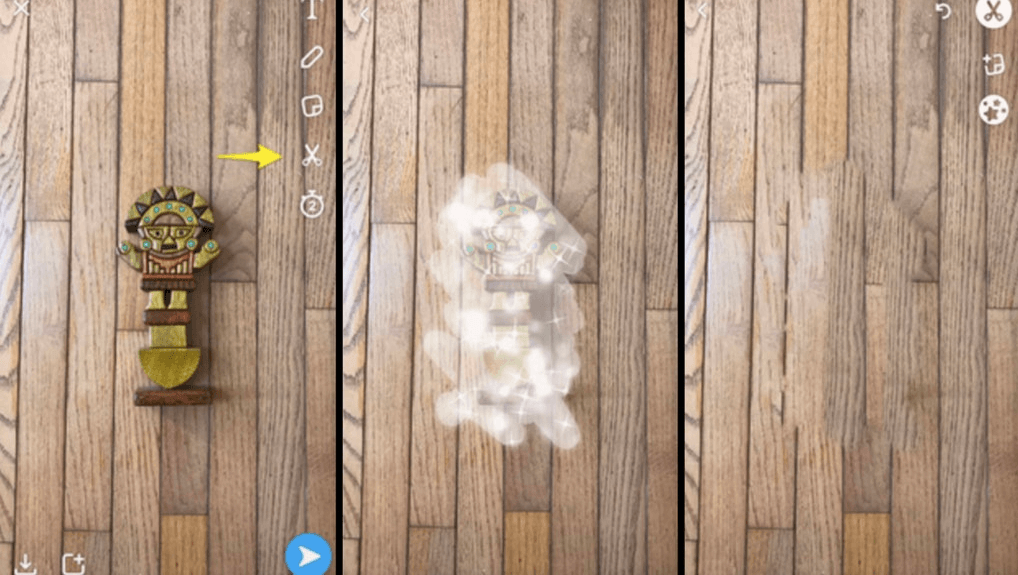 Step 3: Then paint the desired portion of the filter or object which you wish to remove from the photo.
Step 4: Snapchat will then automatically photoshop the area you have brushed to make it look original with a perfect background.
Step 5: Or, you can add more filters to your picture by swiping left or right, accordingly. 
This is all about how to remove the Snapchat filters from the pictures. Now create a new version of your snaps, even an old one too.
Read Also: Find Someone On Snapchat Without Username & Phone Number
---
How to Remove Snapchat Filters from in-app Pictures?
Wondering how to edit Snapchat saved photos? Well, removing face filters from photos saved in the Snapchat app and regaining their originality is quite a simple task.
Follow the simple steps below to do so:
Step 1: To start with, navigate to the 'saved snaps' in your Snapchat app.
Step 2: Press and hold over a picture to select it.
Step 3: Now, choose the "Edit Photo" option to make changes and remove the filter.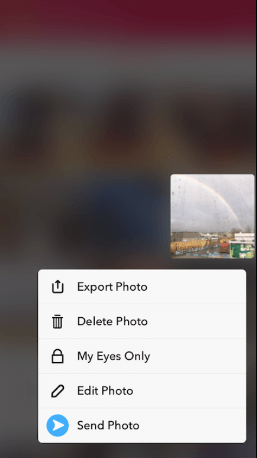 Step 4: Now, several snap editing tools will appear on your phone screen. You can use them to get your picture back to its original form in a blink of an eye.
So this is how you can remove a Snapchat filter from someone else's picture. However, to remove stickers, use the next method.
Read More: How To Screenshot On Snapchat Without Them Knowing
---
How to Remove Stickers from Snapchat Pictures?
Snap stickers are another crucial element that makes your snaps more attractive. If you get bored with the old sticker and want to re-frame it, you might have thought it couldn't be possible at all. But do you know, you can remove a sticker from the Snapchat picture? Sounds exciting no! But don't know how? Then, no worries, below are steps to do so.
Step 1: Firstly, open up the app, and switch to the Memories section. 
Step 2: Now, tap on the picture from which you want to remove the sticker.
Step 3: After that, touch on the three-dot icon that displays on the top of your screen. 
Step 4: Then, tap on the Edit Snap option from the displayed list.
Step 5: Thereafter, hold the sticker which you want to remove and drag it right towards the trash bin.
Step 6: Repeat step 5 until the picture becomes stickers-free. 
Step 7: Make sure to save the picture by tapping on the Done before leaving it.
Step 8: Then, save the picture Save as Copy. 
That's how you can eradicate stickers from the Snapchat picture. Similarly, you can add other stickers and filters too. The same methodology goes if you want to remove emojis from Snapchat pictures.
Read More: How to Fix Snapchat When it is Not Working
---
Frequently Asked Questions (FAQs): Remove Snapchat Filters
Q1. Can I remove Snapchat filters from my photos?
Yes, you can easily remove Snapchat filters from your pictures. Use Snapchat Magic Eraser to erase unwanted objects and bring your photo back to its original form.
Q2. Can I make my Snapchat picture stay for longer?
Yes, with the help of the infinity tool, you can make your picture stay for extended hours on your profile.
Q3. How to remove Snapchat filters?
The process to remove the Snapchat face filter is quite easy. For this, you can take the help of different filter remover tools available online. Additionally, the image settings or options also allow you to remove the filters very easily. Take the help of the above-listed methods for better assistance.
Q4. How to remove a Snapchat filter from a saved picture?
If you are wondering can you remove Snapchat filters from a saved picture, then the answer is yes. You need to visit the saved image section of the app to do that. Just long-tap the image you want to remove the filter from. Then select the option to edit the photo and remove the filter with ease. You can also use the Snapchat Magic Eraser app for the same task.
Q5. How to remove the lens from Snapchat?
To remove a filter or lens from the Snapchat photo, you need to open the camera roll of the app. Here long-press the images you want to edit and then select the Edit Image option. Now, use the editing options to remove the filter as required.
---
Capture Blissful Moment via Snapchat
So, this is it! These are a couple of easy ways through which you can remove Snapchat filters from the saved photo in just a matter of seconds. Snapchat – is the instant way to share special moments with lots of vibrant filters, emojis, and stickers. Through this post, we've tried to explain to you how you can remove a Snapchat filter from the photo.
Along with this, we've also mentioned the steps to eradicate stickers and emojis from the saved pictures. Below we've provided answers to a few commonly asked questions by our readers about Snapchat filters. And if you also have any such queries, just leave a comment below, and we will help you out in the best way possible. Lastly, do subscribe to our newsletter to stay updated about the tech realm.
Prachi Dani is a technical content writer who specializes in areas of science and technology. She is highly up to date with technological transitions and transformations. Writing is not her passion but the only thing that carries satisfaction in life. If not writing, you may find her engrossed playing action games on her treasured smartphone.
Subscribe to Our
Newsletter

and stay informed

Keep yourself updated with the latest technology and trends with TechPout.
Related Posts