How to Remove Snapchat Filters from the Saved Photo?
Snapchat, a renowned multimedia messaging app that has gained wide popularity amongst youngsters who are bored with emoji chats and regular text messages.
It lets you make your videos and pictures more vocal with its numerous Snapchat filters, Bitmojis, stickers, and share them with your friends and family as Snapchat Stories.
However, if you're someone who loves originality, you can easily remove snapchat filters from your photos in just a few taps of your fingers.
In this article, we will give you a clear insight on how to remove face filters on snapchat photos in the most hassle-free manner.
Can You Remove a Snapchat Filter?
As said earlier, yes, it is very much possible to remove snapchat filters from your pictures. Tools like Snapchat Magic Eraser is widely being used for this purpose. The tool helps you effortlessly remove Snapchat face filters and erase real-world objects from your photos.
Our next segment focuses on removing filters from Snapchat photos. Keep reading ahead to know the same!
How to Remove Snapchat Filters from Saved Photo?
Snapchat Magic Eraser can do wonder without putting in a lot of effort. Here are simple steps to remove Snapchat filters from saved pictures using Magic Eraser:
Step 1: To start with, select a picture with a Snapchat filter and an unwanted object.
Step 2: Once selected, click the scissors icon, followed by the Magic Eraser tool (Star icon).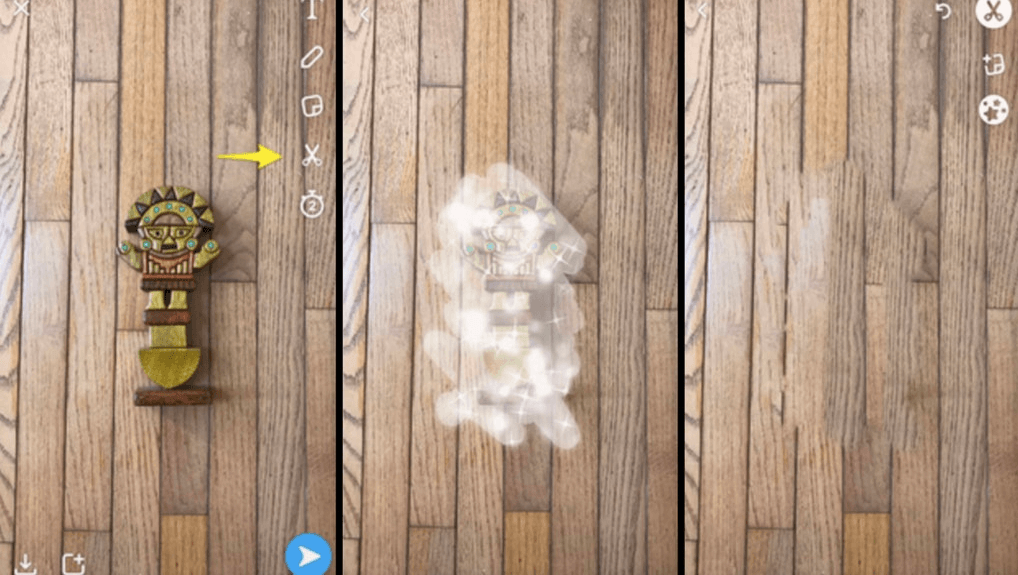 Step 3: Then paint the desired portion of the filter or object which you wish to remove from the photo.
Step 4: Snapchat will then automatically photoshop the area you have brushed to make it look original with a perfect background.
Simple, isn't it? You don't need to be tech-savvy to use the Magic Eraser a.k.a Snapchat filter remover.
How to Remove Snapchat Filters from in-app Pictures?
Wondering how to edit snapchat saved photos? Well, removing face filters from photos saved in the snapchat app and regaining their originality is quite a simple task.
Follow the simple steps below to do so:
Step 1: To start with, navigate to the 'saved snaps' in your Snapchat app.
Step 2: Press and hold over a picture to select it.
Step 3: Now, choose the "Edit Photo" option to make changes and remove the filter.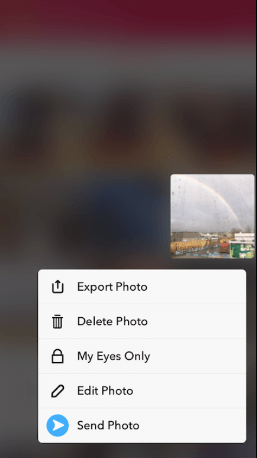 Step 4: Now, a number of snap editing tools will appear on your phone screen. You can use them to get your picture back to its original form in a blink of an eye.
So, this is it! These are a couple of easy ways through which you can remove Snapchat filters from the saved photo in just a matter of seconds. Below we've provided answers to a few commonly asked questions by our readers about Snapchat filters. And if you also have any such queries, just leave a comment below, and we will help you out in the best way possible.
Frequently Asked Questions (FAQs): Remove Snapchat Filters
Q1. Can I remove snapchat filters from my photos?
Yes, you can easily remove snapchat filters from your pictures. Use Snapchat Magic Eraser to erase unwanted objects and bring your photo back to its original form.
Q2. Can I make my snapchat picture stay for longer?
Yes, with the help of the infinity tool, you can make your picture stay for extended hours on your profile.
Prachi Dani is a technical content writer who specializes in areas of science and technology. She is highly up to date with technological transitions and transformations. Writing is not her passion but the only thing that carries satisfaction in life. If not writing, you may find her engrossed playing action games on her treasured smartphone.
Subscribe to Our
Newsletter

and stay informed

Keep yourself updated with the latest technology and trends with TechPout.
Related Posts