17 Best Free Screenwriting Software For Screenwriters In 2023

The post explains the 17 best Screenwriting Software that will surely enhance the writing process and produce the content in quite a unique but captivating way. So, to know every bit in detail, follow the entire write-up till the end!
If you are thinking of starting a film but are stuck with a tight budget, then you are in the right place. Unlike earlier times, when writing was based on pen and paper, we now have several free screenwriting software that can make your writing process simple by providing it the much-required aid. Presently, streaming conflicts are in full-wave than ever before.
Now, you do not need to carry a pen or paper for producing content. All that you need is just an ideal Screenwriting software. Yeah! You have heard right, with the best screenwriting application you can pen your thoughts quite easily and quickly. So, without any further ado, let's move forward!
Top Free Screenwriting Software For Filmmakers & Writers
Make your writing process even more simple than ever through the best screenwriting software. Here, at Tech Pout, we've shortlisted 17 top-rated screenwriting applications that will level-up your writing creativity!
1. Trelby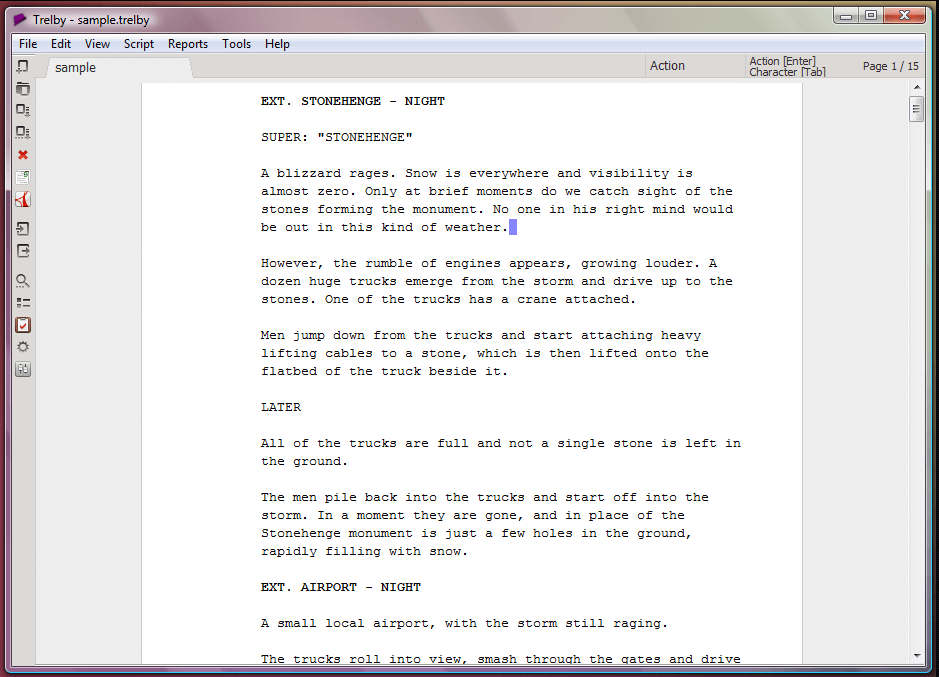 Price:- Free
Compatibility:- Windows and Linux
Recommended by many experts, Treble is open-source software and is 100 percent free of cost. It is specially designed to suit Windows and Linux platforms and comes with several editing and formatting tools that can be easily customized. 
Read Also: Best Free Screen Recorder Software For Windows
Trelby is known for its fast and straightforward working mechanism and is completely free of issues related to watermarks, script limits, and locked features. With this online free screenwriting software, you get a story and revision tracking tool that allows you to track and compare various drafts. It can import Celtx, Final Draft, and Fade in Pro and at the same time, export your work to HTML and RTF file, PDF, Fountain, and Final Draft. 
The most beautiful part of this open-source software is that people who know coding can easily customize it according to their needs and requirements. We are waiting for its Mac version to hit the ground soon.
---
2. Page Stage 2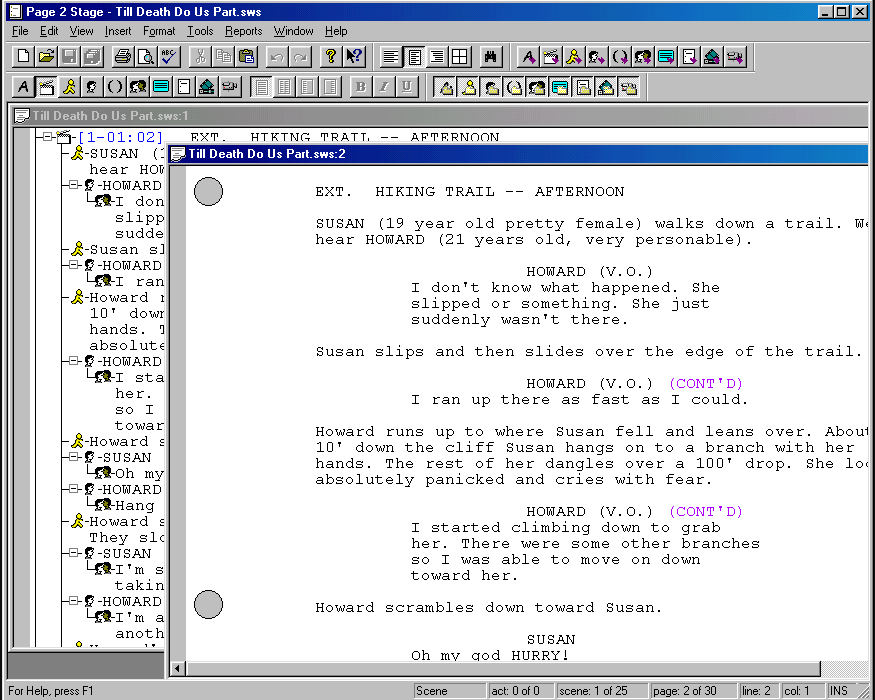 Price:- Free
Compatibility:- Windows
Next on our list of best free screenwriting software is Page Stage 2. It works well for Windows and comes with an array of editing and writing options. Two of its most distinguishing features are: 
Supports multiple languages, which gives an added advantage to non-English writers. Let's assume you are a Turkish Writer and are searching for top screenwriting software; then Page Stage 2 can serve your purpose well. 

Advanced Auto Cheat feature: With this feature, you can get your script in the prescribed word limit. However, it is crucial to understand here that one page of script roughly equals a single minute of screen time. So, use it cautiously to avoid any issues related to pagination.
---
3. Drama Queen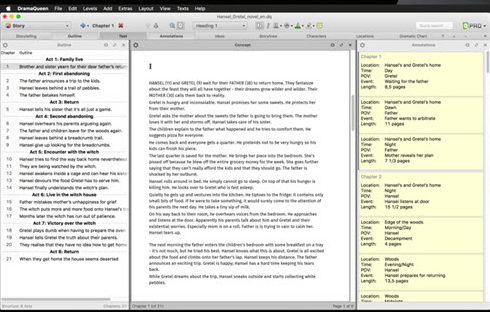 Price:- Free
Compatibility:- Windows and macOS
This free screenwriting software is compatible with multiple OS including Mac, Linux, and Windows. Likewise, it also works effortlessly well on Final Draft, so if you want to import, export, and format your screenplay using it, Drama queen can be a good companion. 
It comes with various tools that can assist you in structuring your rough storyline. Drag and drop navigation, full-screen mode, independent platform auto-formatting features along with an idea panel are few other notable offerings. With the idea panel, you can easily collect all your research in one place and edit them accordingly. 
This stunning software comes at no cost and does not impose any limits on the number of scripts, duration of usage, and the length of various projects.
---
4. Highland 2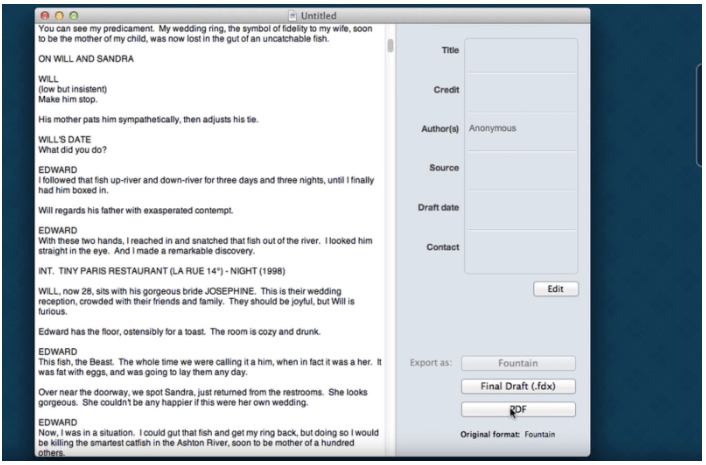 Price:- $5 for Google Docs, $25 for Quip, $179 for Foxit Phantom PDF 
Compatibility:- macOS
Highland 2 is suitable for both novelists and screenwriters and is perfectly compatible with the Mac-based suite. Its various customizable tools offer a simple and easy way to alter and organize rough thoughts and ideas. With this online free screenwriting software, you can export your work in PDF and Highland files, but it does not support Final Draft.
Its basic version comes free of cost. However, if you wish to enjoy watermark-free work with all the advanced features unlocked for use, you will have to opt for its Pro version. Unfortunately, no details about the pricing of the Pro version are mentioned on its site. 
Read More: Best OCR Software to Extract Text from Images and PDFs
Few Feature of Free version
Character Highlighting

Automatic-Plain text backups.

5 PDF templates.

Watermarked PDF, which says, "Made in Highland." 
While on the other hand, with its pro version you get additional benefits like : 
14 PDF templates.

Watermark free PDF.

Priority Email support.

Custom Theme Builder, which allows you to create your themes.
---
5. Writer Duet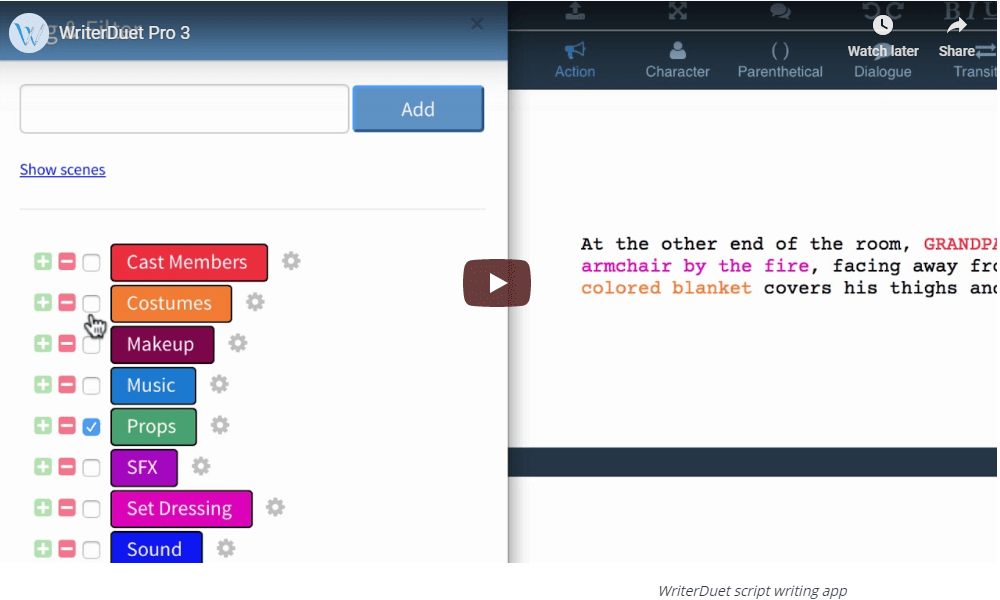 Price:- 14-day free trial, $7.99 for Plus membership, $11.99 for Pro, and $15.99 for premium
Compatibility:- Windows, macOS, iOS, Android
Another best and free screenwriting software is Writer Duet. Its working is based on real-time collaboration, which means you and your partner can see the changes made by each other — the date the changes were made, who made them along with the details of all the alterations. 
It is highly compatible with other screenwriter software and can easily sync your work when online. You can import and export your work in various formats like PDF, Word File, Fountain, Final Draft, and Celtx. With its free version, you can upload up to three scripts that are, however, not free from watermark issues. 
To access its feature-rich version, you should opt for its Pro version. Offerings of the Pro software includes real-time co-writing, an online-offline desktop app, granular analysis, unlimited scripts, and line-by-line customization.
---
6. DubScript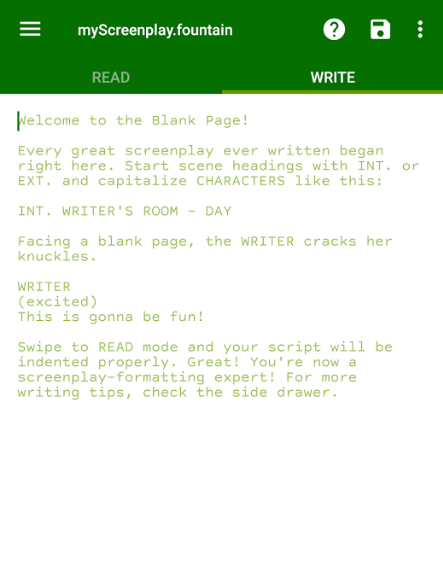 Price:- Free
Compatibility:- Windows
With this mobile-based software, you can hear your script loudly. With Dubscript, you can easily import your story written in Fountain and Final Draft, export it in a PDF or Final Draft format, and also save it on cloud storage systems like Google Drive and Dropbox. 
It falls in the mediocre category software and offers all necessary functionality, including spell-check, auto-complete, undo/redo, dual-dialogue addition, and find/replace features. The only downside of this powerful software is that it only supports Windows and is not free from Watermark issues.
---
7. Causality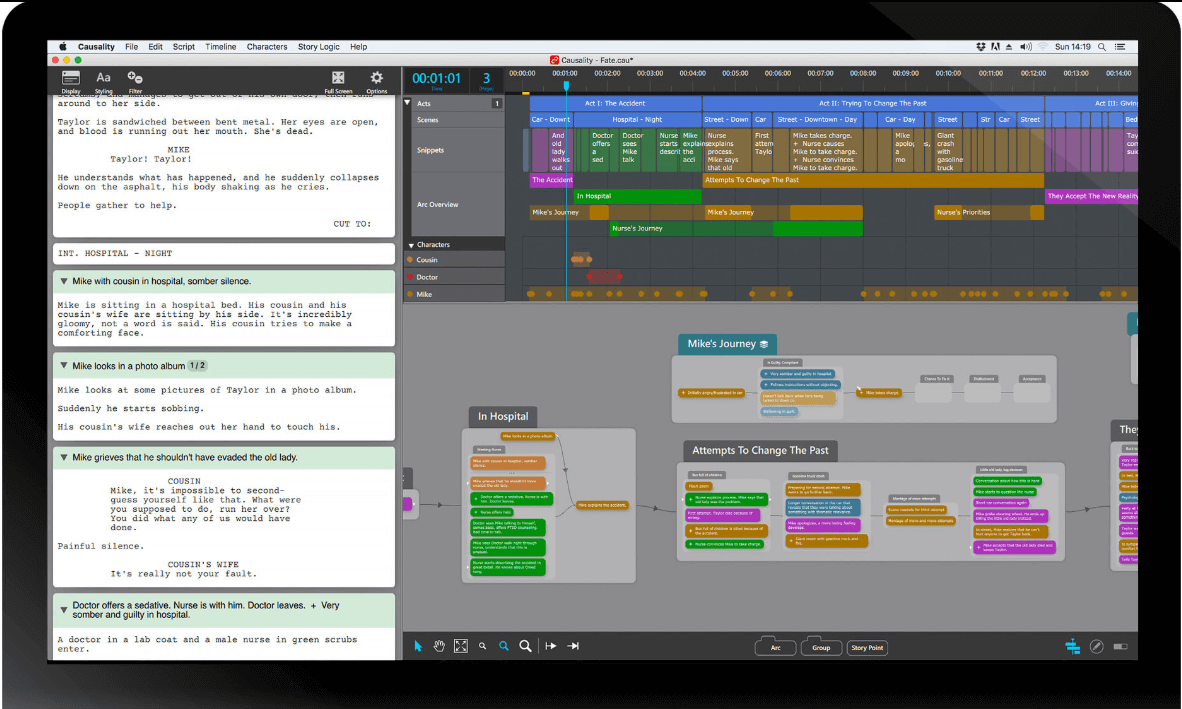 Price:- Both Free and Paid ($5.99)
Compatibility:- Windows, Mac, and Linux
Another most distinguishing free screenwriting software is Causality. It's an incredible writing and story development app that allows you to turn your visual story into reality. No matter how complex a storyline you have in your mind, with Causality, you will be able to picture various events and place them in a logical sequence. 
Its free version comes with limited writing options, while you can enjoy unlimited writing with its pro version along with other added benefits like printing and export.
---
8. Story Touch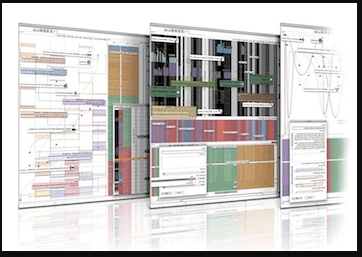 Price:- Free
Compatibility:- Windows and Mac
Read More: Best Epub Readers for Windows 10, 8, 7
Another downloadable free screenwriting software for Windows and Mac devices is Story Touch. It offers a massive array of features and editing tools that can help you organize your rough thoughts in a better way. With its analysis and organizing tool, you can easily prepare a remarkable script to portray your vision of the film. It comes in both a free and Pro version.
---
9. Fade In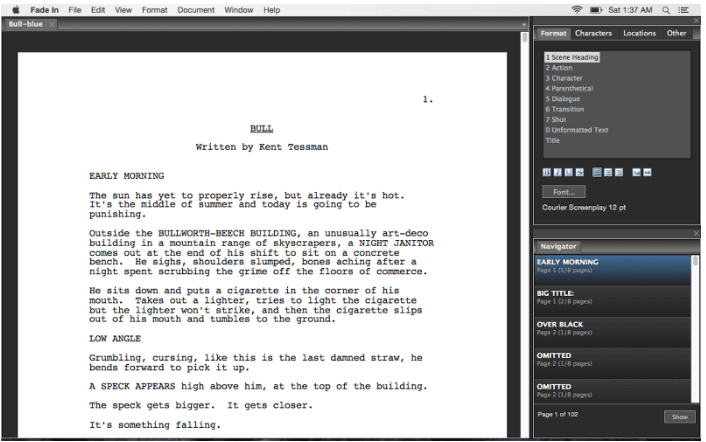 Price:- After the free trial, $79.95
Compatibility:- iOS, Android, Windows, Linux, macOS
This is one free downloadable screenwriting software, which works on almost all platforms, including Windows, Mac, Android, Linux, and iPad. This intuitive software has everything that a scriptwriter would need. Writing and editing tools, exporting options, version tracking, you name it, and it there for you. Its real-time collaboration tools make it a popular choice among professional scriptwriters. 
You may opt for its free version, but if you want a watermark-free result, then buy its pro version at $79.
---
10. Studio Binder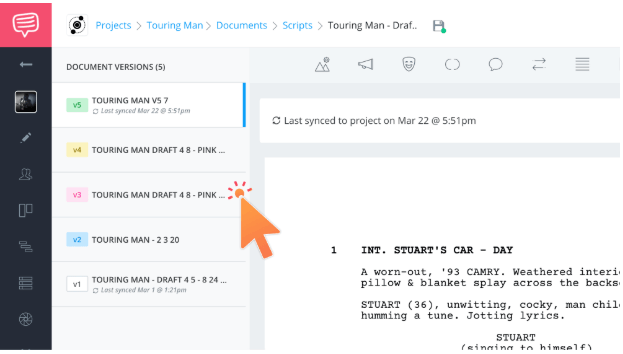 Price:- Offers three paid packages- Indie ($29), Professional ($49), Studio ($99)
Compatibility:- Windows and Mac
Studio Binder is a free industry approved professional screenwriting software. This incredible tool can take care of all the formatting issues while you can concentrate on your creativity and writing part. It's an end-to-end platform, where you can build your storyline, share information with your team, collaborate various documents, and maintain multiple contacts for smooth working.
---
11. Final Draft 10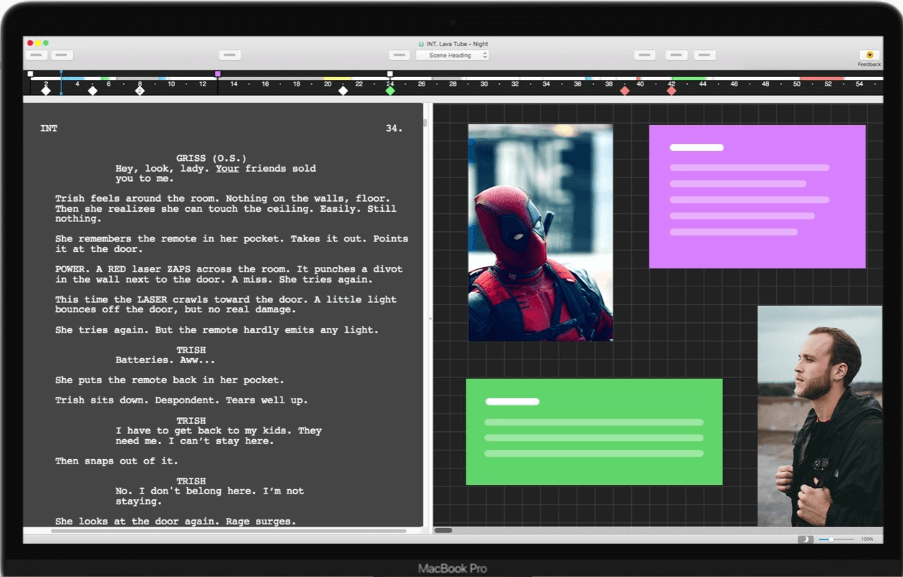 Price:- $199.99 after a 30-day free trial 
Compatibility:- macOS and Windows
Our rundown of free online screenwriting software will be incomplete without "Final Draft 10". It has been in the market for over a decade now and is highly preferred by filmmakers and writers. It offers several reporting tools, supports robust tagging, real-time collaboration, more than 100+ templates, and a mobile version. 
It comes with a free 30-day trial version post, which you will have to buy its premium version at $249.99.
---
12. Movie Magic Screenwriter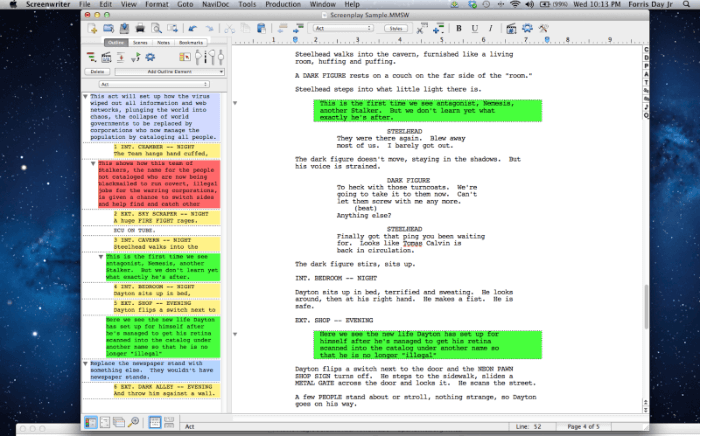 Price:- $129.00
Compatibility:- Windows and macOS
Read More: Best Free Duplicate File Finder & Remover For Windows 10, 8, 7
Another well-known software for screenwriting is Movie Magic Screenwriter. It's set of powerful and diverse tools gives it a cutting edge over its competitors. Real-time collaboration, formatting for films, index card view, breakdown reports, and revision tracking are some of its prominent offerings. 
---
13. Scrivener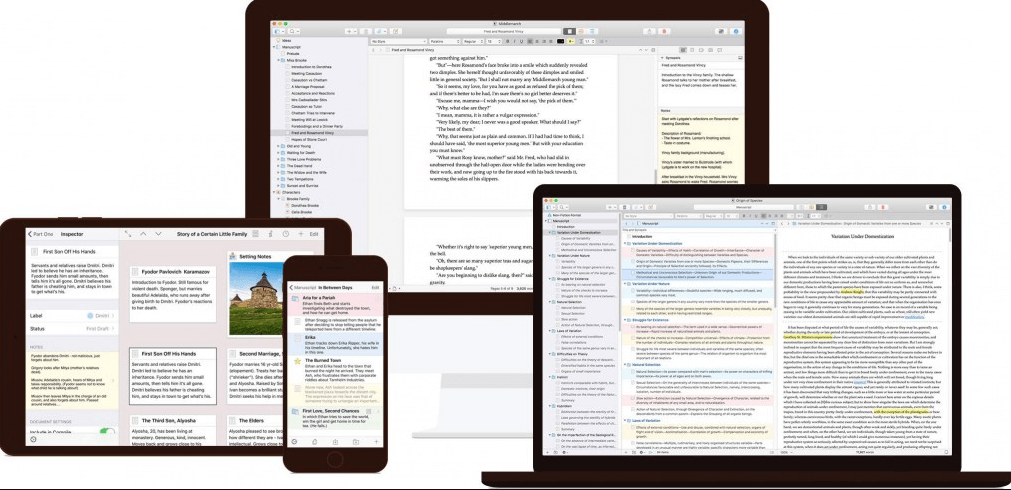 Price:- $45 for Windows and macOS, $19.99 for iOS 
Compatibility:- Windows, Linux, macOS, iOS
If you are looking for an all-in-one software that can help you with novel writing, brochures, flyers, articles, there is no better choice than Scrivener. No matter how long your storyline is, you can quickly outline and organize it with this incredible software.
---
14. KIT Scenarist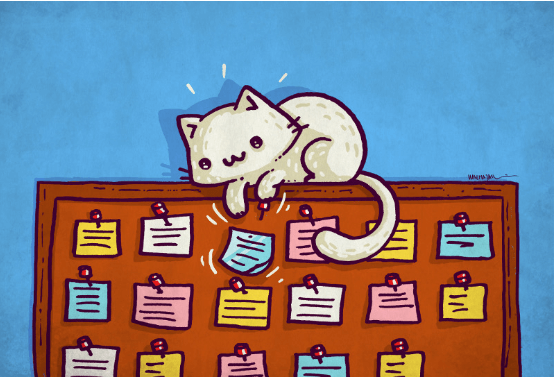 Price:- Free
Compatibility:- Windows, iOS, Linux, Android, macOS X
KIT Scenarist is an open-source screenwriting tool. With this simple yet smart tool, you can create stunning screenplays and stories. With KIT Scenarist, you only have to concentrate on the artwork, all other formatting formalities will be taken care of by the software. With its card module, you can give your rough idea a good story structure. 
---
15. Slugline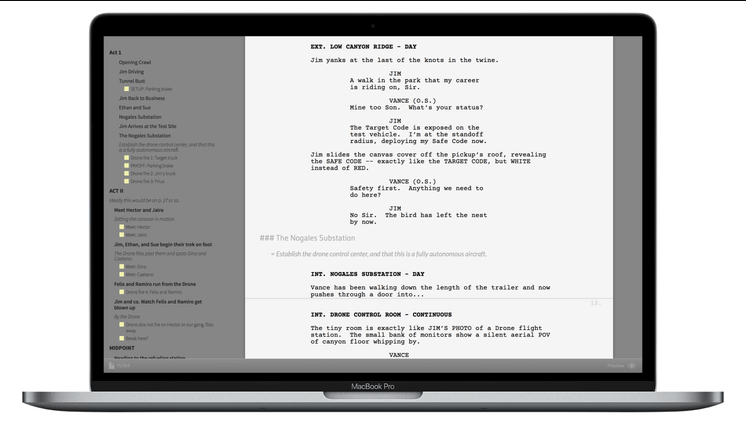 Price:- Free
Compatibility:- iOS and macOS
Read More: Best Duplicate Photo Finder & Cleaner Software
Leave an essential part of screenwriting, the writing part to this elegant yet straightforward application. It is fully compatible with iOS devices and helps you structure your storyline as you go ahead. Slugline comes with a 14-day free trial version post, which you need to pay for enjoying its unbeatable services.  
---
16. Arc Studio Pro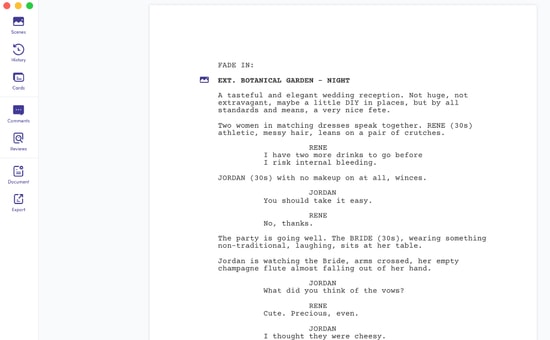 Price:- Free, Pro version costs $59
Compatibility:- Windows and macOS
Yet another best screenwriting software is Arc Studio Pro. Lives up to its name, it helps you while making a professional-standard story. The software has a clean and distraction-free interface that lets you concentrate on your story. 
The fear of losing the data is the biggest nightmare, this software keeps track of your every edit so that nothing gets dropped. However, the software is available for Windows and macOS, but its web version is also available. Moreover, its free version contains two scripts and gives you unlimited access to the number of pages. 
---
17. Milanote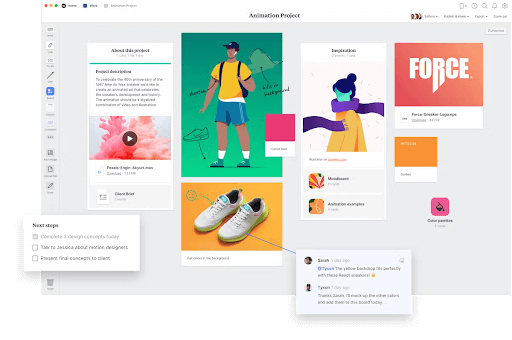 Price:- Free
Compatibility:- Windows and macOS
The last name on this list of the best screenwriting software is Milanote. The app is quite user-friendly and allows you to get accurate results with ease. This software is more than any native app. You can also use Milanote as a project organizer. This tool is available for both Windows and macOS devices.
The tool is entirely free for all to use. You don't need to pay anything now or ever to download and use this software. You can invite various other users as well on the project to collaborate as well. The software offers multiple editing and formatting options that make it one of the best collaborative screenwriting software.
---
Which is the Best Screenwriting Software?
So, that is it as for now, we hope this article has helped you in shortlisting the best screenwriting software. With these tools, you can collaborate your scattered ideas and turn them into a stunning storyline. If you are looking for our opinion on this then we would like to recommend you to use Writer Duet. It is the best software that you can use for producing your content and to make your writing process quite simple than ever. 
So, what are you waiting for? Pick the best-suited tool for yourself today and craft impressive scripts without any hassle. And, do not forget to tell us which best scriptwriting tool surprised you in the comment box below. In sum, if you are pleased with our list of best free screenwriting software then subscribe to our Newsletter to stay updated. Bye-bye as for now, we'll come back soon with yet another captivating and informative write-up. Till then, Happy Writing!
Prachi Dani is a technical content writer who specializes in areas of science and technology. She is highly up to date with technological transitions and transformations. Writing is not her passion but the only thing that carries satisfaction in life. If not writing, you may find her engrossed playing action games on her treasured smartphone.
Subscribe to Our
Newsletter

and stay informed

Keep yourself updated with the latest technology and trends with TechPout.
Related Posts