Check out these 10 top-notch Resume maker apps for Android & iPhone to create an excellent resume and CV. Here is everything you need to know about the same! 
Every job seeker wants to have a resume that effectively showcases their achievements and skillset. All the sharp-minded employees that landed amazing jobs state, their resume was the catalyst in getting their dream job. But, not everyone is diligent enough to put in days and nights to formulate an exquisite resume. And, we understand that. Making a great resume without prior experience or knowledge can be a topsy-turvy task and may go haywire. But, wait a sec, there are several tools available on the Internet that can help you to tailor a perfect personalized resume that fits your taste.
So, before getting down to the business and telling you about the best free resume-maker apps, let's discuss the crucial elements that constitute a good resume.
Elements of a Good Resume Are:
Keeping it short and direct
Highlight the needed skills and experiences
Make the correct word choice
Keep an eye out for inconsistencies
Ensure the language is crisp and easy to understand
Use figures and metrics to quantify your achievements
Think beyond the JDs (Job Descriptions)
These were some of the substantial points that need to be taken care of while building a resume regardless of whichever tool you'll be using.
Top 10 Resume Maker Apps for Android & iPhone in 2023
Here are the 10 best resume builder apps (free and paid) that will help you to make a resume that your prospects will fall in love with. And, the list goes as follows:
1- Canva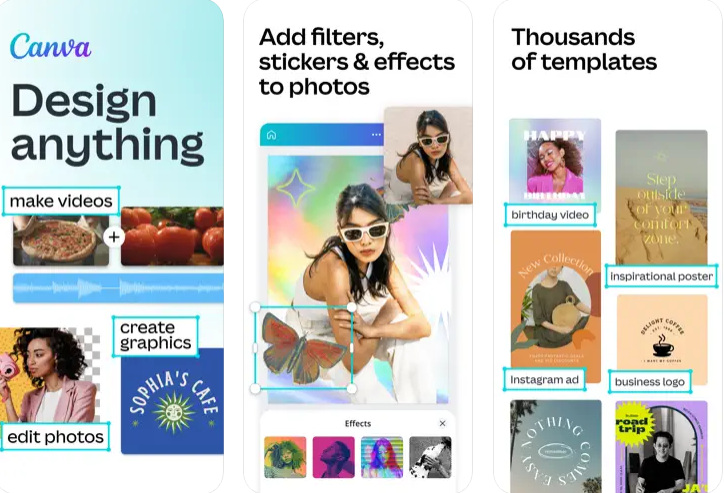 Canva is many designers' first choice when it comes to making posters, banners, pamphlets, and whatnot! This graphic design platform has been the first choice of a large user base for a long-long time. Resumes are also an integral part of Canva's graphic designing prowess. This app contains thousands of elegant resume templates waiting to be used by; you.
Along with the web app, the iOS, and the android version packs many addictive features that make building resumes a piece of cake. Ease of sharing, live collaboration, free graphic elements, etc, works like a cherry on top. The synchronization between the mobile and desktop versions ensures that you can switch whenever necessary and allows you to work simultaneously.
Also Read: Best Duplicate Photo Finder & Cleaner Software
---
2- Microsoft Word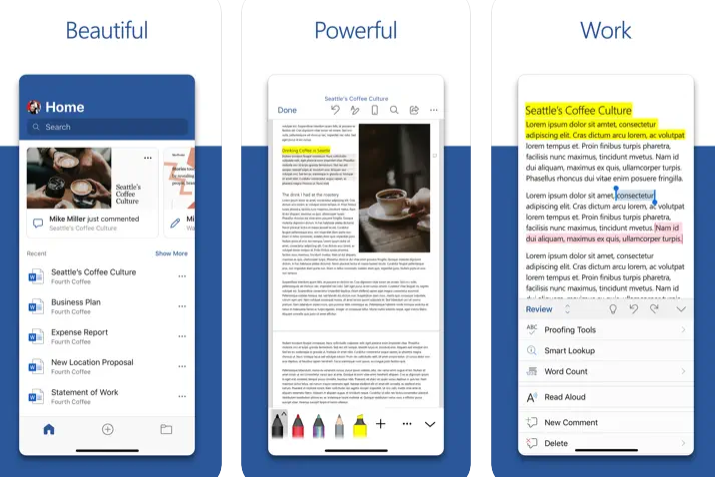 The most popular word-processing software can also be a marvelous resume builder. Microsoft provides a document processor for android as well as iPhone.
The mobile application offers two resume templates that the user can customize as per his need and want. Microsoft Word allows you to synchronize your document or resume drafts between your mobile and computer which enables you to make documents and create job landing resumes on the go!
Other useful features such as simplified sharing, basic editing tools, and copy-paste utilities retain your document's format which makes it easier to paste it into an email.
You can get all the basic features in the free Microsoft word app but to tap into its full potential you need to log in with a Microsoft account and get a Microsoft 365 subscription.
But, if you already have it, then there's nothing to worry about, just download the app and log into your account to access your subscription features.
---
3- Google Docs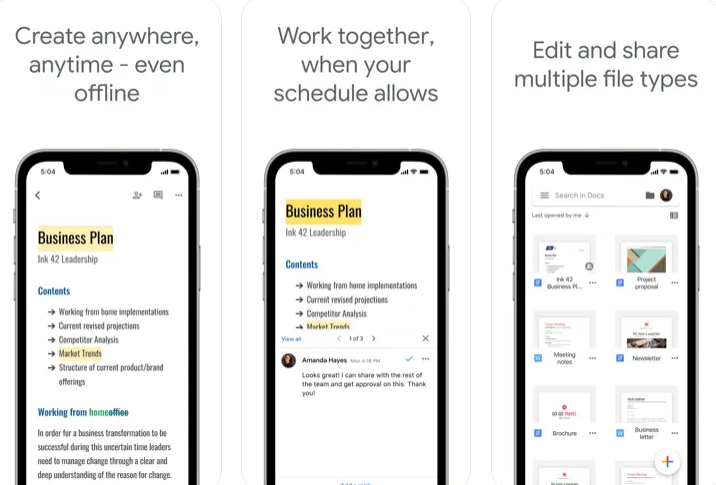 Google in its effort to outflank Microsoft Word, has its own Google Docs. One of the best document processors that have a plethora of designing components and writing features. The mobile application of Google Docs is an apt tool to create perfect documents and resumes too. There are 5 resume templates to start with, and you can even create your own.
You can also upload a pre-downloaded template from the web and upload it to Google Docs for editing and the personal touch. Uploading a word file is as easy as it sounds. Live collaboration, document customization, effortless sharing, and offline editing are some additional features of Google Docs. Plus, it supports multiple formats (.pdf, .docx, .txt, .odt, .rtf, etc).
If you get the Google Workspace subscription, then you'll get mind-boggling features such as no limits on version history, tracking changes, and returning to earlier versions whenever needed. The mobile app is free to use but needs a Google account to access it.
---
4- Quick Resume Pro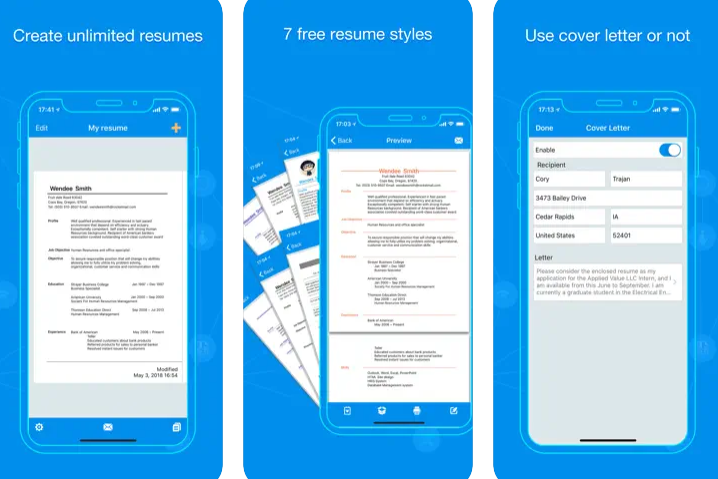 Simplistic resume designs and templates have what it takes to tailor a fresh and crisp resume that possesses the potential to land you your dream job. Quick Resume Pro creates a specific resume just for you based on your professional details.
All you need to do is fill in the information you want to include in your resume and the app will take care of the rest. This best free resume maker app is compatible with multiple devices such as iPhones, iPads, and Android as well.
Being solely dedicated to the mobile platform, Quick Resume Pro has quite an intuitive and user-friendly interface that makes it easier to work with. The application focuses on holistically highlighting the ability of the candidate and provides each section of a typical resume such as profile, objective, education, experience, skills, and so on.
Also Read: Best Photo Stitching Software for Windows
---
5- Resume Builder by Nobody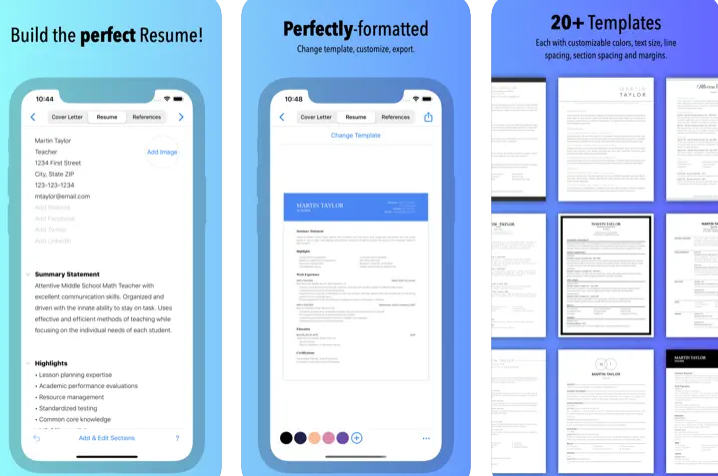 Resume Builder is one of many best tools that helps you to make the 'perfect' resume template that aligns with what you have and what the employer wants. Resume Builder has more than 20 resume templates that are great at showcasing your aptitude and eligibility.
These templates come with customizable designs which you can alter as per your wish. Customizable elements of the resume templates include colors, text size, line and section spacing, margins, etc. The preview tool allows you to take a look at how your resume will look after getting printed.
With the free version, you get one resume template access to the resume editor, no limits on export, and permission to create an unlimited version of your resume. With the upgraded or pro version, you get access to all the templates, AR(Augmented Reality) previews, extra sections, photos, and so forth.
---
6- Perfect Resume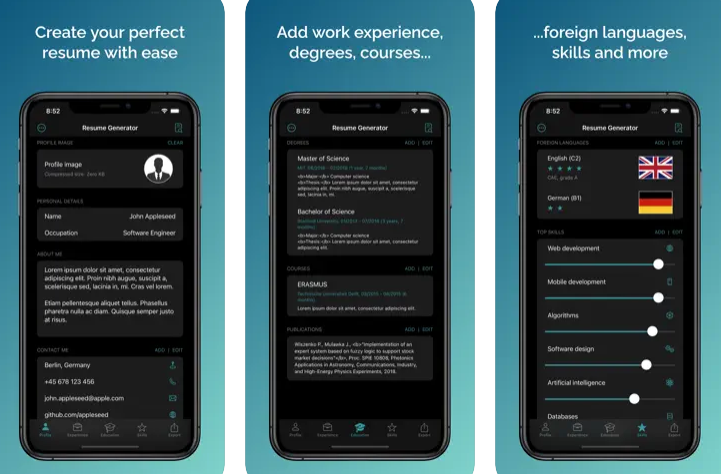 Another participant in the best free resume maker apps is Perfect Resume. This app was solely developed for iOS users. Perfect Resume is great for beginner job seekers and freshers. Although this app can't be called the best, still, it's highly rated and recommended by its former users.
Perfect Resume is completely free and provides some cool features that many other free resume-maker apps lack. Additionally, this application is only available for iPhone users that have iOS 15.0 or higher.
---
7- LinkedIn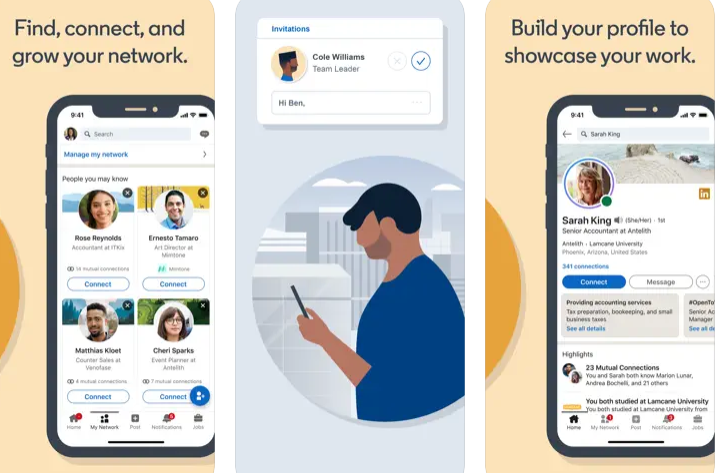 Linked In, despite being a one-stop social media sensation for professionals all over the world, also comes in handy while creating an online resume on the platform.
You can use the online resume to directly apply to jobs through LinkedIn. As we all know, LinkedIn being a professional-oriented social media platform exudes great employment opportunities.
In addition to all the information you have filled in your LinkedIn profile, your prospective employers can also look at your professional history, your colleagues can rate your skills, you can list testimonials, and connect with important people that you might not be able to meet otherwise.
And, having a LinkedIn profile link in your contact section gives you an edge and projects you are well-versed with modern techniques in your domain.
Also Read: Best Free Photo Slideshow Software For Windows
---
8- CV Engineer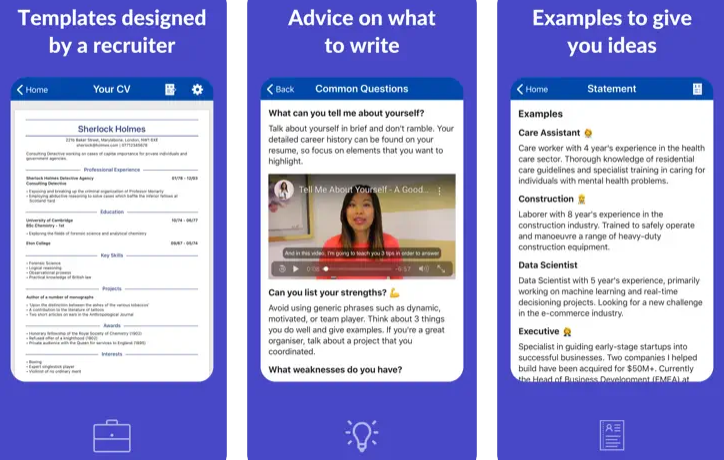 CV Engineer takes the responsibility of creating the perfect and tech resume or CV for you that lands you interviews whenever you apply with this resume. CV Engineer is an app that allows you to use your smartphone to create professional resumes on the go!
You'll get dozens of resume templates, examples, and even advice from industry experts while you're creating your CV. All you need to do is, select a resume template, fill in your details, and be done. Yes, it's that easy. The examples provided alongside ensures you a hassle-free resume-making experience. Now, after you have made your resume, you can save it in PDF format in Google Drive and also share it via email.
An additional feature that makes CV Engineers stand out from the rest of the resume makers is that it provides interview questions and their best answers to train you beforehand for real interviews.
---
9- Resumaker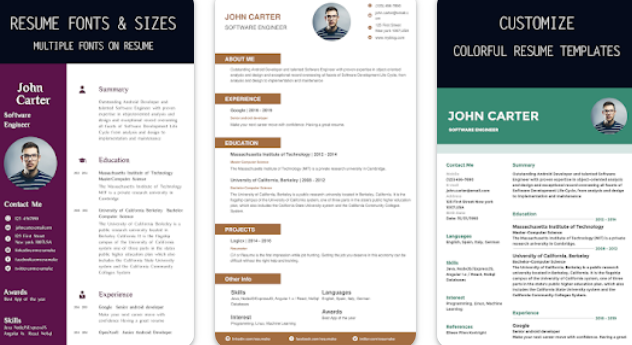 A professional resume is a necessity for a job seeker, not a luxury. Resumaker offers dozens of templates for you to select from and creates an ideal professional resume for free. There's no need to dedicate hours re-writing the entire CV, just fill in the needed information and you're good to go. Resumaker has top-tier resume examples, multiple templates, and tips on "how to make an amazing resume".
You just need to select the ideal template and format as per your level of experience and expertise. Preview your resume before saving it to ensure flawless output after printing. Customization is smooth through the easy editing tools of Resumaker. In sum, you can give it a try.
Android – Download Now
---
10- Resume Builder App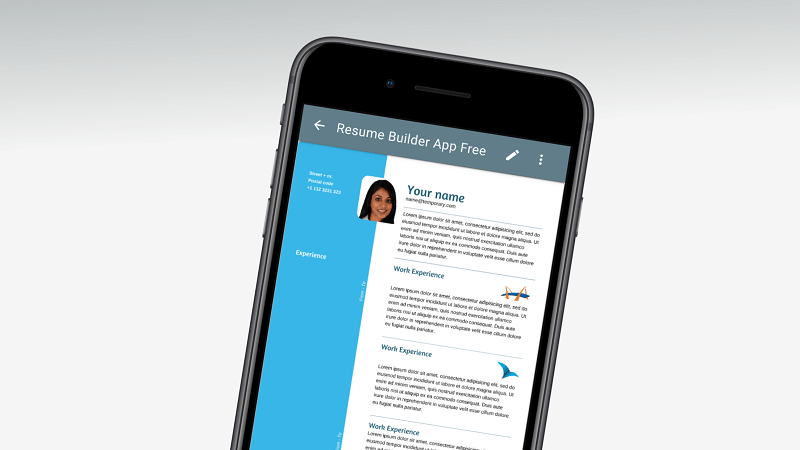 The next best free resume maker app is Resume Builder. The application provides users with access to hundreds of different CV and resume templates. In addition to this, it converts PDF into custom formats, comes with a cover letter, and gives you the option to upload images of yourself if you so like.
It is excellent in every fundamental respect. The app costs nothing to download and uses advertising revenue to cover its costs. People who are unable to get it at this time are missing out on a great deal because of this.
Additionally, both the user interface and the live editor are of satisfactory quality. Beginners and trained professionals can select this platform to generate their CV.
---
Wrapping Up!
So, these were the nine best resume-free maker apps available online. The apps mentioned here are tried and tested by thousands of users worldwide. And, any one of these apps can help you in creating a perfect resume. Work your way down the list and see which app suits you best.
We hope you found this comprehensive article useful & beneficial. Please tell us in the comments below if you have any questions or better suggestions. For more tech-related articles, you can subscribe to our Newsletter and follow us on social media – Facebook, Twitter, Instagram & Pinterest.
Harshita Sharma is a technical writer with quite a distinct understanding of the tech realm. She is a tech enthusiast who believes that tech knowledge should reach one and all and tries to convert the sketchy knowledge into the simplest possible form for making people understand the tech world better. When not playing with words, she loves to travel and explore new places. And, is a coffee & cricket connoisseur.
Subscribe to Our
Newsletter

and stay informed

Keep yourself updated with the latest technology and trends with TechPout.
Related Posts