Our phones are literally everything to us. Nobody can imagine even a moment without doing something or the other on their smart devices. All this increases fear of privacy invasion and data theft inside all of us. 
And hence the question of apps lock download should ring in our heads, and we must take actions to beware of the prowling intruders.
For this, we offer you a list of fingerprint lock apps, face lock apps, pin code lock apps, and in short, all sorts of best app locks for Android.
What Are the Best App Locks For Android in 2020?
There are various best Android app lockers available on Play Store that offers amazing features and utilities to prevent unauthorized access to keep our personal things away from prying eyes.
Below we have mentioned a list of the 13 best app lockers for Android you should use in 2020.
1. AppLock by DoMobile Labs
AppLock is a powerful app to reckon with. It is one of the best android lock screen apps as it is used by most people from different parts of the world. 
With the help of this, you can block unwanted access to any specific apps you wish to.
It has exciting features like fake cover for locked apps, taking selfies of intruders, blocking incoming calls, a vault for hiding media, and uninstall protection.
It is a fingerprint lock app too as it offers fingerprint security to its users along with pin codes and passkeys.
Who would dare to invade your privacy when you have this app?
---
2. Norton AppLock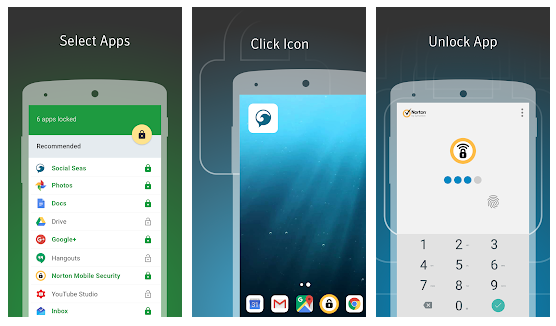 Norton is a bigshot name in the best lock screen app world. Even in the app locker society, Norton rules at the top. This app does all the necessary tasks that an app locker needs to do, including protecting apps using a pattern/pin, safeguarding sensitive information and addition of a layer of security. 
You can also protect your media, prevent uninstallation of applications and capture a, wait for it, a selfie of annoying intruders.
---
3. Privacy Knight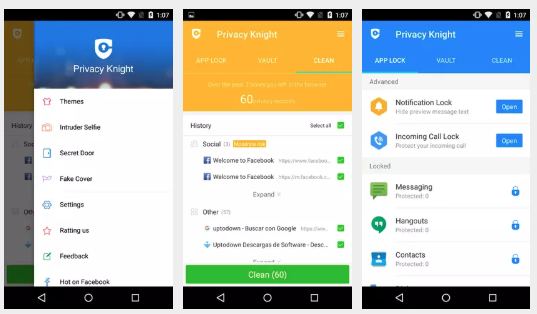 Privacy Knight is one of the best app locks for Android if you're looking to keep meddlesome people away from accessing your personal information without your consent.
Privacy Knight is the knight in locking armor for all of us who suffer from constant privacy intrusion and don't want their phone data getting into the wrong hands. 
It locks all the important apps and even has a vault to save your pictures and videos.
To unlock, you can use a fingerprint scanner, PIN/pattern or a crash message, it all depends on you. It is a face lock app too as it uses face tracking to lock and unlock apps.
It is entirely ad-free (what a plus) and doesn't have any in-app purchases.
Read Also: Best Apps To Hide Apps On Android & iOS 
---
4. Perfect Applock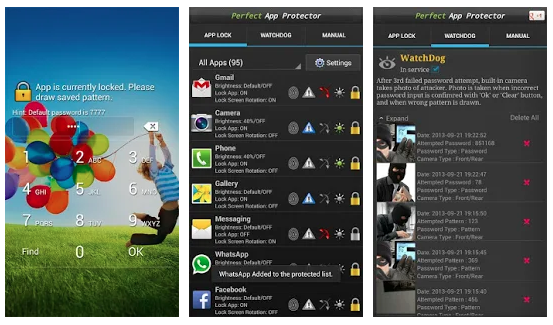 With over 400 million users, Perfect AppLock is arguably one of the best app locks for Android.
Perfect Applock is a near-perfect solution to your privacy requirements for your phone. It lets you secure all applications on your device with a pin/pattern or a gesture password. 
Apart from apps, you can also protect your network toggles like Wi-Fi, Bluetooth, and your internet data. And effectively manage screen rotation and screen brightness of locked apps.
 Moreover, you can even lock incoming and outgoing calls (now no one can know your secret call history), and can have fake error messages displayed on locked apps. 
---
5. AppLock by SpSoft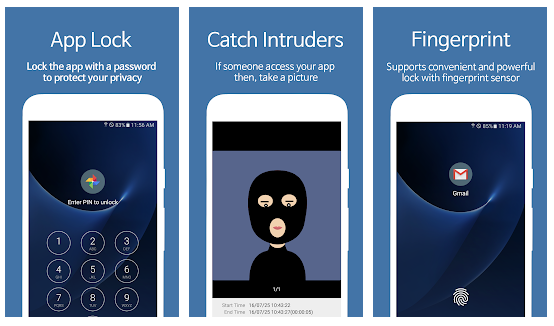 AppLock developed by SpSoft is the best Android app locker to protect your applications & other important documents from being exposed.
Also known as App lock Fingerprint, it features fingerprint, pattern and password unlocking. 
Read More: Best Game Booster Apps For Android in 2019
The users can set up profiles, make sure that app locks activate depending on the Wi-Fi or Bluetooth connection, lock system settings, rotation, backlight, and home screen, get the intruder selfie mailed directly to the registered email, and unlock the phone via SMS.
It also has App Lock Time, which enables locking at particular time junctions. Great for kids, isn't it?
Download – AppLock Fingerprint
---
6. LOCKit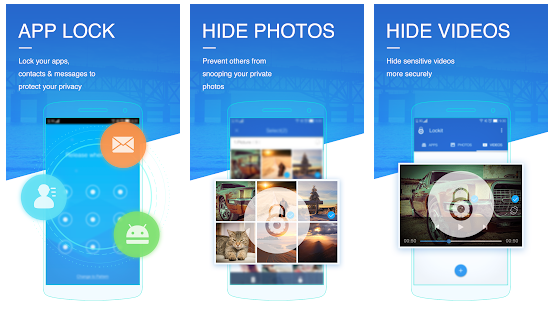 Even if you are not a big fan of Android App Lockers, then this best app lock & privacy guard from SuperTools will definitely make you one.
Does your significant other keep checking your call history and messages? Are your cousins troubling you with their constant game playing on your phone? Then you might just have to lock it.
Lockit is a splendid Android lock screen locker that helps guard your files and keeps your device in an excellent condition. It mostly consists of basic but very efficient features. You can use this app to scan your files, keep your notification bar clean, boost your phone, and secure your phone screen.
---
7. Hexlock Applock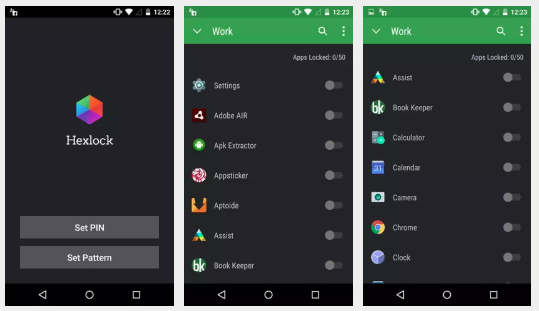 What if you could lock, secure, and deactivate your apps according to the social surroundings that you're in? Maybe you don't want your social media alerts at work, or your gallery active while with parents at home? 
You could actually do all that, and more, with the help of Hexlock. 
Hexlock App Lock comes adorned with an amazing interface, handy tools and preset profiles like home, work, parental, school, etc. You can either edit these or create your own profiles. It allows you to set a password, PIN or a pattern to safeguard your private and confidential data.
---
8. Applock by IVY Mobile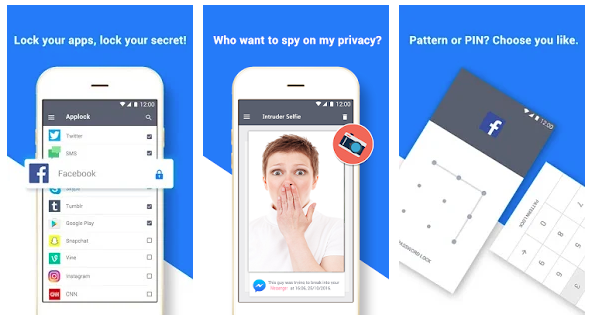 Are you looking for the best app lock for android that can lock up almost everything on your Android phone? If yes, then your search ends here.
Applock by IVY mobile locks pretty much any app on your phone and boasts the ability to lock videos and photos. It can also lock up inbuilt applications such as gallery, contacts, settings and more. You'll need to use a pin or a pattern lock for the security of the apps.
There are some additional features as well, like the ability to replace the icons, hiding of pattern while it's being drawn, and shuffled keyboard.
Download – Applock by IVY mobile
---
9. Smart Applock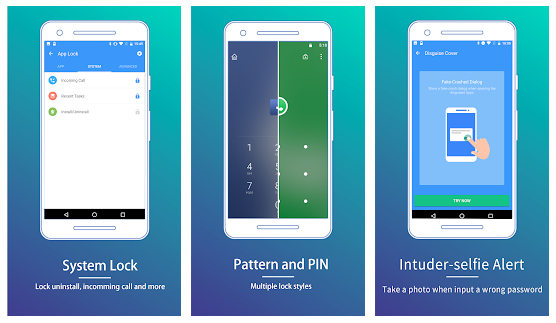 Our list of best app lock for Android would be incomplete without this elegant privacy guard.
Smart Applock is a gift to Android users who are looking for an apt app locker. 
It comes bearing a range of features that prove its smartness. It has functions like break-in alerts, fingerprint scanner capabilities, auto-start upon reboot, and delayed lock app timer.
It provides the provision of PIN, password, and pattern to lock apps and other important data. 
You can also lock or unlock your device remotely just by sending an SMS.
---
10. CM Locker – Security Lockscreen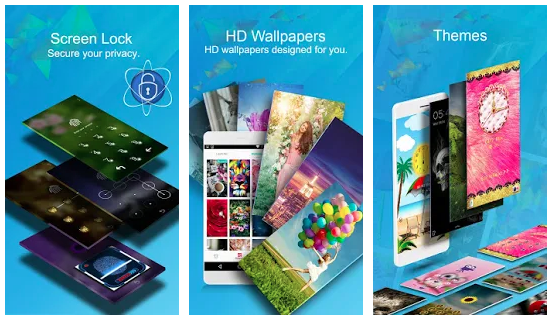 CM AppLock is a decent app locker as it doesn't offer anything flashy like its counterparts. The app supports basic fingerprint unlocking, letting the users lock their apps and settings.
Its lock screen comes with a variety of themes and styles that can be personalized according to the user's liking and present a welcoming screen. You can even add a delay in re-locking apps to enhance the security of your phone.
Read Also: Free Android Cleaner Apps to Optimize & Speed Up Android Phone
---
11. MAX AppLock – App Locker, Security Center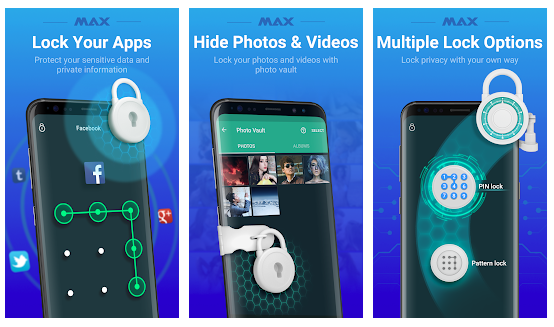 If you're looking for a free app locker for Android that can provide you 24/7 high privacy protection, then MAX AppLock is a must-have app for your mobile device.
MAX AppLock offers a variety of features and utilities like App Lock, Message Lock, Camera Lock, Photo Locker, and more to keep your private stuff safe and away from prying eyes.
---
12. App Lock by Smart Mobile Tools
This is another best app lock for Android available on the Play Store. Developed by Smart Mobile, AppLock has managed to gain a lot of attention due to its fairly intuitive and elegant interface. With AppLock installed on your device, you can easily lock apps, photos, videos, SMS, emails, contacts, and more.
From social media and system to mobile payment apps, it allows you to lock all kinds of apps using a password, pattern, and fingerprint lock.
Download – App Lock by Smart Mobile Tools
---
13. AppLocker | Lock Apps – Fingerprint, PIN, Pattern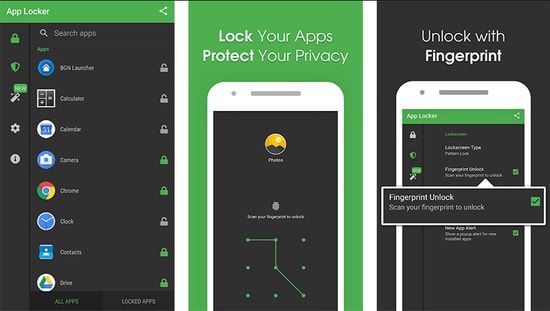 AppLocker might come last in the list of best app locks for Android, but it is definitely worth a try.
It is another excellent application to protect and lock apps through PIN, fingerprint, or pattern. With the help of AppLock, you can keep your privacy intact by locking all kinds of apps like Facebook, WhatsApp, Gallery, Messaging, Contacts, and more.
Unlike other Android app lockers mentioned in this list, it does not eat up a lot of phone's memory, battery, and other system resources. That's why AppLocker is worth a download.
---
Conclusion: Protect Your Privacy with Best Android Lock Apps 2020
These are some of the best app locks for Android on the basis of amazing features, ease of use, and popularity.
All of these aforementioned Android app lockers supports the fingerprint scanner and brings some unique privacy features, so you can choose the app that best fits your requirements.
So, we hope that the next time you worry about your phone privacy, you download an app lock from this list.
Diksha Lalwani is an aspiring content marketer and a self-declared bibliophile. An English honors graduate, she likes to keep up with the recent happenings around the world and form an opinion. Her interest in anything and everything tech made her follow the path into becoming a technical writer.
Subscribe to Our
Newsletter

and stay informed

Keep yourself updated with the latest technology and trends with TechPout.
Related Posts