Here find out how to fix Fallout 4 keeps crashing, easily & quickly. The post has included several solutions to resolve this issue.
Every person who loves the action RPG (Role Playing Games) must have played Fallout. This famous Video Game series was one of the reasons for the expansion of the action genre among gamers, throughout the world. If you are thinking about "why my Fallout 4 is not working on my PC", then you are not alone. Recently, many gamers and Fallout fans have reported that the recent version of the series, Fallout 4 keeps crashing. The reasons why Fallout 4 keeps crashing on PC may include the following points:-
The game itself is highly graphic.
Fallout 4 needs a well-upgraded PC.
It requires a well-updated Graphic card as well.
Hardware issues
Inconsistent video resolution and so on.
However, we are not here to discuss problems and the same goes for you. That's why we are going to tell you "How to fix Fallout 4 crashing on PC". There is no same medicine for every disease and the same goes here; different fixes for different PCs. You don't have to try them all, just work your way through them and stop as you find the perfect fix that has the caliber to solve your problem.
Fixes to Solve Fallout 4 Keeps Crashing Issue on Windows PC
Below we have listed down a few solutions to fix Fallout 4 crashing issues on Windows 10 PC.
System Requirements:
Before we move ahead and give you all the tried and tested fixes for solving the 'Fallout 4 keeps crashing' error. We want you to make sure that you have all the necessary and minimum system requirements to run Fallout 4 because if you don't then that may be the reason why Fallout 4 keeps crashing on PC. The system requirements for running Fallout 4 is:
RAM- 8 GB and above.
Operating System- Windows 7, Windows 8 / 8.1, or Windows 10 ( All 64-bit Versions).
Processor- Intel Core i5-2300 2.8 GHz or AMD Phenom II X4 945 3.0 GHz and above.
GPU (Graphics processing unit)- NVIDIA GTX 550 Ti 2GB or AMD Radeon HD 7870 2GB and above.
GPU Memory- Above or minimum 2 GB.
Hard Disk Space- 30 GB or More.
---
Make sure that your computer has all the specs mentioned above or Fallout 4 will crash or may not launch on your PC. If you have all these specifications then let's start with the list of our fixes:
Fix 1: Download the Latest Update
There's a reason why a developer releases an update. These updates contain various aids in the form of patches. Patches that are included in the update contain a lot of useful data that can prove crucial to the application or game.
The updates can resolve the errors that are causing your Fallout 4 to keep crashing error as well as optimize the game. Thus, the first thing that you need to try in order to rectify the crashing error is to update the game to its latest version.
Also Read: 5 Smart Ways to Improve Gaming Performance on Windows PC
---
Fix 2: Decrease The Graphics Settings
Fallout 4 is already an intense graphic game. If you play them in high graphic settings or high resolution then this habit can put a load on your PC and result in the Fallout 4 crash. To solve this problem we recommend you to play Fallout 4 in low video settings so you can enjoy your game without any crashes or glitches.
---
Fix 3: Try Disabling Your Antivirus For Sometime
We know how crucial antivirus is to the security and wellbeing of a PC. But there have been some cases in which it is reported that antivirus interferes with the operations of a high-end game. So, it's better that you check if your antivirus is doing the same or not. Thus, disable your antivirus for a fixed time period and check whether the crash error is gone or not.
If your antivirus was causing the problem then Fallout 4 should be running smoothly after the antivirus is down. If the problem is still resolute even after disabling the antivirus then enable your antivirus and let's proceed to the next solution. However, this problem should not arise in the first place if you use top-notch antivirus that does not cause such types of interference and errors.
---
 Fix 4: Update The Graphics Driver
A driver is the most important component of hardware. Without a compatible driver, it is useless to expect good performance out of a device. Updated drivers smooth the system and make sure that any type of problem does not be able to stop the functioning of the system.
On the other hand, an outdated driver causes various problems like slowed processing of data, lagging, glitches, issues in connectivity, and so on. This can be the issue, why your Fallout 4 keeps crashing. To resolve this issue we recommend you update your graphic driver. Updating driver is a process that can be done in two ways:
1. Manual Driver Update- If you trust your hands and wisdom than any software then we can recommend you to update your driver manually. However, updating drivers manually requires a certain amount of skill, technical knowledge, and patience. The steps to manually update drivers goes as:-
Step 1: Go to the manufacturer's official website and search for the section that provides driver updates.
Step 2: Search for the recent and official driver for your device based upon the model number and other specifications of your device.
Step 3: Download and install the driver on your PC.
---
2. Automatic Driver Update- Automatic driver update can be a boon for the person who does not have the time, patience, or skill for manual driver update. Another reason for updating drivers automatically is that the manual process can be tiresome and it can also lead to errors.
You can have the latest drivers and automatic updates if you use driver updater tools like Bit Driver Updater. Bit Driver Updater provides most of the premium features of a driver updater tool like:
One Click Update
Automatic Installs
Deep Scans
Scan Scheduler
Auto Backup
Restore Wizard and much more.
The steps to update the driver using Bit Driver Updater are listed as follows:-
Step 1: Download and install Bit Driver Updater on your PC from the button provided below.

Step 2: Launch Bit Driver Updater and it will do an initial scan of your PC in order to find the data about all the drivers in your system.
Step 3: Click on Scan. So, that Bit Driver Updater can run a deep scan and find out which driver needs an update or not.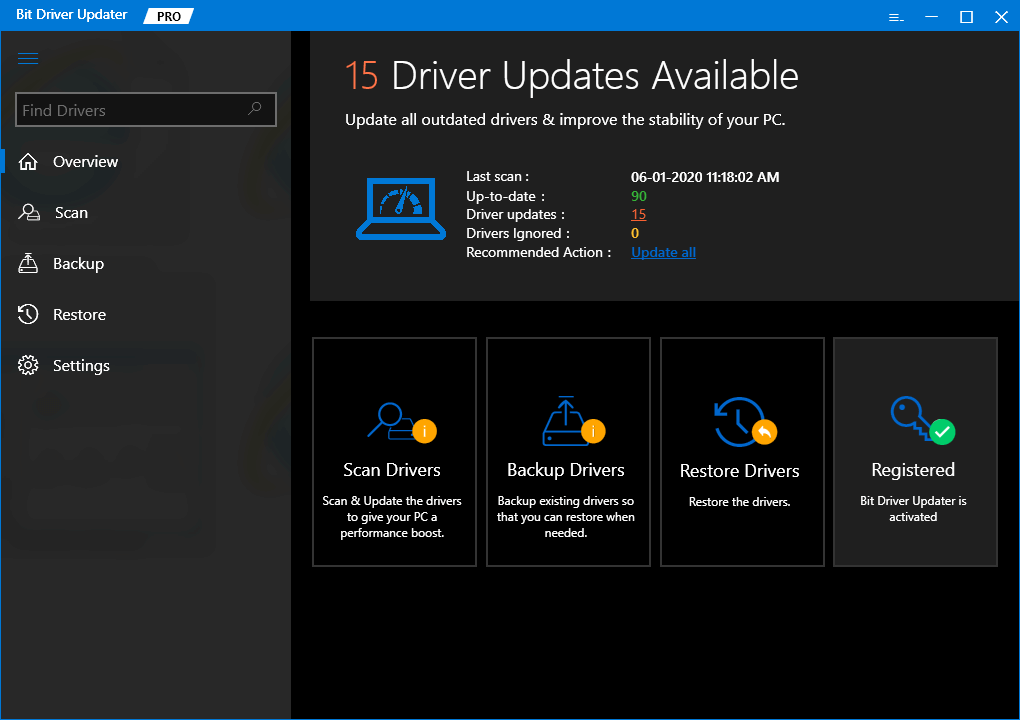 Step 4: After the scan completes, click on Update All.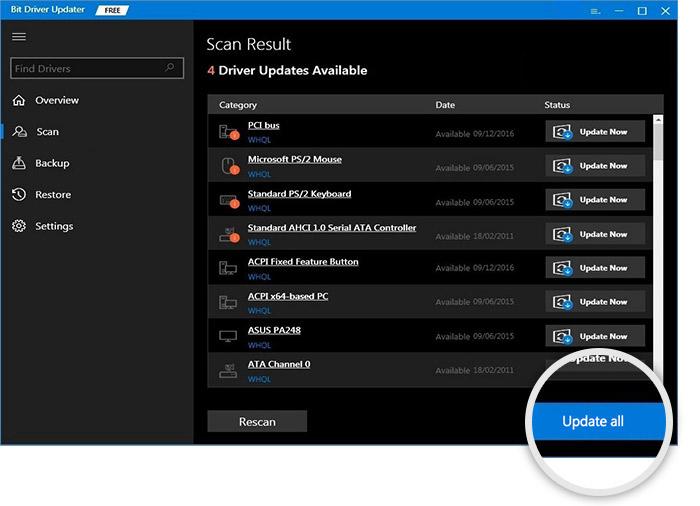 Step 5: When the update has taken place Bit Driver Updater will give a list of all the drivers updated.
Also Read: 15 Best Game Recording Software for Windows PC in 2021 (Free and Paid)
---
Bottom Line: Fallout 4 Keeps Crashing Issue on Windows PC
This way you can update your drivers and solve the problem of "Fallout 4 keeps crashing". This article has provided us all the information needed in order to understand the problem and fix it. Hopefully, you can play your game without any problem after applying these solutions.
After applying all the fixes listed in the article your Fallout 4 keeps crashing error should be rectified. The fixes listed in this article are tried and tested by thousands of users. It has worked wonders for them and should also do the same for you.
Also, subscribe to our Newsletter for getting the latest technical updates quickly.
Harshita Sharma is a technical writer with quite a distinct understanding of the tech realm. She is a tech enthusiast who believes that tech knowledge should reach one and all and tries to convert the sketchy knowledge into the simplest possible form for making people understand the tech world better. When not playing with words, she loves to travel and explore new places. And, is a coffee & cricket connoisseur.
Subscribe to Our
Newsletter

and stay informed

Keep yourself updated with the latest technology and trends with TechPout.
Related Posts