Driver Booster Review: Pricing, Features, Pros, Cons & Expert Advice

Is the Driver Booster tool worth downloading? Read this comprehensive and honest review of Driver Booster software to decide whether it is worth your time or not. 
Did your PC run into a problem and need a fix? Well, this can be due to outdated and broken drivers. The Driver Booster is a renowned driver updating tool that can offer the perfect solution and ensure the good health of your system. 
However, before we move ahead to learn about the features and functionalities of Driver Booster, i.e., one of the best free driver updater tools, let's first have a quick look at some of the common system issues you can face due to outdated drivers.
What PC Issues Can You Face Due to Broken Drivers? 
Your internet connection may become unstable.
You may face frequent screen freezing and system crashing issues.
The hardware devices attached to your system including the printers, webcam, the scanner may stop to work smoothly.
You may also experience sound errors while listening to your favorite music piece.
Games may start running slow, they might hang and crash frequently.
So, we know how important are device drivers for your PC to run smoothly. Let's get some useful insights about Driver Booster, its pros, and cons, features, and benefits along with its pricing policy.
Driver Booster Free Version: All That You Need To Know
Driver Booster is manufactured by IObit, a company that was founded in 2014 and deals in products like Malware Fighter, Smart Defrag, Advanced System care products and many more. Its line of business is mainly related to utility tools devoted to PC optimization tools, security software, and performance optimization. 
The tool is intelligently designed to perform a system scan, detect all outdated and broken drivers and fix them in no time. 

Tool Specification and Description 
| | |
| --- | --- |
| Manufacturer | IObit |
| Main Functionality | One-click driver updater tool |
| Latest Version | Driver Booster v.6.5.0 out June 2019 |
| Driver Database | 200% larger database with around 3,000,000+ drivers including drivers from AMD, Intel, Nvidia and many more. |
| Windows OS | Windows 7/8/8.1/10/XP/Vista |
| Technical Support | 24/7 Technical support |
| Installer File Size | 20.6 MB |
| Menu Language | 48 |
| Additional Features and offerings | One-click Update, Game Booster, Feedback channel, fix separate device issues, Secure driver update, create restore points, view system information |
Driver Booster is available in two versions. Its free version is known as Driver Booster 7 Pro Trail, while its paid version is known as Driver Booster 7 Pro. Its yearly subscription costs $20.98 and can support 3 systems at a time.
---
Pros and Cons
Pros
Automatic Tool
Can fix and repair your broken and outdated device drivers in a single click
It can automatically reboot your system once the drivers are updated and repaired completely.
It is compatible with all Window versions
It creates a backup of all broken drivers before updating them to avoid any data loss.
Cons
The Application is not compatible with Mac, Linux, and Android devices.
Does not give details of all missing drivers.
At times it is unable to update specific drivers, which have to be updated manually.
---
Driver Booster Free Version Review- Setting It Up
Windows 7 users form the majority of the PC users which require driver updater on a regular basis, Windows 10 system falls in the category of advanced systems which hardly require a driver booster, while the earlier Windows versions are hardly in use. According to experts, the 64 bit Windows 7 system is the most suitable machine for setting up Driver Booster.

For better understanding let's set it up on two devices with the below-mentioned specifications:
| Specification | Device 1 | Device 2 |
| --- | --- | --- |
| Device Type | PC | Acer Aspire Laptop |
| RAM | 8GB RAM | 3GB RAM |
| CPU | Intel Celeron CPU of 2.60 GHz | Intel CPU of 1.30GHz |
| Screen Resolution | 1920*1080 | 1366*768 |
Let's assume that both the devices have not been updated from the last month. During the update search, we found out close to 70 optional and 135 crucial updates. Let's get started with the actual installation process now.
Read More: CCleaner Review: Product Details, Features, Price & More
1. Installation
The installation process of driver booster is quite simple, just download and set up the installation file from the publisher's website.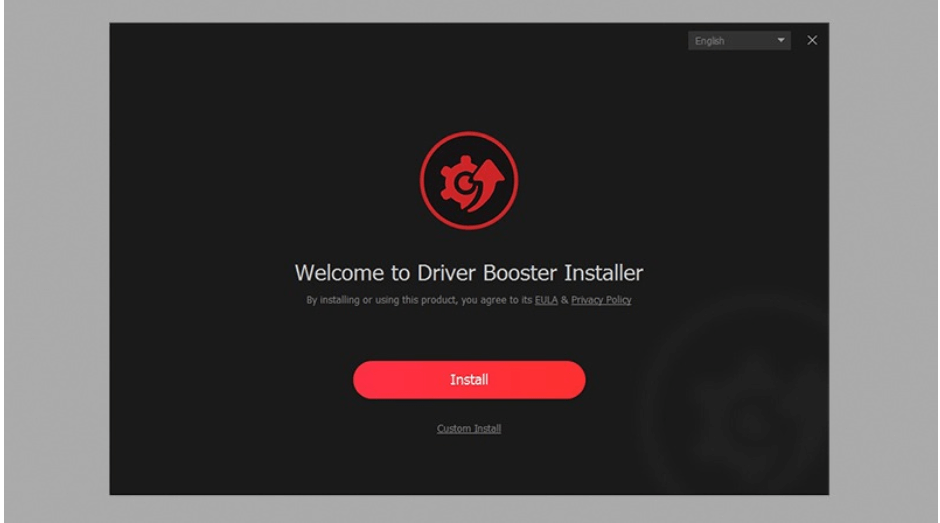 To start with, set your language preferences on the Welcome screen.
On the Welcome site, you will see two buttons, one of the red color install button while the other one is for custom installation.
We recommend you to go with expert advice and choose the Custom installation. 
With the custom installation option, you will be able to skip or install additional tools. 
Apart from this, you will also be able to select a path, pin to the taskbar and create a desktop icon.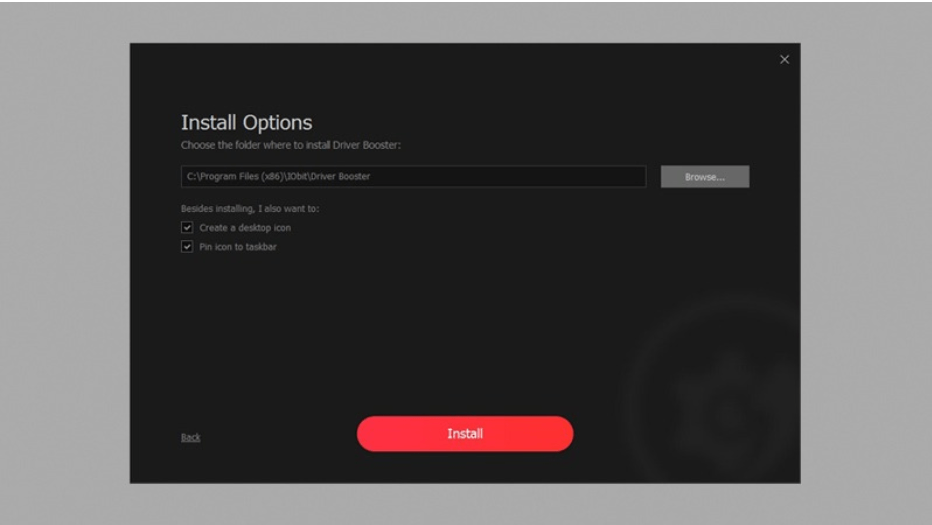 Once you are done with these specifications you can click on the Install button to start the download process. 
Post successful installation of the driver booster, you can straight away jump to the system scan.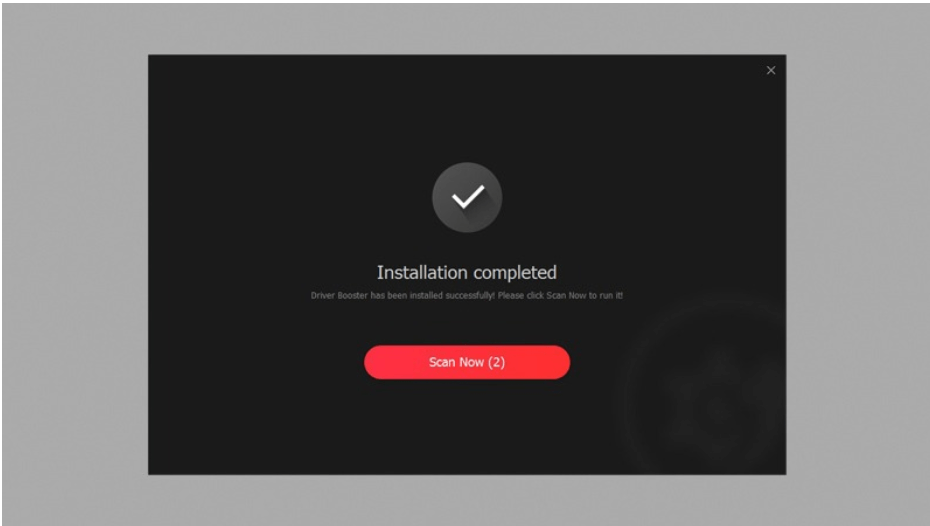 Read More: Best Tips to Speed up Windows 10 Computer
2. System Scan
The advanced working of the driver booster can leave you in complete awe if you do not click on the Scan button within 5 seconds after the installation, the tool will automatically start a system scan. The main scanning screen comprises a big Scan/Stop button placed in the center along with a Device Driver and Game Components placed on each side of the central scan button.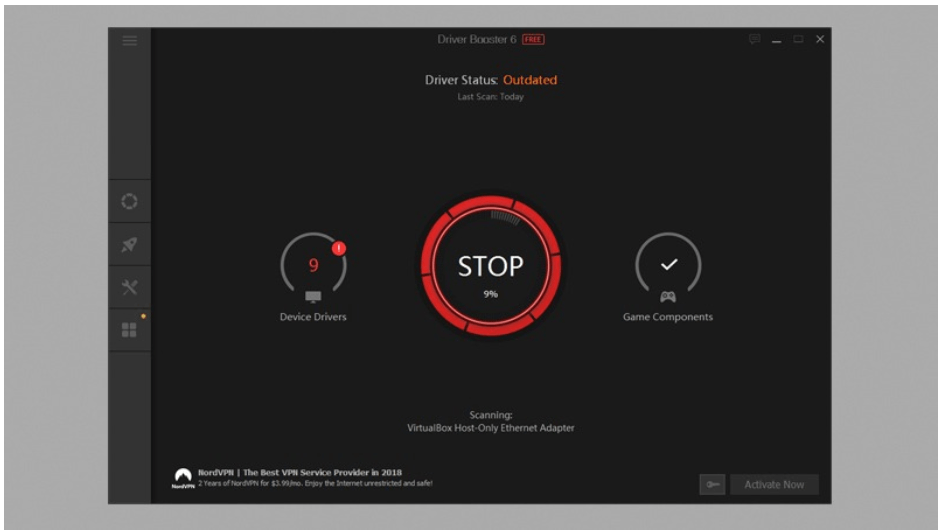 Click on the scan button to start system scanning using the driver booster tool. And now comes the big factor, the detection of outdated and broken drivers. We tested it on both the devices and the results were appropriately corresponding to the health of the two machines.
Once system scanning is complete, the driver booster will display a list of all broken drivers which need to be fixed. Apart from this other additional information is also displayed which includes. 
1. The name and category of the device driver.
2. Details of the current version along with the publisher's name and date of publication.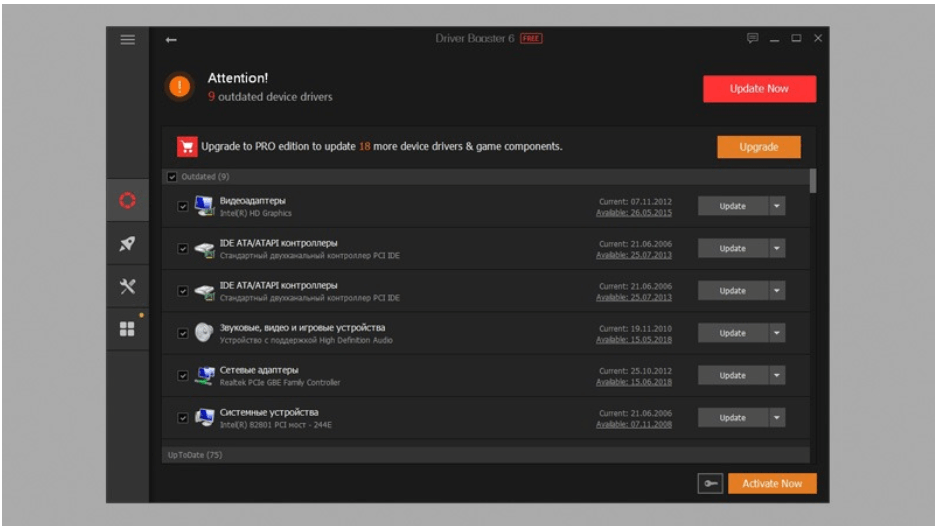 3. Details of the new available version, its publisher and date.
4. Here users have the option to either install, uninstall, ignore or perform a one-click update of all broken drivers.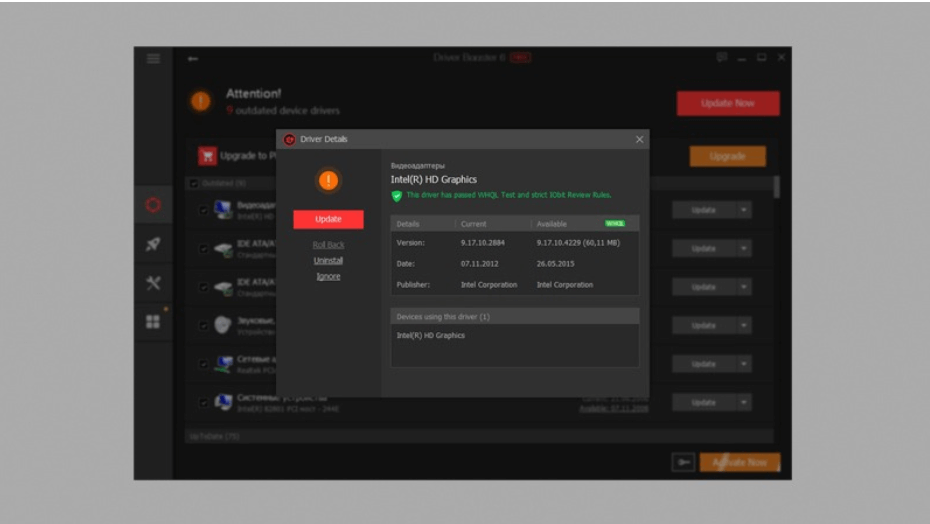 Read More: List of Best Bluetooth Software for Windows 10 
3. Fixing Up
Once the driver booster software is through with the system scanning process, it's now time to fix and repair the identified drivers. During the repair process you will also be notified of all system reboot requirements, conflicts with system security software, program crashes and network disconnection issues.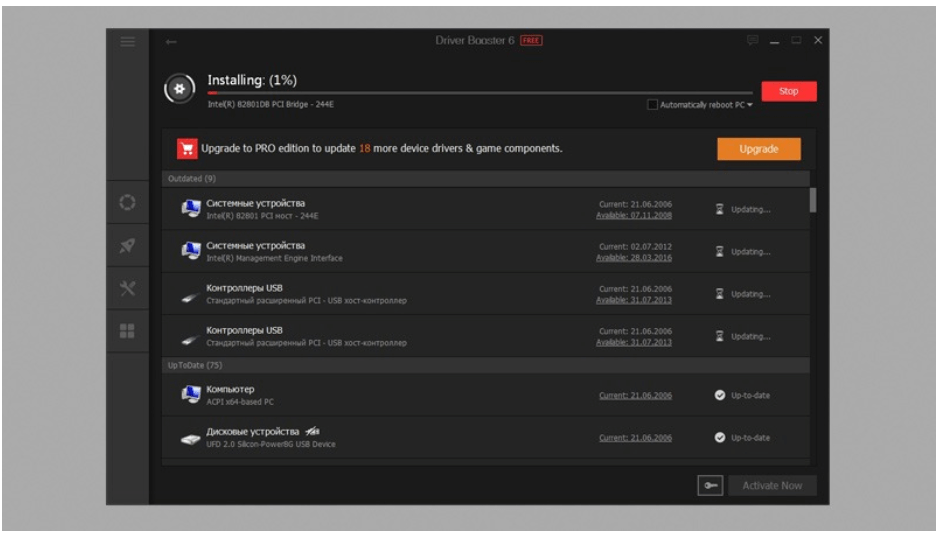 The repair window also gives you real-time update status of each driver and categorizes the progress under headings like preparing, downloading, completed and reboot required.
Once the repair and reboot process is complete you will get a notification stating that "All the drivers are up-to-date".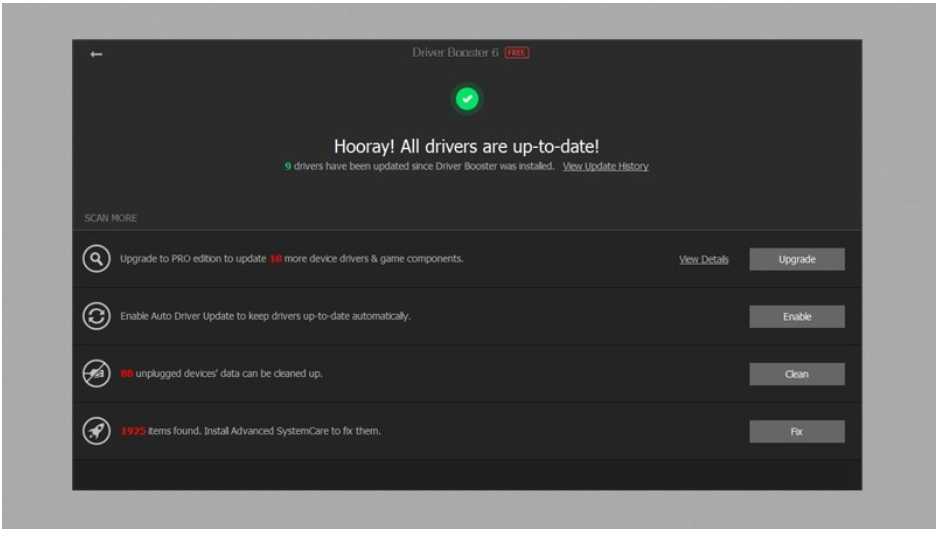 4. The Setting, System Support, and Additional Features
The Driver booster tool comes with an easy-to-use functionality powered by a clean interface.
Its main page is well designed for a better user experience.
You can customize the page and choose your preferred font size, language, and layout transparency.
It also creates a backup of all drivers.
This power-packed tool can effortlessly launch a system scan, can reboot your system automatically, run scheduled systems and repair all outdated drivers in a single click.
It also comes with a 24/7 operation chat window which you can use to discuss your queries with the Driver Boosters team.
In addition to the above-mentioned functionalities and offerings, Driver Booster is also powered with several other useful features. 
Smart Defrag: Use it to defrag, optimize and organize your system hard drive. It helps in enhancing the response time of your device.
System Optimize: Perform system scan, remove junk and unwanted system registry files to improve the overall health of your system.
Game Boost: Enjoy a perfect and uninterrupted gaming experience and configure gaming apps. 
IObit Malware Fighter: Add an additional security layer and protect your system against malicious malware, spyware, and other PC threats.
Manage multiple passwords with the Dashlane feature of Driver Booster.
Apart from this, it also comes with several other tools that can help you fix network failure, bad resolution, no sound, and many other problematic system areas.
---
Performance Comparison in a Snapshot 
| Activity | PC | Laptop |
| --- | --- | --- |
| Installation Time | 35 seconds | 2 minutes |
| Scanning Time | 30 seconds | 2 minutes and 30 seconds |
| Outdated Drivers Found | 9 outdated and 75 good drivers | 33 broken and 70 good drivers |
| Driver Update Time | 5 minutes 45 seconds | 22 minutes 10 seconds |
So this is the final performance summary of Driver Booster 7 free version, However to get more realistic and definite results we also tried comparing it with few other drivers.  By far this is the best tool we have come across and on top of it, it does not use much system resources and is relatively light in weight.
---
Driver Booster Pro – A Brief Introduction
Powered with high-end features and benefits, Driver Booster Pro is the enhanced version of the free version. It comes with a rich database of more than 3.5 million drivers and is capable of detecting even the smallest issue including the gaming components. 
Here are a few highlights about this stunning tool:
It comes with a one-click update feature.
It is also an Advanced System care tool which can clean system junk, registry entries, privacy traces to optimize the overall performance and working of your device.
It is also capable of scanning spyware.
As an additional feature, it also gives its users the power to switch between various interface skins including blue, black, white and many more.
Apart from this, for better customer satisfaction it also comes with a 60-day money-back guarantee. 
---
Frequently Asked Questions (FAQs) about Driver Booster
Q1. Is The Driver Booster Free?
Yes, Driver updater is completely free of cost and can seamlessly scan your system and update all broken and corrupted Drivers. If you wish to enjoy added benefits like gaming optimization, error fix and automatic updates you can opt for its pro version.
Q2. Who Makes The Driver Boosters?
Driver Booster is developed by IObit.
Q3. How Do I Update All My Drivers For Free?
You can update your device drivers for free with the Driver Booster Tool. It is an automatic tool which performs system scan, detects all problematic drivers and updates them in no time.
Q4. What Does a Driver Booster Do?
Driver Booster is a power-packed driver updater tool. It can automatically scan your PC/ laptop for corrupted and outdated drivers and update them. 
Q5. How Do You Check If Drivers are Up To Date?
You can either use a manual way or an automated tool to check the health of your device drivers. The manual ways include two ways: Windows Update and Device Manager option. Alternatively, you may use an automated driver updater tool like Driver Booster to fix your device drivers.
Q6. How Can I Update My Drivers For Free Windows 10?
The best way to update your device drivers is through an efficient driver updater tool. The market is filled with multiple options, if you are looking for free software, you can pick Driver Booster for smooth system performance and hassle-free operations.
---
Concluding Words: Driver Booster Review 2021
Above, we have shared all the features, functionalities, specifications, and positive & negative aspects of the Driver Booster software. Based on this review you can decide whether to download Driver Booster on your Windows PC or not. 
We hope that you found this review of Driver Booster informative and helpful in selecting a good driver update and repair software for your laptop or desktop. If you are interested in reading more such software reviews & tech-related posts, then do not forget to subscribe to our newsletter. 
Prachi Dani is a technical content writer who specializes in areas of science and technology. She is highly up to date with technological transitions and transformations. Writing is not her passion but the only thing that carries satisfaction in life. If not writing, you may find her engrossed playing action games on her treasured smartphone.
Subscribe to Our
Newsletter

and stay informed

Keep yourself updated with the latest technology and trends with TechPout.
Related Posts