Forget about CDs and DVDs. Now, you can install operating systems and make backups much more easily with the best commercial and free-to-download USB bootable software for Windows 10 and all other Windows versions.
Once, we used to burn the system into CDs/DVDs to install a new OS on the PC or create a backup. However, time has significantly changed with the advancement of technology. You now have many better options, such as creating effortless backups and OS installation via a USB flash drive. All you need is the best USB bootable software to do it.
You can read this article if you are confused about which software to use since the marketplace is flooded with such programs. This article shares a list of the best USB bootable software for Windows 10 and 11, curated after a thorough analysis of various factors, like their price, ease of use, speed, and available features.
Let us get started with the rundown of the best booting software for Windows without wasting your precious time.
A Well-Researched List of Bootable USB Software for Windows
The following are our top recommendations for the best paid and free USB bootable software you can download for all Windows.
1. Rufus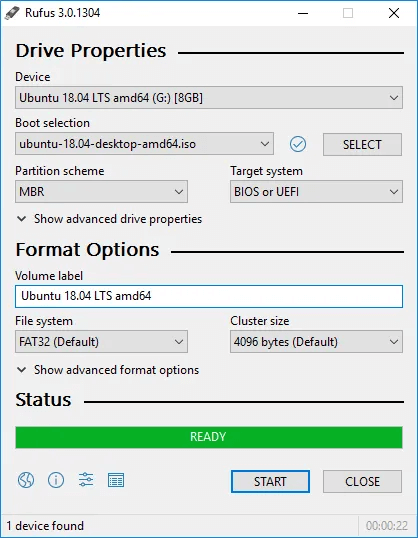 Let us first introduce you to Rufus. It is open-source and free, yet the best USB bootable software that lets you hassle-freely boot the USB to install an operating system. Moreover, you can also use Rufus to flash BIOS and firmware and run low-level tools.
Furthermore, Rufus is among the best free booting software allowing you to alter partition schemes, cluster size, and file system. Additionally, with this software, you can check the USB drive for bad blocks and eliminate them.
The cherry on top of the cake is that being a portable USB bootable utility, Rufus does not require installation.
Also Read: Best USB Encryption Software
---
2. Etcher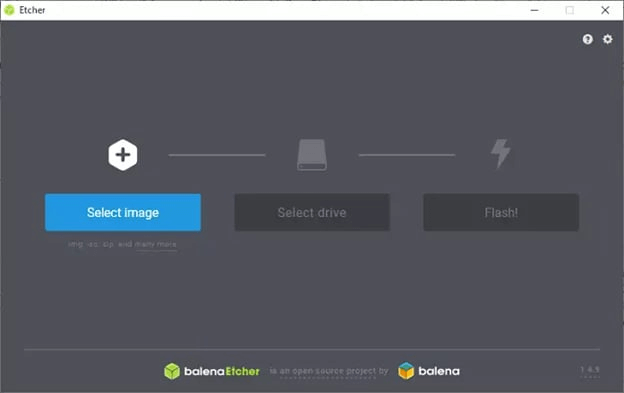 Here comes Etcher at the second position on our list of the best software to create bootable USBs. It is a simple and easy-to-use software that even beginners can use without any issues. This software is well-known for the safe and flawless writing of image files from ISO to IMGs.
Moreover, this free and open-source software is loaded with a plethora of features, such as validated flashing (which prevents writing images on corrupted cards), easy drive selection (protects from accidental overwriting), and cross-platform availability.
---
3. YUMI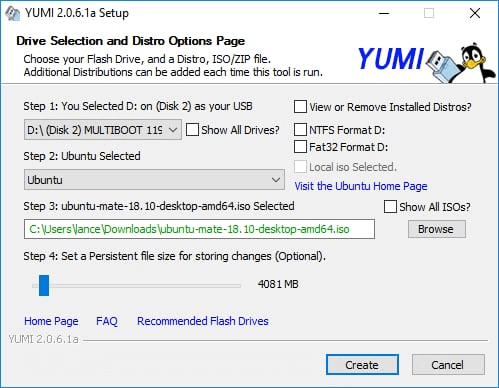 Let us now take a look at YUMI. It is among the best multiboot USB creators to make a bootable USB flash drive through its device driver and various software programs.
We like YUMI multiboot software for its features, such as backup drive creation of antivirus software, camera drives, and other crucial drives. Moreover, it boasts support for FAT32 and NTFS file systems, a drag-and-drop option, and a secure booting option.
---
4. Windows USB/DVD Tool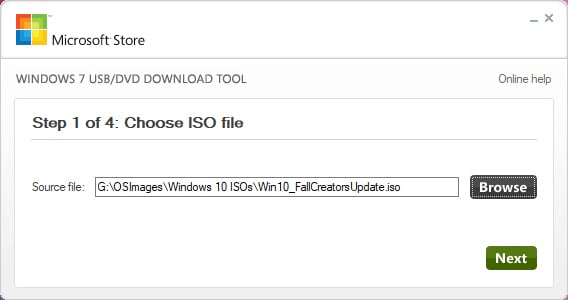 Next, we have Windows USB/DVD Tool as one of the best USB bootable software for Windows 10. With this fairly easy-to-use tool, you can create both DVD bootable drives and USB effortlessly. All you need to do is, follow three simple steps: insert a USB/DVD, select ISO, and click Next.
The most likable thing about Windows USB/DVD Tool, as you can see, is its ease of use. However, you should consider any other program from this list of the best bootable USB software if you prioritize advanced customization and optimization features like checking for bad blocks.
---
5. RMPrepUSB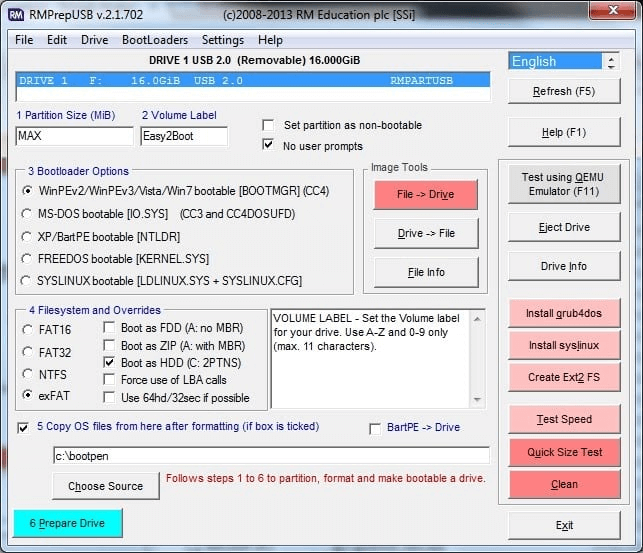 If you are looking for the best USB bootable Pendrive software for Windows, look no further than RMPrepUSB. It is a customizable software with a plethora of features and options to delight users.
Some of these fascinating features include QEMU emulators, file systems, and a customizable bootloader. Moreover, you can download this USB bootable software free for all Windows to create a USB drive without even rebooting your system.
Furthermore, another good thing about RMPrepUSB is that it lets you install bootloaders like bootmbr, grub4dos, and more.
Also Read: How to Create a Bootable USB Drive for Windows 10
---
6. UNetbootin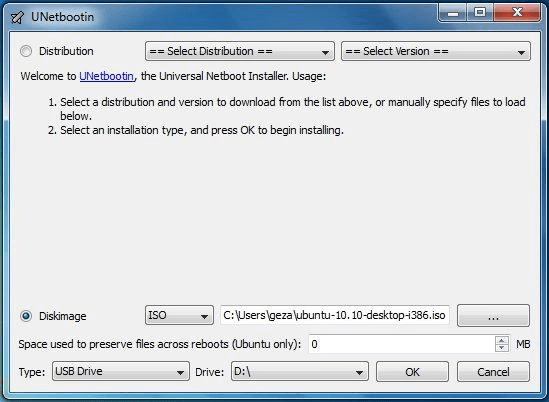 The next name on this list of bootable USB software for Windows 10 is UNetbootin. With this software, you can create bootable media from ISO files and directly download the Linux distribution through the user interface.
Moreover, this free and easy-to-use software detects and eliminates all errors that mess up your computer. Furthermore, it doubles up as partition software that fixes corrupted/damaged/missing files.
---
7. WinToUSB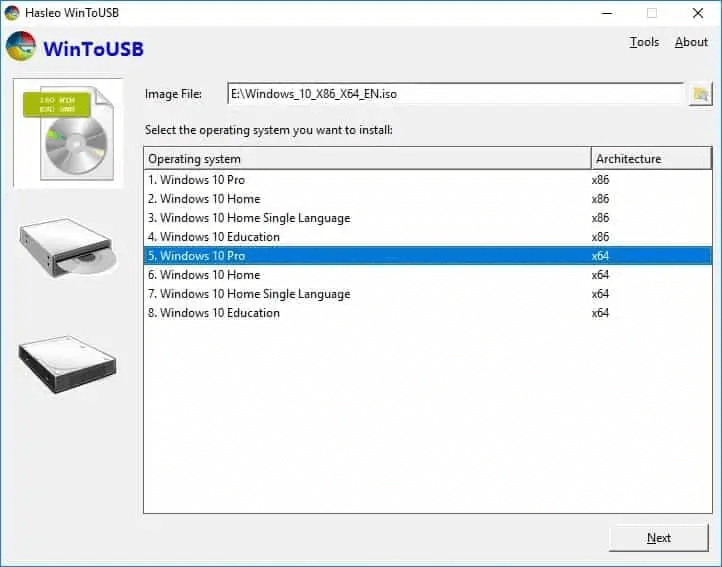 Next comes WinToUSB in our post dedicated to the best USB bootable software for Windows. It is plug-and-play software that safely backs up all your files on a flash drive or your computer's memory card.
Moreover, some of the most attractive features of WinToUSB include a wizard-style interface, the creation of Windows from a CD/DVD drive or VHDX/ISO/ESD/WIM/VHD/SWM image files, an option to apply the application on a selected system or boot partition, and Windows encryption via BitLocker.
---
8. Universal USB Installer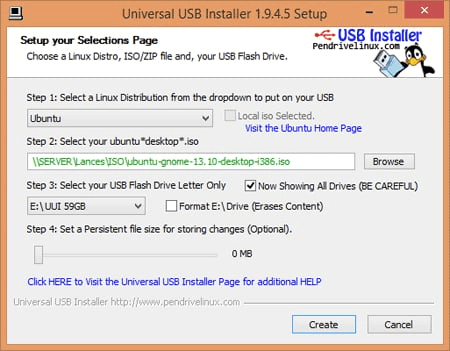 Next, we have a Universal USB Installer to conclude our list of bootable USB software for Windows 10. You can use this software to create all types of bootable USBs. It allows the creation of multiple kinds of USB for Linux, Windows, antivirus rescue drives, and other bootable drives.
Moreover, another appealing feature of this software is its minimalistic and easy-to-use interface. All it needs you to do is, select OS from the drop-down menu, choose the ISO file, and click on Install to make a bootable USB drive. Furthermore, it even lets you create bootable USBs with persistent storage.
---
9. WinSetUpFromUSB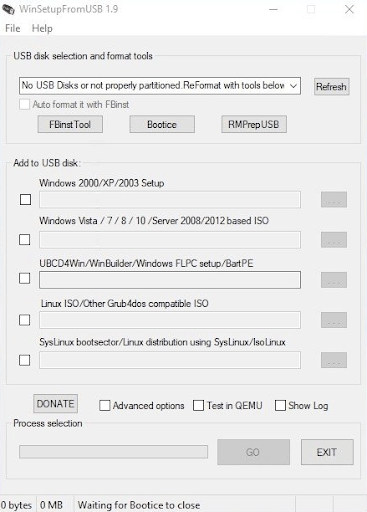 Nextly, WinSetUpFromUSB concludes our list of bootable USB software for Windows 11/10. This is freeware software that allows you to boot the OS in multiple modes with ease. The tool also gets regular updates from the developers, hence quite reliable and compliant.
The procedure to use this software is quite simple as well. All you need to do is select the ISO or other bootable file from the memory and select the mode of the boot. After a couple of minutes, you will get a bootable media file drive with ease.
---
10. LinuxLive USB Creator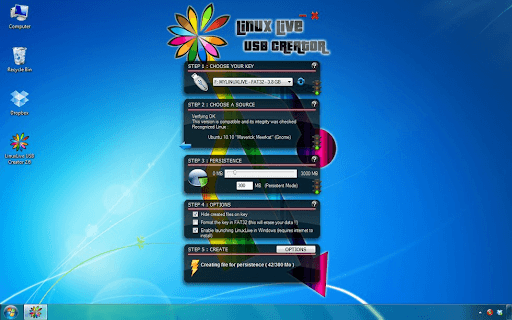 The last name on this list of bootable USB software for Windows 11/10 is LinuxLive USB Creator. Just like the name of the tool, LinuxLive USB Creator is a Windows software that allows you to boot Linux into your USB storage device.
If you want to get an experience of the Linux operating system on your Windows device, then you should try LinuxLive USB Creator. This is an open-source tool and hence quite personalizable.
Also Read: Best File Compression Software
---
That's All Folks!
The above was the best USB bootable software for Windows 10 to create bootable USB drives. With these USB flash drives, you can install operating systems and make backups.
Additionally, these USB drives are reusable for various purposes, such as storing videos, photos, and other documents. Lastly, before leaving, do not forget to comment and let us know which software you picked.
Niharika is a passionate soul who finds immense satisfaction in putting all her thoughts in writing. Being a technology enthusiast, she loves learning new things about tech and making everyone technologically literate through her articles. When not composing tech articles, you can find her bringing characters to life in her fictional stories, reading something intriguing, or spending time with her near and dear ones.
Subscribe to Our
Newsletter

and stay informed

Keep yourself updated with the latest technology and trends with TechPout.
Related Posts