Mac is one of the most efficient machines built till date. Despite that a disk cloning app can help your Mac computer in multiple ways.
Haven't you ever wondered how you would create a backup of your Mac system conveniently?
How can you transfer data from your Mac system to another system swiftly?
How can you transform the hard drive to SSD hassle-free?
A cloning app for Mac is the answer to these several pertinent questions. Disk cloning tools help in the conversion of Mac hard drive to SSDs and vice versa. A disk cloning software for Mac also helps in backing up your macbook apart from facilitating data transfer.
In this blog, we will look at 8 best disk cloning apps for Mac that can help you achieve the above-mentioned requirements easily.
8 Best Disk Cloning Apps For Mac in 2021:
So, here is the elaboration about the 8 powerful cloning apps for Mac that are enabled with exciting features and functions.
1. Stellar Drive Clone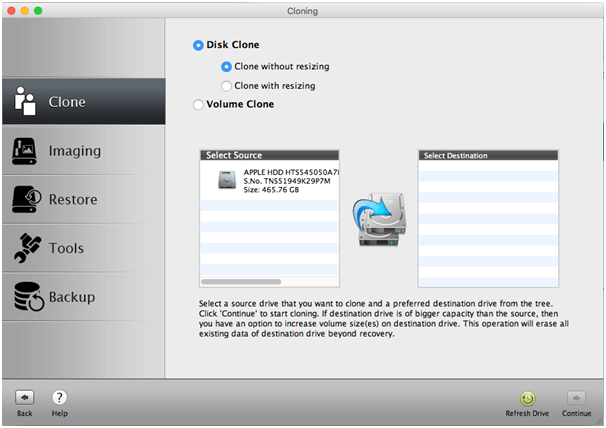 Are you in need of a disk cloning app that can duplicate the hard drive of your Mac system perfectly? Stellar Drive Clone is a standout amongst other cloning applications for Mac.
The clone program makes partitions similar to that of the original hard drive. The cloning tool supports different sorts of cloning like HFS-to-HFS, FAT-to-FAT and NTFS-to-ExFAT formats.
You can take a reinforcement of any file or folder as per your needs. You can also use it to clone encrypted Mac drives and volumes. With this app you can clone the Mac Hard drive from Hard Drive to SSD and it also goes the other way around.

Read More: 13 Best Data Recovery Software For Windows
2. EaseUS Todo Backup For Mac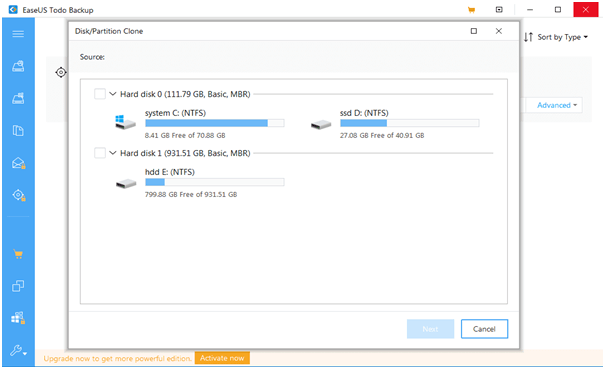 A commendable disk cloning app with multitudes of robust and scalable features is available with the EaseUS Todo Backup tool for Mac.
If you are looking for a free Mac cloning software, then this can be your best chance to acquire a cloning app that comes with a 30-day free trial in addition to 30-day money-back guarantee.
Backup data from any Mac device with automated backup schedule feature in stealth mode. Save storage space and also encrypt your backed up data.
Clone the disk volume that can be booted any time with this cloning app for Mac. You can easily restore your system even when the macOS fails with this brilliant cloning app.

3. Chronosync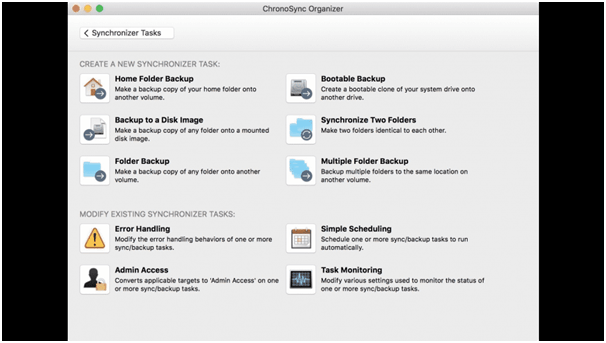 A brilliant application to clone macOS, ChronoSync makes an incredible choice for the best disk cloning app for Mac.
Clone the hard drive, make backups of all the excess documents on the cloud to create more space on the computer with this impeccable disk cloning app. This cloning app can be utilized to backup close photographs and various other significant data.
Having a straightforward and intuitive UI makes this app simple to utilize. This cloning app for Mac permits users to schedule an auto disk cloning process every once in a while.
Perhaps the best component of ChronoSync is that it permits users to move optimized files with the help of Chrono Agent.

4. Carbon Copy Cloner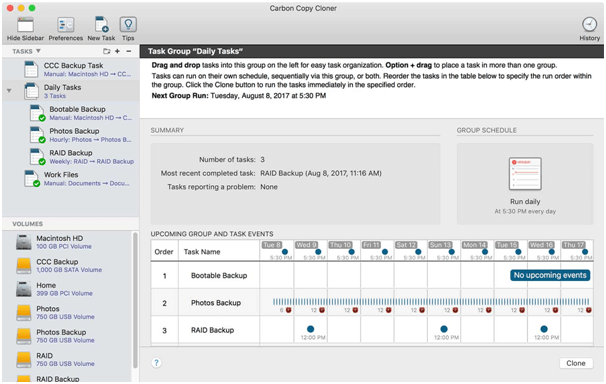 Create bootable backups as well as regular backups with this best disk cloning app for Mac. A minimal and beautiful UI facilitates transfer of files from one to another system with ease.
The cloning coach is an unique feature of this cloning app for Mac for users who are new to the concept of cloning. Schedule automatic backups with this tool and even archive the older versions of files.

Read More: 10 Best Photo Organizer For Mac
5. Backblaze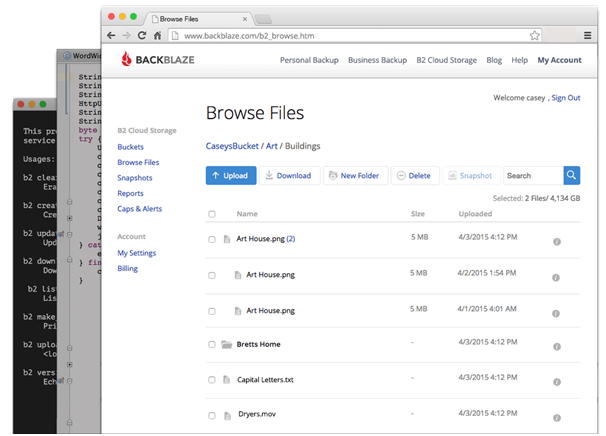 Backblaze is the best disk cloning software because for a mere $5/month you can duplicate every system in a robust and efficient manner. With Backblaze you can set the data transfer limit and also schedule backups for your Mac system once the system is idle.
The vital information of your system gets uploaded to Backblaze's secure servers. Thus, this disk cloning app lets you keep all of your files safe and secure.

6. Carbonite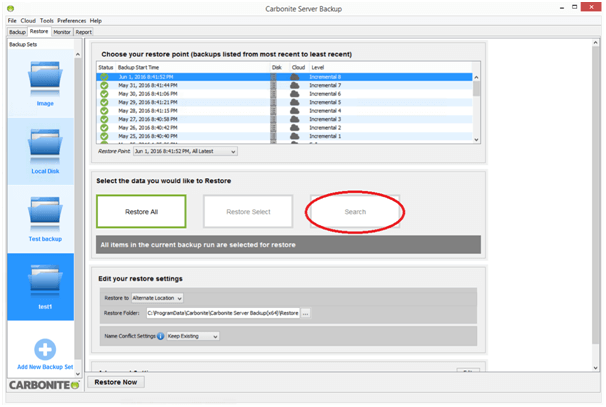 Carbonite offers a bunch of consistent assistance and has hence made it to our list of best disk cloning apps. A free 30 day trial is available for new users. This best disk cloning app for mac has a nominal yearly subscription payment to support you in innumerable ways.
What can you do with this cloning app for Mac?
You can save an infinite amount of information from one machine to their servers. Whenever you sign in, you can restore single files or everything conveniently from their servers to your system.
Thus, the personal cloud backup never lets you worry about losing your precious data. It offers scalable and flexible on-site, offsite, cloud or hybrid data protection solutions available.

Read More: 11 Best Free PDF Editors For Mac
7. SuperDuper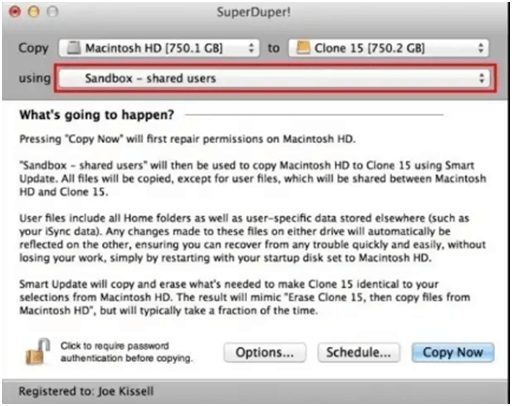 SuperDuper is one amongst the simplest disk cloning apps that  has a free version with all the options and also a premium version. You can create copies of the critical apps and files of your Mac safely just with a few clicks.
This best free cloning software can act as an everyday backup app that copies files and folders to a different Winchester drive, however the key strength of this cloning app lies in the fact that it is capable of making bootable clones.

8. Acronis True Image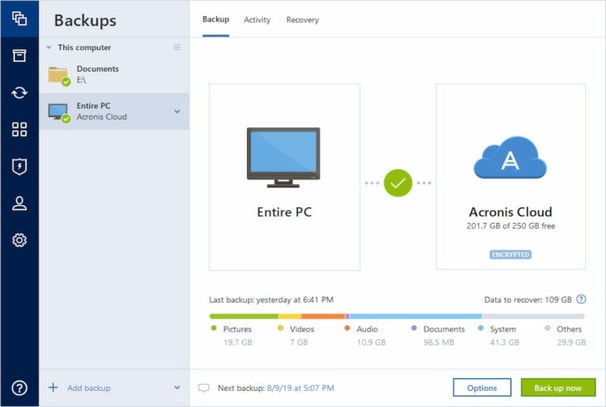 Acronis True Image offers a very easy cloning option to the user, as the user can clone the files while performing any task. The Acronis True Image  is available in Mac and Windows for PC. On mobile phones the app is available in Android and iOS. The user can clone the files according to their choice, the app has both options available including select individually or all. 
One can create a local backup of data and can replicate whenever needed. The backup can be stored in computer or in cloud from mobile phones, whichever the user chooses. Acronis True Image offers a 30 days free trial for the user and then requires a  subscription amount. Windows 7 and later versions are compatible for the software and in Mac macOS 10.11 and later versions are compatible. 

Things to Consider in the Cloning Apps for Mac:
No wonder, you can do a lot with the macOS disk cloning software; however, what qualities should you look for in a cloning app?
A disk cloning app should be an easy to use tool even for a layman.
The cloning software should be compatible with a huge range of macOS versions.
Third-party cloning software should not pose a threat to the security to your Mac system. It should be free from adware.
When it comes to the features of the disk cloning tool, then you should see if the tool is able to create an exact replica of the Mac disk and is swiftly able to extract a large volume of image files to recover all your system data.
Concluding Words
So, this is all about disk cloning apps at a glance. Mac's in-built OSX Recovery includes Disk Utility feature. Time-Machine is another in-built backup software of Apple. But like all in-built apps, these tools only have basic features and lack advanced features.
This is where the third-party disk cloning software comes into picture. You can always acquire disk cloning tools to backup your Mac device. A cloning app can prove to be of immense benefit when you are upgrading your macOS.
Snigdha is a technical content writer with expertise in the field of science & technology. Though she has a very diverse academic and professional profile yet she finds writing to be a creative form that she was unable to explore so far. When not writing, she can be found indulging in other forms of creativity like painting or travelling.
Subscribe to Our
Newsletter

and stay informed

Keep yourself updated with the latest technology and trends with TechPout.
Related Posts