20 Best Tumblr Alternatives in 2021 for Creators and Bloggers
Published Date :
Apr 22, 2021

Are you looking for an alternative to Tumblr on which you can share your blogs and content? There are several alternatives to this giant micro-blogging platform that you can pick today to manage your website. 
This article will introduce you to some of the best Tumblr alternatives that you can use to upload your writings and enhance your social reach.
Let's have a look at some best blogging platforms to share images, creative designs, videos without spending a dime.
What Are the Best Tumblr Alternatives in 2021?
Below we have mentioned a bunch of the best alternatives to Tumblr that you can use to share your content and blogs in the most hassle-free manner.
1. WordPress
Well, this one deserves an undisputed place in our list of micro-blogging websites like Tumblr. WordPress is a highly professional platform that is used globally for Business, News, Blogs, Music, Photography and E-commerce promotion. 
It is a powerful content management system that not only allows you to post content but also lets you have your website. Yes, you've heard it correct. With WordPress, you can have an independent website and a customized URL. Use it to post your blogs, articles, news feeds and much more.
It comes with a very easy to understand the structure and is completely free to use. However, if you wish to enjoy advanced features you can opt for its premium version.
Website: WordPress
---
2. Ghost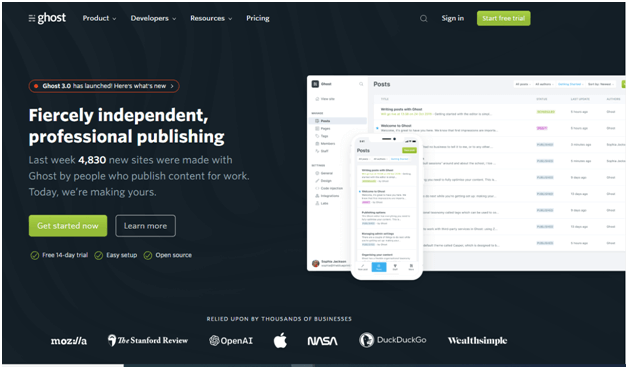 Enhance your online reach with this modern publication platform. It is an open-source portal that is known for its professional and customizable blogging options. If you are in search of a site like Tumblr then Ghost can be of great help to you.
Read Also: Best Truecaller Alternative Apps (Android & iOS)
From freelancers to businesses everyone can use it to express themselves and show their talent. Although it is a legal entity, it does not pose any stringent rules on its users when it comes to posting blogs and content.
Pick it today to enjoy a fast, simple and secure way to manage your content.
Website: Ghost
---
3. ShareSome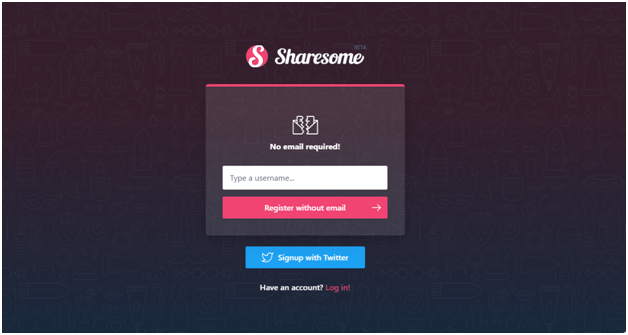 ShareSome is a relatively new website that focuses on adult content. It comes for free and users have full freedom to express themselves and post their work online.
Keeping in mind its genre, ShareSome follows basic anonymity policies to keep the user's identity hidden. It is a free website. 
Feel free to run wild with this amazing website. Just enter your email id and get started.
Website: ShareSome
---
4. Wix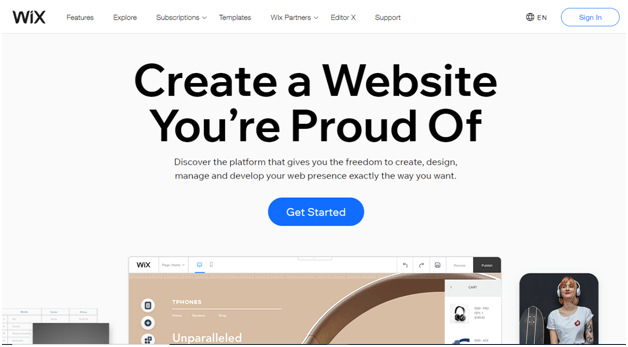 If you have a business then you can easily take it online via Wix. This is what you are looking for. It is one of the websites like Tumblr. This is a free website to create an online space in your way.
Wix is a professional website maker where you can showcase all your information, content, about yourself videos, professional blogs and other stuff with tons of options like blog maker, professional video maker, and whatnot!
Wix gives you the freedom to create a website of your own. You can build your online presence and have your audience.
Website: Wix
---
5. Pinterest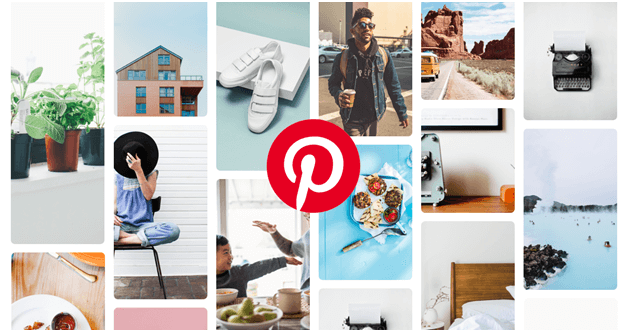 Pinterest is well known for sharing pictures, images, and snaps online on social media. It is an online service that allows you to have your ideas, thoughts, and actions shared on social media portals.
Read More: Best Digital Marketing Steps To Grow Your Business
There is a pin-board that allows you to post the ideas that you want to remember and share the same with your friends and audiences.
This is one ultimate Tumblr replacement where you can promote your business at a price (paid promotion) and get that inorganic traffic at the earliest.
Pinterest is one of the easy-to-use platforms through which you can share your ideas in the form of images.
Website: Pinterest
---
6. Linkedin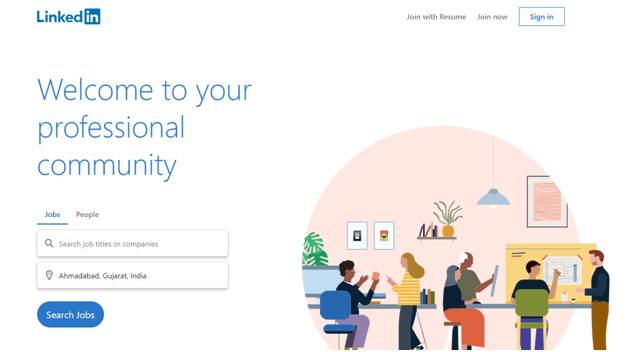 The one who does not know about this professional networking platform is someone who is still living in the caves. LinkedIn is a super professional platform to influence the audience, build a brand and grow your business. Content lovers who love to create and share content see this platform as the most favorite Tumblr alternative.
This is where the magic happens. Facebook is okay but LinkedIn is LinkedIn and businesses see it as a powerful tool to grow their networks, increase sales and engage with the right audiences. 
From jobseekers to recent graduates, businesses, celebrities, vacancies, branding and tons of other features to share both textual and video content, LinkedIn gives the opportunities to grow both as an individual and a business owner.
If you are still new to this platform, you will find it damn interesting than Facebook.
Website: Linkedin
---
7. Reddit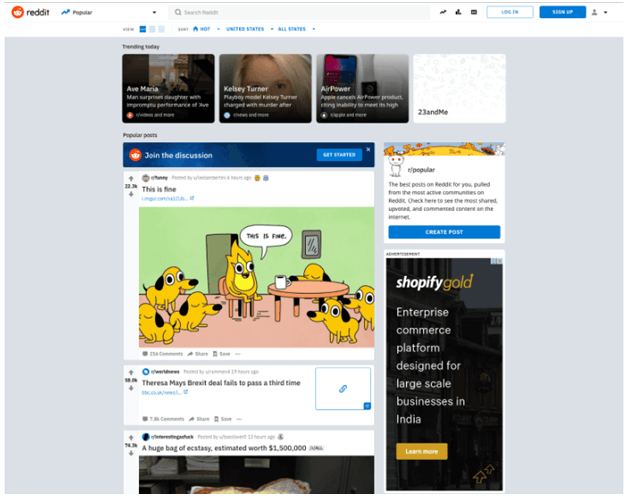 Reddit is another better alternative to Tumblr. It is a portal with bots. This is one of the websites where you need to post your content without marketing pitch if you are looking for sales and promotion. 
Readers vote for the content. Based on the readers' ratings, a dedicated bot grants them karma points. This is a new feature of Reddit.
This platform has been around for a long while and has gained a massive number of readers, content marketers, and influencers.
Like other platforms, you can implement paid promotion to increase your inorganic traffic, provide customer service support and technical support and many other ways to boost your business by every means.
Website: Reddit
---
8. Mastodon
Google describes it as one of the open-source social networking platforms. Mastodon is a more engaging, deep, immersive and content-rich portal to social networking. It bags a place in the list of most favorite Tumblr alternatives. 
From users' posts to forums it provides the freedom to share professional content (both written and video). Apart from this, you can follow your friends who are already users and can also discover new friends and share like-minded content.
The best feature of this ultra-unique content-rich dimension is the user groups and communities. You have your audience, grow your audience through paid promotion and also build your brand if you are a business-minded intellectual.
Website: Mastodon
---
9. Blogger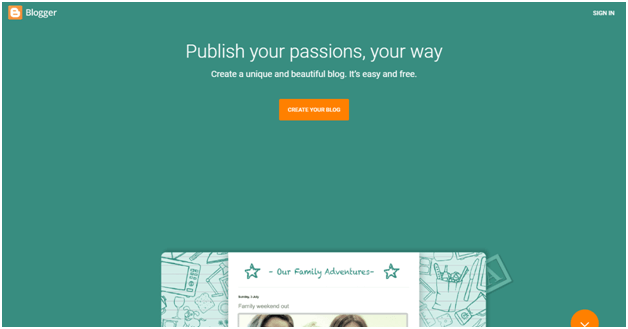 As the name implies, Blogger is an amazing platform for bloggers and bags a position in the list of similar websites like Tumblr. 
Blogger is a one-of-a-kind platform that uses the power of words to generate traffic just like WordPress. You can check if your content is optimized for the digital world here.
Whether you are a fashion blogger, travel blogger, brand builder or a fresh graduate with love for content marketing, this is the ultimate platform that opens doors to new opportunities.
Content is king and Blogger is one amazing platform to market it to the right audience. With tons of features like free domain, easy money and other stuff, this is something that can replace Tumblr.
You can also choose from a wide selection of designs and templates that resonate with the writer cum entrepreneur inside you.
Website: Blogger
---
10. PostHaven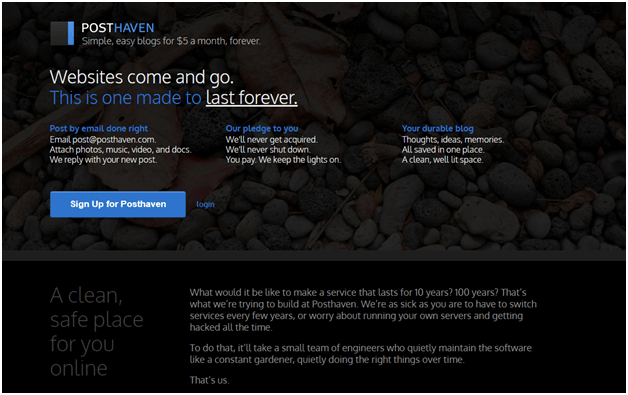 Posthaven comes next on our list of ultimate Tumblr substitutes. Although it is a new entrant but comes packed with a lot of beneficial features and offerings. 
Password protected blog posts with audio/video content and email notifications for various blog activities are a few of its highlighted features.
Website: PostHaven
---
11. Flickr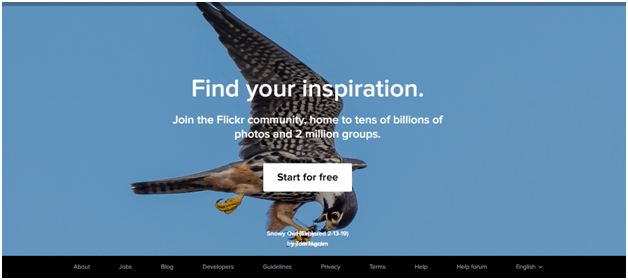 Flickr is a web-based photo sharing portal. You can access it for free but with limited storage, however, if you want to enjoy unlimited storage, you can buy its subscription.
Read More: Best Alternative Apps Like Tinder for Android & iOS
Apart from individual bloggers it also allows groups to post and share images and follows quite flexible rules.
Website: Flickr
---
12. Soup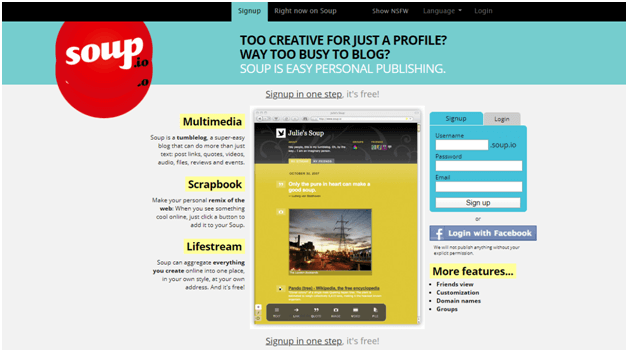 This one is the closest alternative to Tumblr that you can pick. It offers nearly similar features to it and you can use it to post your images, creative blogs and much more.
It also gives you a chance to collaborate with other Soup groups. All-in-all it is a solid blogging platform and its auto-posting features add on to its offerings.
Website: Soup
---
13. Medium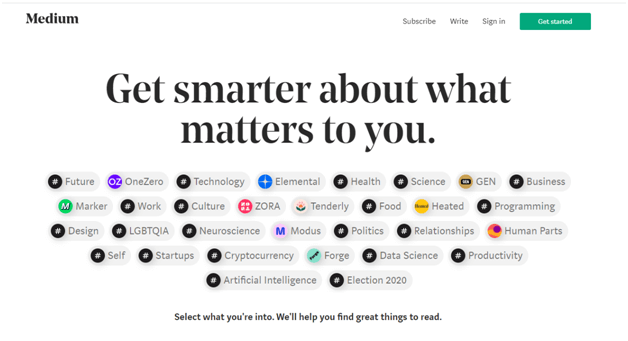 Medium is known for its high-quality standards and getting a chance to post your content on it is very low. You have to be a highly successful and creative blogger to be able to publish your content on Medium.
Its interface is quite simple and users can set up their domain names to enhance the reach of their blog. It is our most favorite alternative to Tumblr, use it today to stay in touch with curious readers.
Website: Medium
---
14. Newgrounds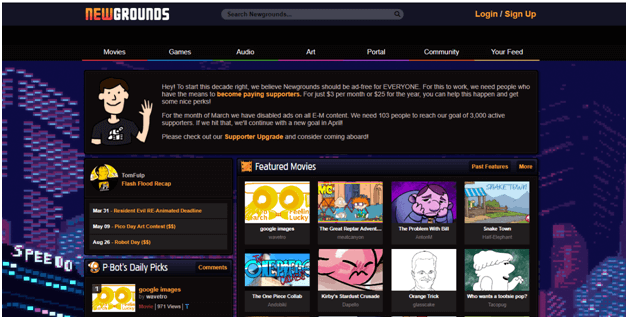 The next blogging platform that works as a perfect destination for people looking for alternatives to Tumblr is Newgrounds.
It is quite popular in the blogger's fraternity and is used worldwide by creative writers and content creators.
Also Read: Top 11 Best Alternatives To Facebook That You Can Use In 2021
---
15. Dreamwidth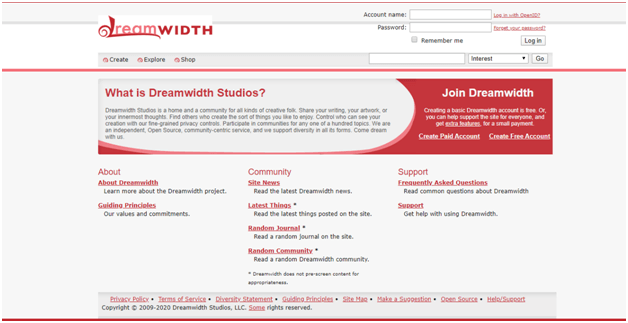 The next on our list of most favorite Tumblr alternatives is Dreamwidth. The platform focuses on online journals and is built around the same concept. 
Post your views on various topics without worrying about restrictions and censorship laws.
Website: Dreamwidth
---
16. Typepad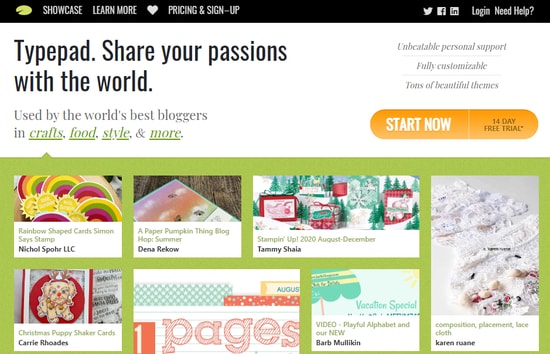 Typepad is another popular substitute of Tumblr, used by millions of professional bloggers and influencers across the world in fields like style, food, craft, and more. It is one of the oldest premium blogging platforms, providing access to higher-level blog hosting services such as tons of eye-catching themes and fully customizable designs. 
All in all, Typepad is an excellent content-driven blogging platform, making it a worthy alternative for Tumblr.
Website: Typepad
---
17. Twitter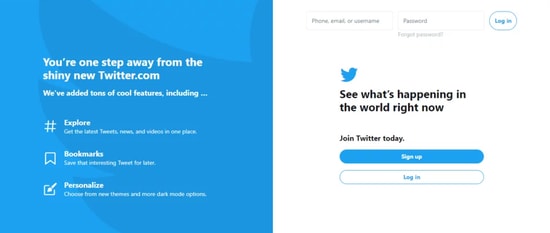 Even though Twitter is not an ideal alternative to Tumblr, it is still one of the most popular and widely-used microblogging and social networking platforms in the world. It allows you to share your thoughts and interact with people using short messages known as "tweets".
So, if you want to keep yourself updated with the latest happenings around the world, Twitter is undoubtedly one of the best replacements for Tumblr.
Website: Twitter
---
18. DeviantArt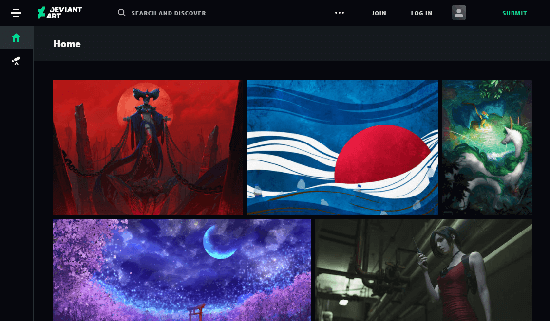 DeviantArt is very software to Tumblr, using this software you can easily share, images, videos, and other files easily. You can search for every category as per requirement. This can be a great platform for all art lovers. You can find every type of art on this platform. You can try this platform as an alternative to Tumblr and for all the other social media sites. You will be entertained by looking at various types of art by various artists.
Website: DeviantArt
---
19. Ello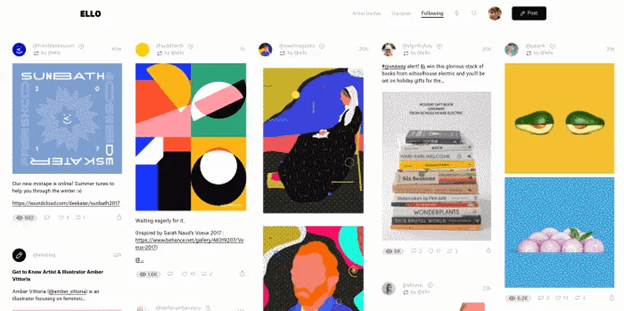 Ello is a great platform using which you can connect to various other artists and designers. Just like any other social media site you get to see the work of other fellow artists on this platform. Ello has a huge community of artists and you can be a part of it by just signing in to the website. The platform requires you to sign in to enjoy all the content.
Also Read: Top Positive And Negative Effects Of Social Media
This can be a great alternative to Tumblr and other social media platforms for artists and designers as they will observe only what they want and no other distractive content will be shown. You can definitely try this platform to get an idea of work and art from other senior artists.
Website: Ello
---
20. Site123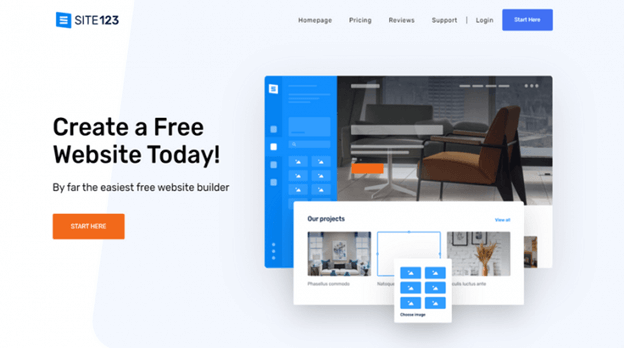 Another great alternative to Tumblr is Site123. This platform is a site builder if we check its primary offering but it also has a blog feature that you can use. It can be an ideal pick for small and personal blogs. Other than just offering normal features, the platform offers features like blog-specific templates, scheduling blog posts, social media integration, and many other features.
Other than blogging features the platform has an app market too which you can use to boost the blog. Though it is not solely a blogging platform and you can face issues publishing blogs. You can contact the 24/7 support of the platform for doubt clarification.
Website: Site123
---
Final Words: Best Tumblr Alternatives 2021
To put it in a nutshell, Tumblr is undoubtedly a great blogging platform but there is an ocean of blogging websites like Tumblr that you can consider.
All the sites as mentioned above are quite similar to Tumblr and come with a lot of additional and unique features. I hope these Tumblr alternatives will solve your purpose and serve you just fine.
Prachi Dani is a technical content writer who specializes in areas of science and technology. She is highly up to date with technological transitions and transformations. Writing is not her passion but the only thing that carries satisfaction in life. If not writing, you may find her engrossed playing action games on her treasured smartphone.
Subscribe to Our
Newsletter

and stay informed

Keep yourself updated with the latest technology and trends with TechPout.
Related Posts