12 Best Truecaller Alternative Apps For Android & iOS In 2020

Making and receiving calls is the primary function of any smartphone. However, frequent calls from unknown numbers can annoy you; therefore, having a call blocker app like Truecaller under such scenarios is a must.
Truecaller is a well-known name and if I have to pick a caller ID and call blocking app, it will undoubtedly be Truecaller. Its main function is to identify fake callers, block spam messages and calls for safer communication. However, several users noted that the app results in slow performance and battery drainage issues.
So, if you are looking for a Truecaller alternative in 2020, then here we have prepared a rundown of some of the best and comparable options for your Android and iOS Devices. Let's have a look at them.
Use these substitute apps of Truecaller to check who is calling you and block all spam and unwanted calls.
What Are the Best Truecaller Alternatives in 2020?
Although the number of options is quite huge, here we have shortlisted some of the best alternatives to Truecaller based on the user reviews and offerings of the app.
1. Hiya – Truecaller Similar App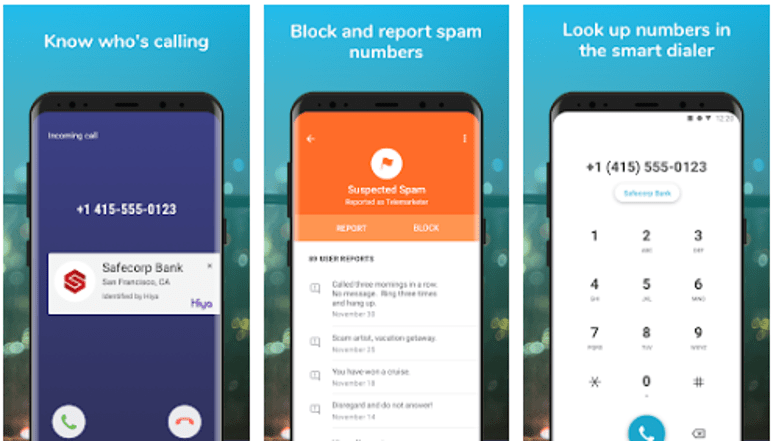 Topping our list is Hiya, this call blocker app has several comparable features with Truecaller. It comes with a user-friendly interface and can effortlessly block all unwanted calls and messages.
It was developed in 2016 and has one of the largest databases of hundreds and millions of phone numbers. The fact that it's totally ad-free gives it a cutting edge over other market players. Some of the prominent offerings of Hiya are listed below.
It blocks all calls and messages from unknown numbers and telemarketing agencies.
It is completely ad-free and works well on both Android and iOS devices.
You can also find and check the social media profile of an unknown caller with it.
Its user-friendly interface ensures smooth working.
It also allows you to add a number to a blacklist, which means you will never receive a call from the same number in the future.
---
2. Whoscal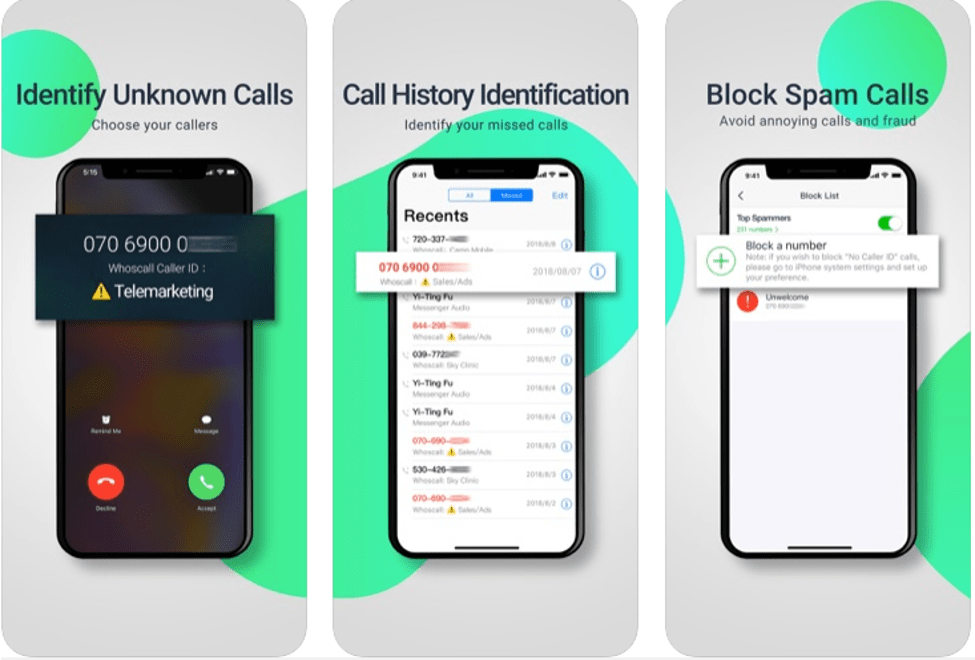 Next on our list of Similar App like Truecaller, is Whoscall. The app was founded in Taiwan and is truly popular among Android users for its fast and accurate call detection services.
Whenever you get a spam call, the app will instantly display the caller details on your device screen for you to decide whether the call is important or not.
It enjoys a rich customer base of millions of users with around 70 million downloads to date. One of its most beautiful functionality is that you can go and restore a deleted number in case you need them back.
Read Also: How to Remove Your Mobile Number From Truecaller
Features:
It has a rich database of mobile numbers, which supports quick identification.
It does not require an internet connection and can work offline.
You can also create your own block list with its personalized database.
Compatible with Android and iOS platforms.
It identifies and blocks all spam and suspicious calls and messages.
---
3. Show Caller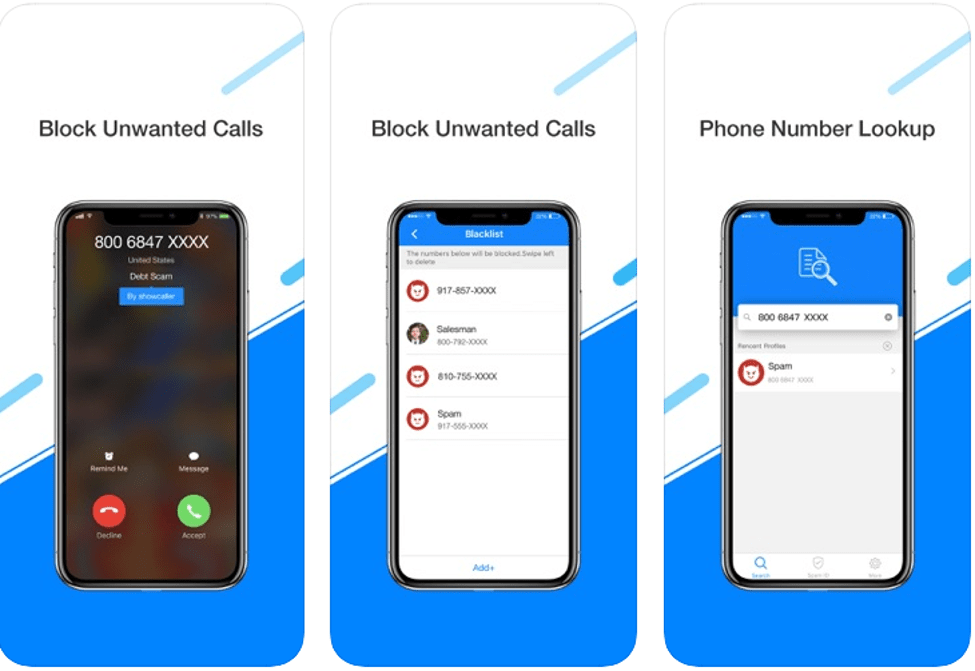 Another efficient call blocker app than you may consider over Truecall is Show Caller. It comes in a handy and lightweight size of less than 4 Mb.
As the name suggests, its main function is to show the caller details on your device screen. Call recording, smart dialer, and quick contacts are few of its prominent offerings. Apart from this, it also performs the below-mentioned activities.
It is a free Caller ID and Calls Blocking Apps.
You can see and block any unidentified calls.
It offers the best way to stay away from telemarketers and spam callers.
It is a reverse number lookup app that displays the name and region of the caller.
It's a free caller id app that can work on offline mode.
---
4. Numler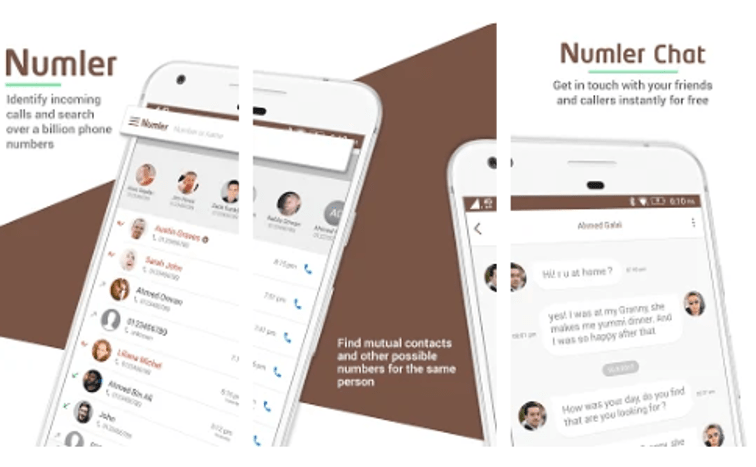 Numler is a caller ID, spam detection and call blocker app which can effortlessly identify spam calls in real-time. It gives you the power to check and device whether you want to take a specific call or not.
Apart from blocking unwanted calls, you can also use it to search mobile numbers and check the caller's details.
Mutual contact: It allows you to find the common contacts between you and the caller.
Use it to chat with the callers.
It can also log all calls coming to your phone with user details and information.
Get access to multiple caller details with this incredible and best Truecaller alternative apps For Android devices.
---
5. Mr. Number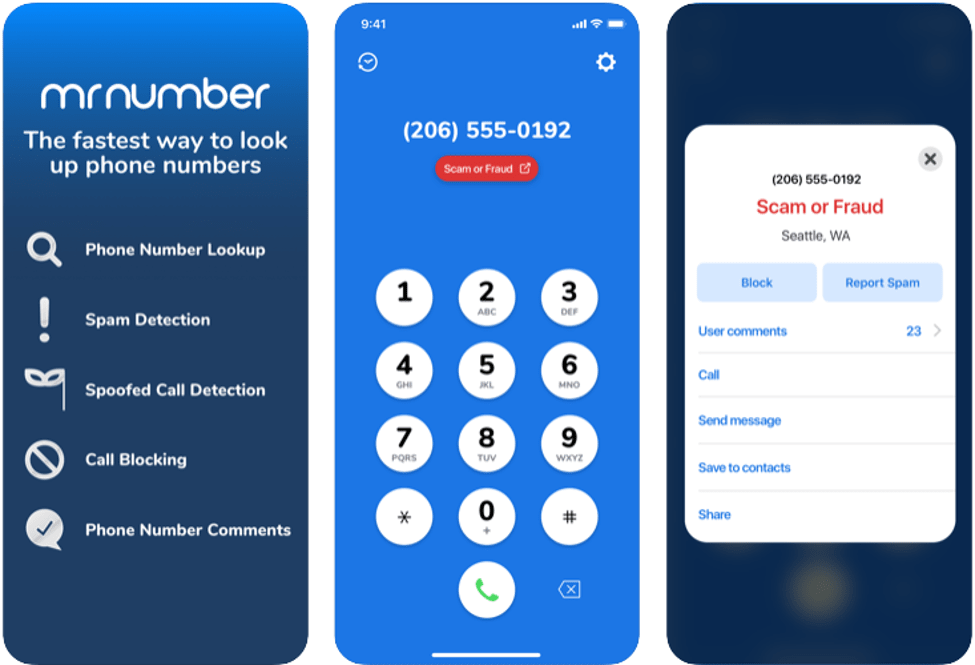 Call blocking is an added functionality of this well-known dialer app. Apart from this, it also provides the caller details to you, the only downside is that the details provided might be incorrect at times.
Its ability to block calls from a specific area code, person and an entire company makes it different from the other market players. Use this robust and efficient app to block all unwanted calls from telemarketing companies, individuals and sales executives.
---
6. Call Control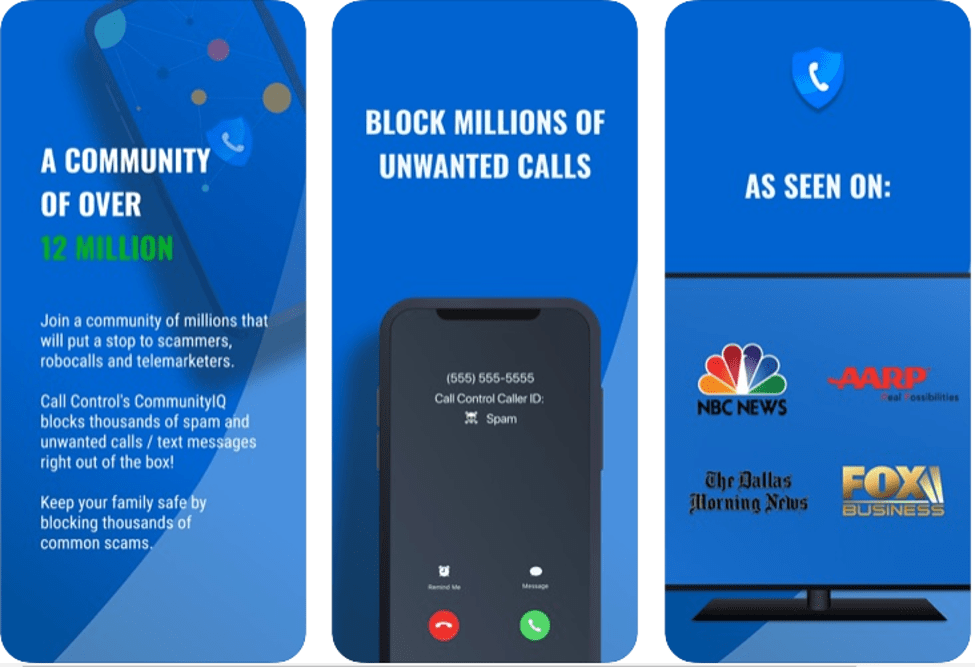 Call Control is a similar app like Truecaller. This free app allows you to filter messages and automatically block calls from unknown numbers and even put them on the "DND" mode.
It is smart enough to block calls silently, which means you don't have to bother about rejecting them manually. It is powered with a clean and simple interface which can also be used to look out for a specific number in its database.
Use Call Control to stay protected from marketing agencies and spam calls. 
---
7. OctoCaller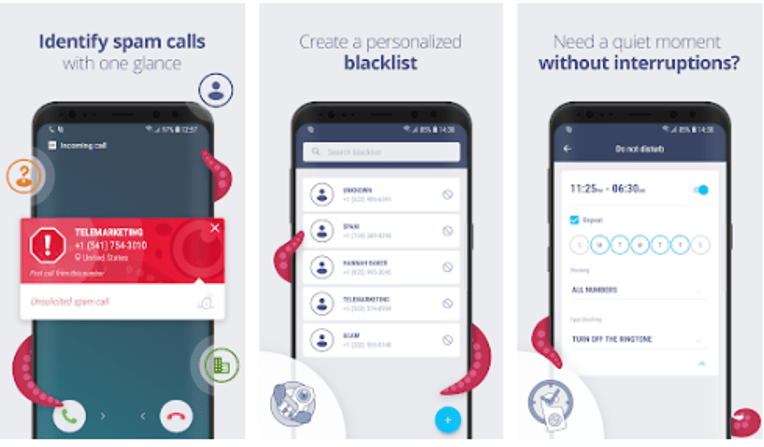 Take full control over the call you receive and answer with this Caller ID and Call Blocking Apps. The app instantly checks the caller's details to identify spam calls. You can also use its blacklist feature to block a specific number permanently.
Read Also: Best Voice Changer App During Call (Android & iOS)
It has a massive database of numbers that it uses to identify callers' details. All-in-all this spam blocker and call blocker app keeps you shielded from unwanted calls round the clock.
---
8. Eyecon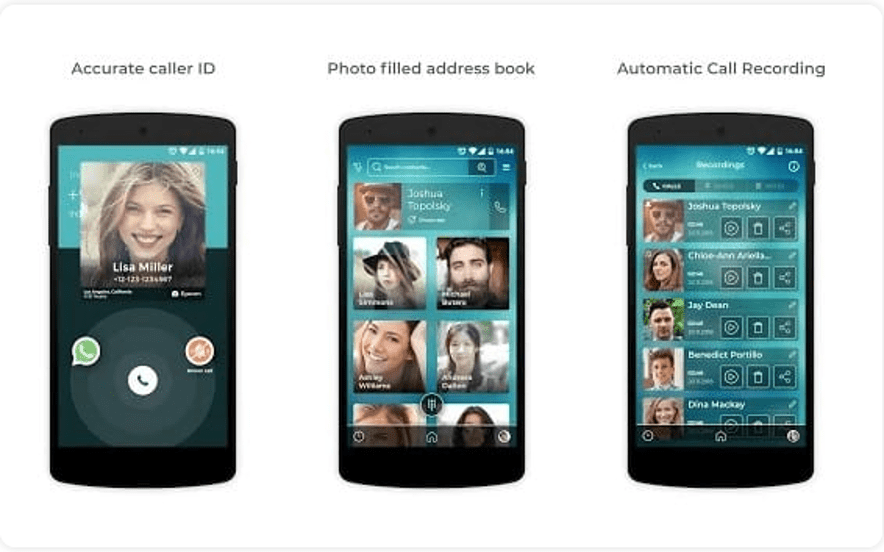 Another best alternative to Truecaller is Eyecon. Its ability to sync your contact list with social media apps makes it quite different from its competitors. It means that whenever you get a call from an existing contact, a profile picture will also be displayed with the contact number.
Check caller details with Eyecon before you decide to pick or reject a call.
---
9. Calls Blacklist Pro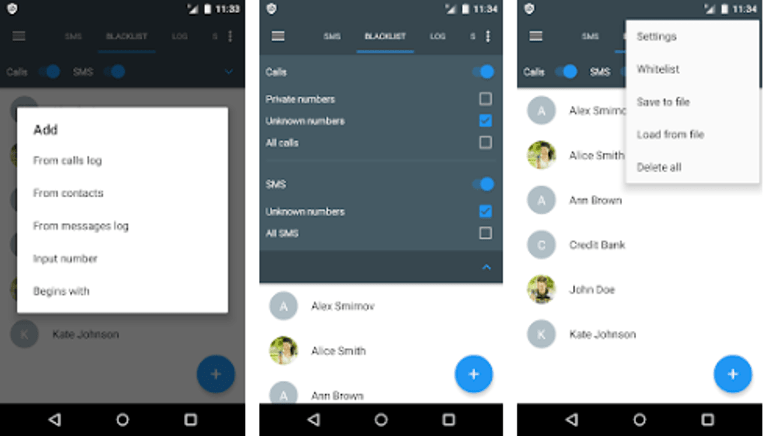 If you are looking for a call blocking app that can also block unwanted SMS, then Call Blacklist Pro is what will help you.
Although it's a paid app, you can use it with a limited free version (Call Blacklist) to get familiar with its functionality.
---
10. CallApp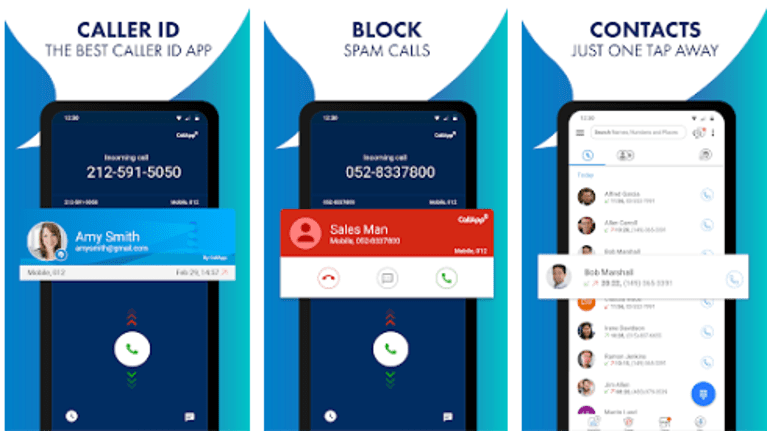 Next on our list of best alternatives to Truecaller is CallApp. It enjoys a huge customer base of more than 50 million users and can effortlessly work as a call blocker, dialer, and a call recorder app.
It is designed to automatically block all unwanted calls and you can also check users' details using its reverse number lookup functionality.
---
11. Call Bliss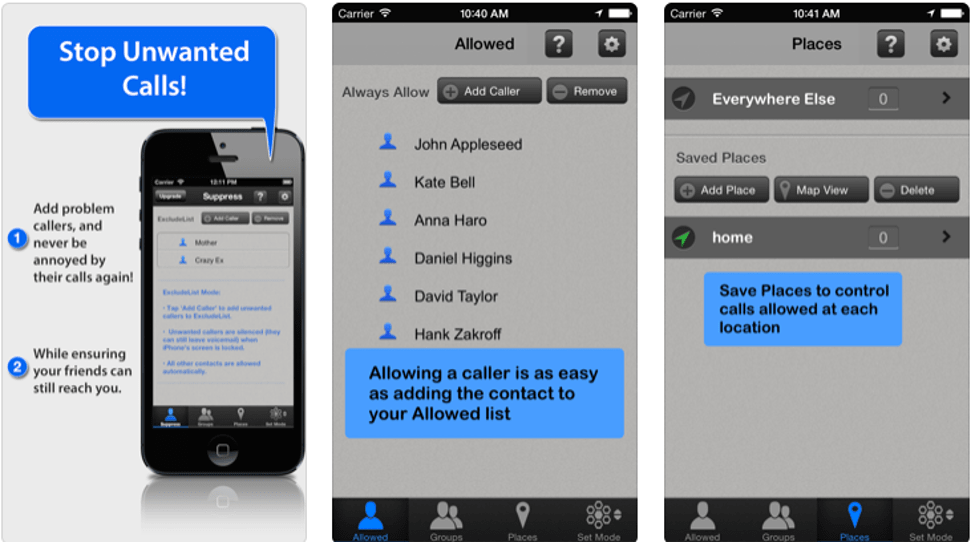 This one is specifically built for iOS users. It is an essential application for users you don't want to get disturbed with spam calls. Make efficient use of the "Do Not Disturb" feature for better control over the calls you finally answer.
Suppress all calls, Exclude list are some of its additional offerings.
---
12. TrapCall: Unmask Blocked & Private Numbers
If you're looking for the best apps like Truecaller, then TrapCall is a pretty solid option for you. The application not only helps you identify private and unknown numbers but also lets you block them to put a permanent full stop to phone harassment.
You also have the option to automatically block unwanted telemarketing spam and robocalls using its excellent 'spam call blocking' feature. All in all, TrapCall is a great alternative for Truecaller and is strongly recommended for its decent selection of features and a clutter-free interface.
---
Wrapping up: Best Truecaller Alternative Apps 2020
Are you scrolling through the Google Play store looking for a caller blocker app? Well, there are high chances that you might pick Truecaller. However, there are multiple Truecaller alternatives that you can consider trying.
Here, in this article, we have listed some of the best caller id and call blocking apps based on user reviews and features. Each one is loaded with a list of features along with a few unique offerings.
Pick the most suited one to ensure safe usage and avoid all calls and messages from unknown contacts.
Prachi Dani is a technical content writer who specializes in areas of science and technology. She is highly up to date with technological transitions and transformations. Writing is not her passion but the only thing that carries satisfaction in life. If not writing, you may find her engrossed playing action games on her treasured smartphone.
Subscribe to Our
Newsletter

and stay informed

Keep yourself updated with the latest technology and trends with TechPout.
Related Posts