13 Best Call Blocker Apps For Avoiding Unwanted Calls
Published Date :
Jan 16, 2020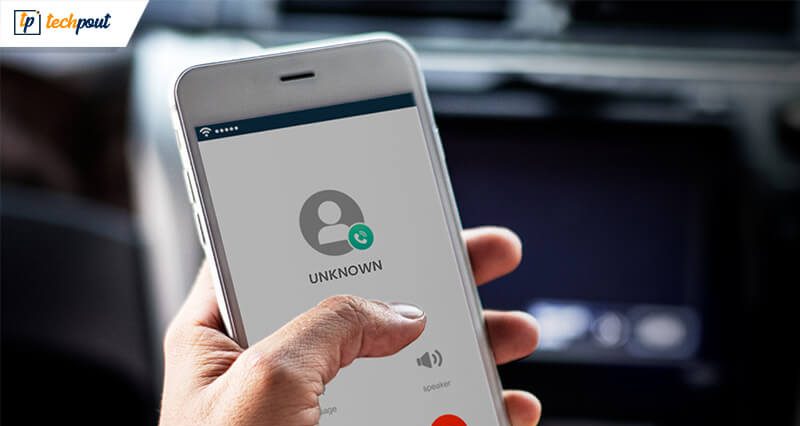 Are you annoyed and sick of the unwanted phone calls that you get from telemarketers and spammers? Well, there are several actions that you can take from your end. Opting for a call blocker app is one such way to block robocalls.
Today's smartphones come with an in-built number blocking functionality, but that is not sufficient keeping in mind the ever-increasing figures of spam calls. Apart from this several mobile carriers also offer similar services, but what can certainly help you avoid unwanted calls is a good call blocking app.
The market is full of third party call blocker apps for Android and iOS devices, however, choosing the best from a list of countless options can be a difficult task. Refer to our article and check the best apps for blocking unwanted calls that we have shortlisted for you.
Top-Rated Call Blocking Apps:
1. Hiya – Spam Phone Call Blocker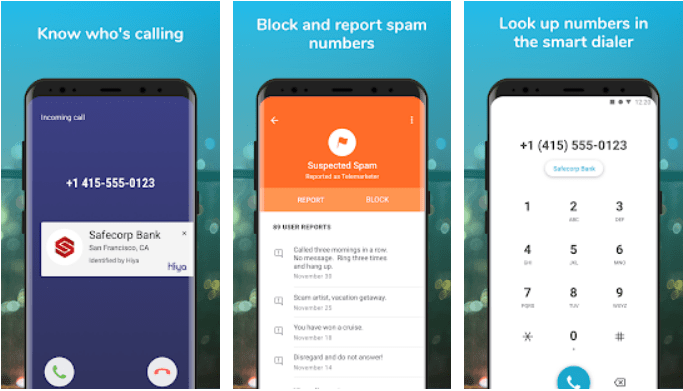 Hiya is one of the best and free call blocker apps that one can find in the market currently. It utilizes a smart algorithm to identify all useful calls and highlight the ones that you might want to avoid.
It comes with several call-management options like caller ID, reverse phone lookup functionality and auto-blocking of spam calls. It sends alert notifications for all spam calls and you can use it to block calls from businesses, individuals and unknown numbers.
All-in-all Hiya is one of the best spam detection and call blocking apps that can effortlessly identify and block calls from marketing agencies, debt collectors and many more.
Read More:  13 Best Free Android Dialer Apps in 2020
---
2. Call Control – Call Blocker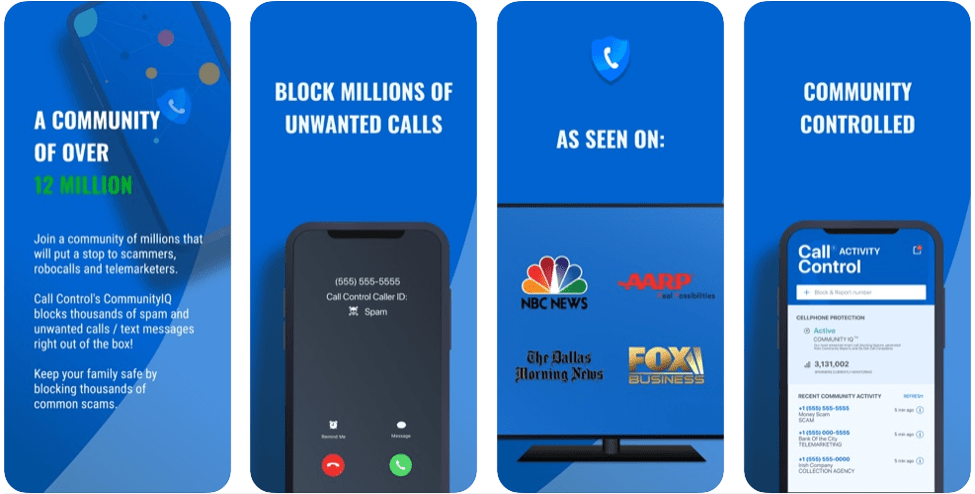 Call Control, is another best call blocker, caller ID and spam stopper application. It is known for its high working standards and enjoys a rich customer base of over 12 million users and a 4.4-star rating.
Download this free and Best Call Blocker App for Android and iOS devices to stop spam calls completely on your business and home phones. You can also create your blocklist to block calls from specific numbers.
Apart from this, it also allows you to check the caller details of phone calls coming from an unknown number.
---
3. Truecaller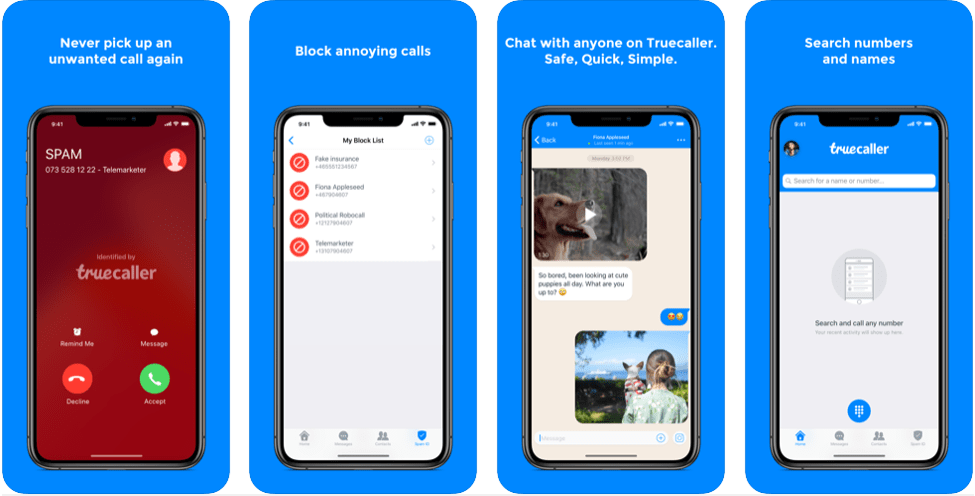 Truecaller is an incredible tool that blocks all nuisance and spam calls on your Android and iOS phones. It creates a directory of all the spam numbers added by its users.
It uses a community-based spam list to identify suspicious numbers and blocks them automatically.
It makes your communication safe by blocking all unwanted calls from spammers and telemarketers. You can also use it to check the details of all unknown numbers.
The app is available for free for both Android and iOS users and enjoys a user satisfaction rating of around 4.6/5.
---
4. Nomorobo Robocall Blocking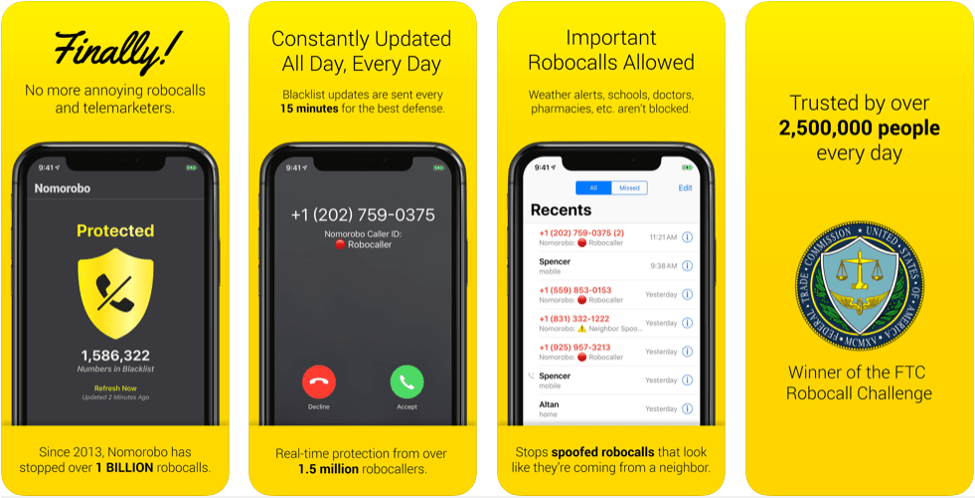 If you have been missing a peaceful phoning experience and are highly annoyed with spam calls, the choose Nomorobo to bring the quiet back to your phone.
It is known for providing real-time protection from all unwanted calls from telemarketers, debt collectors, robocallers, etc. However, it does not block any important robocalls, for example, the one coming from your kid's schools. Easily identify and block all suspicious calls with this incredible app.
---
5. Trapcall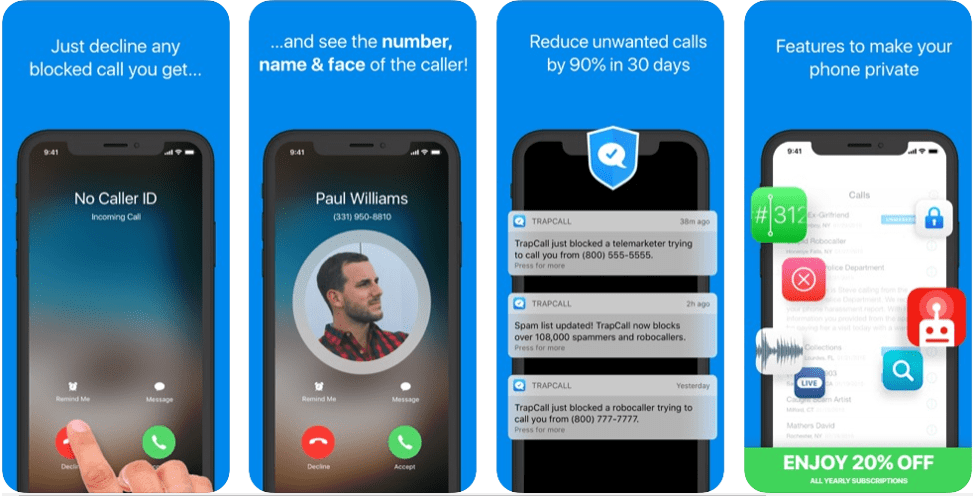 Unmask all disguised calls with Trapcall. It uses an automatic spam call blocking mechanism to save you from all the harassment created by spam and telemarketing calls.
It's developers also claim that it can uncover the caller details of all unknown, private, restricted and blocked numbers. It works seamlessly well on both Android and iOS devices and is free to download.
---
6. Robokiller – Block Spam Calls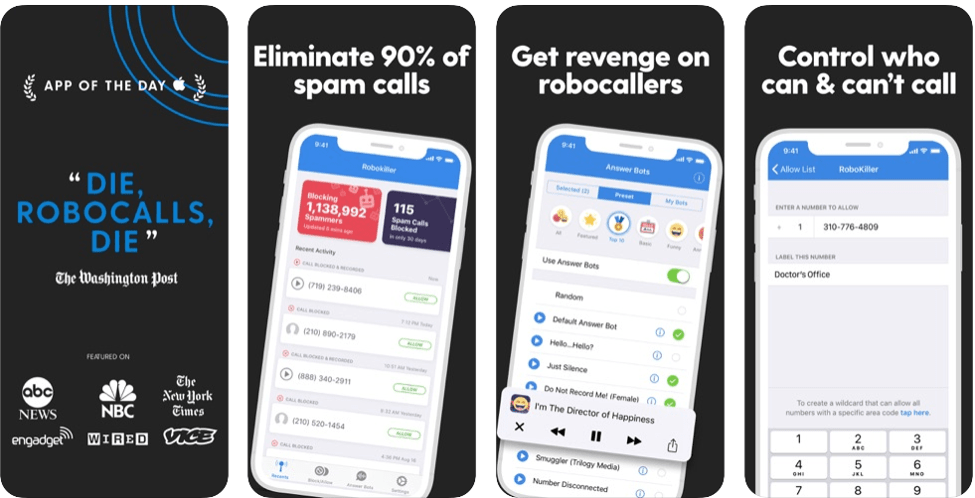 This one goes step ahead and uses "digital footprints" to identify all spam calls. It does not even allow such calls to appear on your phone screen and only sends a notification that it has blocked a call.
Another most beautiful feature of Robokiller is its "answer bot" feature, which means an automated bot will answer the calls on your behalf. You can also use it to check the details of all missed and blocked calls on your smartphone.
---
7. Mr.Number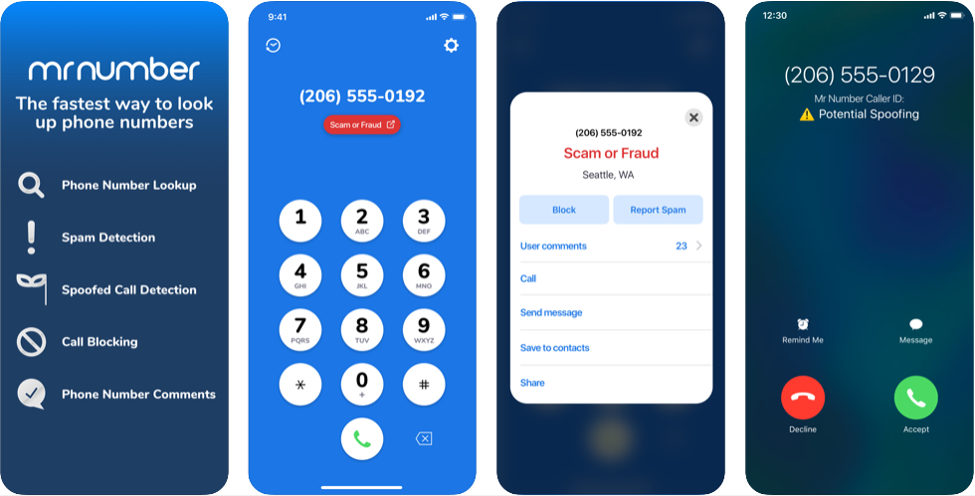 Identify, block and stop all fraud and spam calls from your phone with Mr.Number. Besides calls, it can also block messages from specific numbers and particular area code.
It also allows you to check details of unknown numbers, send voice messages or directly hang up the calls. It is developed by Hiya and is completely free of cost.
---
8. Sync.ME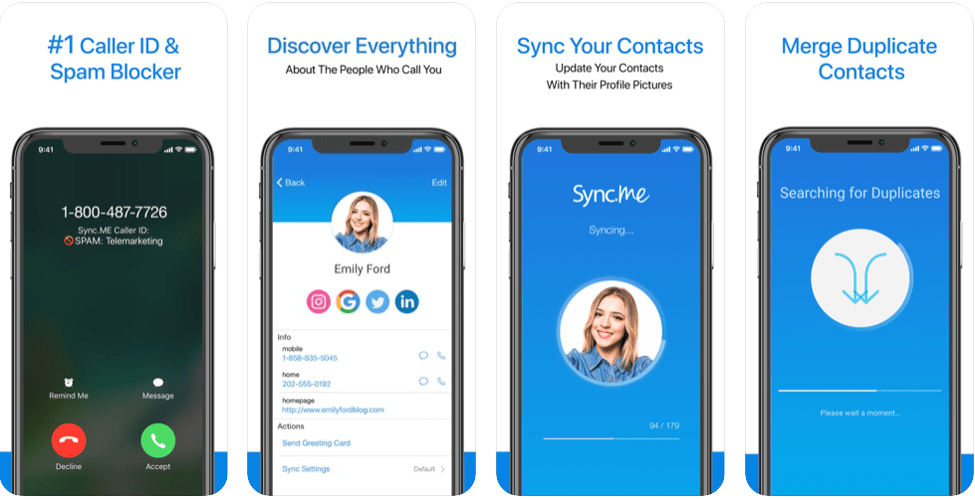 This one is packed with advanced caller ID features and allows you to not only see the contact details but also the picture and name of the caller.
It claims to have the most extensive phone book consisting of billions of phone numbers from all corners of the world. It uses an intelligent matching mechanism that identifies and matches the numbers with their owner's social media profile.
---
9. YouMail Voicemail & Spam Call Blocker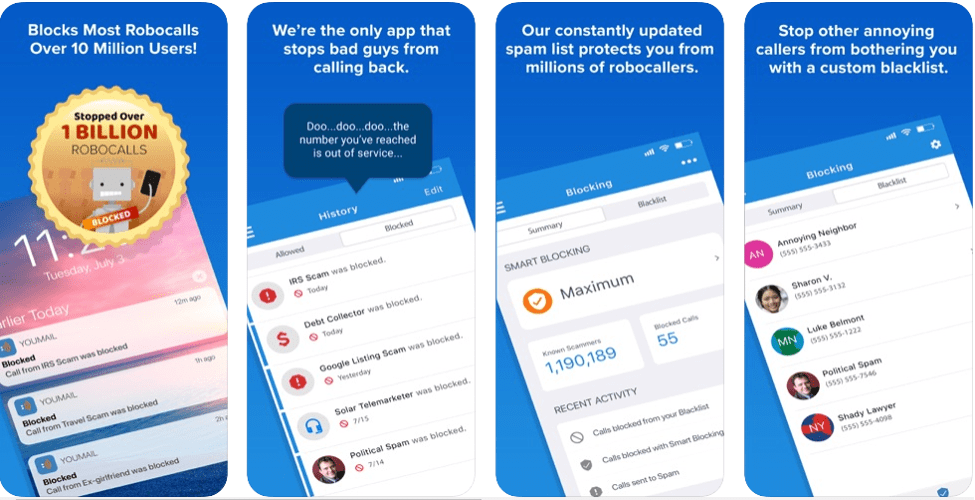 Send an "out of service" message to block all unwanted calls from telemarketers and scammers with YouMail. Apart from being a call blocker app, it also offers professional call handling services including auto-reply, call-routing, message routine, and recorded greetings.
It is compatible with both iOS and Android devices.
---
10. Numbo Call Protect & Blocker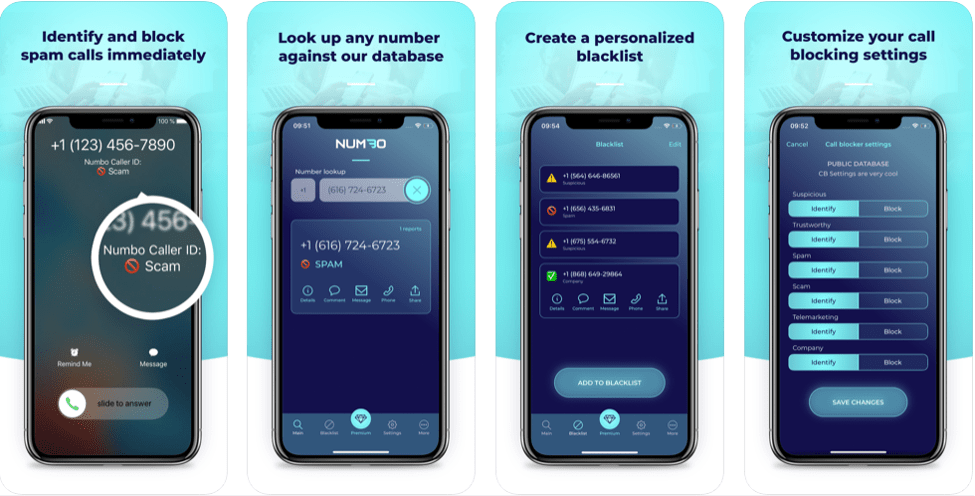 Avoid being surprised by spam callers with Numbo Call blocker. Use it to know the details of who's on the other side of the call.
Based on its database of blacklisted numbers, it will tell you that the incoming coming call is from a known number or from a suspicious source.
You can also use it to check the details of any number against its database. Enjoy a simple phone experience with this best call blocker app for iPhone.
Read More:  Best SIM Unlocking Applications For Android 2019
---
11. AT&T Call Protect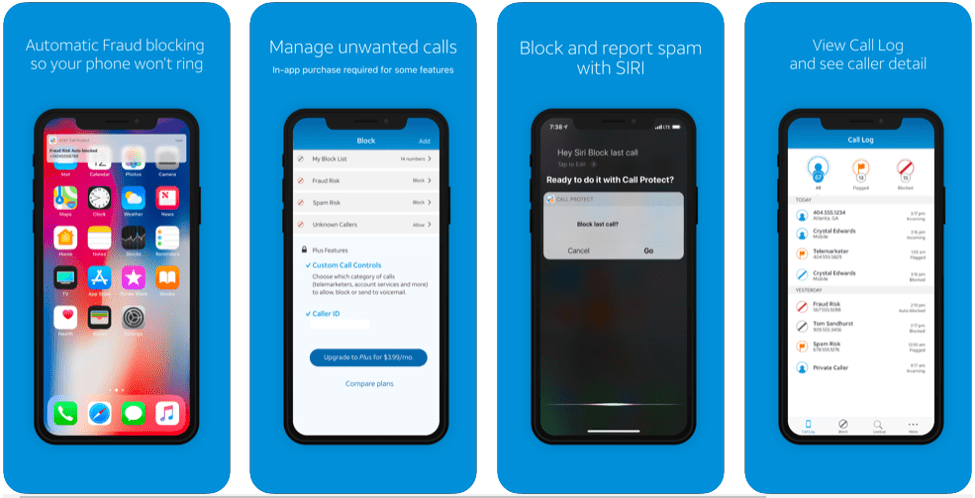 Check who is calling you before you decide to answer any call with AT&T call protect. The app sends warning messages for all suspected calls and also gives you the power to block them.
It is compatible with both iOS and Android devices. Use it to check callers' details and you can also create your customized block list of all unwanted numbers.
---
12. Whoscall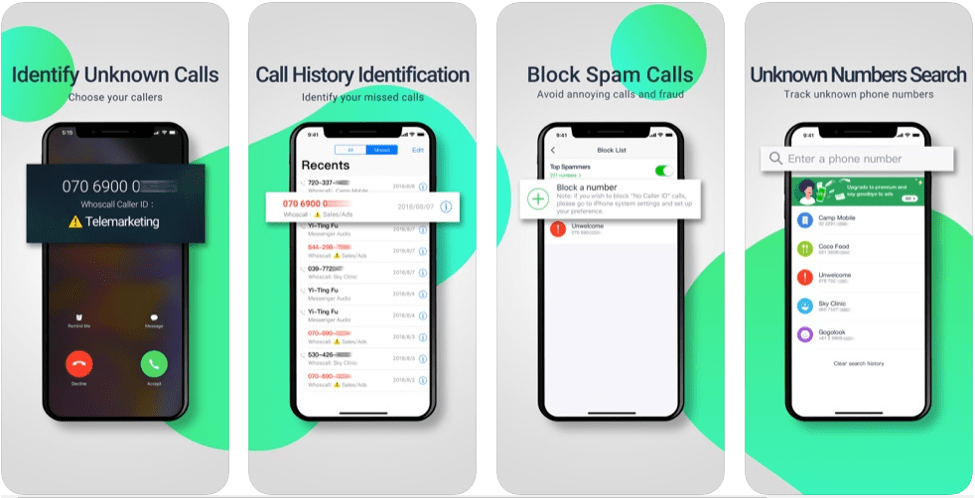 Whoscall is specially designed to identify Caller ID and Whoscall ID and block all calls from suspicious sources. It is one of the best call blocking tools that one can find on the app store and give you full power to decide whose call you want to block.
It enjoys a rich customer base and massive download numbers.
---
13. OctoCaller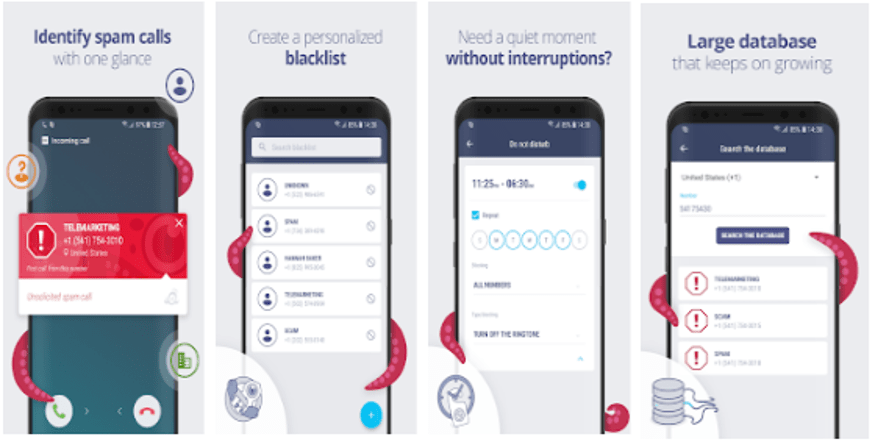 Developed by Master App solutions, Octo Caller App is amongst the top-rated apps for blocking anonymous and unwanted calls. It works on a simple and clean UI and is available on the Google Play store for free.
Pick this incredible tool to block spam calls and create your contact blocklist.
---
Final Words
So, this is it. These are some of the best Apps for blocking unwanted calls on Android and iOS devices.
Make your decision and protect yourself from harmful spam calls.
Image Source: Google Play Store and App Store
Prachi Dani is a technical content writer who specializes in areas of science and technology. She is highly up to date with technological transitions and transformations. Writing is not her passion but the only thing that carries satisfaction in life. If not writing, you may find her engrossed playing action games on her treasured smartphone.
Subscribe to Our
Newsletter

and stay informed

Keep yourself updated with the latest technology and trends with TechPout.
Related Posts