13 Best Free Animation Software Programs For Windows 10/8/7 PC
Whether you are a beginner or a pro animator you will need animation software to prepare stunning visual arts. But before you think of burning a hole in your pocket with a paid tool, refer to our blog to find out about the best free animation software that can effortlessly assist you in your job.
The tools mentioned here include some of the most competent and efficient options in both 2D and 3D categories. If you are an animator and add flying colors to your rough ideas our free animation software will surely help you create advanced animations like motion graphics, 2D vectoring, topography, stop-motion animation, and much more. 
What Is The Use Of Animation Software?
Animation tools offer an easy and convenient way to convert visual files into moving graphics. They help in creating 2D or 3D images of computer-generated and hand-drawn images and sketches. 
List Of Best Free Animation Software (2D & 3D)
2D Animation Software Programs For Windows PC
| | | | | |
| --- | --- | --- | --- | --- |
| S.No. | Software | 2D/3D Support | Prominent Feature | Download |
| 1. | Pencil 2D Animation | 2D | Beginners love its minimalist design | Get It Here |
| 2. | Synfig Studio | 2D | Cross-platform tool for beginners and Pro animators | Get It Here |
| 3. | Creatoon | 2D | Get real-time animation results | Get It Here |
| 4. | Open Toonz | 2D | Best for creating cartoon animation designs | Get It Here |
| 5. | Stykz | 2D | Stick Figure animation tool | Get It Here |
| 6. | Animation Paper | 2D | It supports real-time changes | Get It Here |
| 7. | Powtoon | 2D | Super responsive and easy to use | Get It Here |
If you think animation is an expensive thing, our list here will clear out all your confusions. Let's have a look at some of the best programs which come without a price tag.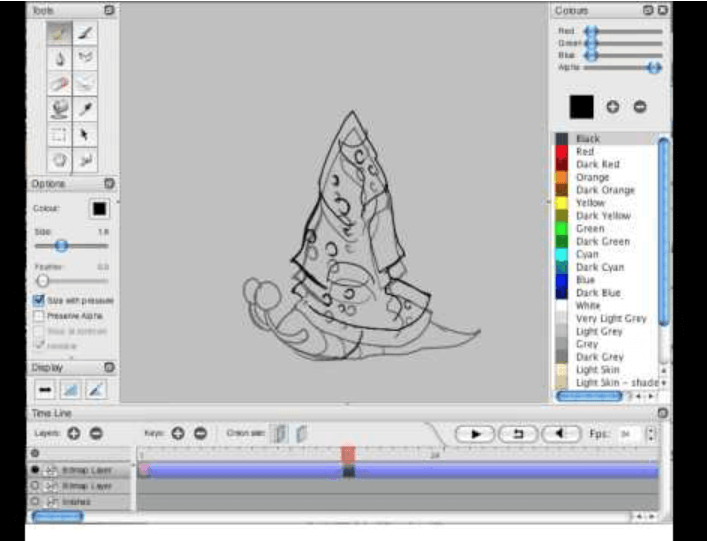 The best things in the market come with a hefty price tag, well this does not hold for Pencil 2D. This versatile tool is packed with stunning features and is best suited for bitmap and vector animation. Use your creative ideas to develop a colorful 2D graphic design with minimal fuss.
Even though it is a free animation software, it comes with various illustration tools and several support slabs. Apart from this, you can also use it to add color, import images, and determine the sound and frame rate of your design.
Read Also: Best Whiteboard Animation Software
Key Feature: 
Open-source free animation program.
A lightweight tool with a minimalist design.
Cross-platform tool. Fully compatible with Windows, Linux, FreeBSD, and macOS.
---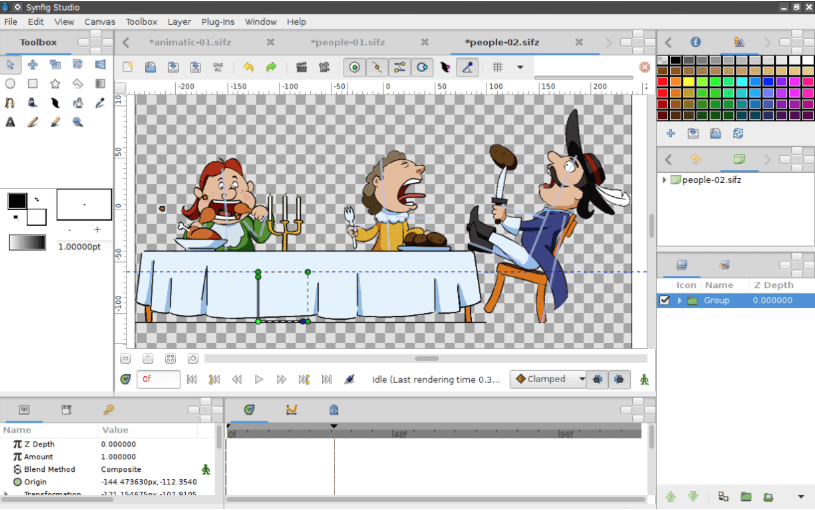 Polish your skills and learn how to create vector and bitmap animation with this incredible tool. Its advanced features like onion skinning, shape tools, keyframes, and class-apart drawing tools help you upscale your learning curve. 
It also lets you add and synchronize a background score and narration voice to a video. Besides Windows, the application is also compatible with macOS X and Linux.
Key Features:
Free animation program suitable for both beginners and pro animators.
It comes loaded with around 50 Multi-layer suitable for making both advanced and basic designs.
Feature-rich 2D animation app.
---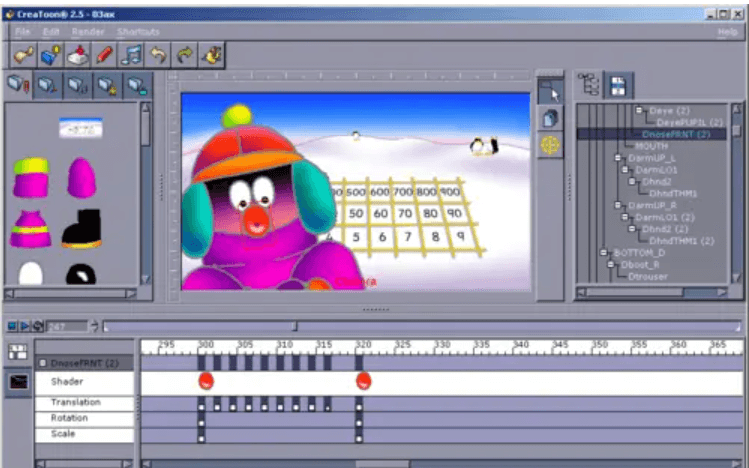 Packed with an array of incredible features Creatoon is one of the best and free animation software that you can pick. With it, you can use your handmade designs and incorporate them into your final animation piece. 
Apart from this you also get access to few advanced features like automatic inbetweening, editing, and previewing in real-time, manipulate the movements of your brush, and enjoy combining working with bitmap and vector graphics.
Read More: Best Animation Apps For Android & iOS
Key Features: 
Compatible with multiple image formats.
A straightforward layout with minimalist design.
Supports real-time animation results.
---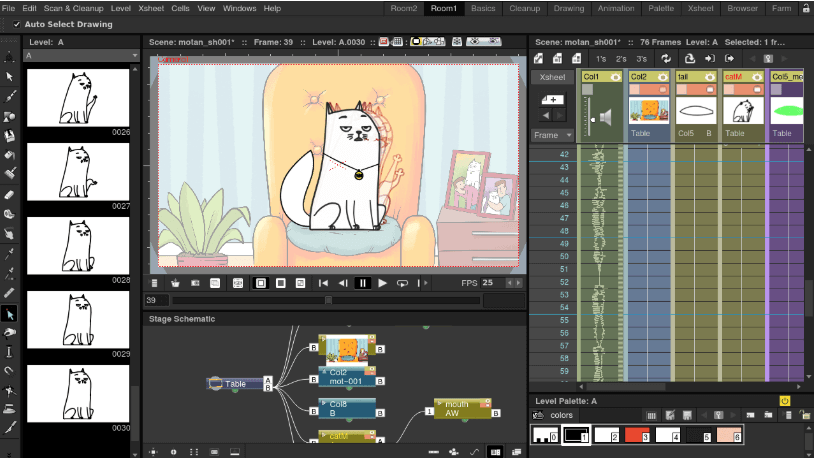 Open Toonz is one power-packed tool that has everything that one can ever wish for. Enjoy indexed color palettes along with motion tracking, motion tweening, and frame-by-frame animation. 
In addition to this, you also get a massive array of composite scenes and animated effects including wraps, masks, lighting, keys blur, and much more. Add rain and dust to your animation piece with its particle system along with bone character animation functionality.
Key Features:
Suitable for both commercial and non-commercial assignments and projects.
Open Source, free 2D animation program.
Impressive tool for creating marketing videos.
---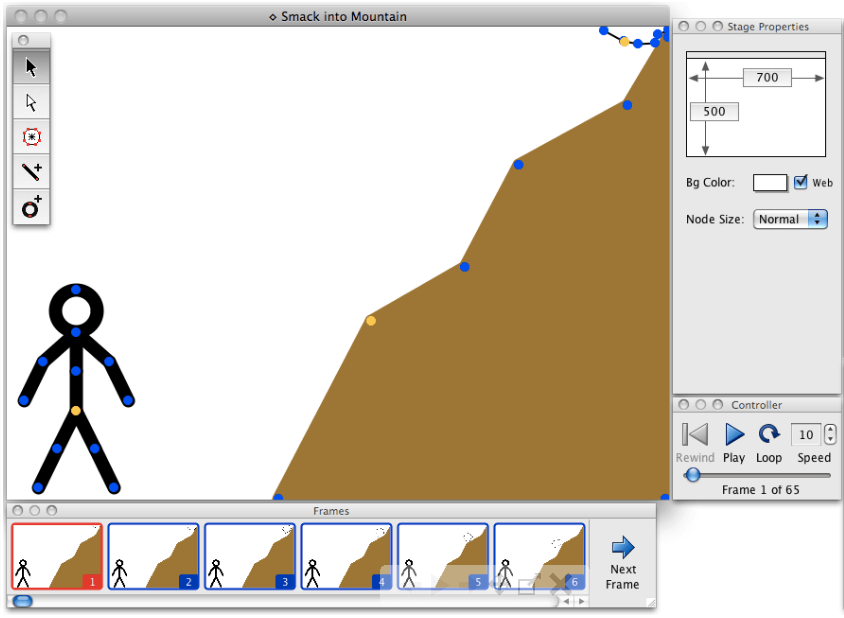 Stykz is best suited for beginners who want to learn animation and turn their creative ideas into reality. It works seamlessly well and helps you create an animation frame by frame. You can use its frame-based feature to change the frames of your animation model. Try out its different frames until you get what you are looking for. 
Key Features:
Simple design with Straightforward working.
Free from watermarks.
Multi-platform free animation software
Pivot compatible
---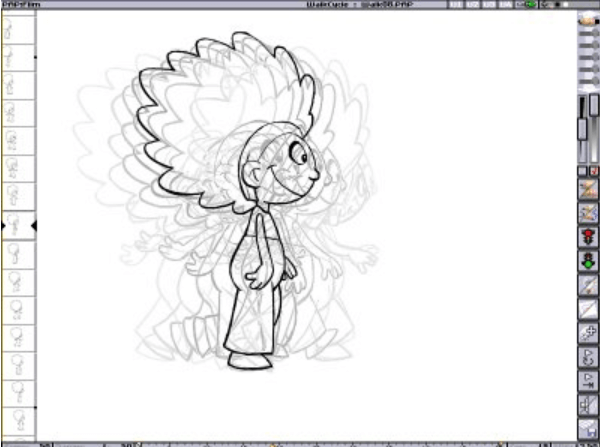 If you are looking for quick and spellbinding solutions then Animation paper is the perfect pick for you. It is a cross-platform program and can save your work in different formats including GIF, AVI, TGA, and much more. 
Format frames, customizable toolbar, high-quality lines, zooming in and out, sketching space are its notable features.
Read More: Best GIF Maker & Editor for Windows 10/8/7
Key Features:
Powerful and uncomplicated 2D animation software for free.
It is super responsive and easy to use.
It supports real-time changes and suggestions.
---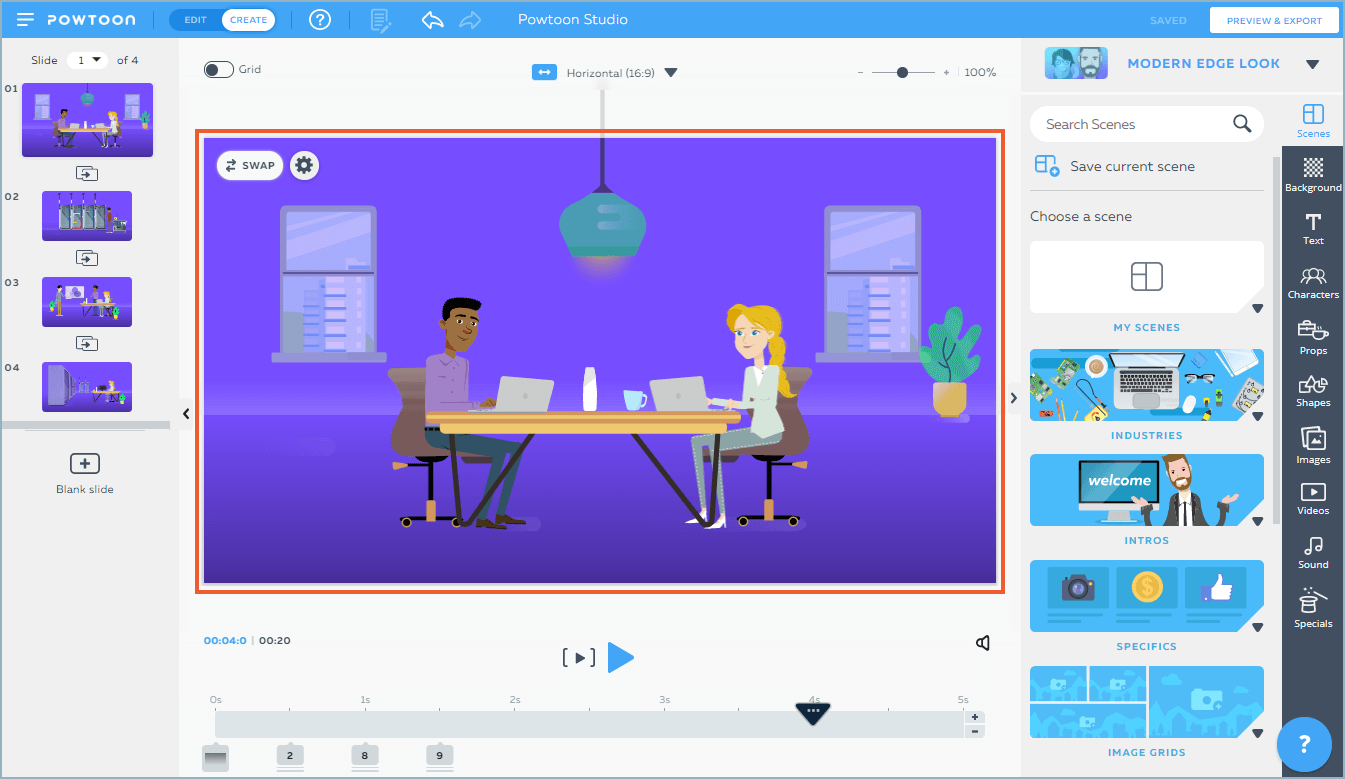 Next on our list of best animation software is Powtoon. Using this amazing platform you can easily create animations for online advertisements, presentations, informative videos, tutorials, and manuals. It is a very easy 3D animation software using which you can create, save, and share projects with your friends. Millions of Powtoons have been created and every minute the number is increasing. 
Key Features:
Easy and user-friendly interface 

Loads of presets and tools to create animation

24*7 customer support

Upload custom fonts 
---
3D Animation Software Programs For Windows PC
| | | | | |
| --- | --- | --- | --- | --- |
| S.No. | Software | 2D/3D Support | Prominent Feature | Download |
| 1. | Anim8or | 3D | Best suited for high-level professional work | Get It Here |
| 2. | K-3D | 3D | Enjoy hassle-free polygonal modeling | Get It Here |
| 3. | Clara.io | 3D | A great mix of polygonal modeling & stick-figure animation | Get It Here |
| 4. | Blender | 3D | Loaded with comprehensive animation features. | Get It Here |
| 5. | Seamless3D | 3D | Get infinite Undo/Redo functionality | Get It Here |
| 6. | BRYCE 3D | 3D | Create amazing fractal landscapes | Get It Here |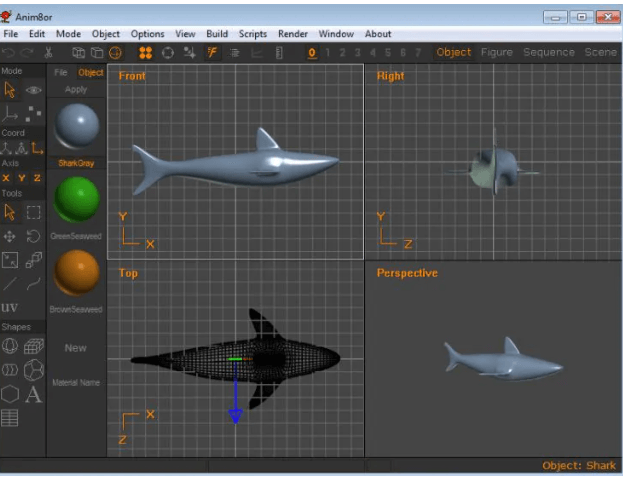 Create stunning and impressive pieces of work with this advanced 3D modeling tool. But if you are a beginner you might take some time to get used to the program. Use it to create various 3D designs including platonic solids, spheres, cylindrical designs, and much more.
Key Features:
Best 3D modeler program.
It supports TrueType fonts and is best suited to high-level professional work.
It supports the hassle-free creation of stunning animation scenes that can be exported as images and video files.
---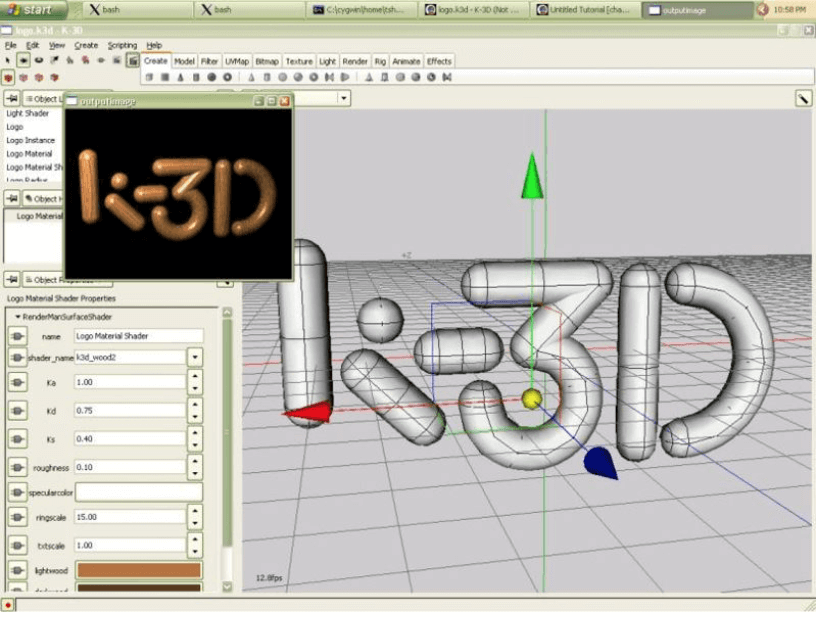 Next on our list of top animation software for free is K-3d. It is best suited for true creative souls and helps to master your skills in structure modeling, shadows, and texturing with K-3D. 
With its parametric and procedural workflow, you can easily make the necessary changes and adjustments in your 3D model and preview them in real-time. Create unique combinations with this highly flexible tool. In addition to all these features, K-3D also gives you the power to enjoy a node-based visualization pipeline which means you can connect anything to anything.
Read More: Best Free Video Editing Software With No Watermark
Key Features:
Best for polygonal modeling.
Uses various tutorials for better learning.
It is powered with an Undo/Redo functionality.
---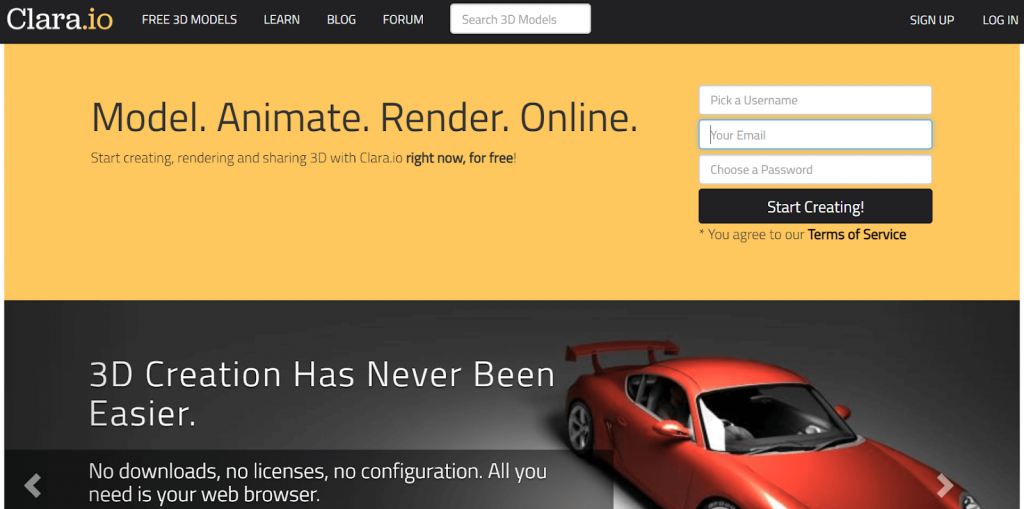 If you are still looking for feature-rich animation software for free, then Clara.io can be a good pick. Access a full range of incredible features including multi-user editing, collaboration, review tools, easy embedding and sharing, sub-object editing, blazing speed, and flexible lighting setups. 
Drag/drop, undo/redo and responsive workflows are some of the prominent features of its modern interface.
Key Features:
Modern interface with powerful modeling tools.
Free multi-platform animation software.
It provides a great mix of polygonal modeling and stick-figure animation.
---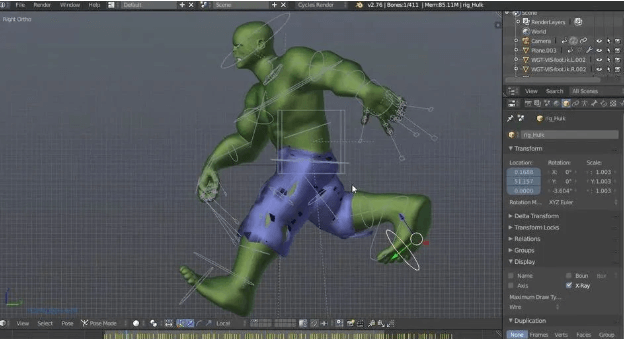 Blender is a cross-platform and open-source free animation program that comes with class apart feature and animation capabilities. Since it is best suited for pro animators beginners might find it a bit difficult to understand its functioning. 
Pick Blender today for smooth workflow and top-notch performance.
Key Features:
Best 3D free animation software for professionals, studio artists, video game developers, and expert animators.
Loaded with a comprehensive array of 3D modeling tools.
Advanced sculpting tools and Python scripting.
---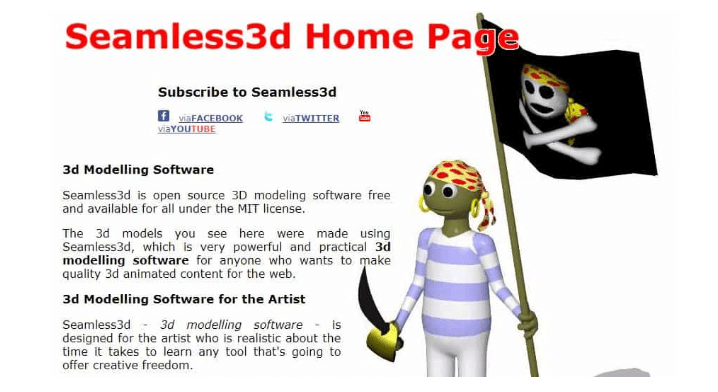 Pick Seamless3D to develop and create stunning animation work. You can make 3D characters, specialized images, and animated videos with it. Polygon subdivision, intuitive animation bar, scripting, and morphing are some of its other offerings.
Key Features:
Easy to use 3D modeling program.
Enjoy unmatched flexibility with unlimited Undo/ Redo options.
Powered with a Tree-view interface.
Enjoy effortless and partitioned texture mapping for your Youtube videos.
---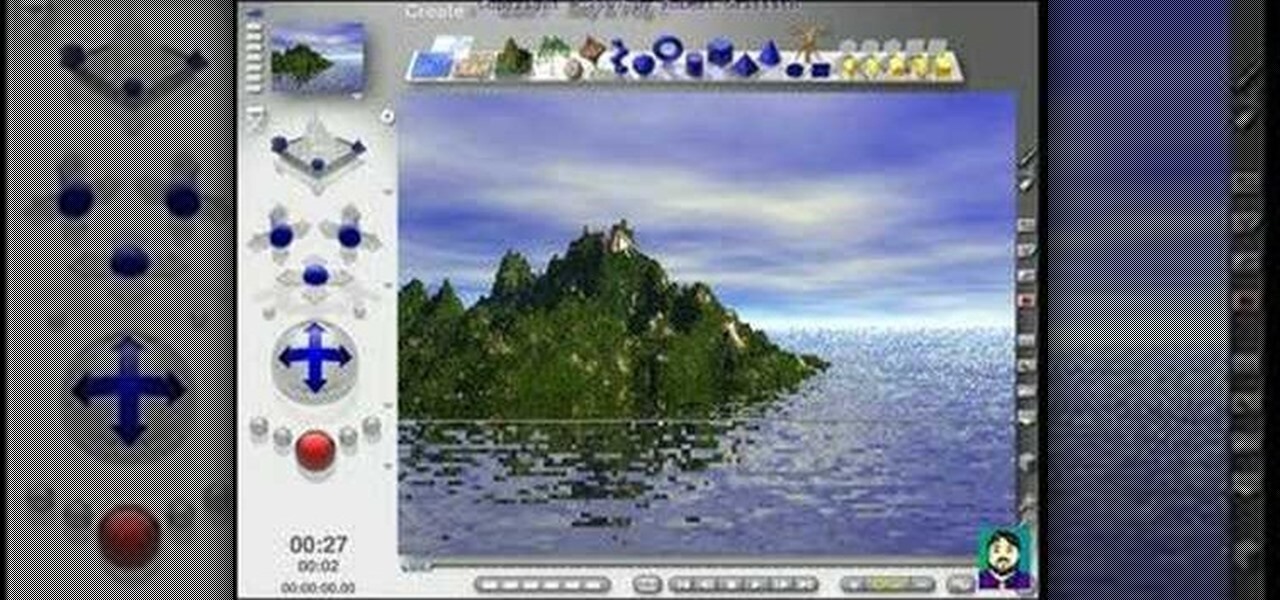 Bryce 3D is the next animation software on our list which has been in the market for a long time now, launched in 1994 for Mac PCs. Using the software you can create amazing fractal landscapes as it has been designed for creating them. The software is very easy to use if still, the user faces any difficulty. There are loads of tutorial videos that will help with the app and processing. Since the launch, the developers are upgrading the software for customer satisfaction. So let's check some of its features. 
Read More: Best Duplicate Photo Finder & Cleaner Software
Key Features:
Instancing Lab for creating individual or a set easily

Improved Light labs with newly added features

Particle Emitter
---
Turn Your Rough Ideas Into a Stunning Animation Design
Enjoy creating impressive 2D and 3D animated designs with our free and best animation software. Refer to our list and pick a tool that fully suits your requirements and skillsets. 
Let your creative mind wander in an unimaginable world and leave the rest to animation programs.
Prachi Dani is a technical content writer who specializes in areas of science and technology. She is highly up to date with technological transitions and transformations. Writing is not her passion but the only thing that carries satisfaction in life. If not writing, you may find her engrossed playing action games on her treasured smartphone.
Subscribe to Our
Newsletter

and stay informed

Keep yourself updated with the latest technology and trends with TechPout.
Related Posts