Top 10 Best iPad & iPhone Teleprompter Apps of All Time

Teleprompter apps are very useful when you vlog or practice reporting. If you didn't know which application to pick then this article will help you. Keep reading to know more about the applications.
The teleprompter app lets you read the script or data on the screen. This is just like when you read a message but the only difference is the word keeps coming up so that you don't miss the timing for the words. These applications are widely used by vloggers and news reporters. The developers have built this application after looking at the issue of remembering the long scripts. Now using the app you can easily read the script in real-time. The best part about these applications is that they give the natural effect of speaking and remove the pressure of remembering each line.
In this article, we have shared applications that are solely developed for Apple devices, so if you are an Apple user then the below-mentioned applications are for you. So now let's take a look at the best teleprompter apps for iPhones and iPads that you can use.
Best Teleprompter Apps For iPhone and iPads
Here are some of the best teleprompter apps that you can use on your iPhone and iPads.
1. Teleprompter‪゜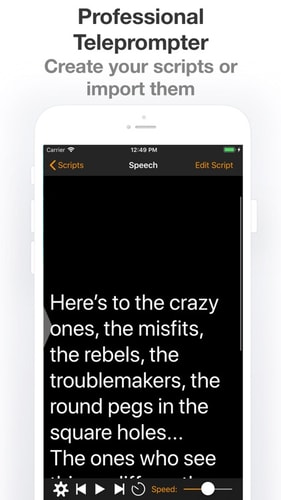 First up on our list of best teleprompter apps is Teleprompter‪゜. This is a great application that is compatible with iPhone, iPad, and iWatch. So irrespective of which device you are using you can simply add this application and read all your long scripts in no time. You can easily adjust the speed and set the time frame for your lines.
Apart from this, it offers some amazing features which help it in making the best teleprompter app for iPhone and iPad. The list of features includes Bluetooth connectivity to control playback, customization option for font and color, vertical and horizontal mirroring.
The application supports multiple languages including English, French, Dutch, German, Indonesian, Hindi, and many others. You get all of these features and compatibility options at no cost as this app is available for free. You can simply download it from the respected stores and that's it.
---
2. Teleprompter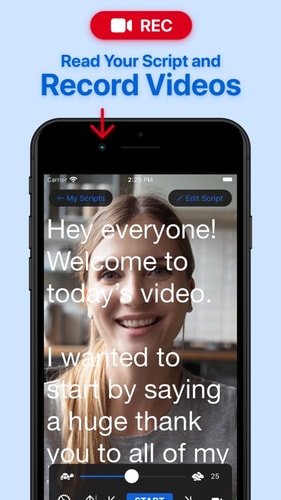 Teleprompter is another great application that you can download on your Apple device. This is a free-to-use application that lets you read scripts and record them in real-time. The app has a unique feature that allows you to record and read at the same time on the same screen. This feature offers a real feel while recording and no one of the viewers can guess if you are reading from the screen.
Also Read: 10 Best iPhone and iPad Cleaner Apps to Clean Storage in 2021
Apart from this, you can even adjust the speed and size of the fonts. You can change the settings to your preference and then start the process. The app has two modes for recording or for script display i.e., portrait mode and landscape mode. Though the app only supports English, so you will not be able to use it for other languages.
---
3. PromptSmart Lite Teleprompter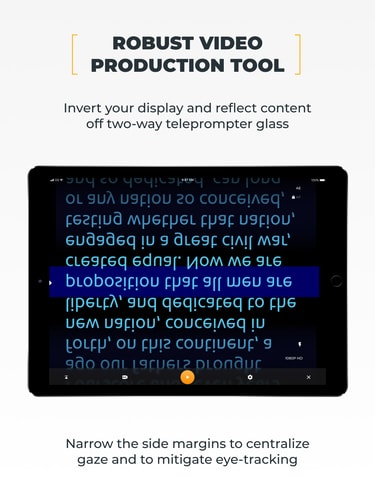 This is another one of the best teleprompter iPad apps that you can try. This is a great and very easy-to-use app, you can simply add your script which you want to follow. Later when you will start it offers a separate blue-colored block on the line which you have to read. This way you will not miss any line or word while using the app.
The app requires no internet connection, you can record your audio without any distraction easily. This teleprompter app offers both free as well as the paid versions, you can choose the version depending on your requirements. You can record the audio of 5000 words or for 30 minutes. Apart from this you can easily import the text file of any format and use it as your script on the application.
---
4. Parrot Teleprompter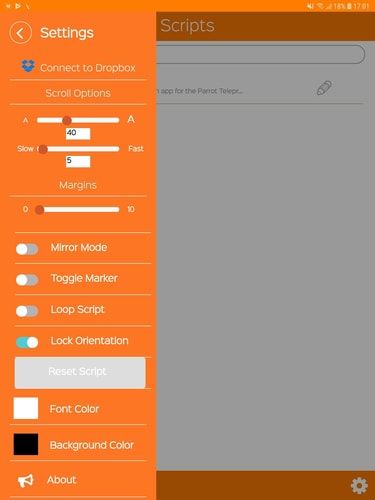 Next up on our list of best teleprompter apps for iPhone and iPad is Parrot Teleprompter. This is a great application that lets you edit the script in real-time. These editing features are very rare to find but are very useful as it saves a lot of time in making the correction. You can easily import files from cloud storage platforms as well as from your PC's internal storage.
Also Read: 15 Best Video Compressor Apps for iPhone In 2021

This teleprompter iPad app has various modes to offer which include mirrored text mode, landscape mode, and others. You can change the default settings of the interface according to your preferences and ease. You can easily change the color and font size along with the speed. The best part about this app is that it supports unlimited scripts too at no cost. You can use this app for free on your iPhone and iPads.
---
5. Teleprompter for Video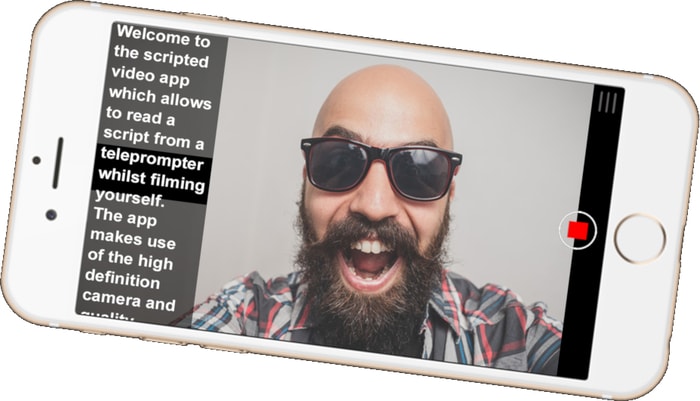 This is another great teleprompter app for iPhone which you can choose for vlogging or video recording purposes. Using this teleprompter app you can easily record and while reading the script. You can easily record without even letting the user know you are reading. The app supports various text files including .txt, .docx, .doc,.rtf, and many others.
The app moreover supports both landscape and portrait mode. You can easily record in any mode in HD quality. There are some very unique features that show up when you finish recording. Once you have completed the recording it will show subtitles below the screen, this feature can be useful for all the content creators who publish their videos on various social media sites.
---
6. Video Teleprompter Lite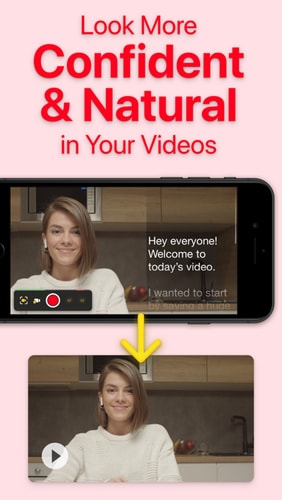 To move forward in the list of best teleprompter apps for iPads and iPhones we have Video Teleprompter Lite. Again this is a great application for all those who like to record long videos but face problems remembering those long scripts. The application is designed to offer the best features that will make it easy for you to read and record.
This teleprompter app shows the text near the camera so that the viewers cannot find out if you are reading or not. Irrespective of the camera angle you use to record the app, adjust the position of the text and add it to the screen. Before recording starts the app shows a countdown timer so that you can start at the right moment.
Also Read: 13 Best Reading Apps For iOS That You Can Use In 2021
Apart from these features, it also has some advanced video controls that you can adjust while recording. You can change the exposure, shutter speed, ISO, and focus. Just like you adjust in a normal camera app you can do the same in Video Teleprompter Lite too.
---
7. dv Prompter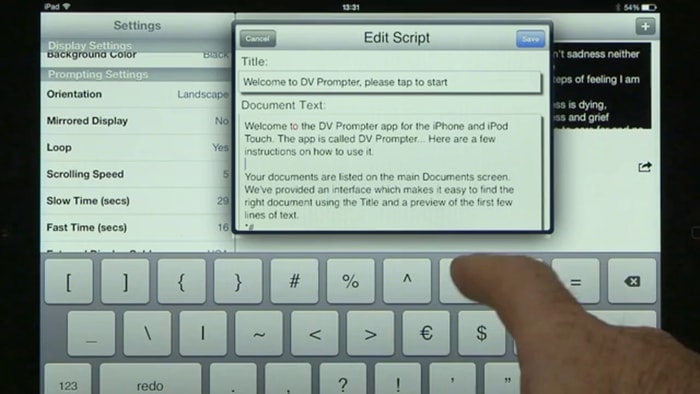 Another free teleprompter app for iPhone and iPad on our list is dv Prompter. The app supports wires as well as wireless connectivity of controllers. The application is available for free so that everyone who wishes to record can use this software. For using this application you need to have an iPhone or iPad with iOS 6.0 or above.
It supports various languages including Simplified Chinese, Traditional Chinese, and English. Other than these features it offers editing tools too which lets you edit within the app. For a beginner or an intermediate user, this is a great pick but if you are a professional then you might feel that it lacks in equipment for usage. But for that too it has a solution, you can purchase the equipment within the app apart from all the features offered.
---
8. Prompter Duo
This is a unique application that is available for iPhone and iPad, the developers have developed it separately for both models. This teleprompter app is available for free on the App Store, you can easily download it and enjoy real-time reading the scripts. The app offers many features some of which include, countdown function, display direction, inverted text display, and others.
Also Read: How To Compress Photos On iPhone and iPad
It moreover lets you change the interface as you get options to add fonts, change the size, add new background colors, setting of cue points, and others. Other than this you can import or export files to cloud storage platforms like Dropbox. All in all, this is one of the best teleprompter apps for iPhone and iPad.
---
9. Best Prompter- teleprompter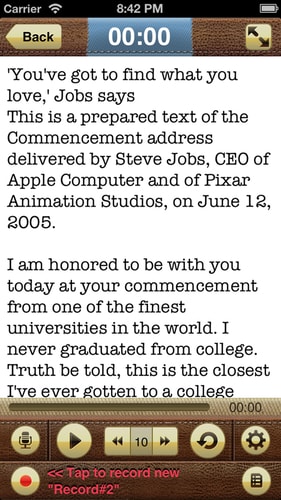 This is a great teleprompter app that you can use for audio recording purposes. This application does not support video recording like other teleprompter iPad/ iPhone apps. It offers a simple yet clean interface where you can easily read and record exactly what you want. It lets you adjust the size and position according to your requirements.
You can easily download or import files from various locations including cloud storage platforms. All your recorded files can be shared using the iTunes file sharing to all the Apple devices. Other than this if you wish to share files then you can use email. To make it easy for you the app has a screening marker that helps you in identifying the point where you are reading. Lastly, this teleprompter app for iPhone and iPad supports English and Russian language.
---
10. PrompterPal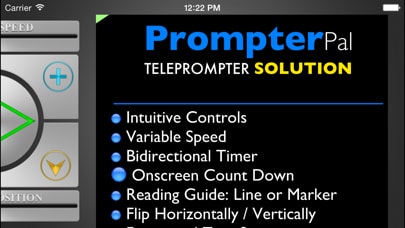 Last up on our list of best teleprompter apps for iPad and iPhone is PrompterPal. The interface of the application might feel like a settings window because it offers many options for changing and customizing. Listing some of the basic features which are offered by this application that you might need on a teleprompter are font size, line spacing, head indent, tail indent, text color, background color, and text alignment.
Also Read: 7 Best VPN for iPhone and iPad in 2021 | Best iOS VPN Apps
The app has many sections under which you can change many settings. The list of sections includes, prompter, files, style, remote, monitor, record, help, and edit text. You can easily toggle through the section and change the settings easily.  Though this app is not available for free, so if you want a free teleprompter app then this is not the ideal app for you. But if you are up to spend a little money then you can choose this app as it only costs $7.99.
---
Concluding the list of 10 Best Teleprompter Apps for iPhone and iPad
The above-mentioned 10 teleprompter iPad apps are the best option available in the market. Some of the apps on the list even support video recording while reading. Those applications can be suitable for vloggers and reporters who require videos. Apart from that if you need an audio file then the rest of the application would work. We hope that the teleprompter apps listed will help you with your project. Tell us your views on this article, if you have any suggestions or queries you can drop them in the comments section below. We would try to solve them and revert you as soon as possible.
Tanmay is a technical writer from the field of mass communication. He aims to communicate the best of the technology to the readers through his write ups. If not writing you can find him with his camera capturing nature and exploring the unexplored world.
Subscribe to Our
Newsletter

and stay informed

Keep yourself updated with the latest technology and trends with TechPout.
Related Posts