Top 10 Best Photography Studio Management Software for Photographers
Published Date :
Jul 18, 2021

For all photographers, studio management software is a must. But if you are not aware of which software can be best for you, then worry not as we have mentioned the 10 best photography studio management software. Keep reading to know more about them.
Only having relevant skills is not enough to build a business, you need to have the support of experts. When it comes to photography, having a camera and the skill to capture the prettiest images isn't enough. You have to manage other things too and to help you with that process there is a lot of software available. If you are not aware of which software to choose then you are at the right place as we have tried to educate you about photo studio software and their offerings.
After reading this article, we are sure that you will find the software that can help you in all your photography studio-related work. Now without wasting time, let's take a look at the list of software.
Must-Have Photography Studio Management Software in 2021
Here is the list of best studio management software for photographers. Read the brief description to know what all offerings do.
1. ShootQ

To start the list of best photography studio management software we have ShootQ. The software is a cloud-based business management platform that can easily help you in keeping track of everything. Using the software you can manage new leads, appointments, sales, and many other factors that affect business.
Irrespective of the business scale you have you can use this SQL server management studio software and it will outperform for sure. Apart from the mentioned features, the software can be customized according to the requirements. You can customize the work given to employees, email settings, documents, surveys, and modify workflow type actions. The software moreover has collaborated with Quickbooks to make it easier for every user in understanding the finances.
Pros
Ideal for large scale business
Billing and Invoicing made easy
Manages all the tasks prior
Appointment scheduling and reminders
Cons
Can face issues while setting up the software
---
2. Tave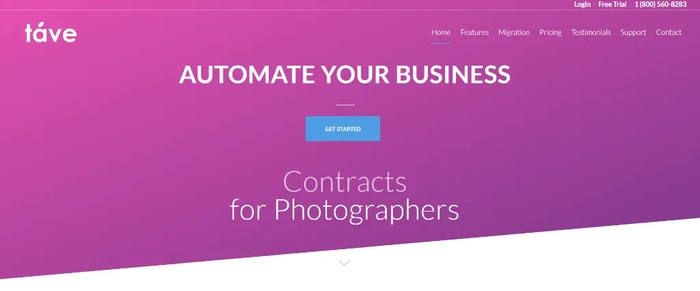 The next studio management software on our list is Tave. This is a great software which can help you with all your needs. It offers a great integration that enhances the workflow and makes it easy for you to manage the business. Using the software you can customize and manage all the work like emails, contacts, and other important documents. Ir moreover has many other marketing tools that can help in being more effective and creative. You can customize everything according to your need and at them for the benefit of your business.
The best part about this studio management software for photographers is that it is very easy to. The software was designed with the aim to offer a tool that can be accessed by every photographer, even the beginner. So irrespective of your experience you can use this software and manage everything in your business.
Pros
The software is easy to use which take zero effort in understanding
Manages all the work related to clients
You can easily keep a track of bills, orders, and projects
If you face any issue with the default application processes then you can simply customize them according to your requirements
Cons
The only negative about this software is that you might face little difficulty while setting up the software.
---
3. Studio Ninja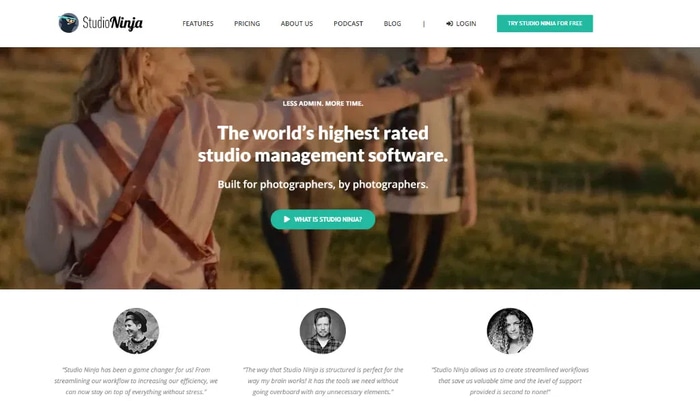 Studio Ninja is one of the most used studio management software. This program is built to keep track of your previous work and present work. While using the software you can easily compare your previous year's performance with the present year's performance and check how well you are performing.
It also offers a financial forecast that you will have with your current performance. The software has integration with Quickbooks which makes it easier for the user to manage all the financial records and track them.
Also Read: 15 Best Photo Organizing Software For Windows 10, 8, 7 In 2021
You can easily track the method which helped you to grow your business and which has a negative impact or lower impact.  Apart from this, the photography studio management software has integration with various other platforms like Google calendar, Gmail, and Xero. Studio Ninja is also a mobile application that lets you track your progress whenever you want.
Pros
It offers effective tools for workflow management
You can easily track performance and plan accordingly for growth
Project and finance management with Studio Ninja is very easy
If you face any issue with the software then there is dedicated customer support to solve all the queries.
Cons
For updating workflow with this software you have to do it one by one as it does not support updating together.
---
4. Iris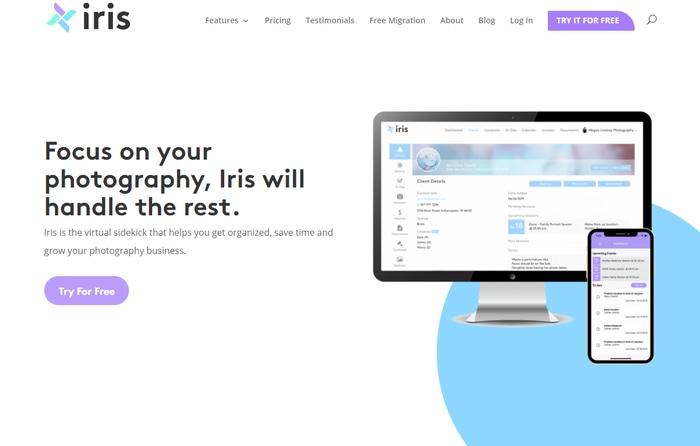 Iris is a great studio management software that you can pick in 2021. The software has a great user interface which makes it look more professional and soothing. This is a very easy-to-use program that lets you manage and track all your photography-related work. Once you log into the software you will witness all the data that is related to your business. The data includes stats from past and present projects and work.
To help you keep track of whether the software offers a weather widget too. Using this feature you can easily check whether the time for the shoot is ideal or not.  You can easily add a location and check all the weather at the location. Other than this you can easily add/ share location with other people.
Pros
Using the software you can manage all your booking and work online
Track for a dedicated location weather
Offers a great workflow with other software integration
For assistance the customer support team is available
Cons
You might face issue with the payment plan in the invoices
---
5. Light Blue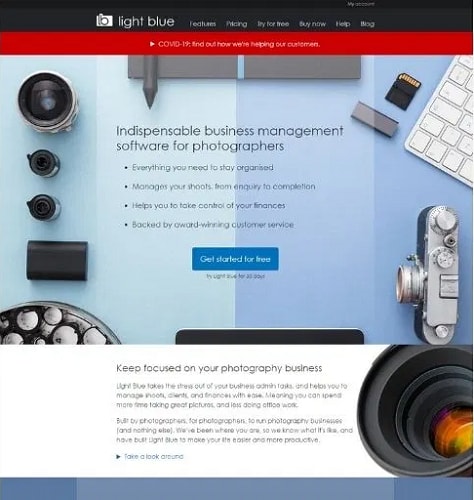 According to the developers, this is all you need for your photography business. This studio management software for photographers offers all the features that you would need to manage and organize your business. You can manage finances, clients, and other business goals. You can set goals and jobs for everyone in one place. This is what makes it really easy for everyone to manage and work.
Also Read: 18 Best Duplicate Photo Finder & Cleaner Software In 2021
This photo studio management software has a great user interface that shows a brief of all your previous as well as upcoming work. Other than this it also shows the appointments, tasks, and other inquiries which you need to consider. It keeps all the work in front of you so that you don't miss out on anything.
Pros
It is a simple yet effective tool for all the photographers
The software offers management for clients, events, order, and projects
You can easily schedule meetings and other important events so that you never forget
The software keeps a track of all your activity so that you can go back on your work history anytime
Cons
The software requires a subscription for multi-device usage
---
6. Pixifi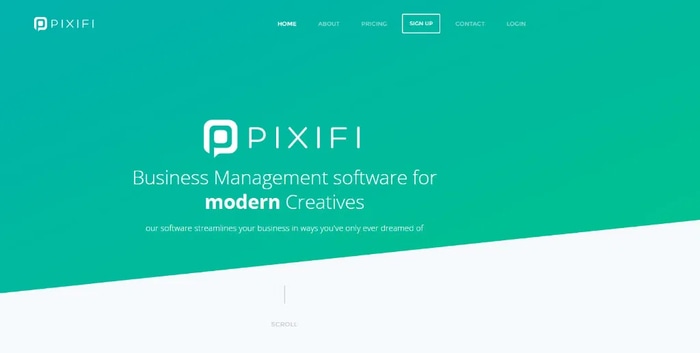 Pixifi is another great studio management software that can help you with all your needs related to your photography business. The software is available for all devices so that you can track and manage the business at any point in time with any device easily. Though it is web-based software all you need to have is a device that is compatible with the internet and a web browser.
It is a great option in the list of photography studio management software as it offers fully automated booking that lets you manage dates, sign contracts, book and make payment at the given time only. It moreover lets you track leads, projects, events, and clients so that the growth chart keeps on going upwards.
Pros
Effective tools for reminding you of important dates and events
You can easily manage orders, contracts, events, and clients using the software
The software has billing and invoicing features to make your work easier
Availability at every device can help you in tracking
Cons
While setting up the software you can face issues if you are new
---
7. Shootzilla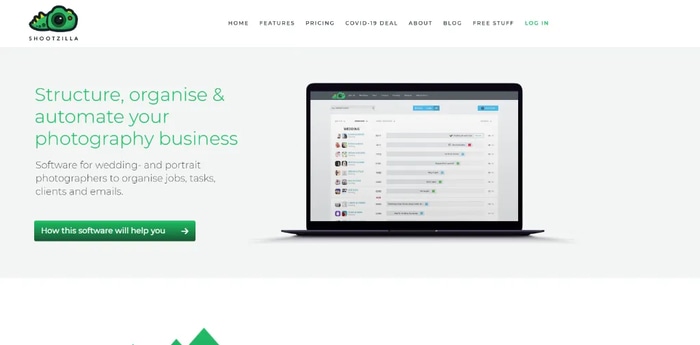 As the name suggests Shootzilla is a one-stop solution for a photography business. It helps you in organizing and controlling all the tasks. This studio management software helps you check clients, track workflow, manage documents, and send emails. These are some of the most important features offered by this software, if you want to change anything then also you can do that as the software offers freedom for customization.
Also Read: Best Free Photo Editing Software for Photographers in 2021
You get to choose from hundreds of templates. You can adjust color-coding, icons, and various other things on the interface. The software would look just the way you want it to look. The software is really easy to use but it lacks in offering marketing features that other studio management software for photographers has.
Pros
The software is very easy to set up and everyone can easily use it
You can schedule appointments and other important tasks according to your needs
You can easily transfer spreadsheets too
It has client management, order management, and project management tools too
Cons
Unlike other photography studio management software, Shootzilla lacks in offer invoicing option
---
8. 17Hats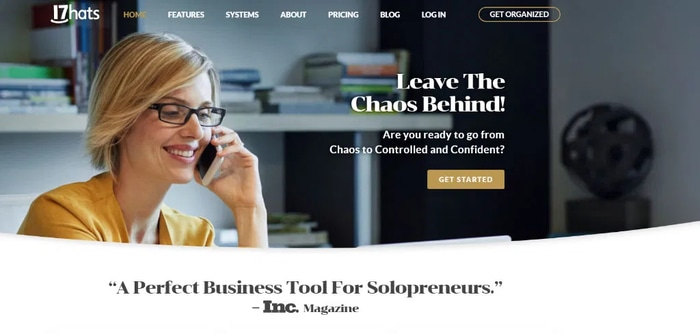 Net up is another great studio management software that can help you in your photography business. This software has bookkeeping tools that make it very easy for the user to manage and keep track of finances. This software is great for small businesses so if you have one then don't hesitate to download this software.
The software keeps you updated with all the tasks you have to perform like, contracts, documentation, and invoices. Other than this the software lets you schedule events and tasks. Just like other photography studio management software it also offers billing features to make your work easy.
Pros
The software can be used on various devices at the same time without an issue
Amazing bookkeeping feature to keep you on track
It also has a payment platform which most of the software does not have
The software reminds you to create and send invoices
Cons
The software requires a subscription which is divided into three sections to choose from
---
9. HoneyBook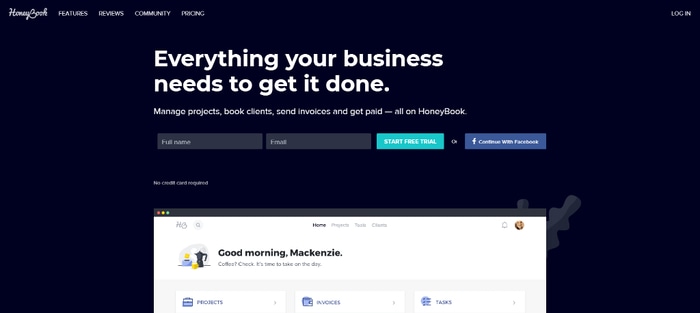 Second last studio management software on our list is HoneyBook. The software is very simple and has a very clean interface. On the home screen itself, you can observe projects, invoices, tasks, calendars, and reports. Apart from this, you can get into the section for more details. On the top menu, you can select projects, tolls, and clients to check all the details about them.
Also Read: 15 Best Free Photo Recovery Software to Recover Deleted Images
The software offers features that let you monitor all the work you do. If you face any trouble with finding anything on the software then you can simply search for it and find them easily. It keeps on reminding you of all the work you have on the list. The section has a filter option too which can be used to bring out only the required data.
Pros
The software has integration with multiple software like Zoom, QuickBooks, Gmail, Google Calendar and Zapier
It takes care of all the work you have lined up
The software is available on Android as well as on iOS
The interface is simple and easy to use
Cons
The base paid plan also has limitations and to avoid that you have to purchase the unlimited monthly plan
---
10. Sprout Studio

The last photography studio management software on our list is Sprout Studio. The software is listed last on the list but the features are just amazing if you have a photography business. Sprout Studio has a huge community that can help you in learning and other than this you can share your work with others too.
For helping the user grow the software has integration with other software that can be used for emailing, design, galleries, bookkeeping, automation, and many other things. This is the best software as it offers all the tools which can help you in growing the business and promoting it on various platforms.
Pros
The software's online gallery is a very unique feature that is not available in most of studio management software for photographers
It has a feature to help you will all your tax-related work
Cons
The software only offers a 21 days trial for free after that, you need to take the plan to use it
---
Final Words: Photo Studio Management Software Free Download
Growing a business alone can be tough as you have to manage so many things, but these photography studio management software can help you do that easily. The software offers a timely reminder, progress reports, and many other things which will help you in growing your business. We hope that we have helped you in finalizing software for your photography business, if we did tell us which software did you choose and why. Apart from this if you have any suggestions or any requests, please feel free to write. Drop-in your valuable feedback in the comments section below.
Tanmay is a technical writer from the field of mass communication. He aims to communicate the best of the technology to the readers through his write ups. If not writing you can find him with his camera capturing nature and exploring the unexplored world.
Subscribe to Our
Newsletter

and stay informed

Keep yourself updated with the latest technology and trends with TechPout.
Related Posts