13 Best Marketing Apps To Promote & Drive Your Business
Published Date :
Oct 28, 2019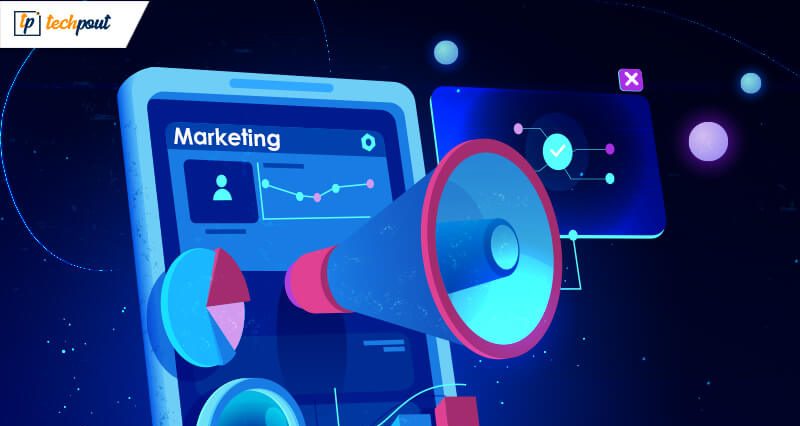 A lot of time is wasted in commuting and travelling, so why not use this time in some productive activities. 
While on the go, you can use marketing apps to promote your business and enhance your customer base.
You can use them for marketing your product, connecting with people and sharing various posts on Social Media platforms. 
In this article, we will talk about some of the best Digital marketing apps that you can choose to achieve your business goals. 
Stop wasting time, instead use it judiciously. 
Let's have a look at some of the best Social Media marketing apps that you can consider to grow your business. 
13 Best Marketing App For Your Business:
1. Hootsuite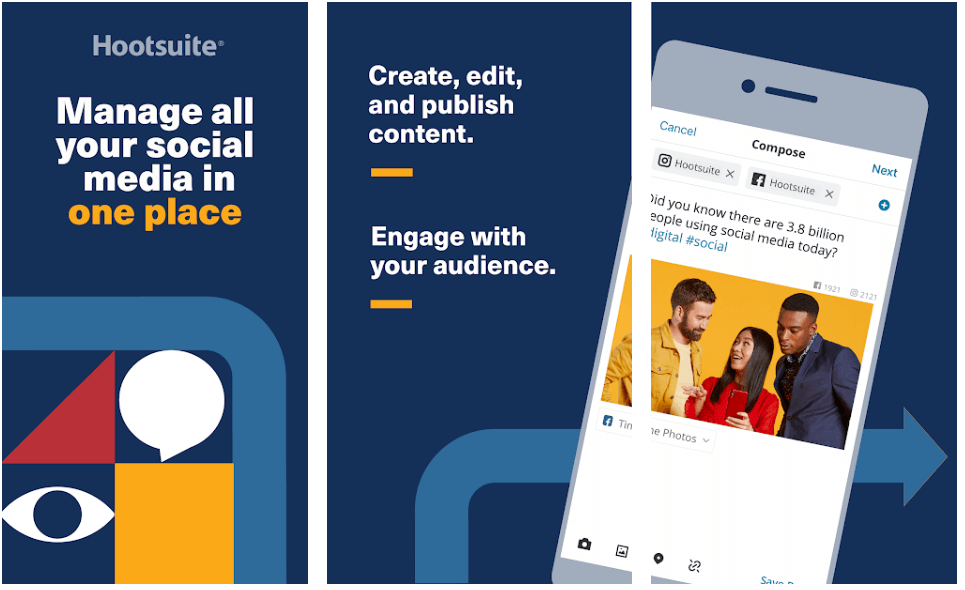 If you are looking for a Social Media Marketing app that can assist you in planning your posts, manage and monitor your accounts, then there is no better option than Hootsuite. You can effortlessly integrate it with your Instagram, Twitter, Facebook, Pinterest and Linkedin accounts.
It comes in a free and paid version. With the free version, you can schedule up to 30 posts at a time and manage three different social media accounts. However, if you need an enhanced limit along with added features, you can opt for its paid version. The payment plan for the paid version starts at $25 per month. 
Must Read: 5 Best Money Making Apps for Android & iOS in 2019
2. Repost on Instagram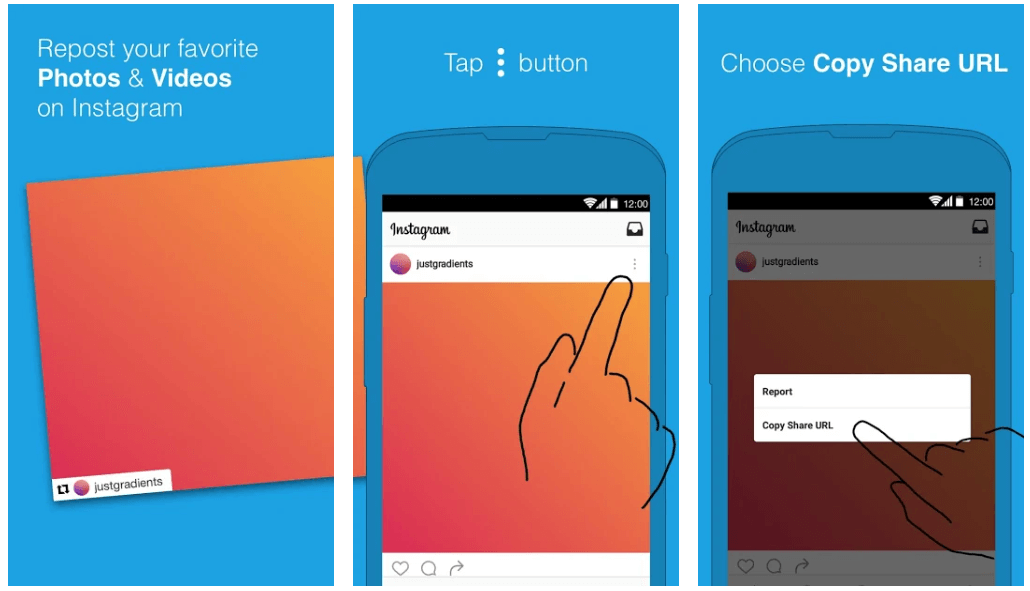 As its name suggests, this marketing app allows you to repost content from other accounts on Instagram. Furthermore, you can also use it to repost content to your already posted Instagram stories and feeds. 
It is fully compatible with Android devices and comes in a free and paid version. Unfortunately, you will find a watermark in its free version, which can quickly be taken care of by paying a one-time fee of $4.99.
3. Buffer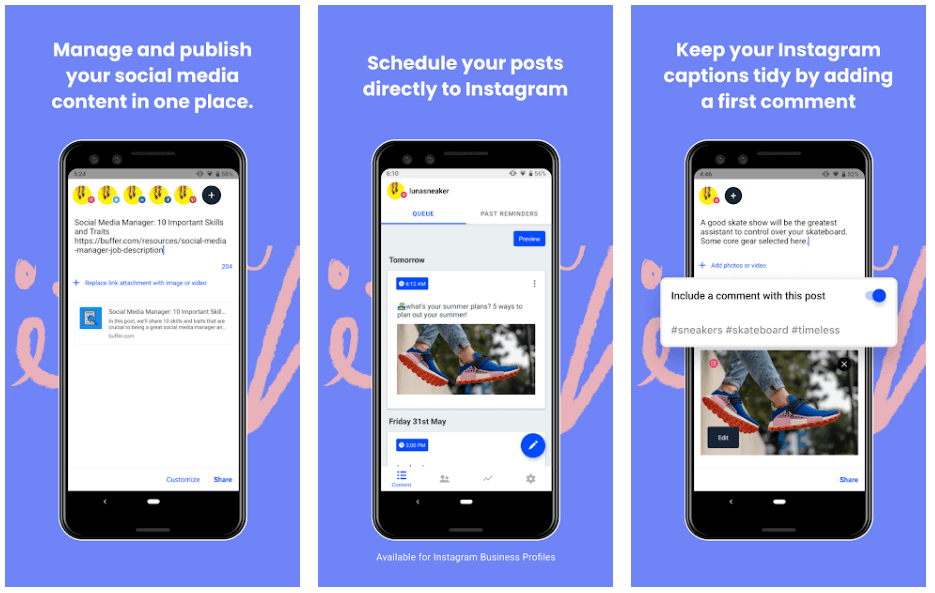 Buffer is an incredible social media influencer app. It allows you to schedule various posts on Facebook, Instagram, Twitter, Linkedin, and Pinterest. 
You can use Buffers browser extension to add relevant content available online to your social media schedule. 
With its free plan, you can schedule up to 10 posts at a single time and can manage three accounts. If you wish to maintain more accounts and schedule more posts, you can subscribe to its monthly plan, which starts at $15 monthly. 
4. Planoly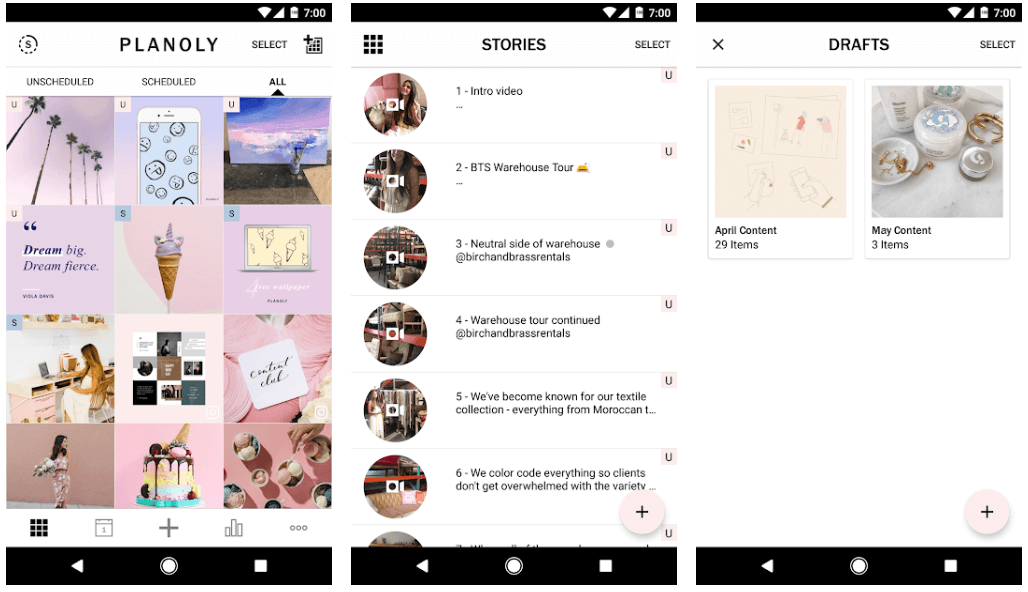 If you are looking for an excellent visual planner for Instagram, then there is no better option than Planoly. You can use this marketing app to preview your post before posting them on your account. 
Using this app, you can also get a brief idea about the engagement rate of your post. You can use it to create a secure and cohesive Instagram feeds and style for your brand. 
Its free plan allows you to upload 30 pictures and can connect with a single account at a time. If you wish to post more pictures and connect multiple accounts, it's premium membership starts at $7 per month. 
5. Mention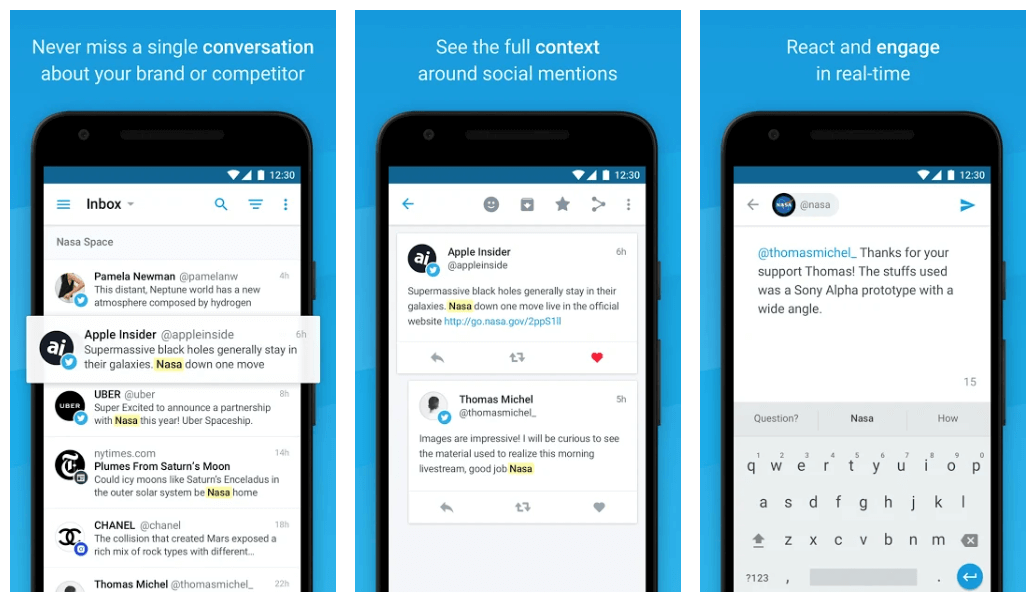 Follow multiple brand mentions using this marketing app For Business. In simple words, it means that an alert notification will be sent to you each time your keywords are used in various articles, blogs and posts. 
This data can help you capitalize on various business opportunities in a much better way. Its basic plan starts at $29 per month and supports up to 3000 mentions and 2 basic alerts. 
Read More: Top Positive And Negative Effects Of Social Media
6. Tweetbot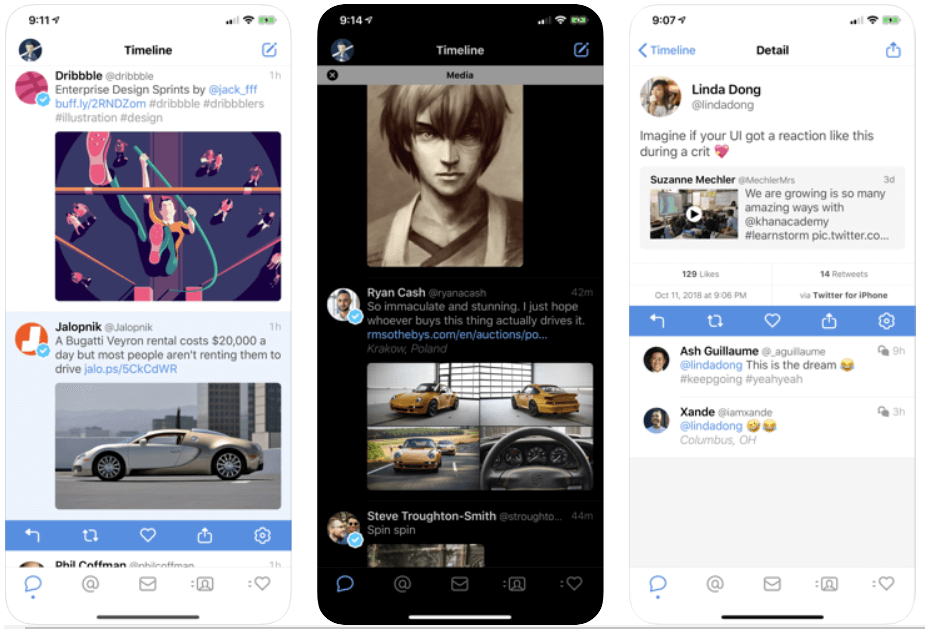 Tweetbot is one of the most popular and widely used Twitter Management apps. You can use it to organize your Twitter stream effectively. Lists and channels are two different methods in which you can organize your stream. 
Additionally, you can also use it to tweet and repost content directly from the application at an affordable price of $4.99 its a good pick for growing business. 
7. IFTTT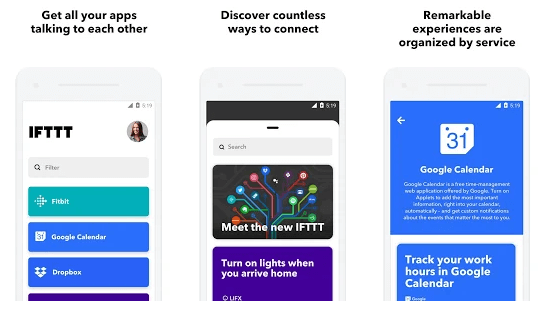 IFTTT is a collection of applets "tiny application designed to perform small functions". These applets help in the proper working of your device along with the various apps. 
This stunning tool can be used in multiple ways to back your marketing strategy. With Instagram marketing IFTTT applets, you can share your Instagram pictures on your Twitter account. 
Moreover, it also allows you to sync your Insta Account with other social media accounts like Pinterest, Facebook etc. 
8. Grammarly Keyboard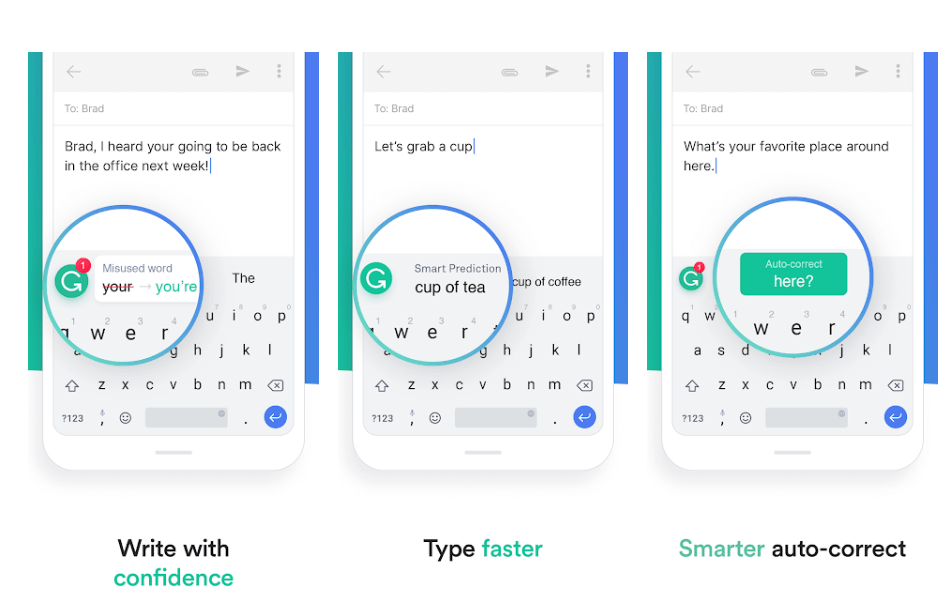 While posting your product information on social media, we need to ensure that we avoid embarrassing mistakes. To take care of such errors, there is Grammarly Keyboard. 
This Marketing App For Business helps you correct all grammatical mistakes, misspellings and punctuation errors in your content. 
It is fully compatible with your smartphone and is free of cost. 
9. Facebook Pages Manager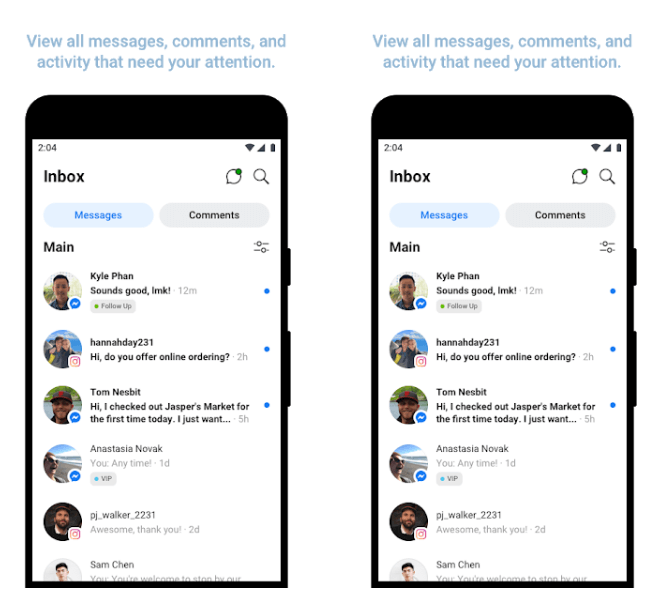 Are you using your Facebook page to enhance your business and increase your clientele? If yes, then Facebook Pages Manager is a must-have marketing app for you. 
It offers an effective way to manage your Facebook page and connect with your targeted audiences.
10. Facebook Ads Manager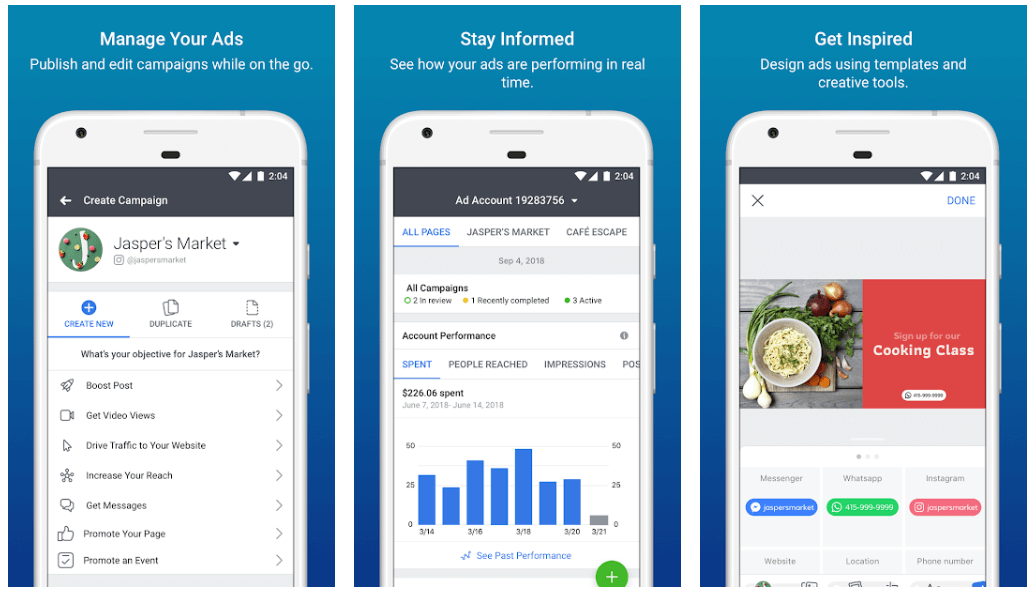 If you are using Instagram and Facebook advertising campaigns for your business promotion activities, then there is no better marketing app than Facebook Ads Manager. 
It is an indispensable tool that helps you stay on the top, manage your business feeds and keep track of the results.
11. Youtube Studio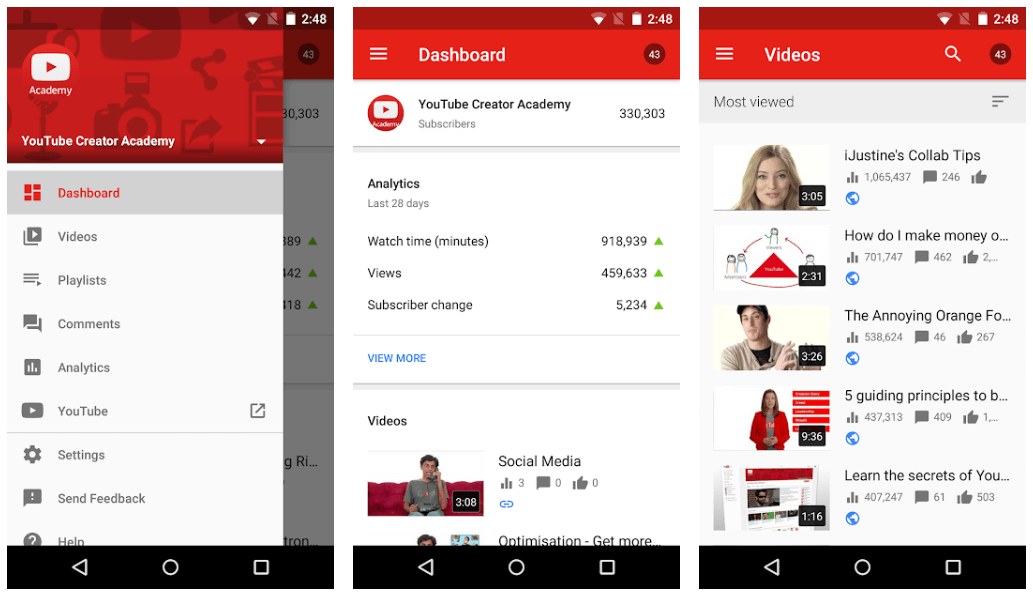 Manage your brand account with this stunning influencer app. Use it to reply to customer queries, update new videos of your product features, manage playlist, track Youtube analytics and much more. 
Must Read: 13 Best Educational Apps For Android Smartphones 2019
12. Google Analytics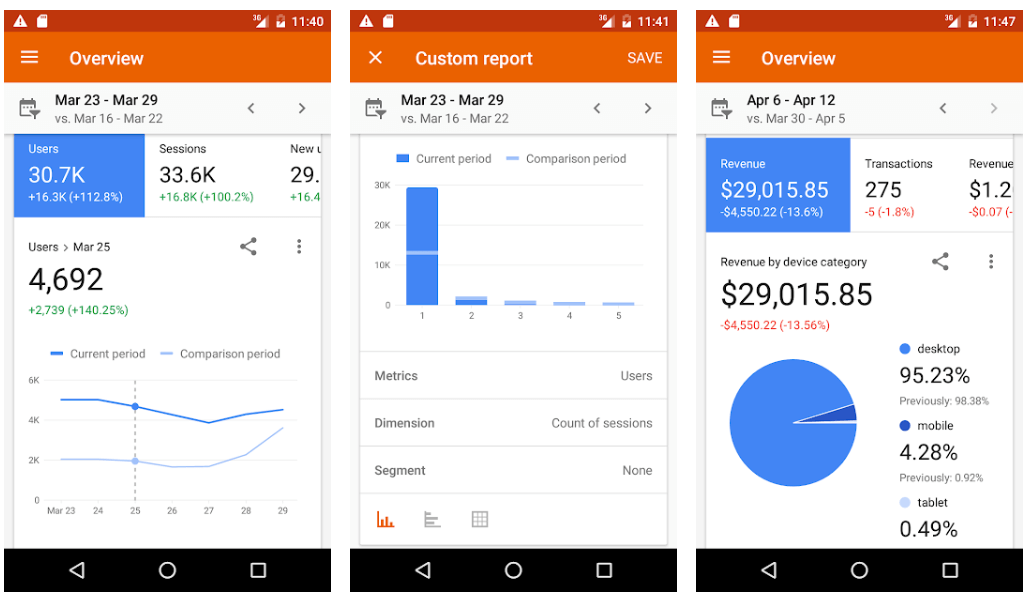 Google Analytics is a universal app for marketing which allows you to track and monitor your business matrix. 
It helps you analyze your business activities in a simple graphical manner, prefect to check your website traffic and impact of marketing campaigns. 
13. WordPress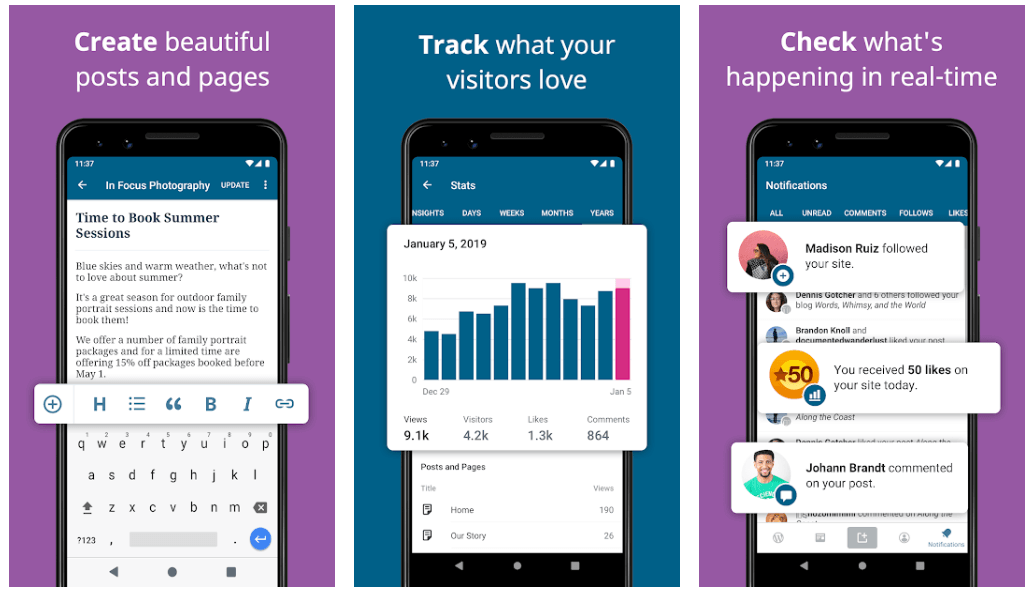 Another impressive App For Marketing is WordPress, which lets you manage your website content cleanly and conveniently. 
Use it to create and publish posts, view analytics, and moderate comments. 
So, these are some of the best Marketing apps that can give your business the required push. Pick one to manage your social media accounts, create and post business content, grow your followings, create product awareness and develop your brand. 
Prachi Dani is a technical content writer who specializes in areas of science and technology. She is highly up to date with technological transitions and transformations. Writing is not her passion but the only thing that carries satisfaction in life. If not writing, you may find her engrossed playing action games on her treasured smartphone.
Subscribe to Our
Newsletter

and stay informed

Keep yourself updated with the latest technology and trends with TechPout.
Related Posts