10 Best Note Taking Apps for Android Smartphones in 2021

Now that we have smartphones meeting our standards of practicality, not acknowledging the way it has become so easy to make notes and create lists. With a variety of note taking apps, we cannot help but admit that excelling at productivity and daily chores does not have to wait while you search for a notepad and a pen. We have collected the 10 best note taking apps for Android smartphones that answer your search for the easiest way out to creating notes. 
List of Best Note Taking Apps For Android
Whether it is a spontaneous idea or an important checklist, there are wonderful note-taking apps to cut off any restriction of noting things down with an accent of organization, writing and security. So, here are 10 note taking apps for you to pick your best one. 
1. Microsoft OneNote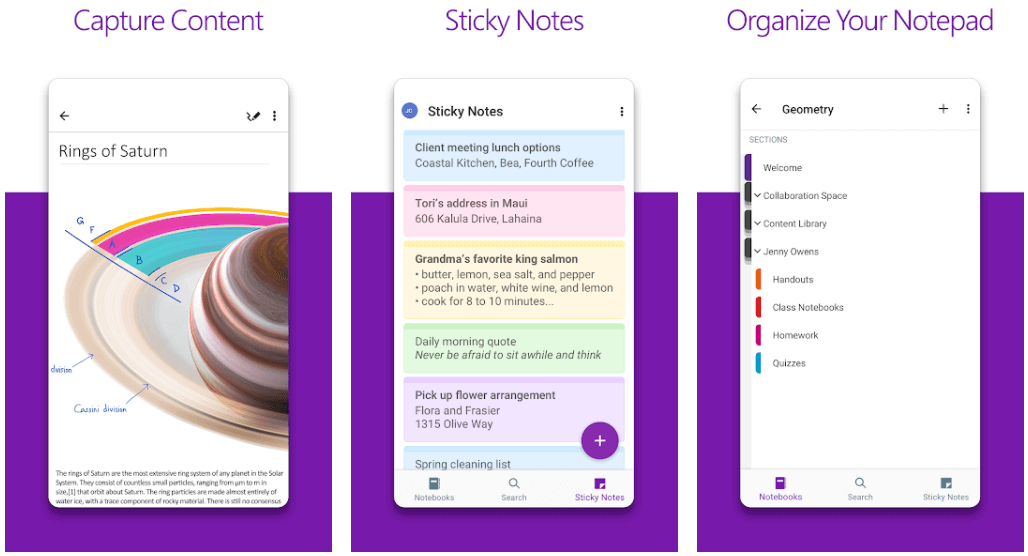 Microsoft has pioneered a great deal of productivity apps for a long time and thus, we could not help but name OneNote in the list of best note taking apps for android smartphones. This app is popular as well as a carrier of important features that give you a hand in getting started. Whether it is an Excel sheet you want to put here or add a captured text, OneNote makes sure you have things under control.
Read Also: Best GPS Tracking Apps for Android & iPhone
This app brings you the ability to handwrite your notes. Besides, you are allowed to make things look enhanced by adding clips and drawing. When it comes to the organisation part, OneNote offers you to manage your notes with tags, labels and jot down your to-do lists. If something's important, you can simply shift it to that category in this app. Apart from that, this amazing app lets you collaborate and allows others to make follow-ups and comment on your notes. You can, without a second-thought, give this multi-platform tool a try.
Download App: Android
---
2. Evernote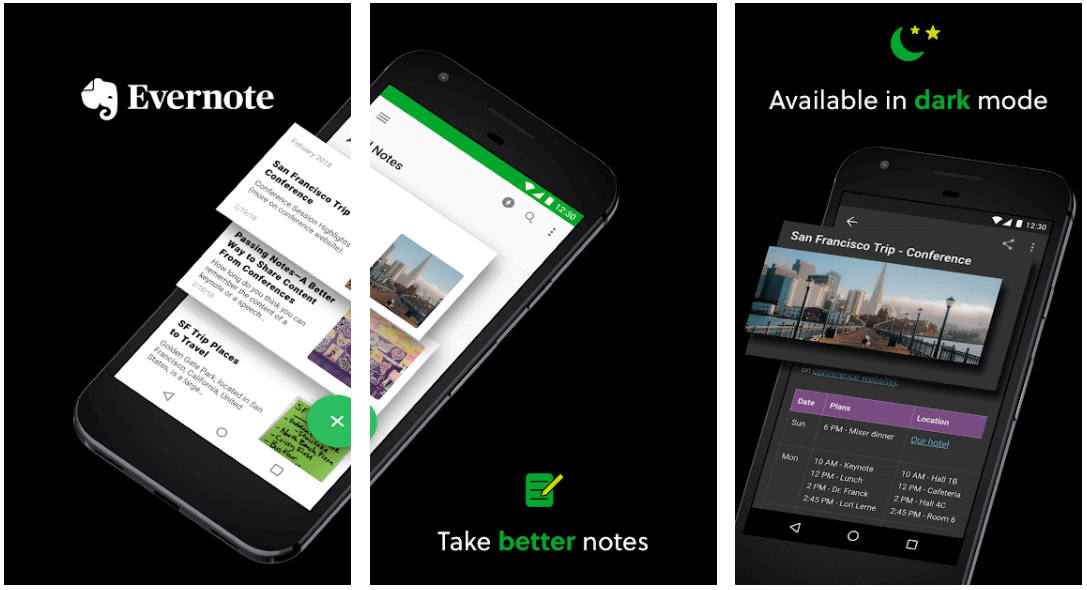 When it comes to user-friendly interface and extensive features to compose notes, we make sure you get a hunch about Evernote. One of the most preferred and best note taking apps, Evernote brings you the freedom to type or handwrite the words and keep the management of those digital piles in check. This wonderful productivity app allows you to make notes through typing as well as handwriting and also gives you the privilege of ensuring your to-do lists.
You get to scan your documents with the help of your mobile camera in this app. Whenever you want, you can easily tap into its features of adding media such as photos, audio, video and PDFs alongside the clips. Then there's a function for you to collaborate with others as well as sync your notes across multiple devices using its cloud integration. While exploring the best note taking apps for Android smartphone, you can definitely check in here.
Download App: Android
---
3. Material Notes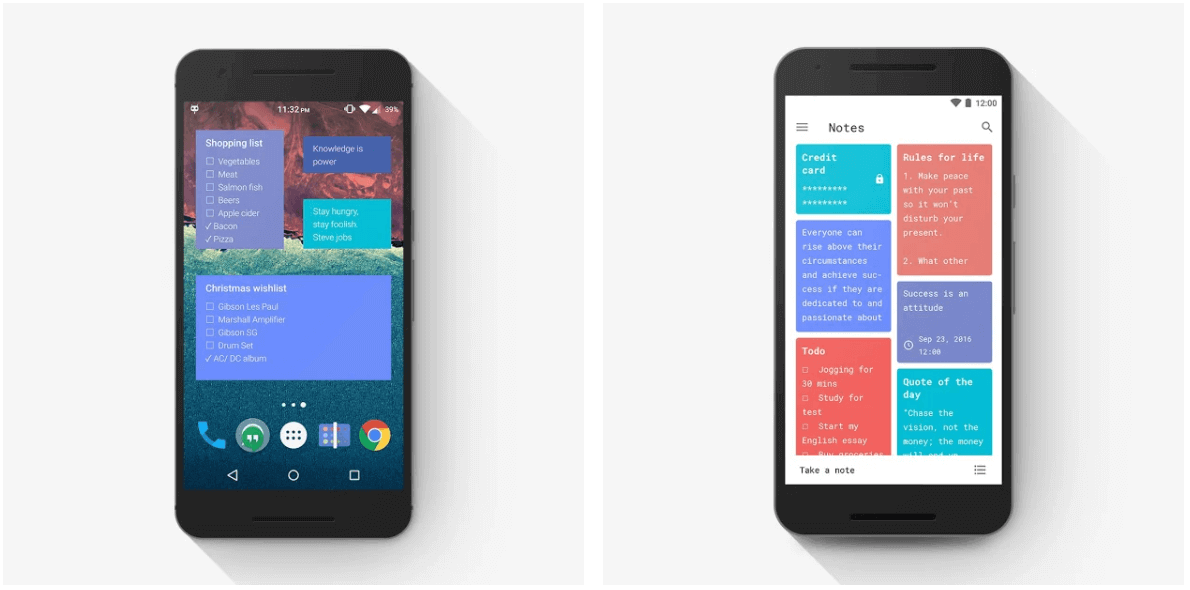 Take a moment to tap in here if you are into organising your content with colour codes and keep up with an attractive appearance. Materials notes, yet another best note taking app, is a tool worth trying if you love an interface with an approach of card-style and find colour-coding your notes to be a perfect way to fetch them easily. You can conveniently create to-do lists and mark notes that are important to you with an option of star. These notes, then, save themselves in a category of urgent content.
Another useful feature in this app is that it allows you to find your notes here with its search function and you can set a four-digit pin for your notes in order to secure them and make sure your important documents don't get passed on to anywhere. You can quickly access your notes by creating and keeping widgets on your phone's home screen. This best free note taking app is something you wouldn't want to miss, thanks to the number of functions it knocks in with.
Download App: Android
---
4. Simplenote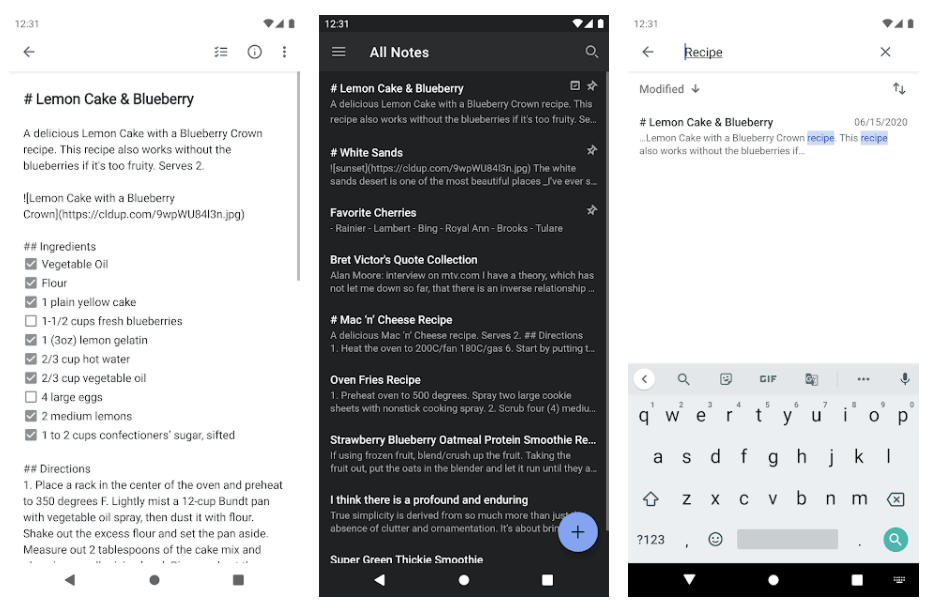 Simple Note is yet another best note taking app with loads of features that boost ease into productivity. This note taking app is best used for its quick and easy functionality that helps you jot down your to-do lists and compose the important notes on it. The interface in this app is pretty straightforward and won't consume your time. In the time of urgency of any spontaneous ideas, you can kick-open Simple Note and put them there.
Read More: Best Boomerang Alternatives Video App by Instagram
To avoid unnecessary clutter,  you can simply use its function of organising your notes. It allows you to manage your notes with pins and tags which makes it easy for you to access them conveniently in future. With Cloud integration, you can open the notes across other devices. This easy-to-use note taking app may be useful to you for its go-get-it functionality.
Download App: Android
---
5. D Notes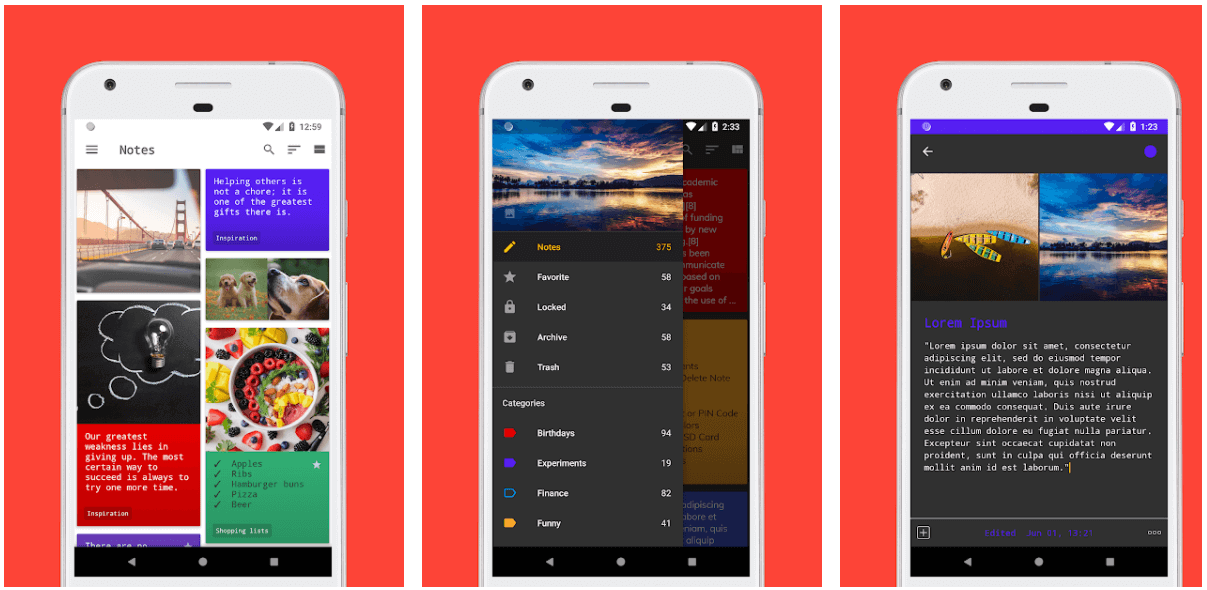 If you are still searching for the best note taking apps, we have got D Notes for you. This app has a beautiful material design interface and does not ask you to sign into account to get started. It allows you to create notes and write down your lists of tasks and ideas in the easiest way possible. Besides, it has an important feature to let you organise your notes by adding categories.
You get to save your time in accessing your important notes as this app has a search function letting you get to any note quickly. You can easily share your notes and even secure them by adding a fingerprint lock. What makes this D Notes worth using is its ability to let you set your notes in different themes and colors. The Google Now integration makes things easier where you have to say "Take a note" in order to start typing. There's no face-off with ads and the custom options are there to keep things interesting and easy which is why you can give D Notes a try.
Download App: Android
---
6. BlackNote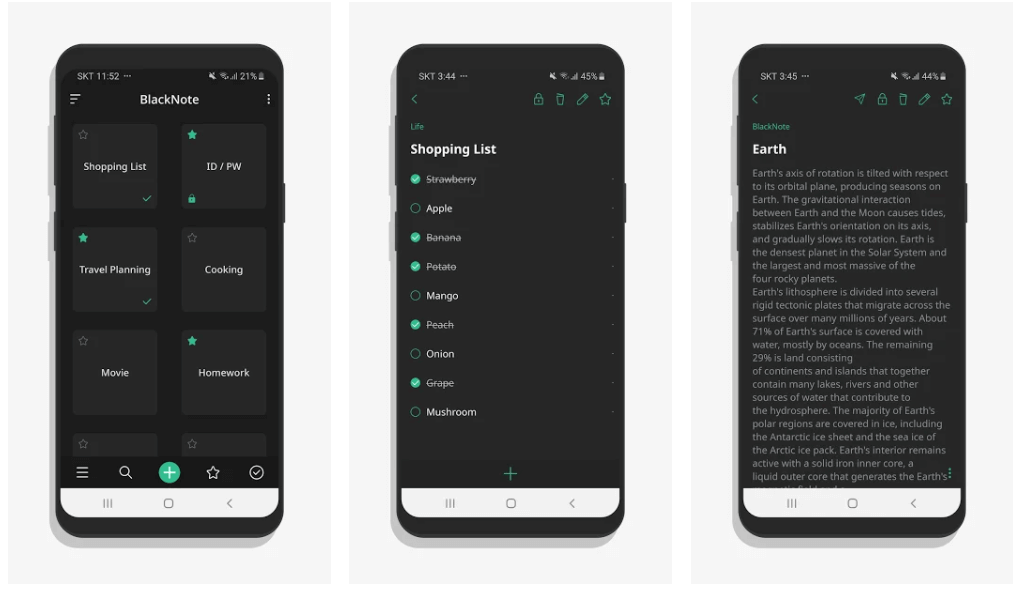 BlackNote is yet another simple and straightforward note taking app for your smartphone and it brings you all the useful features to help you easily make notes of your shopping lists, random ideas, to-do lists and more. It features widget options to make accessibility smooth and has an easy-to-use interface, making the usage as effective as possible. 
If you cannot spend extra minutes scrolling through the entire list to find any specific note, you can simply search it on this app. Besides, you can simply favorite and set apart the notes that count as important ones to you. With a wonderful function to help you lock the notes, BlackNote makes one strong note taking app for your smartphone. 
Download App: Android
---
7. Google Keep
While looking at the best note taking apps, it is impossible to acknowledge how Google Keep manages to fulfill your requirements for making notes. Whether it is composing any important paragraph or writing down lists, Google Keep makes sure you make the best of your notes with a finish of images and audio. 
If you are not in the mood to type, you can simply record memos to transcribe in this app. Moreover, you can use your phone's camera to easily scan the receipts, handwritten notes, invoices etc. in this app. This productivity tool can be used in groups with its feature to share notes as well as collaborate with others. With another handy feature of labeling important notes with colors, Google Keep is a solid option for you. 
Download App: Android
---
8. Keep My Notes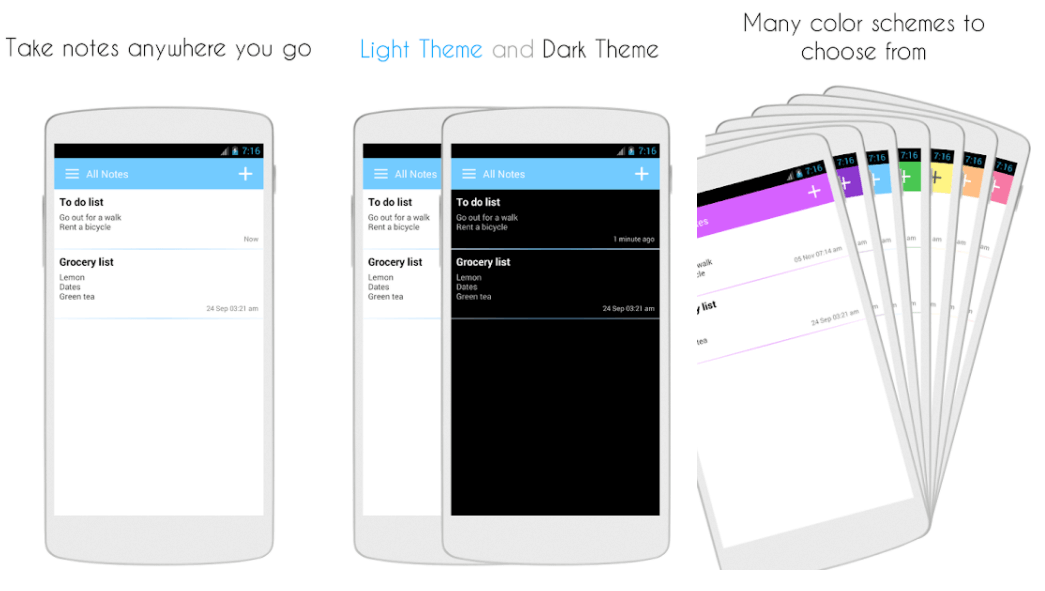 Offering clean interface and neat functions, Keep My Notes is another note taking app on this list to consider for easing your habit of writing notes and making lists. This app allows you to handwrite your notes and even use the text-to-speech features built in this app. If you are into being reminded by sticky notes, this app makes sure you are able to stick notes on your home screen.
Read More: Best Notification Apps For Android Smartphone
Apart from that, this app brings you the ability to share your notes on other apps and you get the privilege of securing your documents with its password-protection feature. You can also switch between the light and dark modes in this app according to your preferences. Your notes are backed up to the cloud which makes things more handy. 
Download App: Android
---
9. FairNote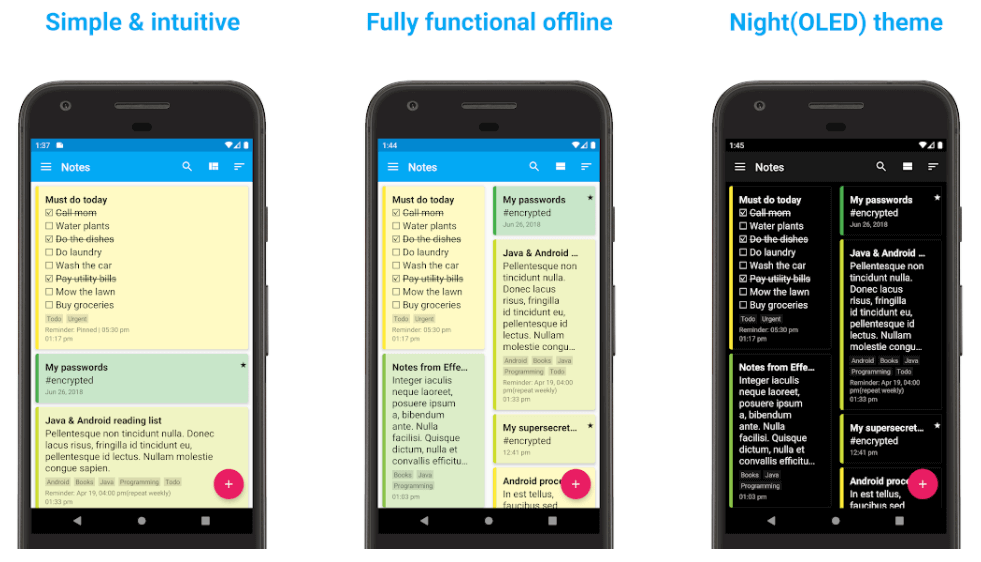 If you are more into keeping your notes safe and secure then FairNote is a must-try app for you. It features note encryption and uses AES-256 encryption to let you ensure the safety of everything you note here. FairNote brings a collection of all the necessary features you want.
This app comes with material design and uses a neat and simple interface. Apart from that, another important feature in this app is that you can tag your notes based on their importance. The free version brings you most of the important features and for more advanced ones, you can tap into the pro one.
Download App: Android
---
10. ColorNote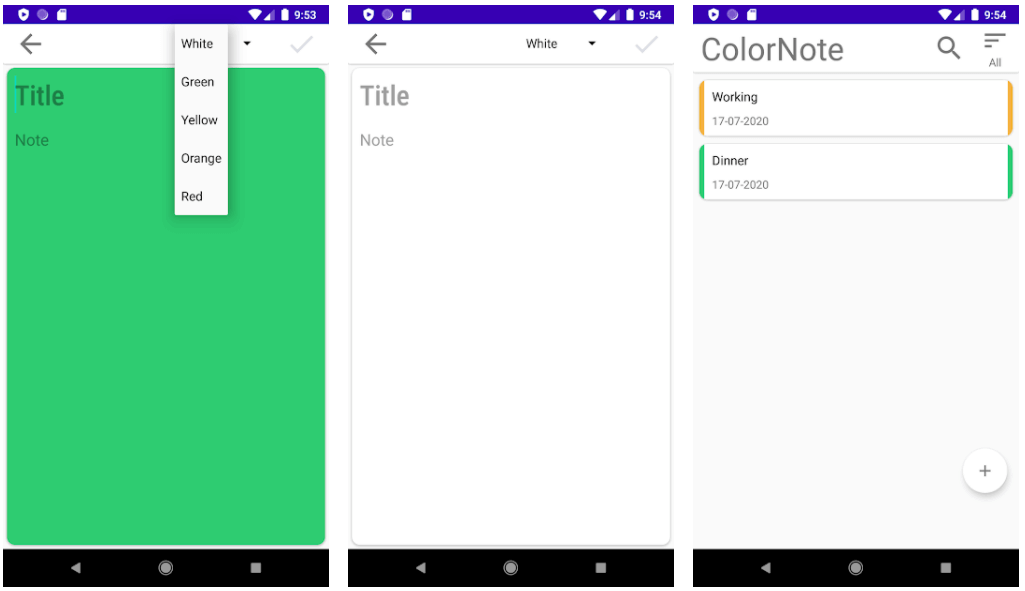 ColorNote may be the last one on this list but it is feature-packed and certainly fulfills your need to easily create notes and lists. This app features various themes for you to configure according to your taste. Your notes automatically get saved once you finish writing them. 
This app has another important feature to let you password-protect your notes. Apart from that, it brings features like memo widgets, organizing notes with calendar view etc. You can sync your notes and get them backed up online by creating an account on this app. If you are into highlighting your notes with color codes and want an ease of sharing them, you can definitely use the ColorNote app. 
Download App: Android
---
Find the Perfect Note Taking App for Your Smartphone
Creating a quick grocery shopping list and noting down the ideas that hit at the most abrupt hour of the day has become a lot easier with these note taking apps. Besides, a good amount of time is saved from easy searching with their help. Let's hope this article has helped you find the best note taking app for your smartphone. Don't forget to tell us your favorite one in the comment box.
Jyotsana is a technical writer with a non-technical background. An eye of detail and a knack for writing helps her to write technology related content.Apart from writing, she is a coffee connoisseur and an aesthete who rejoices in poetry and music during leisure.
Subscribe to Our
Newsletter

and stay informed

Keep yourself updated with the latest technology and trends with TechPout.
Related Posts