Music has divine healing power, and there is no denial of this fact. Just listening to some good music and singing along with the piece can take away any pain. Know the exact wordings of your song with the best lyrics app. 
Smartphones have brought everything to our doorsteps. From ordering food to online shopping and from listening to music to watching movies, we have almost everything at our fingertips now. 
Digitization has replaced several essential things of our life, including old fashioned music systems and radios. Nowadays, you can not only enjoy your favorite piece of music but also check its lyrics. 
Several apps can support song lyrics on your smartphone. So here, we have our list of 13 best lyrics app for iPhone and Android devices. 
Humming your favorite song with lyrics is exceptionally easy with these apps for lyrics. Find the best-suited app for yourself and get started.
Best Lyrics Apps For Android & iOS:
Here we have compiled an extensive list of some of the best lyrics apps that are known to provide amazing lyrics services. So, let's straightways dive in and learn about these incredible lyrics apps for musicians and singers along with their functionalities and benefits. 
1. Lyrics Mania – Music Player
If you want an instant connection with your song, then Lyrics Mania is specially made for you. It is one of the best lyrics finder apps and is quite similar to Musixmatch. 
Lyrics Mania has got everything that you might wish to have in an application. Music ID recognition and automatic words grabbing are two highlight features of it.
It also comes with a Postcard feature that allows users' to add songs lyrics quotes to their pictures. 
Highlight Features:
It can be easily integrated with external devices. 
It has an extensive lyrics database.
It can effortlessly support Music ID.
Lyrics Mania can support real-time lyrics.
Read More: 10 Best Free Music Making Apps to Make Your Own Music
2. Shazam
Next on our list of top lyrics app for android free download 2019 is Shazam. It is used worldwide by millions of music lovers and singers.  
With a single tap, you can get the full wording of your song, and it also allows you to search for your music piece with its title and artist name.
Main Benefits:
It can identify music within seconds and offers lyrics app offline. 
Shazam can be synced with various devices without any hassle.
You can also use it to add music to your Spotify account.
3. MusixMatch Lyrics
Musixmatch offers the most straightforward way of finding the lyrics of your music. It comes with an extensive database that houses the words of millions of songs.
Musixmatch comes with smooth functionality and can be synced with various music platforms like Pandora, Spotify, youtube, and many others. 
It has a convenient and clean interface and supports floating lyrics for users' convenience. 
Translate the lyrics in real-time and create your personalized quotes with this incredible lyrics app. 
Notable Offerings:
It can quickly translate the language for song lyrics.
Integrate it effortlessly with your music platforms like Spotify, Youtube, etc.
It can also provide real-time notifications.
4. Camena – Song Lyrics
Another best lyrics app that can offer you to see the lyrics of different songs is Camena. It works on a swipe mechanism. It has left swipe to access another song, while with a right swipe, you can see the list of upcoming events, artists' bio, and other useful details. 
See your favorite music piece with this multi-functional tool and share them on social media platforms like Facebook, Email, Twitter.
5. Genius – Song Lyrics & More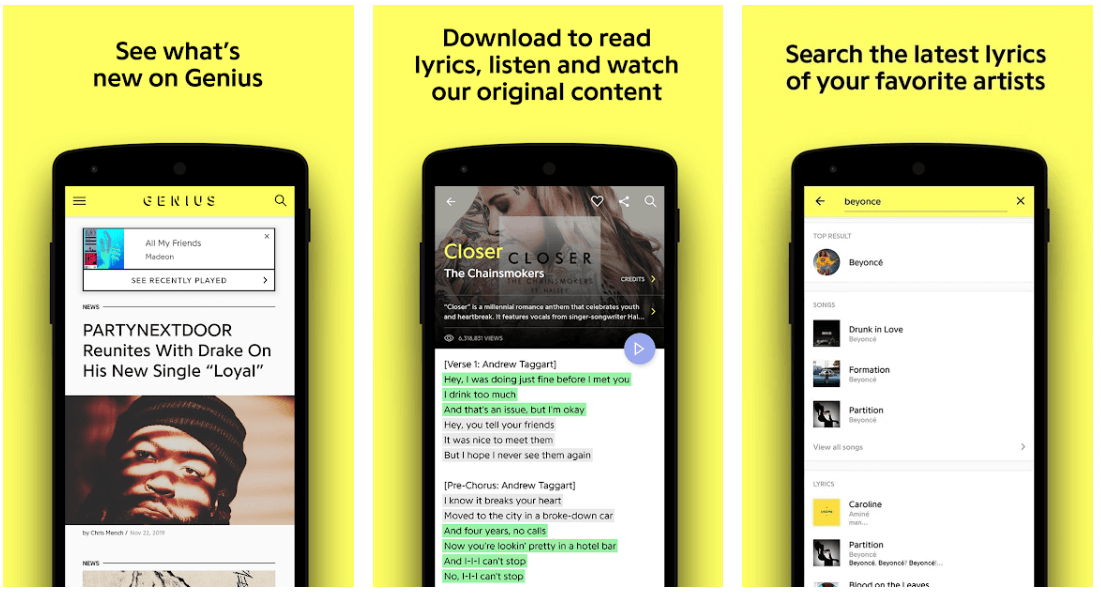 Genius is a blessing for music lovers. With its outstanding features, it deserves a sure shot position on the list of best apps for lyrics. 
It is compatible with most music players and has a massive list of offerings which includes: 
An extensive list of close to 1.7 million songs.
It can be easily integrated with all external devices.
It hosts verified content from various producers and artists.
Properly placed lyrics of all songs.
6. Lyrics Grabber
Lyrics Grabber is known for its simplicity and high-end offerings. It is considered one of the most dedicated and focused apps which avoid messing up with varied functionalities. 
Unlike any other lyrics app, it only focuses on doing its intended job quickly and correctly, which means easy navigation. 
Lightweight tool
It supports offline lyrics.
Clean and user-friendly interface.
It can automatically download the lyrics of various songs for you. 
7. Quick Lyrics
The overall functionality of this app is perfectly in line with its name. It is because Quick Lyrics display the lyrics as soon as you play any song and also works well in an offline mode.
You can use it to search for lyrics in 12 different languages and display them in a floating window. For those who do not like the floating display can opt for its split-window display feature.
Enjoy your favorite song with this best lyrics app for Android. 
8. Lyrics Library
Search and grab the lyrics of your most loved music piece with this one-stop destination. You can also use it to write, edit, save, read, and share the song words. 
Lyrics Library can seamlessly add music chords over the song lyrics.
It also gives you the break up of your song. 
You can organize the songs in various folders, depending on the type of lyrics.
9. Lyricsmint – Hindi Songs Lyrics
Browse the lyrics of various songs with this top app for lyrics. Besides the latest Bollywood songs, you can also use it for not so popular album tracks. 
Lyricsmint support fuzzy search, which means it can neglect all spelling mistakes while looking for your song's lyrics. It is an easy to use application.
Read More: 7 Best Websites to Watch Tv Show Online Free
10. ALSong – Music Player & Lyrics
Next in our list of apps for lyrics is ALSong. With this incredible software, you can easily sync lyrics that gets displayed even on a locked screen. 
It supports multiple files and its extensive dictionary of songs keeps getting updated regularly. AlSongs also support floating lyrics and notification window controls. 
11. My Lyric Book
If you are looking for the best lyrics app for iPhone, then look no further, My Lyric Book is the one made specifically for you. With it, you can upload, edit, and save the lyrics of various songs. The only drawback of this incredible app is, it can only show the lyrics of songs that you have already uploaded in the past as it does not include any words. 
It is the best lyrics app for musicians and singers. 
12. Lyrical.ly
Powered by Lyric Wikia, Lyrically comes with an easy to read and clean interface. It works on an effortless mechanism, and whenever you play a song on the external media, the name of the song gets displayed. Also it the lyrics are available; the lyrics button gets highlighted on the main screen. 
A single tap on this button will get the full song wording for you. 
13. Karaoke
Last but not least, on our list of best apps for lyrics is Karaoke. The main aim of this app is to support singers to sing along with the song. It also comes with incredible video and audio effects. 
Users can use it to share live performances and also enjoy the translation of songs in other languages. Pop, Hip-Hop, Latin, French are various music genres supported by Karaoke. 
Final Thoughts
So, there are some of the most incredible and unbeatable lyrics apps for android and iPhones. Refer to our list and thoughtfully pick one for yourself.
Use lyrics apps to get the lyrics and understand the songs for a much better musical experience. 
Image Source: Play Store, App Store
Prachi Dani is a technical content writer who specializes in areas of science and technology. She is highly up to date with technological transitions and transformations. Writing is not her passion but the only thing that carries satisfaction in life. If not writing, you may find her engrossed playing action games on her treasured smartphone.
Subscribe to Our
Newsletter

and stay informed

Keep yourself updated with the latest technology and trends with TechPout.
Related Posts