Top 10 Best Online Shopping Apps For Android & iOS Smartphones in 2020
Long gone (and vanished into thin air) are the days when you had to physically get out of the house, and go to the marketplace or mall to purchase products that ranged from things like a meager toothbrush to clothes, and even a car. 
The birth of online shopping sites definitely was no less than a shining miracle in the garb of a technical but easy-to-use platform. It opened the doorways (the irony!) to enjoy shopping experience in the confines of your own home. Everything can be delivered easily to your doorstep; you just need to ask for it, and it'll be there.
10 Best Shopping Apps You Won't Believe You've Lived Without:
1. Amazon
It would be a crime not include the name Amazon in the list when we are discussing the best shopping apps. Even though it started as an online bookstore, it has moved up the ranks to an indescribable limit of stardom. It is one of the most used and favored mobile shopping apps across the world, and for various good reasons. 
Amazon has grown into a giant juggernaut of e-commerce trading and is growing further ever so faster. 
Everything from A to Z (suggested by the arrow on the logo) can be found on this "megastore" portal. From clothes, beauty products, books to grocery, electrical appliances, and home furnishings, you look for it, and you'll find it. It comes with a user-friendly channel, excellent customer support, free shipping on certain limits, great return and refund policies, and an incredibly fast delivery service. 
Find what you want to purchase either by searching for it in the tab or by uploading a picture of it and in just one click of a button, you can complete your shopping. You can use support service, get a list of more recommendations, and track down your order quite easily as well. 
Other systems like scanning barcodes and images (to compare prices and availability of goods in store) inclusion of GPS (to better the location delivery process), and a great service called Amazon Prime just add on to its supremacy and eminence. 
2. eBay
EBay's slogan, "Connecting Buyers and Sellers Globally," still rings in true after all these years since the online shopping site's inception. 
It lets the users do pretty much everything on its platform, including searching, purchasing, bidding, and selling items. One just needs to be a bit more patient than usual to find stuff at really good prices. 
There are amazing search tools, a number of deals and coupons, and a chance for the users to sell their products on the platform too. 
It doesn't have the charm of an everyday kind of app, but it's always fun to browse, shop, and bid for unique items on eBay.
3. Etsy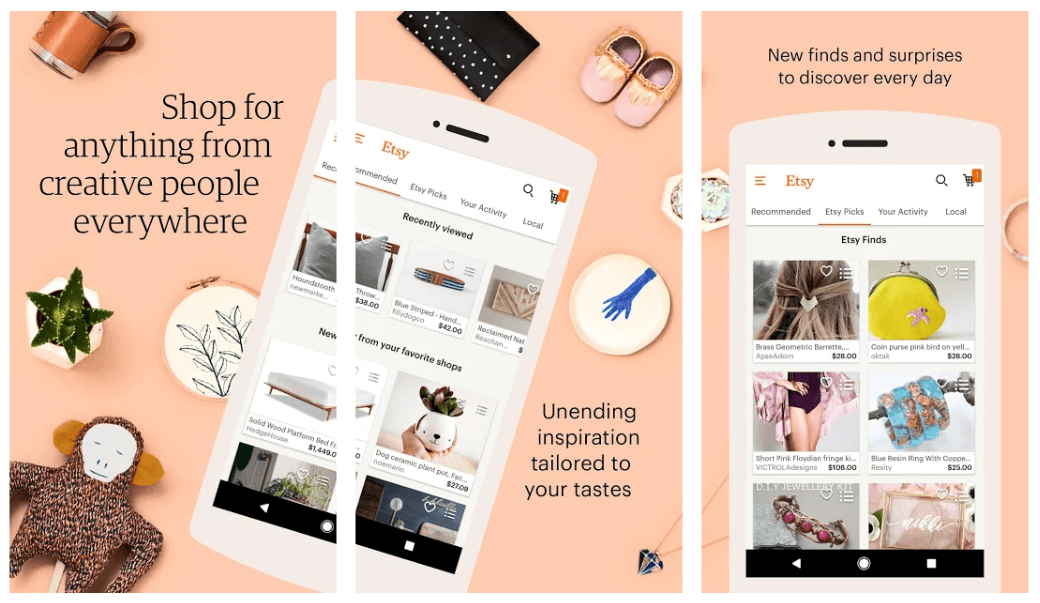 Etsy has been regarded as one of the greatest mobile shopping apps for budding designers and manufacturers in the field of arts and crafts. This is where a person finds her/his calling in creative items like semi-precious stones, vintage or antique articles, quirky pendants, and many other things that you won't find in other mainstream shopping places. 
Various different artists compete with each other through their creative juices. One could even chat directly with the store owners to have something especially made and customized for them. 
The interface is neat, easy-to-use, and very professional for shoppers and entrepreneurs alike.
4. Sephora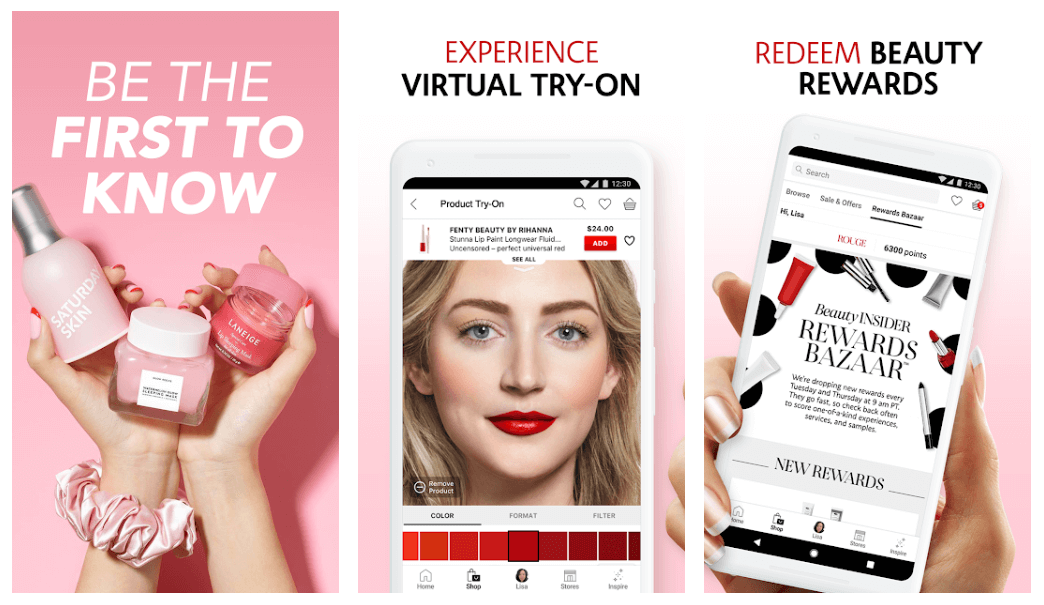 "What and who are we without Sephora in our not-so-happening lives?"
Many few online shopping sites or mobile shopping apps have a range of authentic, interesting, and unique beauty line of products that would sate the wants of young women all over the world.
And that's where a pioneer app called Sephora jumps in to take beauty shopping to the next stage of dimension.
This one-stop-shop for all things beauty is easily available, offers a great deal of new, budget-friendly and high-end, bestselling products (with instructional videos and reviews) that would definitely get you into a happy space of beauty-coma.
5. AliExpress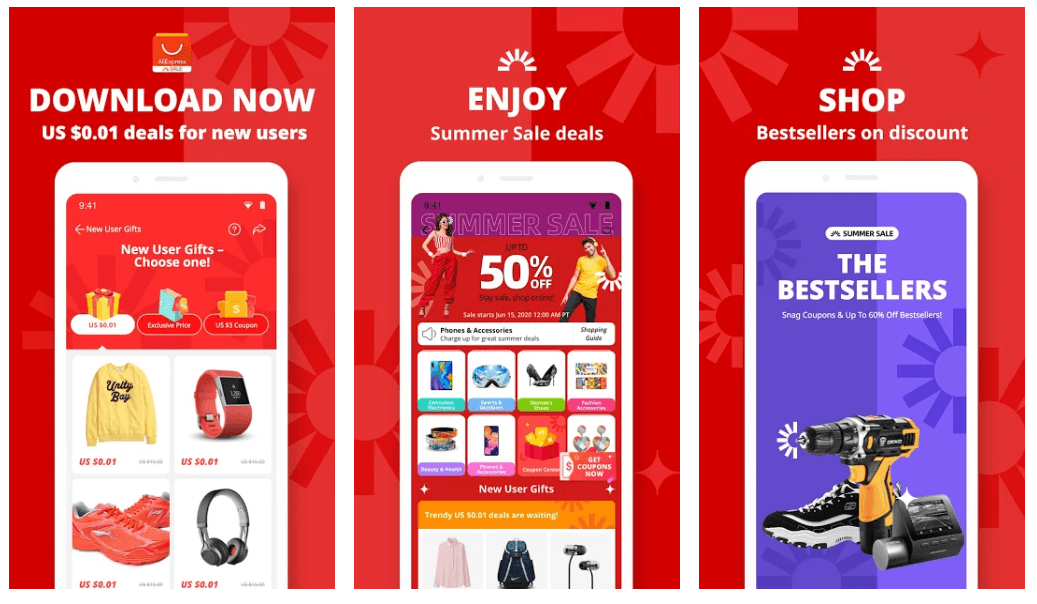 Almost anyone and everyone has heard about, if not used, this China-based online shopping app. 
With raving reviews about the huge collection, very low prices, and a pretty incredible platform for budding businesses, AliExpress seems to have it all. 
During the initial years, it only offered a B2B shopping portal, but now it has expanded into the horizons of B2C and C2C portals as well. It even includes payment services and cloud computing too.
It is also one of the best choices to sell items that other sellers don't offer. 
6. Wish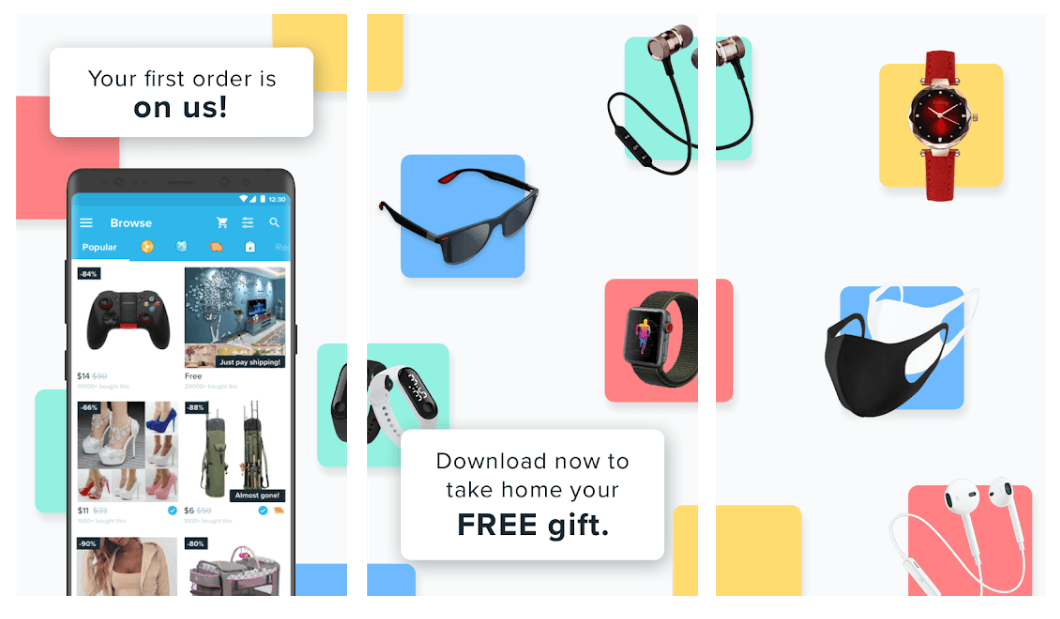 Make a shopping wish, and Wish will make that come true! 
This amazing platform is one of the cheapest online shopping sites for clothes, jewelry, shoes, electronics, and a lot more. 
The ridiculously low prices might give out fear of fake or low-quality products, but there's nothing of that sort. 
Wish sells unbranded items bought directly from the creators and manufacturers, hence they are cheap. And therefore there isn't any issue with their quality. 
With an inventory of more than 200 million products and low prices, Wish is definitely one of the best shopping apps for clothes and other paraphernalia on a budget. 
7. LIKEtoKNOW.it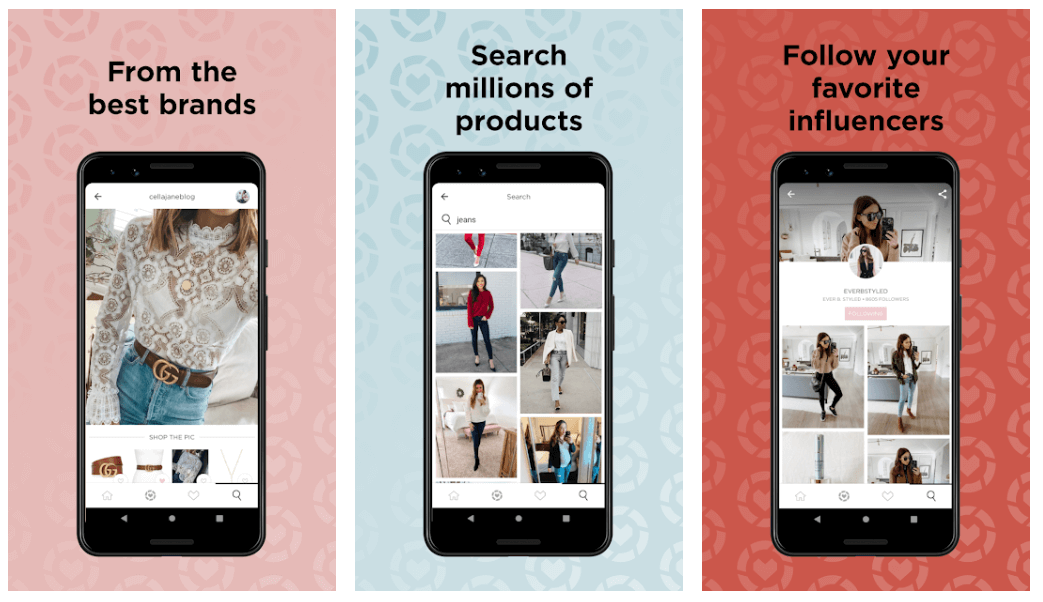 Have you ever experienced those times when you are scrolling through your Instagram feed, you see an outfit that your favorite influencer is wearing, and you just have to have it? 
Yes, me too!
Now here is an app that can actually make that come true.
LIKEtoKNOW.it sends the details of the outfits to your inbox by taking a screenshot. 
It also offers the opportunity to directly shop through its own platform. It does so by creating a 'shoppable' feed from the accounts of the influencers you follow. You can even use the search function to track down particular items. 
8. ASOS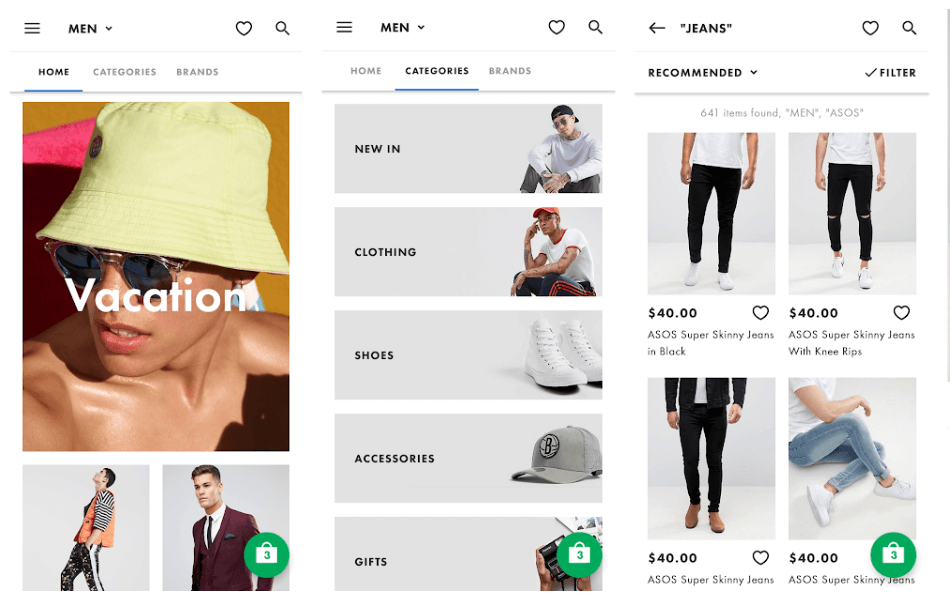 One of the best clothing apps for guys and gals equally. 
Not many clothes shopping apps can claim that, but ASOS is very different from the others. 
This UK mega e-retailer offers a great collection of chic, trendy, stylish, and affordable fashion products. All the outfits you create and buy from this shopping app would completely resonate with your style and the occasion you are dressing up for.
It has a two-day shipping feature with free shipping for orders above $50. 
So go for it, and don't worry about your savings account getting affected while you are online shopping. 
9. Flipp – Weekly Shopping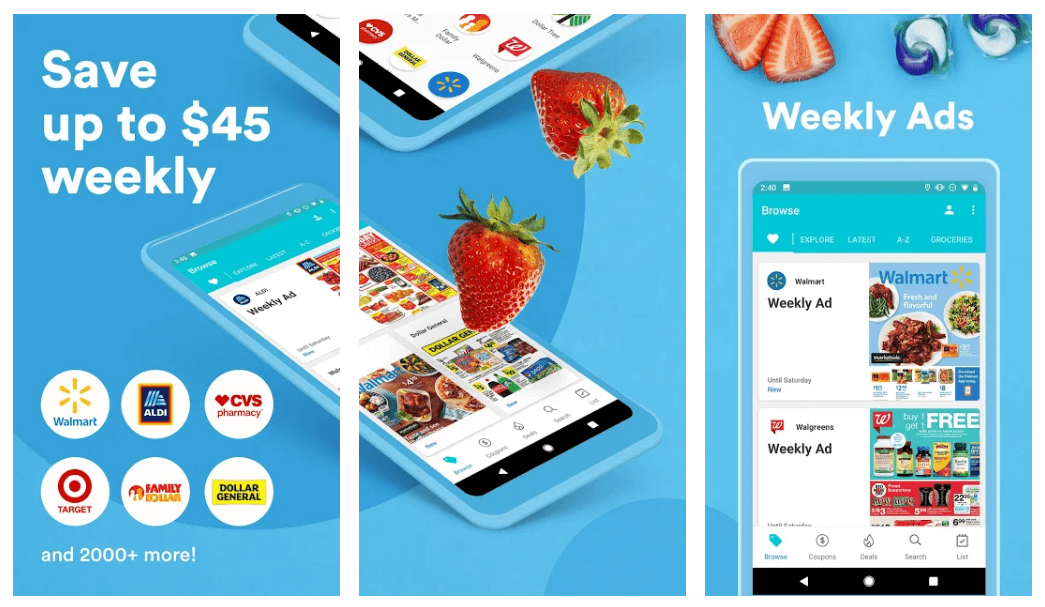 Flipp is one of the best mobile shopping suites for coupon aggregation. It helps you browse shopping ads, build a shopping list, own a loyalty card of coupons, and earn rebate money by just up-loading receipts.
This makes planning out purchases a lot better and a lot more organized. Although it is not exactly online shopping in a wholesome way, you get great offers for your offline shopping but from an online source. So we'll take that.
Counted amongst the list of the best discount shopping apps, Flipp fetches together deals, offers, and coupons from local as well as national chains, and brands at one place making it easier to maximize savings. And all of it is collected from over 2000 favored retailers like Aldi, Target, Walmart, etc.
Budget (grocery) shopping has never been this easy. 
10. Groupon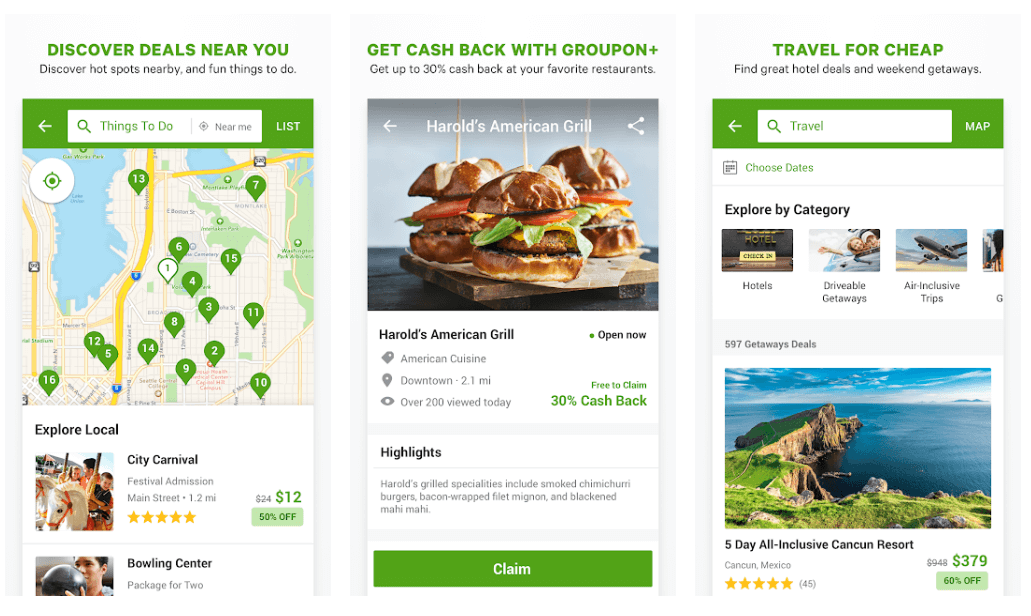 If this isn't one of your most used applications, then what exactly are you doing in your life?
Groupon is a popular deals curating app which provides unbeatable offers and discounts (up to 50% to 70%) for products, local restaurants, spas, tours, etc. This is undoubtedly an awesome way to increase your savings fast. 
It uses group purchasing as its way to generate offers for its users. 
And here we come to an end to this article. Online shopping is one of the greatest vices of every human being in present time. So it is always better to opt for only those mobile shopping apps that make the experience enriched and pleasant. This list would hence surely come very handy.
Now, go and take your pick from them and go on a shopping spree! 
Image source: Play Store
Diksha Lalwani is an aspiring content marketer and a self-declared bibliophile. An English honors graduate, she likes to keep up with the recent happenings around the world and form an opinion. Her interest in anything and everything tech made her follow the path into becoming a technical writer.
Subscribe to Our
Newsletter

and stay informed

Keep yourself updated with the latest technology and trends with TechPout.
Related Posts