Best Free YouTube Thumbnail Maker to Increase CTR in 2023
Published Date :
Dec 15, 2022

This article presents you with a list of the best YouTube thumbnail-maker online for free tools in 2023 to help you increase the CTR and to get more viewers for your videos. 
YouTube is one of the most trusted and widely used video streaming platforms. On this platform, any user from any geographical area can easily record and upload videos from any genre as required. Whether it is the gameplay of any online game or a problem-fixing guide, YoutTube is the best for all. YouTube is one of the first platforms that provide you with videos of all types. You can even listen to music, watch movies, and do a lot more using this streaming platform.
Most YouTubers upload videos to the platform in the hope that viewers will love the content and this will, in turn, result in getting more and more views. However, just having great content in the video is not enough. The YouTube thumbnail that appears on the portal plays a crucial role in attracting viewers. If this thumbnail is well-versed and well-put, it can easily entice a potential viewer to click on the video and offer views.
However, it was not easy to create a video thumbnail previously as the complete procedure was to be done manually, but not anymore. Thanks to some best YouTube thumbnail maker online free tools, you can easily create an enticing thumbnail for your videos. Multiple solutions are available to help you create the thumbnail of your choice. However, all of these may not be as reliable as the best YouTube thumbnail generator tools provided in this list. Let's check them out.
Top 7 Best Free YouTube Thumbnail Maker and Creator in 2023
Here is a list of the best YouTube thumbnail maker and editor tools for creating a baiting and alluring YouTube image or thumbnail for your videos and creations in 2023. Try any or all of these as you may and get the perfect thumbnail to gain more CRT for your video.
1. Canva: Best Thumbnail Maker for YouTube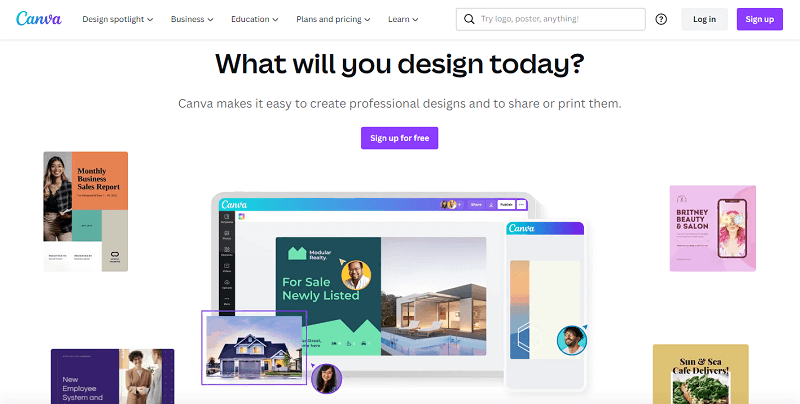 The first name on this list and the best YouTube thumbnail maker in 2023. Canva is one of the best and most commonly used photo editing tools of all time. With the help of this alternative, you can create the perfect thumbnails for your YouTube video using Android, iOS, Mac, and Windows.
Additionally, you can use the website of Canva across all operating systems and use it as an online thumbnail maker. The tool is available for free use. However, if you are a professional or an active creator, then you can also use the PRO version. This unlocks all features of the platform for you.
Also Read: Best Free Video Sharing Sites Like YouTube
---
2. Adobe Express: Generator of YouTube Thumbnail with Template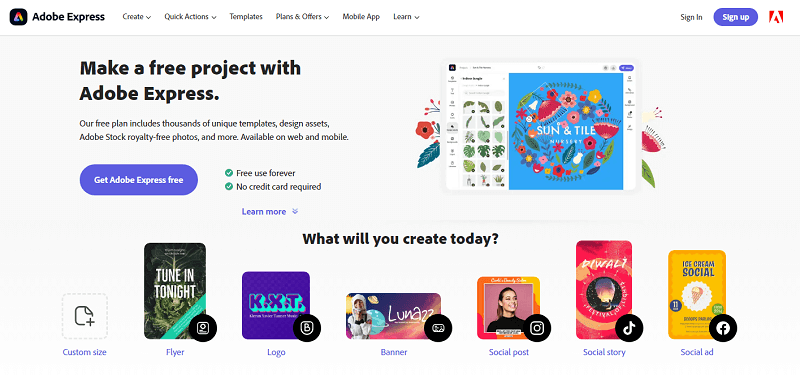 If you want to use the free YouTube thumbnail maker online, then you can try Adobe Express. This is a reliable solution that allows you to surf from a list of templates to create the desired thumbnail. Although the solutions from Adobe are generally prickly, Adobe Express on the other hand is entirely free to use for all users and creators around the globe.
All you need to do is log in to this best YouTube thumbnail generator and use it. However, this login feature is quite beneficial for you. This will allow you to store all the creations under one profile and use them as and when required. Additionally, apart from the online solution, you can also download the app on Windows, iOS, and Android devices.
---
3. PicMaker: The Best Thumbnail Maker for YouTube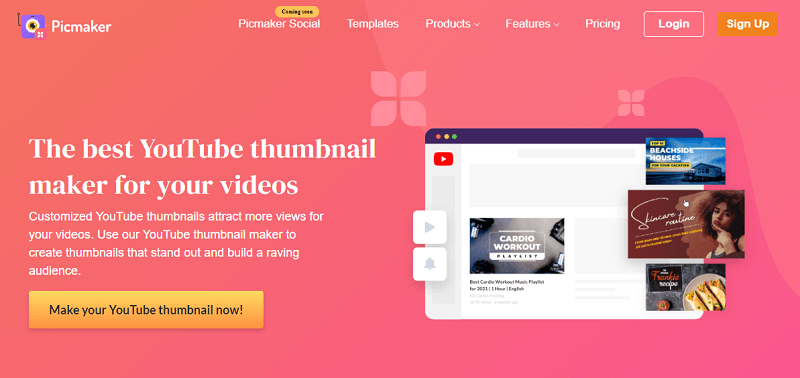 PicMaker is another one of the most popular image editing tools. You can also use this platform as a free thumbnail maker. PicMaker contains various thumbnails for you as well. You can sort these templates and designs according to your preference and the content of the video. This way, you can easily create a thumbnail that will allow you to attract the attention of all users.
With the help of this editor and the best YouTube thumbnail maker, you can easily create thumbnails from scratch. The smart editing options offered by PicMaker will help you get your imagination into reality. Additionally, you can use PicMaker online and do not need to download a standalone tool.
---
4. Fotor: Online Thumbnail Maker for All

The next name on this list of the best free YouTube thumbnail maker is Fotor. Just like any other product on this tool, this platform is also a useful solution for all photo editing needs. Hence, this is a great alternative for all who don't want to spend tons of money on any graphic designing software.
Why Fotor is a well-deserving product on this list; is because this alternative is a friendly solution for beginners and professionals. You can create any YouTube thumbnail using a template and a predefined library. With Fotor, you can remove or add as many objects using the integrated library and create a great picture.
Also Read: Best YouTube to Mp3 Chrome Extensions of All Time
---
5. Visme: A Free Thumbnail Maker for YouTube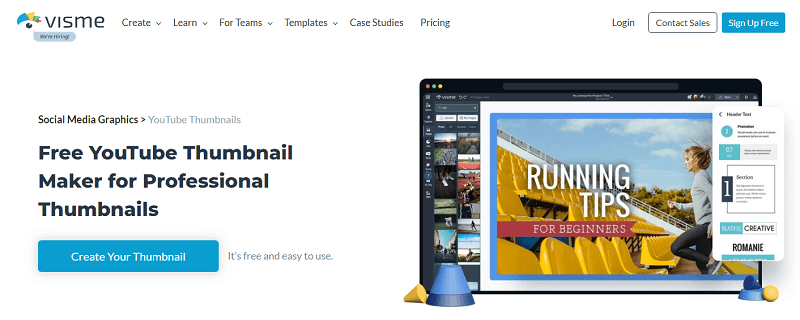 Another one of the best free YouTube thumbnail maker websites in 2023 is Visme. If you are not interested in downloading and using standalone software for your thumbnail requirements, then you should give Visme a chance. The online solution is completely free to use for all. And, you can even create thumbnails without having to worry about watermarks.
The online creator allows access to a plethora of templates. All of these thumbnail templates are highly customizable. Hence, you can add and remove objects from the thumbnails very easily and get the desired outputs quickly. There are multiple font sizes and patterns for you to choose from. Lastly, with Visme, you can download the outputs as JPEG or PNG images and use the same for the YouTube video cover.
---
6. Picsart: YouTube Thumbnail Editor Offering Templates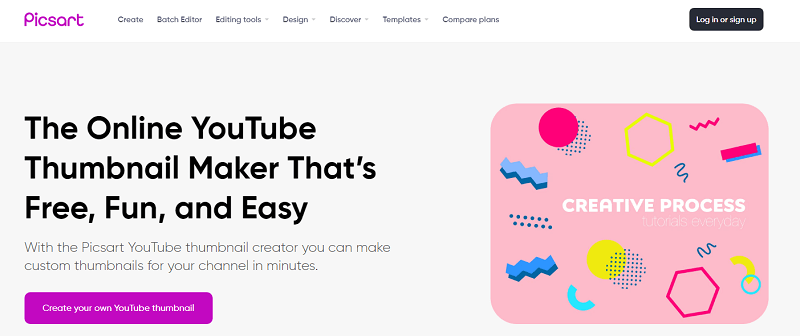 You may already know about Picsart. This is one of the most popular free photo frame apps. Additionally, if you want to blur the background of images, this is the app you can trust. The app is a great solution to edit images, but did you know that Picsart is also a free YouTube thumbnail maker?
Picsart thumbnail maker is a viable solution that allows you to use different templates and create a cover image for your YouTube creations. Additionally, you can also use the platform to generate the thumbnail from scratch. With the help of the covers generated using Picsart, you can easily gain more CTR and viewers for your content. All the outputs from the solutions are clean and watermark-free.
---
7. Renderforest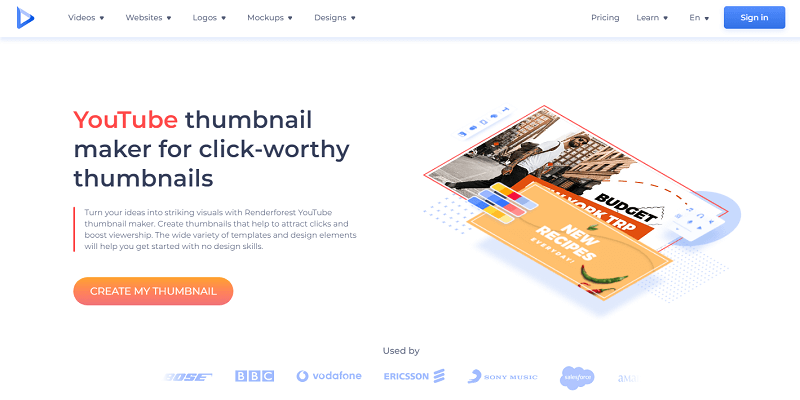 Lastly, we have come to the end of this list of the best free YouTube thumbnail maker. The last name on this list of alternatives is Renderforest. Although conventionally, Renderforest is a video editing tool, it also allows you to access the template library and create your own thumbnails as you want.
This is a great solution to get more and more viewers for your content with increased CRT. Unlike some other online solutions offered in this list, Renderforest offers multiple formats and sizes to download the image. Hence, you can easily extract a high-quality output from Renderforest with ease.
Also Read: Best YTMP3 Alternatives to Convert YouTube Video to MP3
---
Summing Up: Create the Best Thumbnail For Your YouTube Videos with Ease
Here we are concluding the list of ways or online solutions to create YouTube thumbnails. We hope that by using at least one of the software and websites listed above, you were able to create the desired thumbnail for your YouTube video. All of the solutions provided above are completely free to download and/or use. Hence, you don't have to worry about taking a hit on your pocket to use the solutions.
If you are satisfied with the article, do let us know your review of the best YouTube thumbnail maker for free in the comments. You can also tell us which of the solutions you loved the most. Subscribe to the newsletter from our blog and don't ever miss another update from TechPout.
Devesh, being a technical writer, likes to research and write technology articles and solutions to help others. Having great knowledge about the tech world and its working, he likes to pour the same into his write-ups. Before starting any write-up, he likes to pen down his thoughts and flaunt a creative edge in the same. Apart from being a writer, his primary interests include reading books and poems, cooking, and playing video games.
Subscribe to Our
Newsletter

and stay informed

Keep yourself updated with the latest technology and trends with TechPout.
Related Posts