Best Free Stop Motion Software For Mac & Windows in 2023

What is the best free stop motion software for Windows and Mac? If you are curious about the answer, then read this article. Here is everything you need to know about the same. 
Stop-motion animation is a unique technique that entails physical object manipulation in order to make static objects come to life on the screen. Since the first filmmakers required a technique to animate objects on screen, stop-motion has been around for more than a century. And stop-motion animation production has been a difficult process for almost a century.
The use of stop-motion has become more widespread in recent years because of the availability of several video editing packages. Even young children can create their own stop-motion videos using some software. While the animation is widely used, stop-motion animation continues to stand out because of its distinct appeal and the aid of stop-motion software, which makes the creation of stop-motion animation easier.
What Does Stop Motion Animation Mean?
Stop motion, sometimes known as stop frame animation, is a style of animation in which objects are captured moving slightly between each frame, then the entire collection of photographs is merged and played constantly.
You may have heard of the iconic stop-motion animation films Wallace & Gromit, Chicken Run, Shaun the Sheep, and Laika, as well as ParaNorman by Laika and Coraline by Aardman Animations. And to help you create stop motion animation like a pro, this post has compiled the seven best Stop Motion software for Mac and Windows. Let's get started now without further delay!
List of  7 Best Stop Motion Software for Windows and Mac in 2023
Check out the 7 best free stop motion software available for Windows and Mac in 2023. Without further ado, let's get started!
1. DragonFrame

The best stop-motion animation projects are those intended for digital cinema, television broadcasts, and commercials. Dragonframe is a full-featured, professional-like stop-motion program that includes the tools required for the highest quality stop-motion animation creation.
Many useful tools are available when using Dragonframe to record and edit stop-motion animation. It can give animators a video aid to check that their movements, lights, and other elements are correct, but you must have a webcam, camera, or smartphone with Live View functionality. If you're not satisfied with your camera's prior settings, you can change the ISO, exposure, shutter speed, temperature, and other parameters directly from the software. Additionally, the onion skin function allows you to see the transition between various frames in real time.
Key Features of Dragonframe:
Stop-motion video is shot with the use of Live View & onion skin.
Modifying a timeline based on frames. Reshooting frames in middle, retrieving deleted frames, & easily moving frames to any location are all possible.
Chroma keys, sketching tools, playback/looping markers, programmable hotkeys, etc. are all examples of animation tools.
You can get better results by using rotoscope layers.
With the use of MOV, AVI, MP4, and other formats, export stop-motion animation.
Also Read: Best Free Video Merger Software
---
2. Stop Motion Pro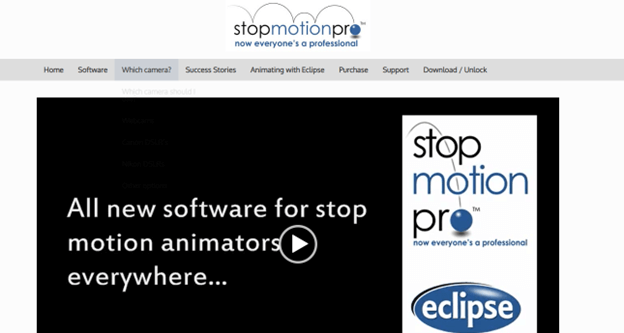 A technology called Stop Motion Pro was developed for stop-motion animation and other kinds of animated films. Stop Motion Pro supports a wide range of cameras, including Canon and Nikon DSLRs, webcams from Microsoft and Logitech, and more. Of course, you can also take the photos you want to animate using supported capture cards, scanners, and video cameras. You can utilize drawing tools to build a variety of special effects or combine numerous soundtracks to give your movie a lively feel thanks to its editing features. This is the best stop motion software for Windows that you can try.
Key Features of Stop Motion Pro:
To help you perfect the movement, onion skinning adds a transparent overlay to your previous frame.
You can quickly and precisely verify your camera's focus with the focus tool.
Amazing rig removal tools can be used to remove cables, supports, and holds.
You may move quickly through your workflow with customizable shortcuts.
---
3. MonkeyJam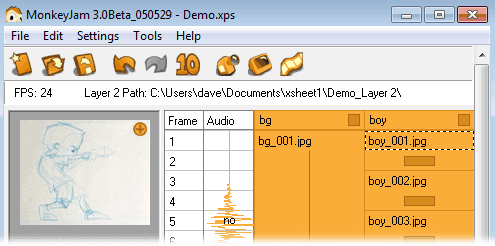 Next on this list of the best free stop motion software for Windows is MonkeyJam which enables you to take still photos apart from your camera & merge them into a one-stop motion movie. You must first launch MonkeyJam, connect a camera via a wire to your Windows PC, and configure the camera and video settings. And you're now prepared to begin filming stop motion. Being absolutely freeware, despite the fact that it lacks onion peel to compare movement changes between two distinct frames, we don't find this limitation to be a deal-breaker.
Key Features of MonkeyJam:
Simple UI that is sheet-driven.
With or without color, images are taken in BMP, lossless PNG or  JPG..
Flexible FPS rate.
Videos in AVI format for export.
Also Read: Best Free Video Stabilization Software for Mac
---
4. iStopMotion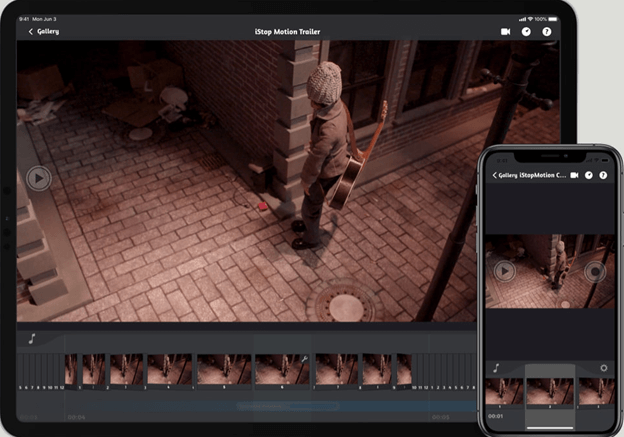 One of the top stop motion software is iStopMotion by Boinx. It strikes the ideal mix between power and usability because it is not overly expensive to operate and necessitates a minimal setup. The ability to use your iPhone or iPod as the camera and your iPad as the controller with iStopMotion allows you to quickly switch from one camera source to another on your iPad and take pictures of items from various perspectives. Because of this, iStopMotion is a great investment. It should be noted that the fact that it is now unavailable on macOS Catalina or later may be a barrier for some. In sum, it is the best stop motion software for Mac that you can use.
Key Features of iStopMotion:
Both time-lapse videos and stop-motion animation are compatible with it.
Compatible with a wide number of cameras, including WiFi cameras, Firewire cameras, Nikon DSLRs, Canon DSLRs, and many more.
You can watch your work at any moment with instant playback.
iMovie and Final Cut Pro X are tightly integrated. Your creations are exportable for further editing in other video editing programs.
---
5. Zu3D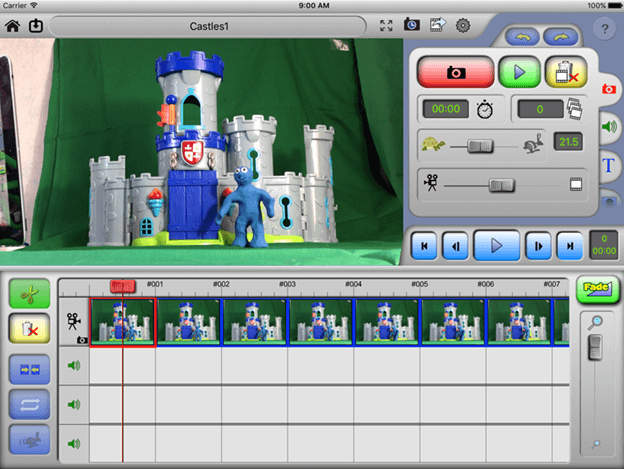 Zu3D is another free stop motion software that you can try. This stop-motion animation program enables you to create stop-motion movies with rather good results. You may use a range of tools to improve your animation in addition to being able to take still pictures of objects. Additionally, it follows a really straightforward operating philosophy, so even if you're a new user, you'll probably feel at home pretty quickly.
Another crucial fact to be aware of is that it can remotely control webcams, smartphones, and tablets to take pictures, which is helpful when you've got a lot going on.
Key Features of Zu3D:
Support an infinite number of audio and video tracks.
Your videos can include text, voice bubbles, and credits.
Use drawing tools to create the lip-syncing effect.
Use the rig-removal tool to remove extra strings, wires, and supports.
Also Read: Best and Free Duplicate Video Finders for Mac
---
6. iKITMovie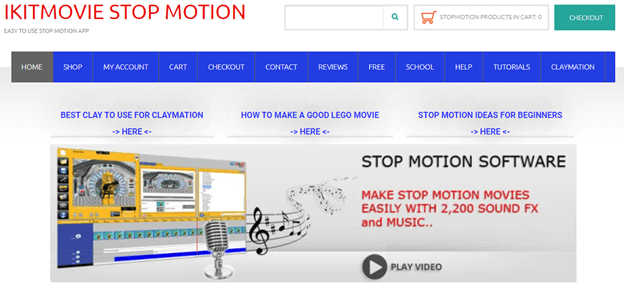 iKitMovie is another best free stop motion software available for Windows and Mac. It offers a robust sound collection with 2200 high-quality sound effects, including clocks, motors, coins, forest ambiances, explosions, and more. In this way, you can completely rely on iKITMovie's built-in sound collection and stop paying for sound effects that are protected by copyright. In iKITMovie, you are naturally permitted to record voice-overs for your animation using a headset or a microphone. iKitMovie is an excellent option if you wish to make your stop-motion Lego claymation project into a hit movie.
Key Features of iKITMovie:
It must have onion skin.
Blue and green screens. It can instantly change your background.
Adds several sound effects & visual elements to improve your stop-frame animation.
Your picture sequences should be exported to the appropriate movie video formats.
---
7. qStopMotion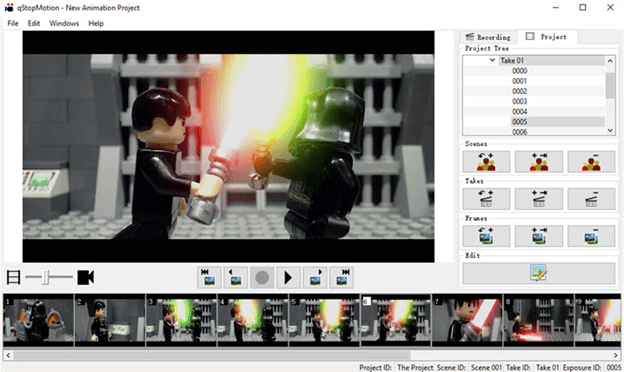 Last but not least, qStopMotion is our last choice for the best stop motion software. Consider a scenario in which you would like to create high-quality stop-motion movies with the aid of some competent stop motion software, but you might not have much money to spend on such software. You are free to go using qStopMotion.
After using this best free stop motion software, you'll discover that it not only matches but even outperforms some more expensive programs in terms of simplicity and adaptability. It is jam-packed with features including camera controls, live view, onion skin, and more.
Key Features of qStopMotion:
By importing pictures from a camera live or your hard disk, you may make stop motion animation videos.
The program allows you to modify your camera's settings.
Basic editing tools, such as previewing, inserting, removing, and adding.
Keyboard shortcuts that can be used to navigate the software.
Also Read: Best YTD YouTube Video Downloader Alternative for Mac & Windows
---
Wrapping Up! 
Stop-motion animation is an art, and even with all of the technology we have at our disposal thanks to computers, it can be difficult to get started. Because of this, you must carefully consider everything and decide what you find appealing. Discover why choosing the right items for your needs will make such a major impact on you and all you wish to achieve in the long run.
That's all, we hope you liked the information shared in this article. Please feel free to share your thoughts regarding the best free stop motion software for Windows and Mac in the comments section below. For more technical information, you can subscribe to our Newsletter and follow us on Social Media.
Harshita Sharma is a technical writer with quite a distinct understanding of the tech realm. She is a tech enthusiast who believes that tech knowledge should reach one and all and tries to convert the sketchy knowledge into the simplest possible form for making people understand the tech world better. When not playing with words, she loves to travel and explore new places. And, is a coffee & cricket connoisseur.
Subscribe to Our
Newsletter

and stay informed

Keep yourself updated with the latest technology and trends with TechPout.
Related Posts