Technology is continuously developing and assisting people in need. Automation is a blessing for many, whether you are a multitasker, extremely busy, or a couch potato. For example, do you have any idea that you can automate the clicks of your mouse on your Mac machine with the help of some best auto clickers for Mac? The people who repetitively need to click on the mouse for playing games or for their work most benefit from it.
The auto clickers are easy to use, completely dependable, and valuable for various tasks. For example, maybe you're playing a game where you must frequently click on things to progress. You can accomplish it without standing still and repeatedly pushing the mouse button using a MacBook auto clicker. Or perhaps you need to enter a lot of information into an online form. The procedure can be sped up by using the best Mac auto clicker, which will do the mouse clicking for you.
Additionally, you may use the free mac auto clicker to send emails and automate other monotonous computer operations. So, which one is ideal for you of the wide varieties on the market? The most popular auto clickers are displayed in this article to assist you in making the best decision.
So, we have the list of the best auto clickers for Mac you need if you want to enhance, automate, or pre-program your mouse clicks. So let's get started.

7 Best Free Auto Clicker For Mac
When choosing the best auto clicker, there are numerous factors to consider. So how can you determine which one suits you best? That depends on what you need. Any simple program will suffice if all you want to do is expedite your work. But you'll need to be a little more particular if you're searching for something more specialized. So let's now look at some of the best auto clickers for Mac available in the market.
1. Auto Clicker for Mac by MurGaa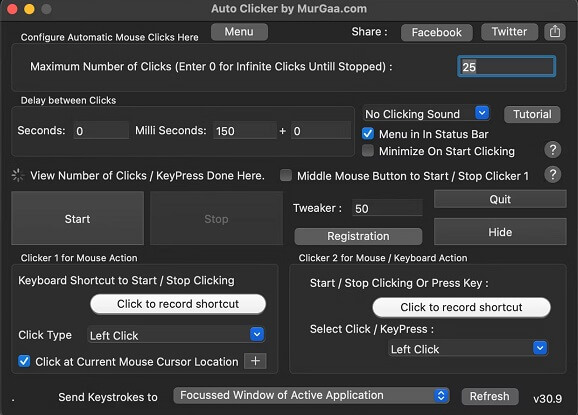 Are you trying to find the best auto clicker? Then, use Auto Clicker for Mac by MurGaa instead! It is one of the most effective, comprehensible, and safe programs available. In addition, you may automate mouse clicks with the aid of the straightforward yet effective auto clicker. It makes it simple to design and use macros for mouse-clicking.
One of its best features is that it is so simple to use. First, you need to open the application to begin capturing your mouse clicks simply. Then, to make creating macros even simpler, you can build keyboard shortcuts.
The Auto Clicker for Mac is fast, reliable, and easy to use. It has been optimized to work with the most advanced Mac OS with no restriction on how frequently or how far between your clicks should be. This software makes no change whether you execute it hundred times in five seconds or simply once.
The software also enables you to set a click limit, making it an incredible hack for click-based applications and games. The possibilities don't even begin there! Clicking can be done in a number of ways, including right, left, center, twice in a row, or by scrolling up or down. It isn't the most beginner-friendly software once you execute it.
The following operating systems are compatible with Auto Clicker for Mac: macOS 10.12 or later, iMacs from late 2014 and up, MacBooks from late 2010 and up, MacBook Pros from mid-2012 and up, Mac Minis from early 2009 and up, and Mac Pros from mid-2012 and up (Late 2013).
You can use this software without purchasing a license. However, this application is more dependable and stable once launched.
A number of powerful advanced features are also included in Auto Clicker for Mac, such as:
Ability to pause and restart macro recording.
Variable speed playback.
Looping playback.
Customizable hotkey.
Also Read: Best Startup Manager Apps for Mac
---
2. Mac Auto Clicker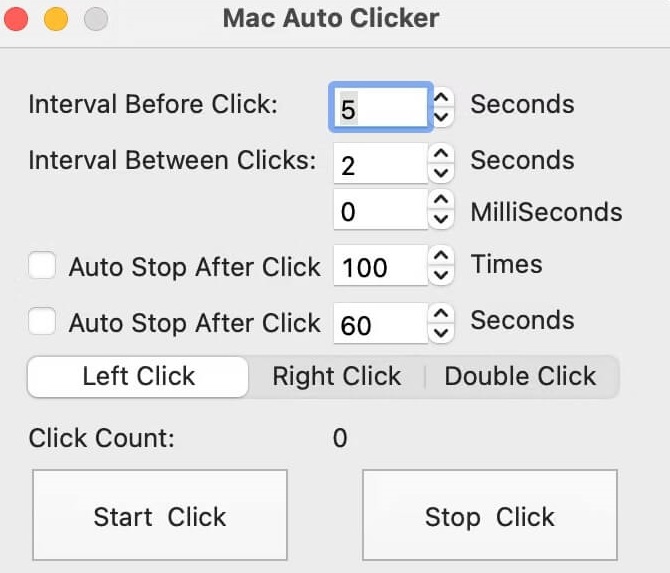 Mac Auto Clicker software will automatically click mouse buttons on your behalf. There are numerous ways to mimic human clicking with it. For instance, you can automate straightforward or repetitive chores or lessen wrist and hand fatigue while using your Mac. It is a handy application for anyone who must repeatedly click on objects for a lengthy period of time.
This free Mac auto clicker is incredibly simple to use and set up and supports all macOS versions. Additionally, you can use this feature without giving an exact amount of seconds and milliseconds. You can even alter the program's speed from extremely slow and incredibly speedy. Most significantly, it is pretty easy to understand and put into practice.
The precise and retro feel permeates the entire uncluttered user interface. Nevertheless, Yosemite's macOS software (OS X 10.10) and earlier operating system versions are recommended for the application's optimal performance. To make an outdated version of Mac OS work on Mac OS X 10.15 Catalina and later, you'll need to apply an "unofficial patch."
While the resolution isn't particularly tough, the setup process requires a few different actions. However, utilizing this software comes with a price, which is terrible.
Features of Mac Auto Clicker include:
Ability to automate the right, left, and center buttons.
Ability to generate an unlimited number of clicks.
Use macros and script files.
Perform several tasks in a single task.
Customize hotkeys.
---
3. Mac Auto Mouse Click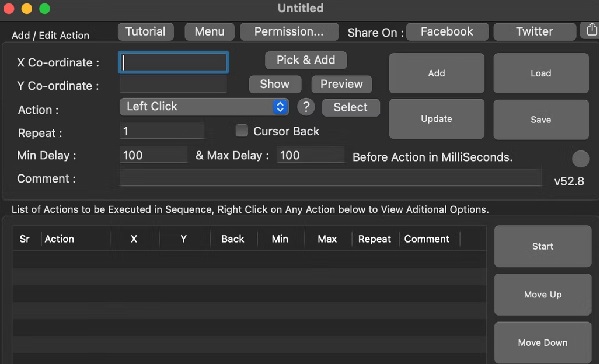 Mac Auto Mouse Click is the other MurGaa auto clicker that people genuinely enjoy using. Apart from making clicks for you but also allow you to move your mouse cursor to pre-set places. Mac Auto Mouse Click, therefore, assists in automating some challenging operations.
Let's say you're continuously clicking the same buttons while uploading a large number of files to an internet database. With Mac Auto Mouse Click, you may program a series of procedures to choose files and documents and click on those buttons automatically.
There is no need to have the programming expertise to set up actions. Simply place your cursor where you want, use a hotkey to have Mac Auto Mouse Click record that position, and then specify in the software what kind of click you need to occur there.
In this free auto clicker, you can shift activities up and down to alter when they occur and amend or remove actions as necessary. In addition, you can use this software to input left and right clicks, middle, double, and Shift-clicks, as well as some automatic text-typing elements.
Additionally, you may develop your own unique keyboard shortcuts to begin the workflow for auto-clicking, automatically save them as projects, and then finally import and update them as desired. Finally, if it's something you occasionally need to perform, you can also schedule an automated run with only a few clicks through this free and safe auto clicker for Mac.
Mac Auto Mouse Click is tremendously helpful for repetitive clicking activities, of which there can be many. Still, it can be a little complicated if all you want to do is repeatedly click on one spot or periodically tap your screen to prevent your Mac from going to sleep.
The price of this software is $9.87 for six months of use on one Mac machine, with a free trial period available as well. This good auto clicker for Mac may offer more automation and control than you require, or it may be worth the cost.
Features of Mac Auto Mouse Click include: 
Creates a file to store mouse click data.
Control the list of mouse-click commands.
The script Repeat count for automation as a group.
---
4. DwellClick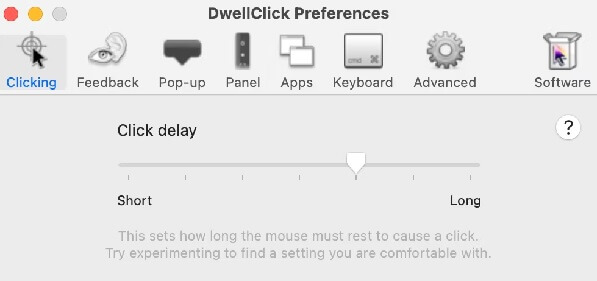 Mac Auto clickers are fantastic for numerous computer games, but they can also be great aids if clicking frequently hurts your hands or is challenging to perform physically. It can ease the discomfort and fatigue of using a computer by minimizing the amount of clicking required.
By enabling the clickless operation of your computer, the DwellClick Mac auto clicker goes one step further. DwellClick clicks on your behalf as soon as the application is activated, as long as you have your trackpad or mouse pointed in the desired direction.
DwellClick is a click-and-drag Mac auto-clicker tool that can be used to click and drag in addition to left- and right-clicking. Consequently, you may drag files into different directories and shift windows around the screen without having to keep the mouse button pressed. In addition, you can drag and resize objects!
When the DwellClick MacBook auto clicker is active, you only need to hit the Function (Fn) key on your keyboard to access these options. Then, choose the type of click you desire from the popup section. You can configure preferences to switch specific clicks and functions on and off.
In addition, if you utilize a head tracker to use your computer or your mouse is broken, you can program a key on your keyboard to function as a mouse click for you. You can even activate handsfree alternatives. In addition, DwellClick provides a tonne of audible and visual clues to help you know when a click or drag has happened if you want or need them.
The App Store charges $9.99 for DwellClick after its expired free trial. Instead of clicking quickly, this software is ideal for lowering your quantity of clicks. We believe it to be a good auto clicker if you require that reduction for the benefit of your hand or your mouse.
Features of  DwellClick: 
It supports a pointing device, trackpad, and mouse.
Handsfree operations.
The use of click and drag.
Also Read: Best Note-Taking App and Software for Mac
---
5. Autoclicker.ai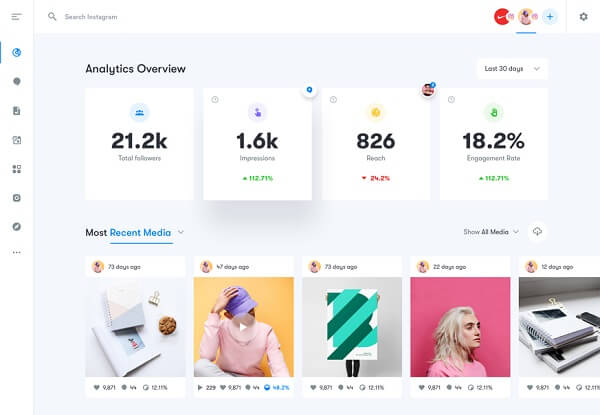 Users of Autoclicker.ai can program their computer screens to click mouse buttons automatically. With the aid of this free auto clicker for Mac, gamers can increase their performance and records when playing games that demand a bundle of clicking.
More challenging activities requiring several repeated clicks can also be carried out using Autoclicker.ai. This best auto clicker for Mac also offers a high-speed click rate per second. Moreover, lowering the interval concerning click sessions will speed up the Mac auto clicker even further.
When concerning sophisticated MacBook auto clickers, Autoclicker.ai is among the best. The purpose of this software was to speed significantly up clicks in order to improve the gaming experience. All available operating systems are compatible with Autoclicker.ai (Windows, mobile devices, and Mac).
Autoclicker.ai also allows consumers to carry loads of visual training and everyday tasks on their behalf. In addition, you can utilize the Autoclicker.ai installation version of Chrome to carry out the majority of browser tasks. For example, visit new and broadcast websites, respond to surveys and assessments, and enter data using the Chrome Autoclicker.ai extension.
Autoclicker.ai is both virus-free and backed by a safety guarantee making it the safest auto clicker for Mac. Additionally, no adverts obstruct your use of the software on your Mac.
Features of Autoclicker.ai include:
Hotkeys function for background-running programs.
Portable software.
Saves settings from the most recent entry.
---
6. iMouseTrick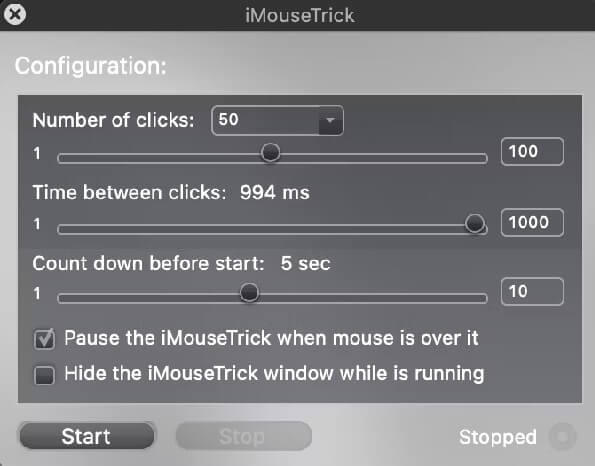 iMouseTrick is one of the software for you if you're seeking a really straightforward and effective Mac auto clicker. You can customize iMouseTrick to click as many times as you wish, up to an unlimited number of times. Even a countdown once before you begin might be set.
But other than the choices for hiding the window of iMouseTrick and stopping its clicks when you hover your mouse on the window, those are its only functions. As a result, using this free auto clicker for Mac is pretty simple.
You frequently fix the values you need by dragging and clicking on scales, whose highest values can change by entering new numbers. However, iMouseTrick regrettably lacks a hotkey for pausing and beginning your clicks, as well as other more sophisticated features.
However, iMouseTrick is a free auto clicker for Mac and might be all you require in its simplicity. We'd suggest it to anyone who wants a MacBook auto clicker deprived of a lot of bells and whistles and anyone who occasionally struggles with technology or is afraid of it.
Features of iMouseTrick include:
Quick and user-friendly app.
Beneficial for gamers.
Define a click delay time.
Also Read: Best Mac Disk Space Analyzer
---
7. Fast Auto Clicker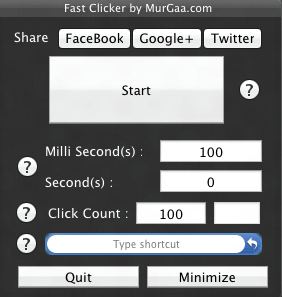 Developed by MurGaa, Fast Auto Clicker is yet another easy-to-use and popular auto clicker for Mac. The tool is best for repetitive clicks on Macs. Apart from that, using Fast Auto Clicker you can easily customize the specific number of clicks you wish, hotkey, time interval, and the dedicated button which you wish to access for automation.
To use this tool, all you need to do is simply launch it and add the specific or unlimited number of clicks, then update the location, time interval, and select the hotkey to start or stop the process.
Random Time Delay is one of the most exciting features of this auto-clicker. This feature prevents you from being caught by the system.
Features of Fast Auto Clicker Include:
Completely customizable and free to use.
An unlimited number of clicks.
Small-sized automation tool for Mac.
---
Conclusion
The everyday monotonous and exhausting duties are something that everyone wants to avoid. In order to automate clicking duties, a Mac auto clicker is therefore required. You'll also need the auto clicker if you enjoy gaming and want to succeed in very competitive games.
For Mac, there is no shortage of top-notch auto clickers. Similar to how many fantastic options are available if you're looking for the best auto clicker for Mac to make gaming or tedious tasks more manageable. We sincerely hope you found this article interesting and that it satisfied your need for a good auto clicker.
Harshita Sharma is a technical writer with quite a distinct understanding of the tech realm. She is a tech enthusiast who believes that tech knowledge should reach one and all and tries to convert the sketchy knowledge into the simplest possible form for making people understand the tech world better. When not playing with words, she loves to travel and explore new places. And, is a coffee & cricket connoisseur.
Subscribe to Our
Newsletter

and stay informed

Keep yourself updated with the latest technology and trends with TechPout.
Related Posts