7 Best Free MIDI Editor Software for Windows and Mac 2023

You can read this article to learn about the best free and open-source MIDI editors for Mac and Windows.
You might already know about MIDI if you are a musician or someone into music. MIDI is a standard describing a digital interface, communications protocol, and electrical connectors connecting many computers, musical instruments, and other devices. MIDI makes it easy to play, record, and edit music. However, editing MIDI files is a challenging task unless you have the best free MIDI editor software to do it.
The best MIDI editor software helps you conveniently create and correct MIDI files. Moreover, it boasts several high-end functions, such as typing, playing, and exporting MIDI files.
Hence, the following section of this article provides you with a well-researched list of the top free MIDI editors for Windows and Mac. Let us get started with the same without any further ado.
List of the Best Free MIDI Editor Software
The following are our top recommendations for the best MIDI editor software to edit MIDI files for free on Windows and Mac.
1. BRELS MIDI Editor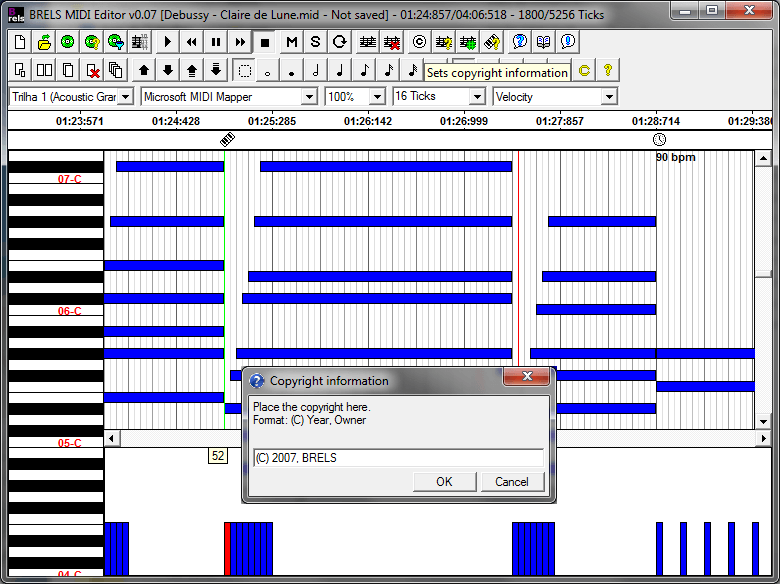 Let us begin our list of the best free MIDI editor software with BRELS MIDI editor. It may be the perfect choice for you if you are looking for a portable tool you can carry anywhere and everywhere.
BRELS MIDI editor lets you perform all necessary tasks, such as note placing, note removal, track appending, track deletion, track muting, instrument setting, tempo setting, etc., to edit MIDI files.
Moreover, it allows you to select a track to display on your screen, device playback, screen magnification, quarter note length, and setting of controller/pitch/velocity.
Furthermore, there are other highly useful features like an option to view and analyze raw MIDI data and support for the karaoke file format.
Also Read: Best Free Audio Sound Equalizer For Windows 10, 11
---
2. MuseScore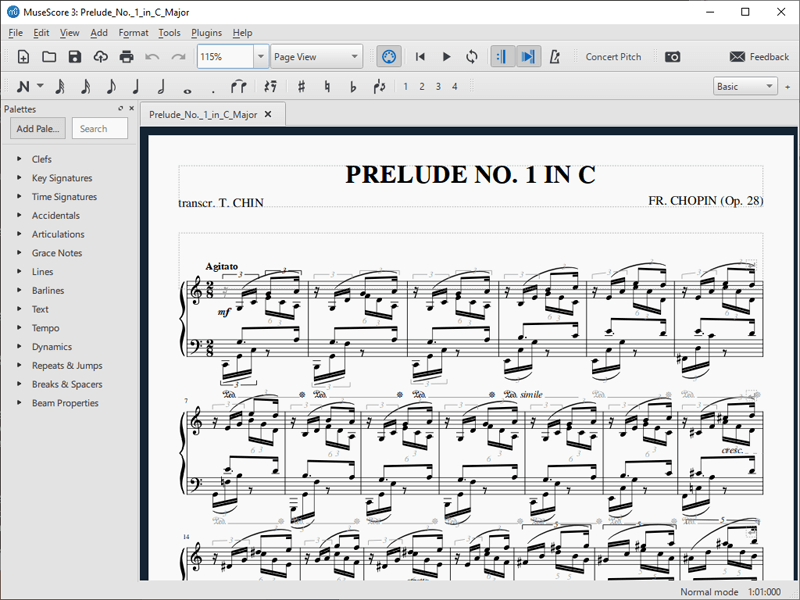 Here comes another highly-popular free MIDI editor for Windows. You can use MuseScore to create and edit a variety of music file formats, such as MIDI, WAV, MP3, FLAC, OGG, and a lot more.
In addition to it, MuseScore boasts a plethora of useful tools to make and edit MIDI files. Some of these tools include Clefs, Time Signatures, Grace Notes, Key Signatures, Piano keyboard, and much more.
Moreover, an extremely attractive feature of MuseScore is its Pianoroll editor that you can use to customize len, pitch, velocity, and other parameters. Additionally, instruments for the addition of elements to a music piece and batch editing of MIDI files are its other fascinating features.
---
3. Rosegarden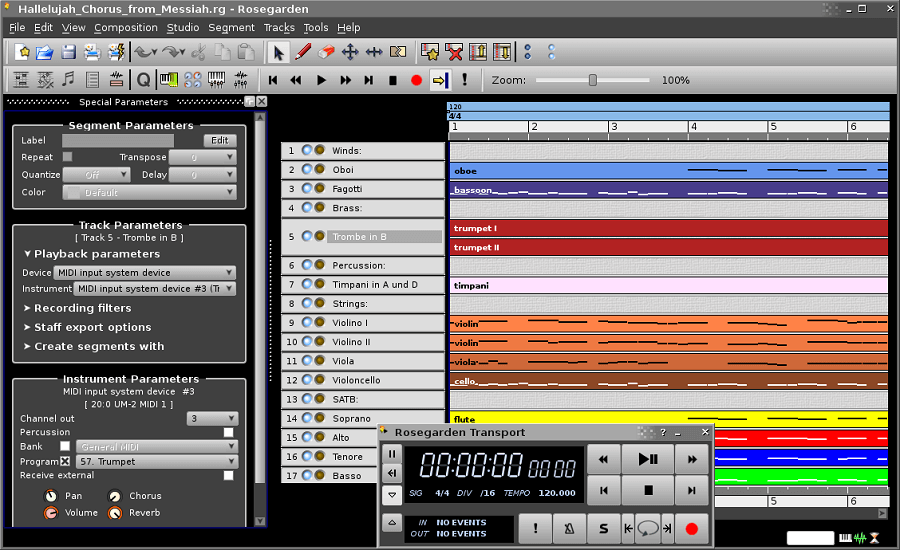 Let us now take you to the Rosegarden. It is among the best free open-source MIDI editors for options, such as MIDI file merging, removal of tracks from MIDI files, key change addition, change of clef, and more.
As far as the editing of MIDI files is concerned, Rosegarden offers various tools, like notation editor, matrix editor, event list editor, and matrix percussion editor to help you edit files.
Furthermore, plenty of documentation is available on Rosegarden's website to help you understand how to use this software.
---
4. Amped Studio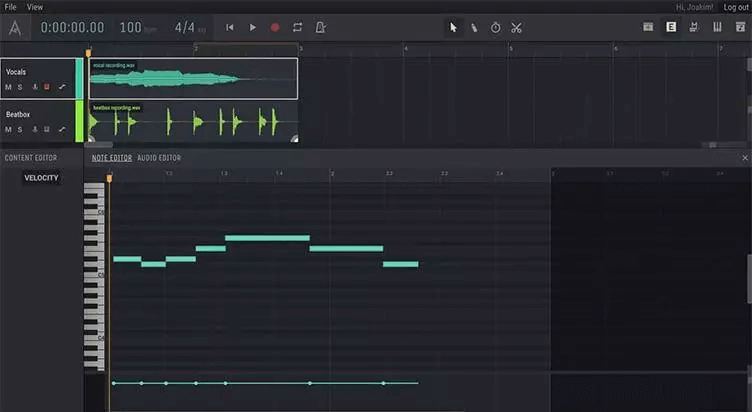 If you do not wish to download any software on your computer, you can go to Amped Studio. It is a free MIDI editor for Mac and Windows that works online so that you do not have to download anything.
As far as features are concerned, Amped Studio is loaded with all the necessary tools to edit MIDI files. A few of these tools include the selection and moving of specific notes, increasing/decreasing the note length, playback speed control, deceleration to establish a connection between two elements, pitch adjustment, reduction of note precision, and in-built sound effects.
Also Read: Best Music & Audio sound Visualization Software
---
5. CakeWalk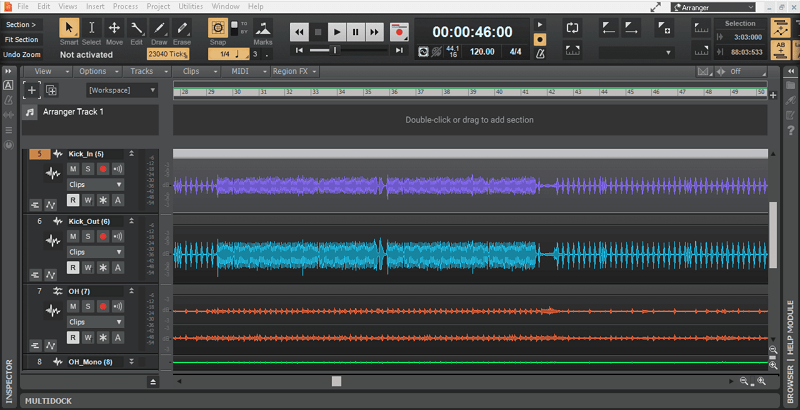 Next on our list of the best free MIDI editors for Windows is CakeWalk. We think it is aptly named as it makes MIDI file editing quite a cakewalk with its features.
Talking about the features, CakeWalk offers sequencers, loops, effects, multi-instruments, a highly-customizable interface, and a lot more.
All in all, CakeWalk is a complete package for music production with in-built sounds, virtual instruments, and many other tools to delight users.
---
6. MixPad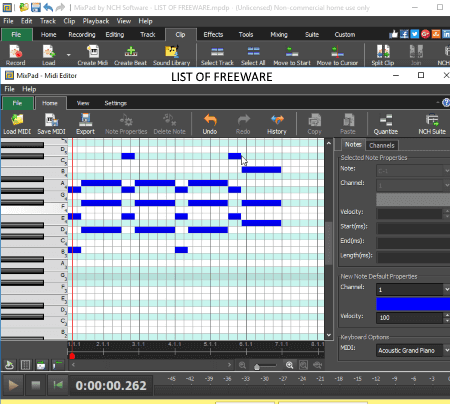 MixPad is the second last software on our post dedicated to the best free MIDI editors for Windows and Mac. We like it for its in-built music library with a plethora of tracks you can use in your creations.
Moreover, MixPad doubles up as the best beat maker software with options like the upload of music files to cloud platforms. Furthermore, on MixPad you find various tools, such as MIDI file import, Humanize and Quantize, addition/moving/removal/duplication of notes, a piano roll, and panels for effect and velocity.
---
7. SynthFont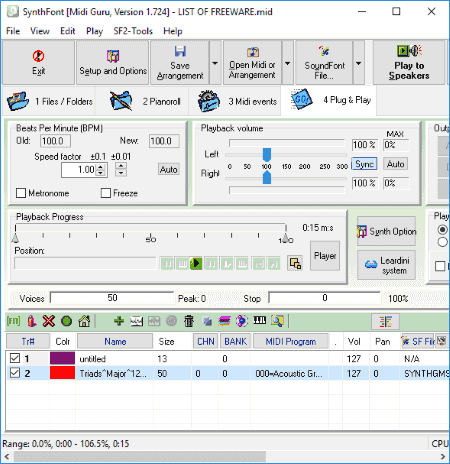 Lastly, we have SynthFont to conclude our rundown of the best MIDI editor software available for free. With this software for Windows, you can both create and edit MIDI files.
SynthFont boasts options to import MIDI files, select tracks to edit, insert notes, edit/delete/duplicate notes, and much more.
Moreover, the software lets you apply VST effects and batch-edit MIDI files. Furthermore, it also has some high-end features like a controller to set instruments and various parameters.
Also Read: Best Bass Booster Software For Windows PC
---
Summing Up the Best Free MIDI Editor Software
Through this article, we discussed some open-source and free MIDI editors for Mac and Windows. You can use any of these programs according to your requirements.
If you think our list skips out on any best MIDI editor software, you can mention it in the comments section. You can also drop your doubts or suggestions about this article, if any, in the comment box.
Niharika is a passionate soul who finds immense satisfaction in putting all her thoughts in writing. Being a technology enthusiast, she loves learning new things about tech and making everyone technologically literate through her articles. When not composing tech articles, you can find her bringing characters to life in her fictional stories, reading something intriguing, or spending time with her near and dear ones.
Subscribe to Our
Newsletter

and stay informed

Keep yourself updated with the latest technology and trends with TechPout.
Related Posts