10 Best Free Music Notation Software for Windows 10,8,7 in 2022

Making good music today is not only a matter of constant exercise but also of the best software. Professional and aspiring musicians often use the best free music notation software. Free music notation software helps to create real masterpieces thanks to their rich functionality, many effects, and high-quality sound recording. In-home using notation software for video clips is also popular – their simple interface helps to understand the controls in the first minutes, and the work of cutting frames, recording background music brings a lot of positive emotions.
A List of Best Free Music Notation Software for Windows 10, 8, 7 in 2022
Have a look at the below listed best music notation software for Windows PC.
1. MAGIX Music Maker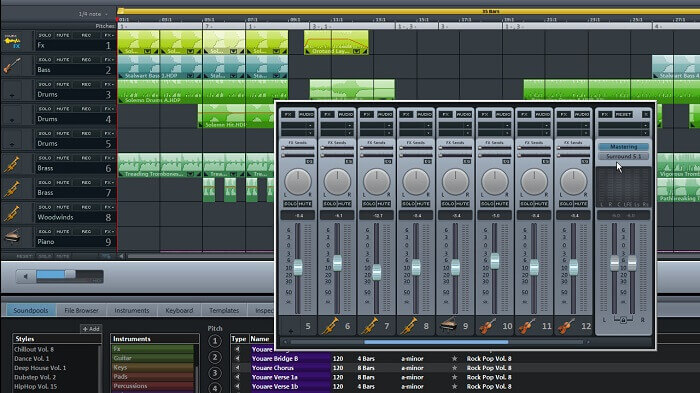 One of the best free music notation software attracts an impressive number of ready-made loops – you can choose from thousands of ready-made looping fragments. Thus, it takes a minimum of time to create the rhythm base for the composition.
Also, this music composition program offers a solid set of virtual instruments and effects. Connecting a synthesizer, guitar or microphone is also possible. Users who add their own vocals to a track will have the opportunity to make it almost perfect. Vocal Tune is a vocal tune tool that helps you adjust the pitch and get rid of fake notes. It is suggested to save the finished composition in MP3. However, it can be immediately uploaded to SoundCloud, Facebook, or YouTube.
Also See: 10 Best Free Music Key Finder Software For Windows 10, 8, 7 PC (2021 Edition)
---
2. Cubase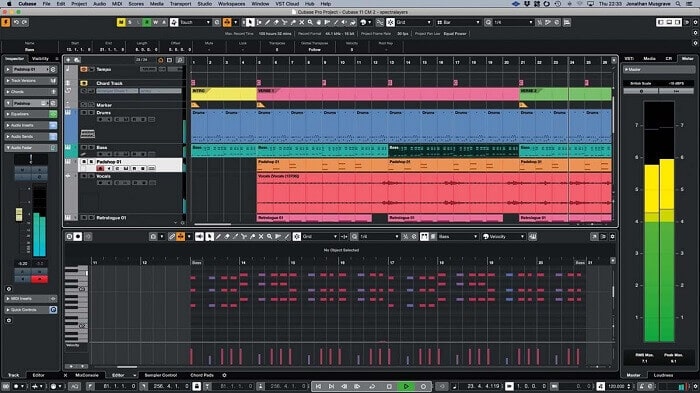 Cubase Virtual Studio can be found on the computers of professional arrangers, sound engineers, and musicians. This free music notation software has everything to make a high-quality and complete composition. Basically, Cubase is a multitrack audio editor that provides audio and MIDI tracks, note selection and editing, and most importantly, support for most plugin formats.
---
3. Sibelius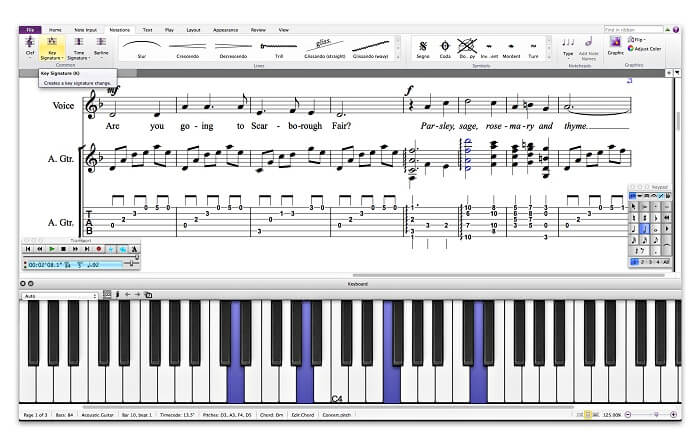 This music composition program is somewhat different from the others since it is not a virtual synthesizer or mixer, but an advanced musical notation editor.
Users can record notes for individual instruments and then combine them or register parts in parallel. In addition to the realistic sound of various musical instruments, Sibelius also presents exclusive recordings of a symphony orchestra.
To save time on the project, the music notation program allows you to assign functions specified by the user" hotkeys. Interestingly, each of the functions is labeled with a self-explanatory icon and has help that beginners will surely use.
---
4. Cakewalk Sonar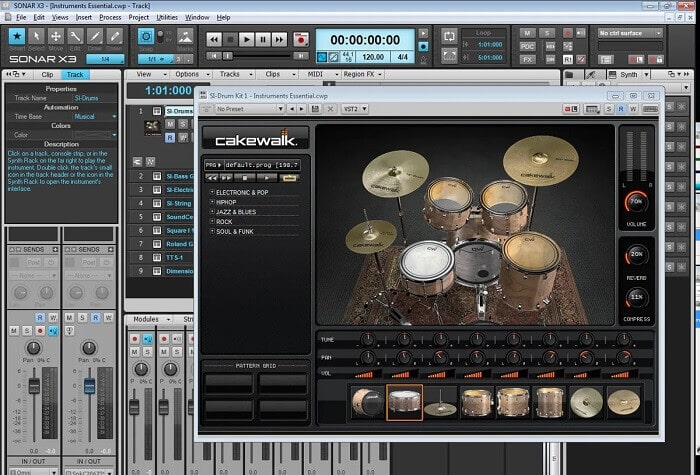 This free music notation software is a powerful product in service with many professional recording studios. With it, you can create a musical composition from the first chords to mastering or even an arrangement. The music notation program allows you to use not only integrated emulators but also connect real instruments like synthesizers, controllers, or electric guitars. Supports multi-monitor mode with touch control.
Cakewalk Sonar is one of the best free music notation software. It uses special V-vocal technology, thanks to which you can independently edit each voice part.
Also See: 10 Best Free Music Making Software for Beginners in 2021 
---
5. NanoStudio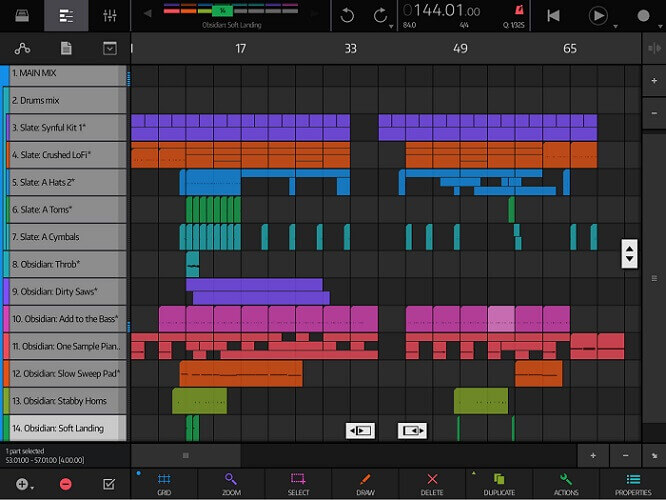 A relatively simple music composition software for composing music and DJ sets. Your attention will be presented at the same time with powerful functionality, replete with a variety of tools and a fairly clear and easy-to-navigate interface.
The notation software is also suitable for those users who are little familiar with the operation of this kind of software. So, each tool is accompanied by a detailed description of its capabilities and methods of application. Unfortunately, this information is in English, but by visual cues, you can still figure out what's what.
When writing a track, NanoStudio offers us two ways to generate sound: virtual synthesizer and sampling. Here you will also find the opportunity to use in your work a mixer, sequencer, drum machine, as well as an editor for recordings from a microphone and plug-in musical instruments. On top of that, you'll have a solid set of filters and effects at your disposal.
---
6. MadTracker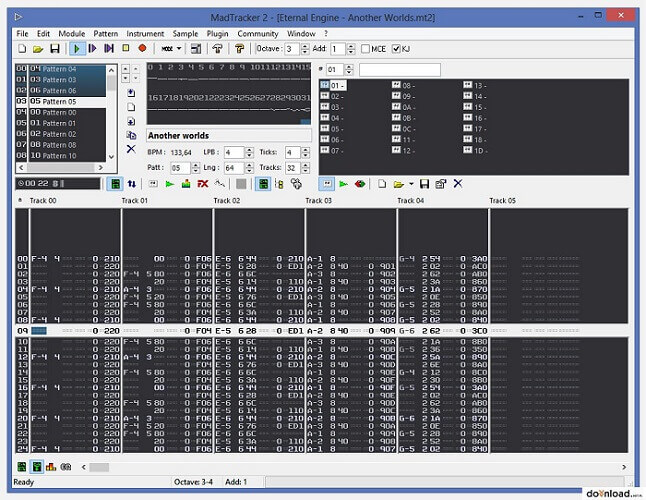 A great option for beginners, as it has eight built-in effects, a sound normalizer, and over seventy sample melodies that you can customize to your liking. The control is equipped with tips and instructions, the interface can be understood intuitively. The notation software has a wideband equalizer, note editor, and mixer with wide possibilities. Instruments – piano, guitar, organ, pipes – will add originality.
---
7. Mixcraft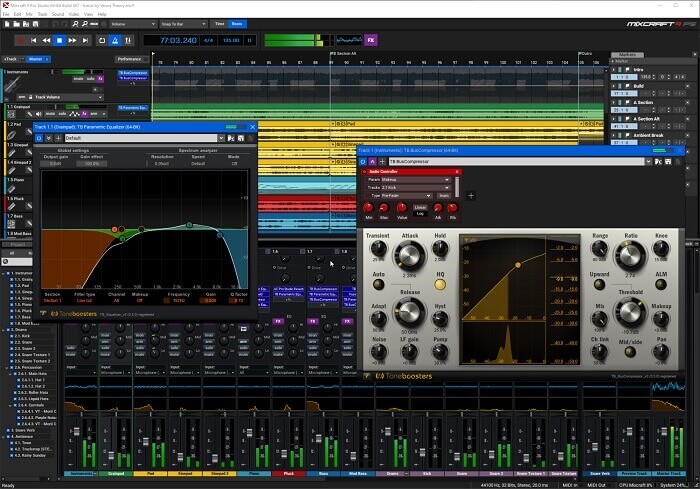 Mixcraft is a powerful multitrack sound recording music composition software whose main feature is the excellent quality of built-in effects. A variety of filters, samples, virtual instruments allow you to create incredibly professional tracks, make high-quality remixes and perform any work related to sound (whether it be at least a video dubbing) at the highest level. By the way, Mixcraft even allows you to edit video, which eliminates the need to have a video editor.
Mixcraft is perfect for recording and mixing tracks, with built-in effects for superb sound quality. This music notation program interface does not pose any particular problems for beginners, although it is difficult to call it intuitive. But even despite this, Mixcraft is a must-have free music notation software for any person who is engaged in music and wants his musical compositions to sound beyond praise.
---
8. Ableton Live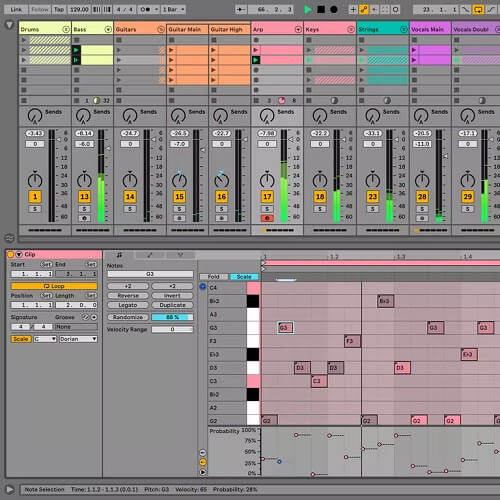 Ableton Live is powerful and one of the best free music notation software that makes it easy to create music, remix, mix and arrange. The main feature of Ableton that distinguishes it from competitors is its ability to work with sound in real-time. Arrangement and Session modes give the user the ability to immediately record audio and MIDI, apply effects and filters, and experiment with sound in every possible way. Support for multitracking makes it easy to mix songs and create the author's remixes of the highest quality.
Ableton Live is very demanding on system resources, but its functions make up for this disadvantage headlong, since Ableton kills two birds with one arrow: it makes it possible to write tracks of excellent quality, and also makes it possible to professionally DJ and create/mix music in real-time! If you want to create high-quality tracks without spending hours in the settings, then you just need to download the best free music notation software!
---
9. Adobe Audition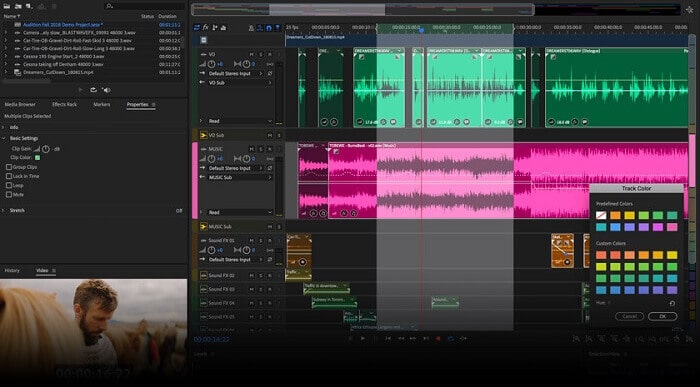 Adobe Audition contains a professional set of tools for working with audio files from the famous Adobe company, all programs of which are of excellent quality and a bias towards professionalism. This free music notation software is used by many world-class musicians and is, in fact, one of the leaders in the virtual studio market. A simple and user-friendly interface and a rich set of functions make it possible to create and process a track in record time, and the quality of the final product is amazing.
Adobe Audition offers unlimited possibilities for editing audio files, and most importantly – an uncomplicated interface that allows even beginners to use this program. However, the notation software is designed according to the principle 'easy to learn, difficult to master'. Professional users will also find a lot of interesting and useful things for themselves. In general, we can say that Adobe Audition is one of the main music composition programs for users who want to write music professionally.
Also See: 10 Best Free Music Making Apps to Make Your Own Music in 2021 
---
10. REAPER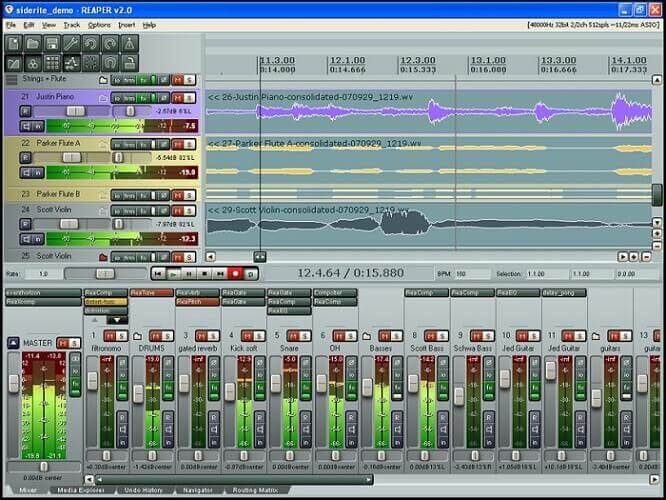 REAPER is a multifunctional digital and free music notation software that allows you to record, mix, master, and edit tracks. The advantages of this music composition program include a huge number of native effects and VST instruments. The developer of REAPER was previously engaged in the development of the world-famous media player Winamp, which immediately speaks of the quality of the product for the better.
REAPER has all the tools you need for high-quality audio recording and processing. We can safely say that this program is the most convenient solution for simple sound editing, whether it be cutting/joining tracks, light processing, applying effects, etc. Due to its small size and modern application engine, REAPER does not load the system and does not require a powerful computer. And the sound quality will satisfy the needs of any professional musician.
---
Closing Words on Best Free Music Notation Software for Windows
We listed only the 10 best free music notation software for Windows 10, 8, 7, but if you can suggest more kindly leave the names in the comment section below!
Lastly, do subscribe to our Newsletter and follow us on our Social Media Channels: Facebook, Twitter, Instagram, and Pinterest.
Harshita Sharma is a technical writer with quite a distinct understanding of the tech realm. She is a tech enthusiast who believes that tech knowledge should reach one and all and tries to convert the sketchy knowledge into the simplest possible form for making people understand the tech world better. When not playing with words, she loves to travel and explore new places. And, is a coffee & cricket connoisseur.
Subscribe to Our
Newsletter

and stay informed

Keep yourself updated with the latest technology and trends with TechPout.
Related Posts