Are you searching for the best piano learning app in 2023? Then, you have come to the right place. Here you will learn about the top 11 deserving applications that help you in the whole process of learning piano. For further information, keep reading!
The piano always remains one of the most played and most loved instruments in the world. It is a versatile instrument that can be utilized to create music by newbies and professional experts. Plus, it can easily accompany almost any instrument and perform in any kind of genre.
In order to be an ace pianist, it requires a tedious and quite long process that includes years of hard work and practice. Generally, those who get the privilege of early learning lessons, learn pretty quickly. But, many people cannot discover the same. Such classes are expensive and require a lot of money along with complete dedication.
However, to ease the process, technology has provided solutions to this issue also. To be more specific, for those who believe in self-study, or learning things by themselves, piano learning apps are an excellent approach to learn piano in just a matter of a couple of months. Time and effort are the only things these apps demand. This comprehensive guide highlights the best apps to learn piano without hassles. These apps can help you take baby steps- the first step, second step, third step, and so on in your journey to be a proficient pianist.
Here's a List of the 11 Best Apps to Learn Piano in 2023
To help you find out which app might be best for you, we have put together a few best piano learning apps for Android or iOS.
1. Simply Piano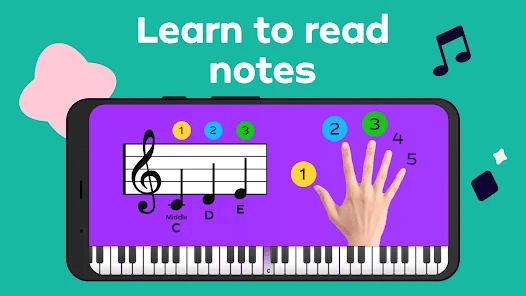 Simply Piano, a key for quickly learning piano with your favorite songs or notes. Whether you are a beginner or an experienced pianist, the Simply Piano app is for everyone. It provides hundreds of courses that are split down into a series of lessons. The app also allows you to learn different types of songs and compositions, something which you can use in your practice sessions.
Unlike other apps, it actually starts from the beginning, walking you step-by-step (that includes playing with both hands) and also offers personalized 5-minutes practice exercises that shape your skill level in the best possible way. However, the application is free to download and use, but in order to get access to all courses, you will need to subscribe to its pro version, which will cost $150 annually.
Key Features of Simply Piano: 
Thousands of amazing and popular songs & compositions to learn.
It has an in-built piano.
The free version is available but with limited features.
Teaches you how to read music sheets.
Available for both Android and iOS devices.
Also Read: Best Free Music Making Apps to Make Your Own Music
---
2. Perfect Piano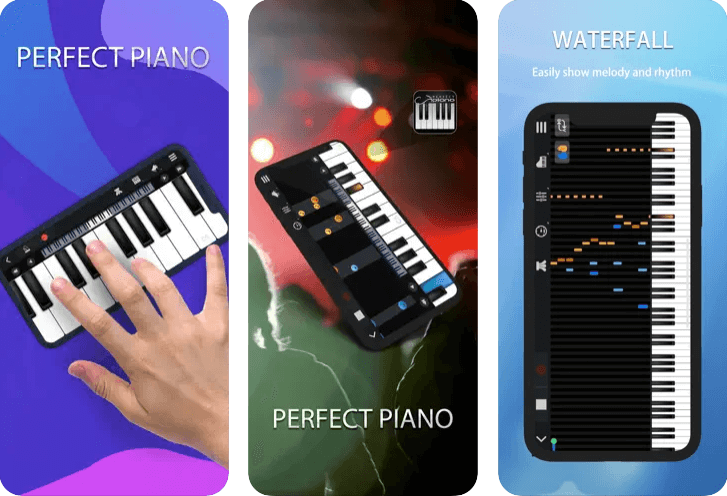 Perfect Piano is one of the famous piano keyboard apps on the market and is also a wonderful piano stimulator. The application provides an 88-key piano with more than seven octaves of playing capacity. For way better insights and learning experiences, the app has both single and dual-row modes. Perfect Piano comes with smart and highly advanced touch sensitivity for providing a real-life piano playing experience. Not only this, but you can also use multiple tones, and synthesizers and adjust the keys for numerous flavors. Moreover, you can also use its default metronome for ideal time changes.
Key Features of Perfect Piano:
Intelligent touch-sensitive keys for a real-time experience.
Adjustable keys and metronome.
Allows you direct sharing to multiple social media channels at once.
Three play modes (note pause, semi-auto play, and auto play).
Multiple in-built sound effects include a Music box, Synth bass, Pipe organ, Steel string, Rhodes Piano, Grand Piano, Space Synth, and more.
---
3. Skoove
Skoove is another best app to learn piano lessons online. It presently possesses more than 1 million users of varying skill levels, from beginners to pro players. The lessons on this application are designed to get anyone started full of ease, whatever might be their skill level. You can also have a rich, curated catalog of sound/music across the genres.
Skoove detects the notes when you try to play piano and also guides you throughout the process of learning. The app uses AI (Artificial Intelligence) to provide you with personalized feedback and helps you enhance at your own pace. It is completely free to download this piano learning app. The app also provides one on one customer support from professional musicians and piano instructors.
Key Features of Skoove: 
More than 400 step-by-step piano lessons.
Learn to read sheet music.
Provides live feedback as you play the piano.
Highly rich and curated music catalog with over hundreds of classical and pop songs.
It uses artificial intelligence to give you personalized instructions in order to help you improve the notes you play.
---
4. Yokee Music Piano Academy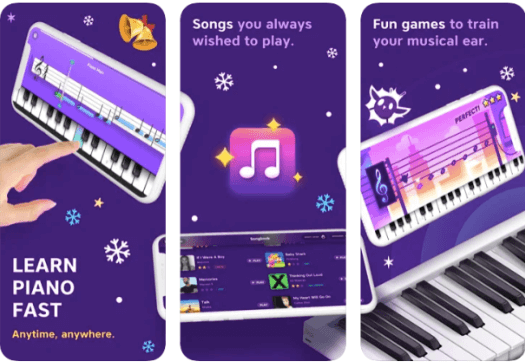 Yokee's Piano Academy is for anyone who wants to learn piano from scratch or specifically those who have prior knowledge about the same and just want to continue learning by rehearsing & playing along with their favorite songs.
This application provides an on-screen touch keyboard so you can begin playing instantly. It provides support for MIDI connections. Apart from that, the app is also capable of detecting the notes you play if you have an electronic or acoustic piano. Plus, Piano Academy also gives you personalized feedback from globally recognized instructors to improve your skills. It also incorporates a wide range of enjoyable games for learning the fundamentals of piano playing like hand coordination. Overall, Piano Academy is quite a useful and accessible application.
Key Features of Yokee Music Piano Academy: 
 The tool listens to every note you play and provides you with immediate feedback so that you can make improvements.
Offers tutorial videos by advanced pianists to teach you theory topics like the staff, chords, notes, and more.
Let's you read real sheet music.
Fun games to polish your musical hearing, sense of rhythm, and hand coordination.
---
5. Flowkey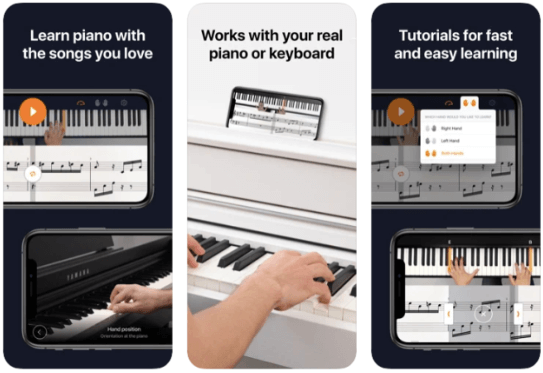 Quickly learn piano with the songs you love the most using Flowkey. Aimed at everyone from newbies to advanced players, it has everything you need to become a famous piano artist. It provides complete video tutorials, interactive step-by-step lessons, thousands of songs, and instructions on numerous areas of technique, from reading music sheets to chords and improvisation.
Not only that, but the piano learning application also monitors your playing for guidance on how to make it better. You can download and use it for free, but in order to unlock its complete potential or access the full range of learning material, you will need to buy a premium subscription which costs $20 monthly and $120 annually.
Key Features of Flowkey:
Provides you with new piano songs and practice exercises regularly.
Its smart learning progress indicator checks your daily performance and achievements.
Explore the most popular songs from all genres incorporating pop, classical, rock and jazz.
Effectively works with your real keyboard or piano as well as digital.
Also Read: Best Music Player Apps
---
6. Gismart's Piano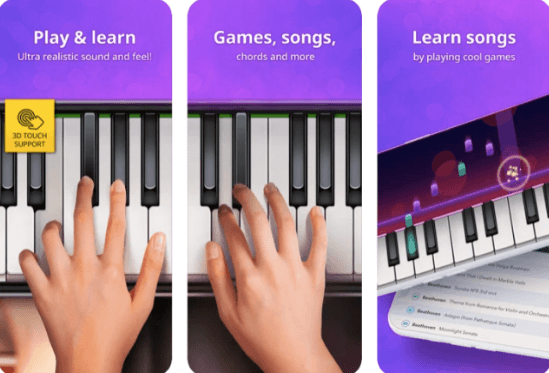 Another best piano learning app is Gismart's Piano which is also a winner of Appy Awards as the best music app. It is basically an electronic keyboard simulator app equipped with virtual instruments to help you learn music notes and chords. It is a perfect app for learning piano, especially for those who never have leisure time for real-world piano lessons.
It includes a wide range of lessons on basic skills like learning how to play specific chords. Piano by Gismart is the only realistic piano and musical instruments learning application with free songs composed by the musicians.
Key Features of Gismart's Piano:
Allows you to record your playing sessions and directly share them with your friends via social media applications like WhatsApp, Instagram, and more.
It has a full 88-key keyboard.
Boasts nine piano instruments including basic keyboard, grand piano, Accordion, Electric Guitar, Harp, Vintage Piano, Cello Pizzicato, Organ, and Harpsichord.
---
7. Yousician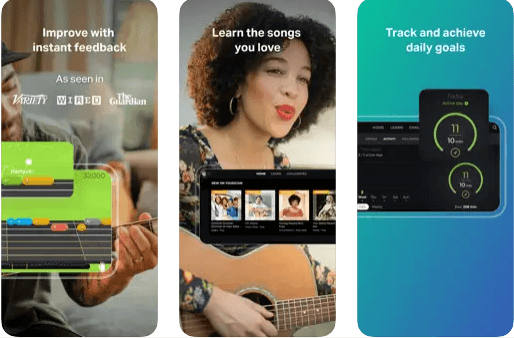 Here's Yousician, an amazing app to learn piano on your Android or iOS devices. Not only piano, but the app also helps you learn other musical instruments such as guitar and ukulele. Moreover, with this app, you can also improve your vocal skills. It is one of the best self-learning apps that will guide you to be a better musician. The tool is perfect for newbies as well as pro players.
Yousician comes with hundreds of missions, which you need to pass in order to unlock the higher levels or tasks. Furthermore, the app also listens to what you're playing and provides you with feedback to make accurate notations in real-time.
Key Features of Yousician: 
Learn how to read and write sheet music.
Easy, fast, and impressive approach to learning piano.
Thoroughly listens to your music and gives you better suggestions.
Step-by-step lessons by the world's top teachers.
---
8. Perfect Ear – Piano Playing App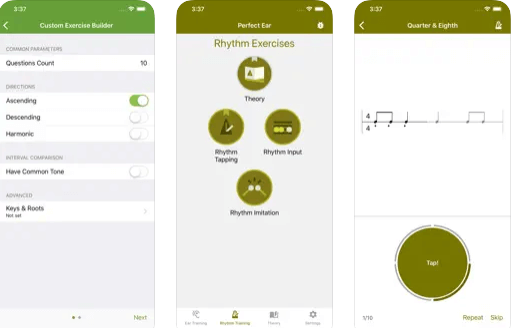 Music is a universal language and no matter which instrument you wish to master, the directions and the theory for that purpose are the same. As its name suggests, Perfect Ear is an excellent app that empowers the skills every human brain requires to learn before mastering any musical instrument. Whether you want to improve your skills, figure out tunes, or detect chord progressions, Perfect Ear is all you need.
The app provides high-quality, rhythm training, unique ear training, and solfege capabilities. It doesn't make any difference if you are a novice or a professional – you will certainly find something important that will make you a better musician.
Key Features of Perfect Ear – Piano Playing App:
Customizable scale, interval, chord, and rhythm training exercises.
High capacity to create custom chords, scales, and chord progressions.
It has a fully-fledged scale dictionary.
Hundreds of good-quality ear training lessons.
---
9. Vivace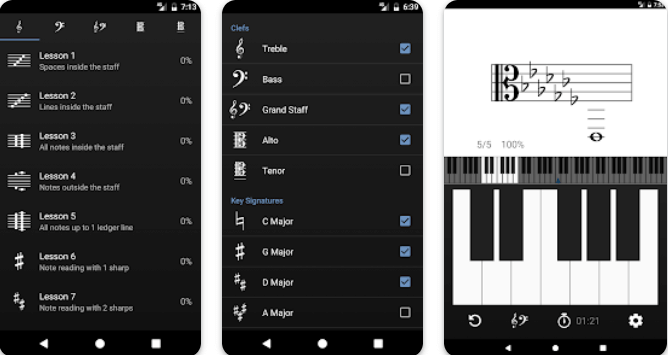 Are you looking for the best piano learning app for Android? Then, Vivace is only for you. Vivace is one of the most convenient and quick ways to learn piano without any hassles. It is a wonderful tool for improving your music reading and writing skills. Precisely illustrated tutorial videos will teach you the basics of music, theory, and everything you need to understand in order to read notes on the piano.
With more than a hundred lessons and several customization options, Vivace is an amazing tool for both amateurs and professional musicians.
Key Features of Vivace:
Practice mode lets you combine any number of clefs and key signatures.
Different customization options are available for a better experience.
Over a hundred step-by-step tutorials.
You can even choose between Italian and English note names as per your preference.
Multiple instrument sheets.
---
10. Solfegio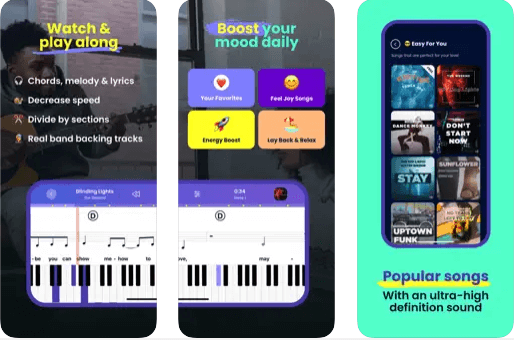 Last but not least, you can try Solfegio to learn piano in no time. It is an excellent way to learn piano along with numerous other musical instruments as well like ukulele and guitar. Solfegio helps you play popular songs and chords on the piano from the comfort of your home.
In addition to this, the songs or pieces of music are arranged by moods with suggestions and content that boosts emotional wellbeing. This best free piano app uses AI technology to generate recommendations based on your skill level, song preference, and learning tempo.
Key Features of Solfegio:
Interactive lessons with step-by-step instructions.
Easy to use and lightweight piano learning app.
More than 100 songs from famous artists like Just Bieber, Ariane Grande, and so on.
Newly released songs are added every week.
There's a unique option for kid's friendly songs.
---
11. OnlinePianist
OnlinePianist is yet another best free applications that you can use to learn piano, in no time. There is a massive library of songs, including popular TV shows, artists, and albums. Additionally, you can create your own personal song playlist and add your favorites to it. OnlinePianist also provides a variety of customization options that includes modification, speed, and more. The app provides detailed piano tutorials – to access those, all you need to do is just open the application and choose any three songs to get started. After that, your piano tutorial will appear, displaying the keyboard to show you how the keys and songs goes.
Key Features of OnlinePianist:
Provides animated and detailed piano tutorials for all popular songs.
Lets you create and manage your own personal songbook with your favorite tracks.
Its massive library contains thousands of songs from different genres.
A fully personalized learning experience with more than 10 unique learning functionalities.
Offline mode is also available.
Also Read: Endless: Simple, Fun Music Collaboration App For iOS
---
That's A Wrap!
Playing Piano is a skill that involves no shortcuts. No one can lessen the time you require to practice in order to become proficient in your pursuits, but definitely, you can seek help from professional Piano learning applications that can speed up the entire learning process.
In this write-up, we have shared a list of the 11 best free Piano learning applications to which everyone can relate, from iOS users to Android users, from novices to professionals, these apps are best for everyone.
Check them out and tell us what you think of them in the comments below. If you have any better recommendations, please feel free to share them too. Additionally, do subscribe to our Newsletter for the latest tech updates. Follow us on Facebook, Twitter, Instagram, and Pinterest.
Harshita Sharma is a technical writer with quite a distinct understanding of the tech realm. She is a tech enthusiast who believes that tech knowledge should reach one and all and tries to convert the sketchy knowledge into the simplest possible form for making people understand the tech world better. When not playing with words, she loves to travel and explore new places. And, is a coffee & cricket connoisseur.
Subscribe to Our
Newsletter

and stay informed

Keep yourself updated with the latest technology and trends with TechPout.
Related Posts