Best Music & Audio sound Visualization Software for Windows 11/10
Published Date :
May 20, 2022

Here we have reviewed and compared the best music visualizer software for Windows 11 and 10 with features, pricing, and other aspects to help you choose the perfect sound visualization tool.
Music is something that takes you into a divine world where you can de-stress and heal your soul to become more energetic and fresh. In addition, the music industry has developed by bounds and leaps in recent years. The latest improvements in technology have helped numerous artists realize their dream of becoming well-known musicians with no or very few resources.
All thanks to the pervasive platforms like YouTube or Spotify, several independent musicians have somehow managed to roll up a massive fan base that was only restricted to artists and singers locked in with esteemed recording labels or studios. With a vast variety of music software, these indie musicians or composers have conveniently engraved a niche for themselves in an overcrowded industry.
One program that can be credited for this revolutionary change is – the music visualization software. Audio or music visualizer can be determined as software that visually displays tempo, rhythm, loudness, and music frequency through animated imagery. The best music visualizer will generate imagery in sync with the playing audio. Such programs show distinct animations for different pictures and even provide templates that can also be used to get a particular type of animation. Music Visualization software uses a unique and smart algorithm based on mathematical procedures, and also converts the audio into numerals that get emphasized in any form including circles, lines, and other visualizations.
7 Best Music & Sound Visualization Software You Can Try in 2022
In this section, we have put together seven wonderful sound and music visualizer tools for Windows 10 and 11 PCs. To know more about the programs, read further!
1. MilkDrop 2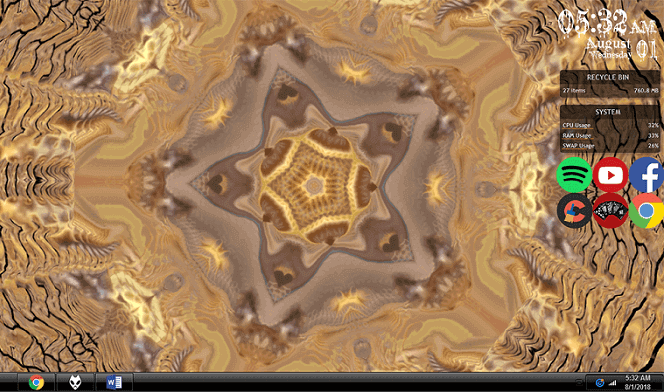 MilkDrop 2, is a flexible, GPU-driven sound visualizer for Windows PC. It is one of the most famous and oldest visualization engines and is originally a plug-in for the Winamp music player. Developed by Ryan Geiss in 2001, MilkDrop is an open-source free visualization software. With this software, you get a giant bunch of presets, which are further saved in .milk file format. For tweaking the behavior of presets, you must know some kind of coding.
MilkDrop uses DirectX and beats detection to render the prominent visual effects, which takes you through a mesmerizing musical voyage with well-off visualization. Irrespective of being one of the oldest audio visualizers, it works fine even on the latest computer systems. Apart from that, MilkDrop is also awarded as one of the best free music visualizers for Spotify.
Also Read: Best Free Music Download Sites to Stream Your Favorite Music Online
---
2. Magic Music Visuals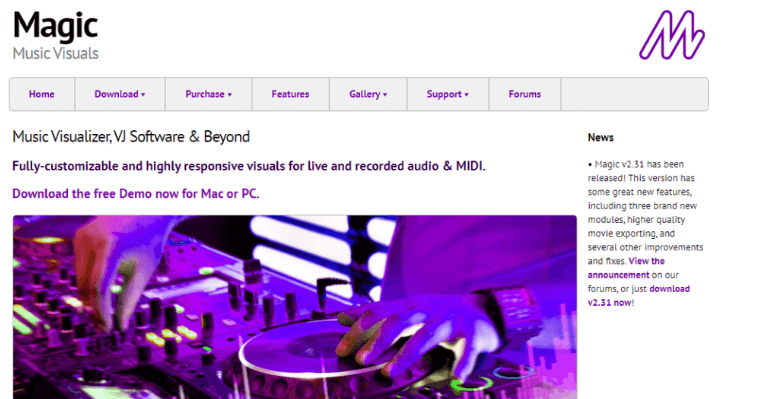 Another advanced sound visualizer for Windows 11/10 is Magic Music Visuals which enables users to construct their imaginations without any hassles. The software is 100% customizable and provides complete support for Live audio and MIDI. The tool is highly capable of creating numerous patterns that modify their spinning motion depending on the frequency and volume of the sound.
In addition to this, it displays 3D models and rotating pictures that move according to the beats. It also supports real-time manipulation utilizing live cameras. With this music visualization software, you can also add cover art. The other prominent features of Magic Music Visuals are accelerated GPU, 3D graphics, and more. Talking about its pricing model, then let us tell you, its paid version costs $44.95 for a single PC.
---
3. VLC Media Player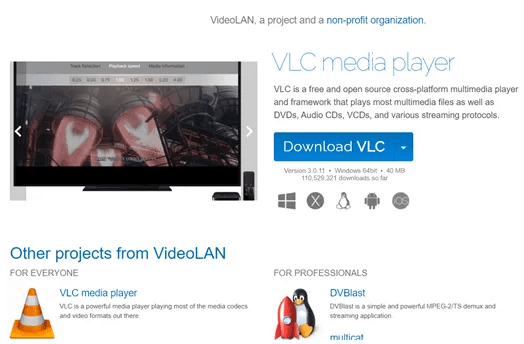 VLC Media Player of course needs no introduction. This is one of the most preferred choices of millions of people who want to devour their favorite songs on the computer systems. However, not all people are aware of the sound visualizer tools that VLC Media Player offers.
To be more specific, this free listening and music visualizer tool lets users convert their audio files into any format, add watermarks, and create bookmarks. If in case you do not want to download and install a particular program just to visualize your music, then VLC Media Player can be your perfect choice. It is a popular tool that also comes with advanced features that renders the best visualizations for your favorite music tracks.
---
4. Media Monkey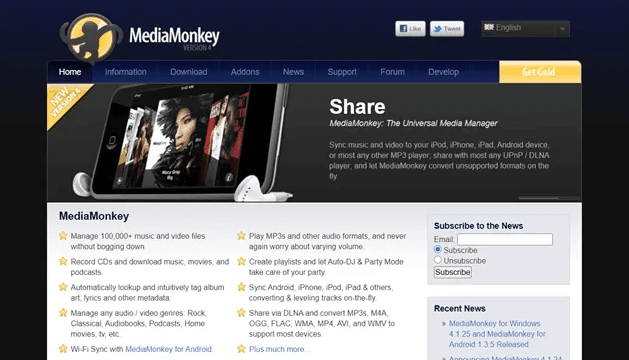 If you are a beginner or a newbie, then Media Money is the best choice for you to visualize your most lovable tunes. Media Monkey is the award-winning media player and organizer for serious collectors. This music visualization software comes with a wide range of editing functions; it has the capability of managing more than 100,000 video and audio files.
Apart from that, the software also enables the users to download & record the songs and allows them to add visualizations to the sounds or audio. Adding visualizations to the music is quite a simple process, all you'll need to do is just add the audio file to the corresponding music library and then choose the preferred visualizer. You can also count the missing album art for much better sorting of the music files in the library.
Also Read: Best Free Music Making Software for Beginners
---
5. Videobolt Music Visualizer

Videobolt Music Visualizer is another best music visualization software for Windows 10, and 11 that you can give a try. The software promotes the audio or sound files by producing different visual effects depending on the beats and sound of the audio file. Not only that, but it also lets the users upload music files from their PC and even cloud storage too.
This real-time audio visualizer is an excellent option for podcasters because the tool helps them to add appropriate and eye-catching visuals to their podcast. Furthermore, using this tool, you can create audiobooks and even customize visuals for distinct sound types. Its free version comes with limited or basic features. Hence, to unlock the complete potential subscribing to the paid plans is recommended – which start at $5.99.
---
6. VSDC Video Editor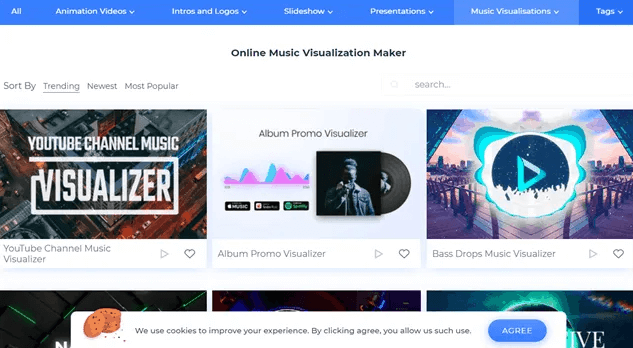 Are you searching for a robust, user-friendly music visualizer for Windows 10 and Windows 11? Then, VSDC Video Editor is what you need. This 100% free multimedia suite brings a set of tools for improving audio quality, editing video, capturing desktop screens, recording voiceovers, and many more. The tool helps influencers, musicians, and creators to visualize their ideas and currently, it has more than 5 million active users worldwide.
VSDC Video Editor uses a special Spectrum feature that plays your music files across a pre-set color range. In addition, this Windows audio visualizer also uses a feature called Audio Abstraction that generates more colorful shapes based on the music or audio file you choose. When your visualized songs are ready, the software also lets you deploy or post them on your website, device, or social media handles.
---
7. Resolume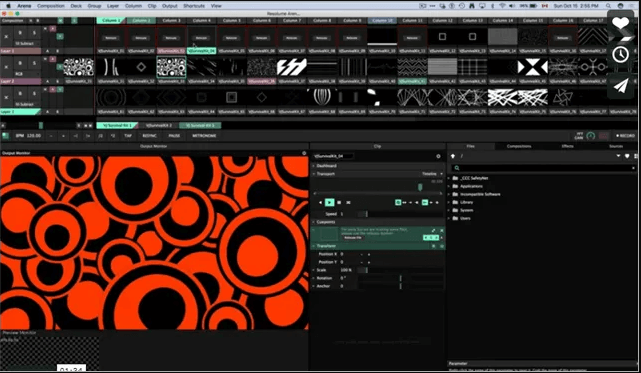 Last but not least, Resolume is yet another best music visualizer for blending visual and audio effects and live audio mixing. The program is specially developed to help VJ's in their live concerts or performances. Using this tool, the VJ can hassle-free forward or rewind the video, or adjust and scratch tempo to the beat.
The software also helps you create animated clips and effects. You can even make a switch from one scene to another effortlessly with any necessary parameter adjustments. It is available in two versions – Arena 6 and Avenue. It can play both audio and video files. This is one of the best Windows 10 music visualizers that you can use to drop beats, animate pixels, and combine the video files with any music file.
Also Read: Best Duplicate Music Files Finder and Cleaner Software for Windows
---
Best Music Visualizer For Windows 10, 11: Final Words
Whether you are just crazy about music/sounds or are a professional musician, nothing can surpass the feeling of viewing your favorite songs played accompanied by stunning, beautiful, and real-time animated images. The applications we have reviewed above will help you choose the right music visualizer in order to add your preferred visualizations to your music.
That's all! Please let us know in the comments below, which music visualizer you picked. Apart from this, you can also drop queries, doubts, or further suggestions in the comments section below.
Moreover, if you want to read helpful articles related to technology, then do subscribe to our Newsletter. Follow us on our social media handles Facebook, Twitter, Instagram, and Pinterest.
Harshita Sharma is a technical writer with quite a distinct understanding of the tech realm. She is a tech enthusiast who believes that tech knowledge should reach one and all and tries to convert the sketchy knowledge into the simplest possible form for making people understand the tech world better. When not playing with words, she loves to travel and explore new places. And, is a coffee & cricket connoisseur.
Subscribe to Our
Newsletter

and stay informed

Keep yourself updated with the latest technology and trends with TechPout.
Related Posts