If you are looking for a free AVI player for Mac, then this list will offer you some of the top alternatives to choose from. Refer to the guide, download any tool as suited, and play AVI files on Mac easily. 
The AVI (Audio-Video Interleaved) format is widely used for playing video files in today's digital landscape. Watching a movie on your computer or mobile device is a simple and effortless process. Due to its proprietary nature, the AVI format is not supported by default on macOS installations. There are numerous video player options available for Mac that can help you open AVI file on Mac.
You have the option to download a third-party multimedia app in the form of a .dmg file or directly from the App Store. Regardless of the approach, it is important to carefully select a player based on a combination of desirable features. Considering the cost is an important factor to take into account before your step up to watch AVI on Mac.
When searching for AVI players in the market, individuals may encounter various options. However, they may encounter difficulties related to video compatibility or quality when attempting to play their AVI files. In order to optimize your time and provide you with a pleasing experience, we will now present a list of the top players.
List of 7 Best AVI Player for Mac in 2023 (Free & Paid)
Now, we will have a look at various alternatives that you can try to play AVI files on Mac. These tools are the best ones you can try. As different software offers different features, try all of these before determining the best one of your choice. So, let's proceed further and select the best free AVI player for Mac right away.
Movist for Mac is a video player specifically designed for Mac devices. It utilizes FFMPEG technology to provide a seamless experience for Mac users. With Movist, Mac users can effortlessly play AVI videos on their devices. This best AVI player for Mac allows you to conveniently control your movie playback using the media keys on your Mac. This software can be used by Mac users in both single-mode and multiple-document modes. The free AVI player for Mac allows you to watch videos with subtitles. This feature enables you to enjoy videos with personalized subtitles.
Also Read: Best Free Video Downloader for Mac
---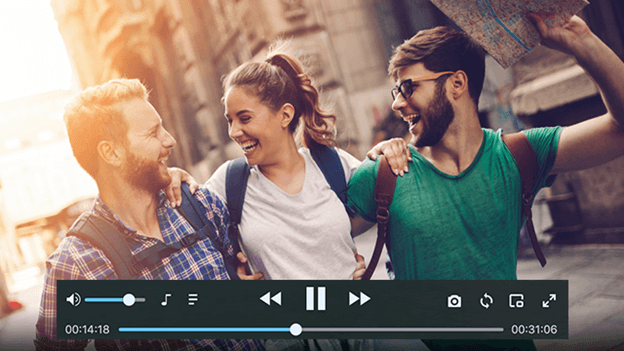 Cisdem VideoPlayer is a useful tool for playing AVI files on Mac computers. This free AVI player for Mac has the capability to play high-quality video files while maintaining their original quality. The program supports a wide range of video and audio formats, including MP4, MP3, MOV, and more. The interface is free from any advertisements or harmful software, allowing you to effortlessly enjoy videos.
---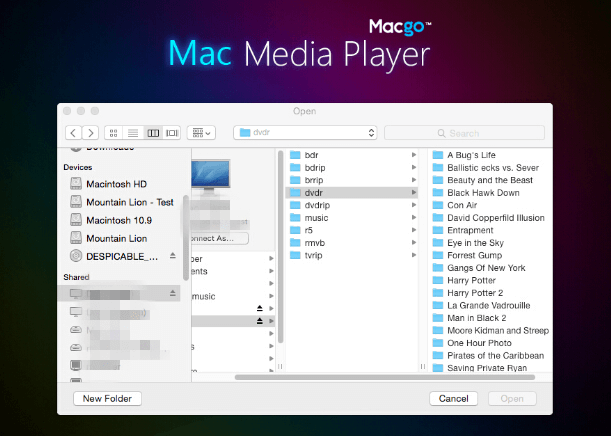 Macgo Mac Media Player is a software application that allows users of both Mac and Windows operating systems to play media files. This is the best AVI player for Mac that's completely free to use. This software enables users to view a wide range of video files with excellent visual clarity. This Mac AVI player has the capability to stream videos to your iOS devices effortlessly, thanks to the support of AirPlay. This player makes it easy to play Blu-ray discs on Mac computers.
Also Read: Best Free Video Stabilization Software for Mac
---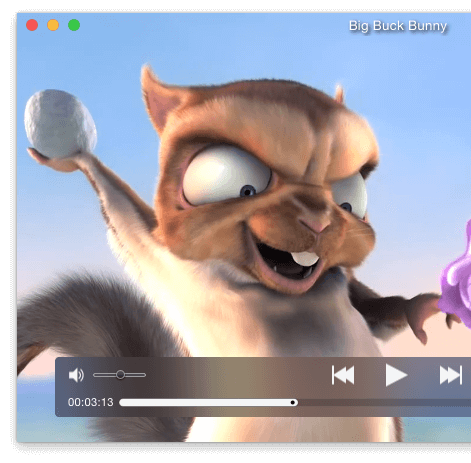 MPlayerX is a well-designed and user-friendly AVI player specifically designed for Mac operating systems. MPlayerX is a video player that efficiently opens AVI and other file formats, ensuring smooth playback and maintaining the original video quality. To play AVI files on your Mac, simply drag and drop the desired .avi video file into the player. The program will automatically begin playing the file. The best AVI Player for Mac is equipped with FFmpeg and Mplayer, allowing it to support a wide range of media file formats for seamless playback. This AVI player for Mac allows you to conveniently search for and play your desired videos directly within the player.
---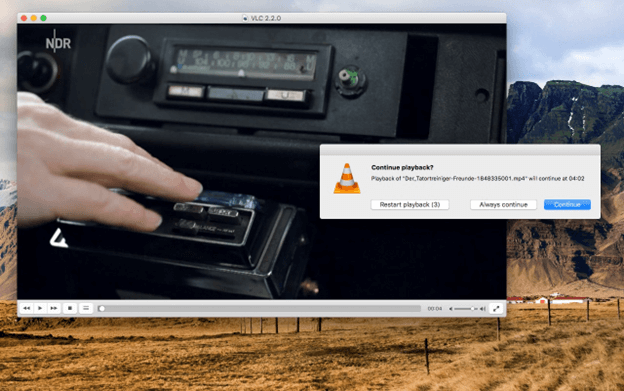 The .avi player mentioned is a highly popular media player used by Mac users worldwide. It is an open-source software that is completely free to use. In the VLC interface, users can directly stream AVI videos to other devices. The VLC free AVI player for Mac is a safe and reliable option for playing AVI files. It is free from any advertisements or malware, allowing you to enjoy your AVI files and also music on your Mac without any interruptions. The software is compatible with multiple operating systems including Windows, Mac, and Android.
---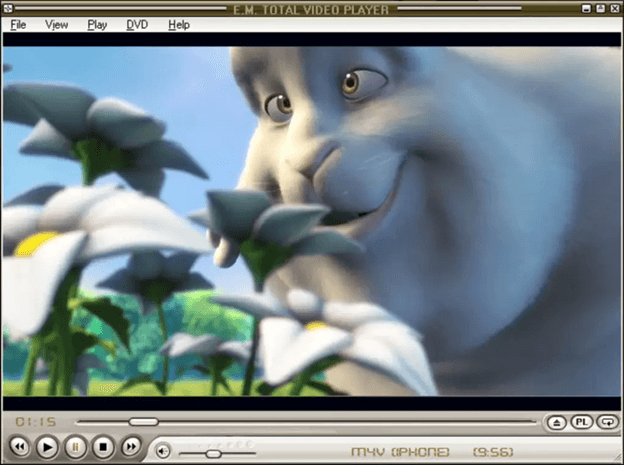 Total Video Player is the next best AVI player for Mac and provides a range of fundamental features, along with additional options that are not commonly found in other players. One standout feature of this product is its capability to play damaged or unfinished files, setting it apart from its competitors. Furthermore, it has the capability to play a wide range of file formats. Additionally, it has Retina support, allowing for seamless playback. Additionally, this free AVI player for Mac has the capability to play Ultra HD films and automatically display subtitles that are assigned to your videos.
Also Read: Best and Free Duplicate Video Finders for Mac
---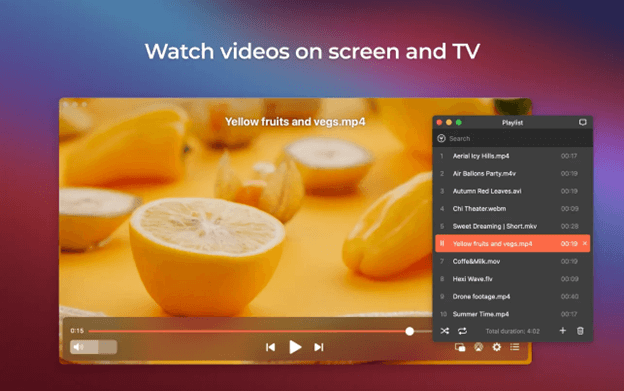 Elmedia Player is a versatile media player that supports various file formats, including AVI files. The Elmedia free AVI player for Mac offers a range of customizable playback options that allow you to adjust various settings and optimize your content according to your preferences. Furthermore, the device is capable of seamlessly integrating with AirPlay, allowing users to effortlessly stream videos and audio onto a separate display. The software is capable of handling a wide variety of file types effortlessly, eliminating the need for any file conversion. This allows you to conveniently access all of your content.
---
Popular AVI Player for Mac to Watch Free AVI Videos
We have provided all the necessary information on how to play AVI files on a Mac. We trust that this tutorial fulfilled all of your expectations. By following the alternatives outlined in this guide, you will be able to watch AVI files without encountering any issues. However, questions or concerns may arise.
Also Read: Best Video Compressors for Mac to Compress Video Size
If you are looking for recommendations on the best AVI player for Mac, please feel free to ask your questions in the comments section below. Our team will respond to you with accurate and trustworthy answers. If you enjoyed this guide, you can stay connected with us on various social media platforms such as Facebook, Instagram, Twitter, or Pinterest. Additionally, you have the option to subscribe to our newsletter, which will provide you with the most recent updates and news in the field of technology.
Devesh, being a technical writer, likes to research and write technology articles and solutions to help others. Having great knowledge about the tech world and its working, he likes to pour the same into his write-ups. Before starting any write-up, he likes to pen down his thoughts and flaunt a creative edge in the same. Apart from being a writer, his primary interests include reading books and poems, cooking, and playing video games.
Subscribe to Our
Newsletter

and stay informed

Keep yourself updated with the latest technology and trends with TechPout.
Related Posts