5 Best Flight Tracking Apps for Android and iOS

If you are looking for an easy and simple solution for tracking flights, then this article is for you as we have shared some of the best flight tracking apps for Android and iOS that you can use and stay updated all the time.
Staying on track is very important in today's world when you have the best technology in your hands. Starting from the alarm to the schedule of the day you can work it out on your mobile phones easily. Now that everything has changed, you need to adapt to the new apps and websites in order to be updated and leave the old conventional methods behind.
In this article, we are going to help get one step ahead with technology. We are going to help you in tracking flights from your phones easily. Yes, technology has changed everything and the apps have improved to a great extent. These apps offer you every detail related to the flight and factors which can cause delay. That's enough to get an idea about the great working of these apps, now let's directly jump onto the list of top flight tracking apps to use.
5 Best Flight Tracker Apps for iOS and Android
Below we have shared the best application for tracking flights. You can read about the application and then decide which application to choose.
1. Flightradar24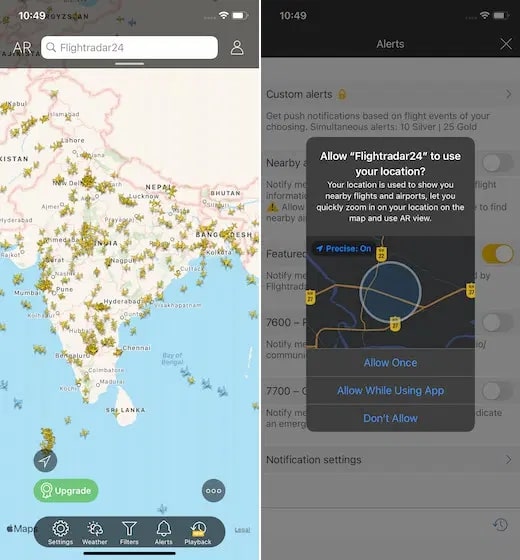 Looking at the name of this application anyone can guess it is a flight tracking application. Though, this app is claimed as the best in its business. According to the users, this application is the best flight tracking app for Android and iOS. It offers some unique features like filter airlines, current delay stats, weather condition/forecast, and interface customization.
Apart from this, you can even take a look at the flight using the 3D model. It is available on both Android and iOS devices for free. You can easily check for flight status and keep a track of all the flights that you have checked in the past 365 days.
Other than this the app can show you the weather status of more than 3000 airports and the estimated time of arrival as well. So overall the app is one of the top flight tracking apps which offers all the required details with just a tap. If you wish you can choose to upgrade as well, the premium plan costs $1.49/month.
Also Read: 13 Best Travel Apps For Android & iOS
---
2. FlightAware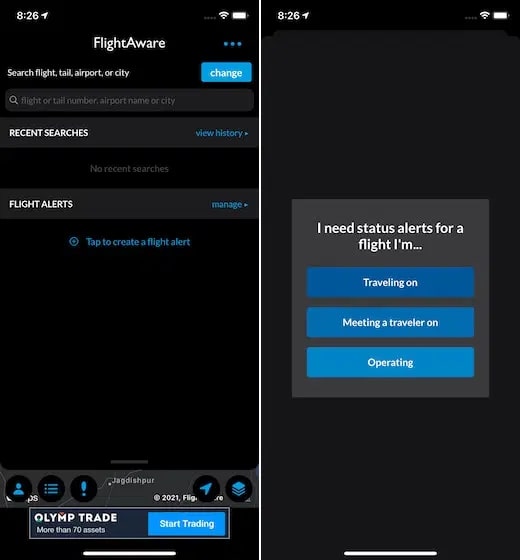 FlightAware is among the best flight tracking apps for iOS and Android. The application has been updating constantly which is why it has never left the list of top flight tracking apps. The apps offer every detail about the flights in real-time so that you never lag behind. Moreover, the app can be easily customized as per needs. You can set up custom notifications for cancellations, delays, and gate changes.
Apart from the custom notification, the app keeps you updated with all the happenings around with flights. It has full-fledged details about the flight along with the map. You can use the map in full screen to check out the location and route. It has a NEXRAD radar overlay which can offer you all the maps on demand. The app has both free as well as paid versions available. The only difference would be the ads. For an uninterrupted ad-free experience you can take the paid plan which costs $0.99/month.
Also Read: 11 Best Location Tracking Apps For Android and iOS In 2021
---
3. FlightStats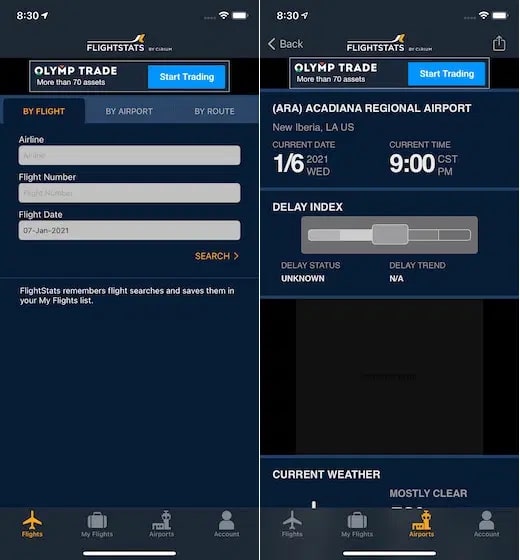 FlightStats is another great free plane tracker app. The developers have focused on making this app user-friendly so that every user can easily use it and check flight status. It offers a live flight tracker which works for all flights across the world. You can easily view the flight status by entering the flight number, airports, and route.
Apart from this the details of the flights include departure, arrival, gates, weather, and delays. The interface is easy so you can search for any details easily. Other than this you can even add the shortcut functionality to operate it using 'Siri'. Not just that, this flight tracker is also compatible with Apple Watch so you can track easily from the watch as well.
Also Read: 5 Best Money Making Apps for Android & iOS
---
4. Plane Finder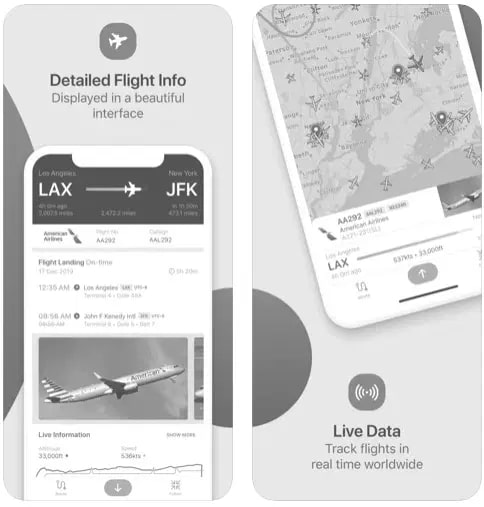 For all details related to flight or planes, you can use this amazing flight tracking app. Plane Finder is among the best flight tracker applications for Android and iOS as it offers every detail of the flight, even if the plane has gone over your head you can check for its details.
This free flight tracker app uses your mobile camera to identify the flight using augmented reality. Other than this the app helps you in learning everything about the flight, so for an enthusiast, it is a great option to pick.
Besides this, you can even choose to look for the history and pattern of the flight so that you can decide which flight is better to travel in terms of punctuality and history. Though we have added this application to the list of best free flight tracking apps for iOS, unfortunately, it is not available for free. You need to take the premium plan by paying $29.99.
Also Read: 12 Best Bike Rental Apps for Android & Iphone in 2021
---
5. Flighty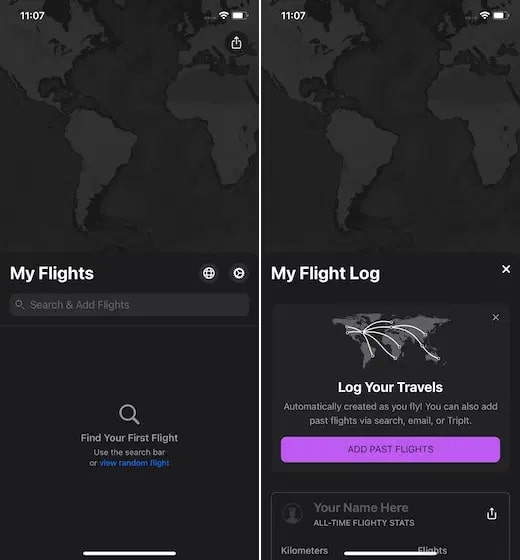 Last up on our list we have another live flight tracker for iOS that is Flighty. This is one of the best flight tracking apps for iOS and the major reason behind that is its unique and simple user interface. Anyone, even a beginner can easily use this application easily as there is nothing to learn.
It offers flight paths and timetables so that you can track everything related to a flight easily. Apart from this, it keeps a track of all the aspects that can delay the timing or departure of the flights. You can even sync your calendar with this flight tracker to stay updated about every news.
Above all, this is a great application to use for tracking flights. Though if you are looking for a free application then you might have to consider some other as this application requires a subscription. You need to pay $ 8.99/month to use this software.
Also Read: 10 Best Podcast Apps For Android & iOS in 2021
---
Conclusion
For every flight-related query, you don't have to keep a check on the airline's website or the airport authority. You can simply find every detail about the flight using any of the above-mentioned applications. All the application offers accurate data with an easy to use interface. You can choose any of the best flight tracking apps that suit your requirement and budget. We hope that you will find this article useful in finding the best flight tracker app for Android and iOS. If you have any queries or questions related to this article, you can write them in the comments section below. We will try and assist you with every problem as soon as possible.
Tanmay is a technical writer from the field of mass communication. He aims to communicate the best of the technology to the readers through his write ups. If not writing you can find him with his camera capturing nature and exploring the unexplored world.
Subscribe to Our
Newsletter

and stay informed

Keep yourself updated with the latest technology and trends with TechPout.
Related Posts