13 Best Travel Apps For Android & iOS 2020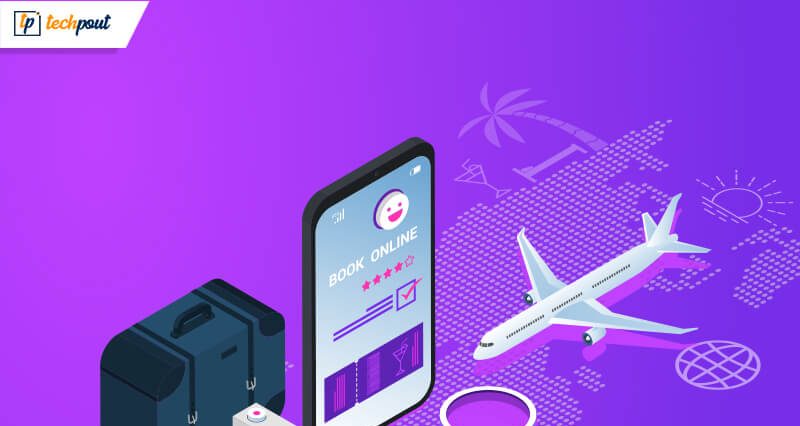 Travelling can be exhausting at times, but thanks to technology, with the invention of handy travelling apps, exploring new places is getting easier day by day.
Travelling apps help you narrow down your choices and enables you to organise your travel plans in a much better way. Starting from selecting a destination to booking the tickets and from finalizing an itinerary to booking the best of hotels, these apps can do everything. 
If you want to make your trip enjoyable and turn it into a lift time experience, don't forget to pick the best travel app in 2019. 
Refer to our list of top travel apps for Android and iOS devices to make your travel more comfortable and hassle-free. 
Best Travel Apps 2019 (Android & iOS):
1. Airbnb – Suitable for Short Term Rentals
If you are worried about the accommodation arrangements for your upcoming trip, then Airbnb can be of great help to you. 
It is an incredible platform that offers fantastic accommodation options all over the works. You can book service apartments and homestays using this stunning app. 
If you are planning for an extended stay, you can also book monthly rentals at an exceptionally reasonable price.   
Its main page consists of five main sections, including Saved, Trip, Explore, Profile and Inbox. You can make your choice based on the ratings and users reviews. 
So next time when you plan to travel, don't forget to try Airbnb. 
Must Read: 7 Best Travel Booking Sites 2019
2. Booking.com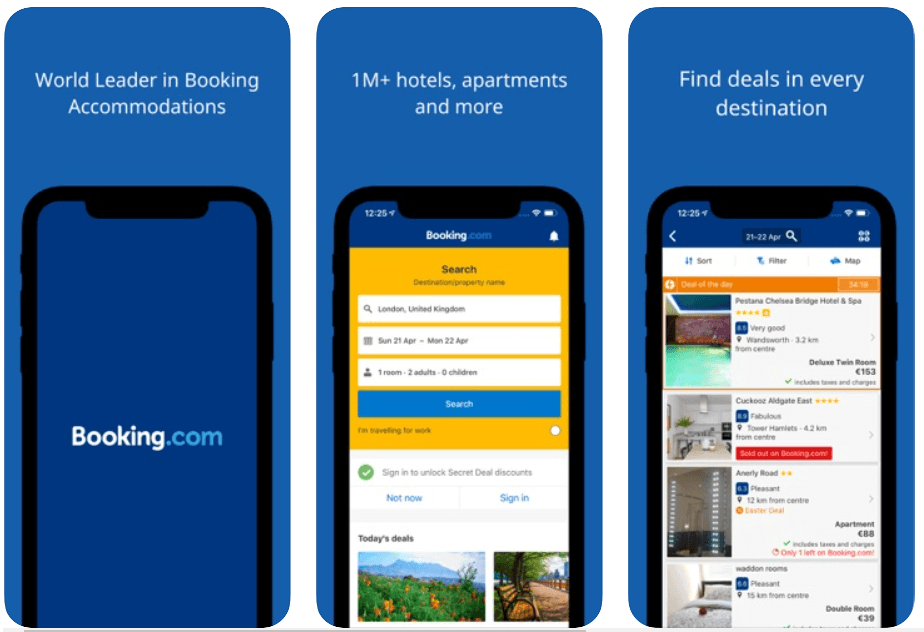 If you are searching for the best hotels for your travel, there is no better travel app than Booking.com. It is quite handy and easy to use applications which you can use to organize your hotel bookings and stays. 
Travellers can also find multiple discount offers and deals from time to time. For smartphone users, Booking.com works reasonably well on both iOS and Android platforms. 
3. Hopper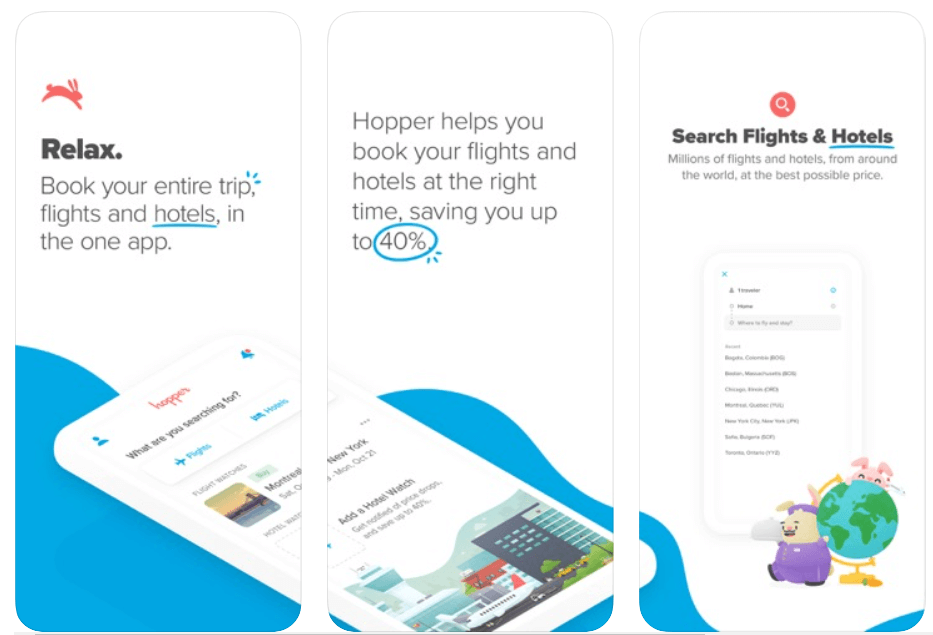 Unable to find the best deals for your flight tickets? Well, Hopper can be a life saviour for you in such scenarios. 
It's a perfect travelling app for people with a tight budget and offers some of the best deals for flight tickets.
Once you launch the app, it will ask you for your arrival and departure details, enter your travel details. Hopper will display the best flight options for you, along with the price range.
Refer to the list of displayed flight options and choose the one which fits your pocket. 
4. Skyscanner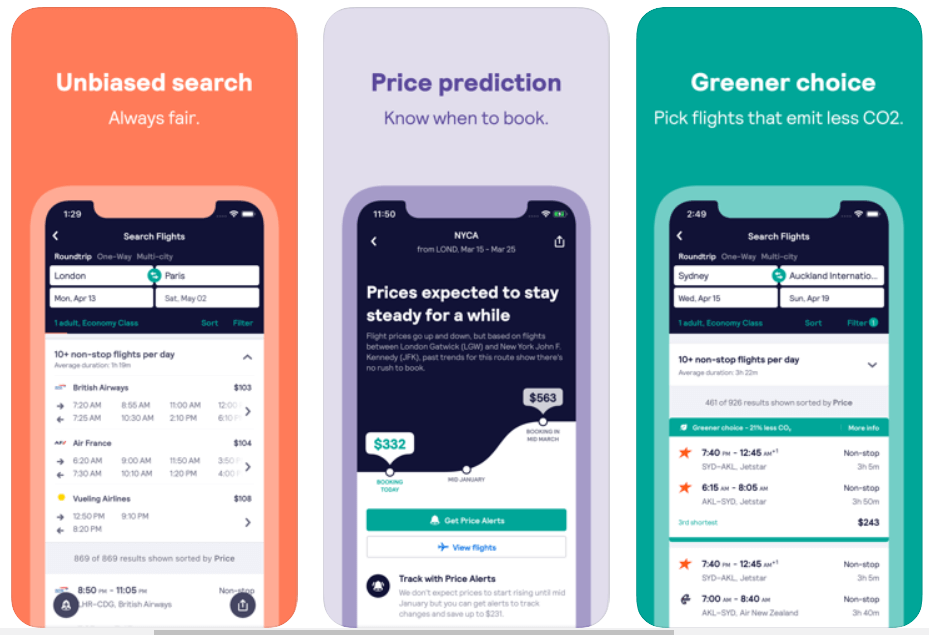 Planning a lot awaited trip? Confused about your flight tickets and hotel stay. Well, Skyscanner is probably one of the Best Travel Apps in 2019, which can help you book the best flights along with car rentals and hotels. 
The app is divided into four sections including Trips, Explore, Profile and Search and can be used to search for the best flights, car rentals and Hotels. 
The app comes with a user-friendly and clutter-free UI. You can also use it as a currency converter to see the accurate prices.
5. Currency Converter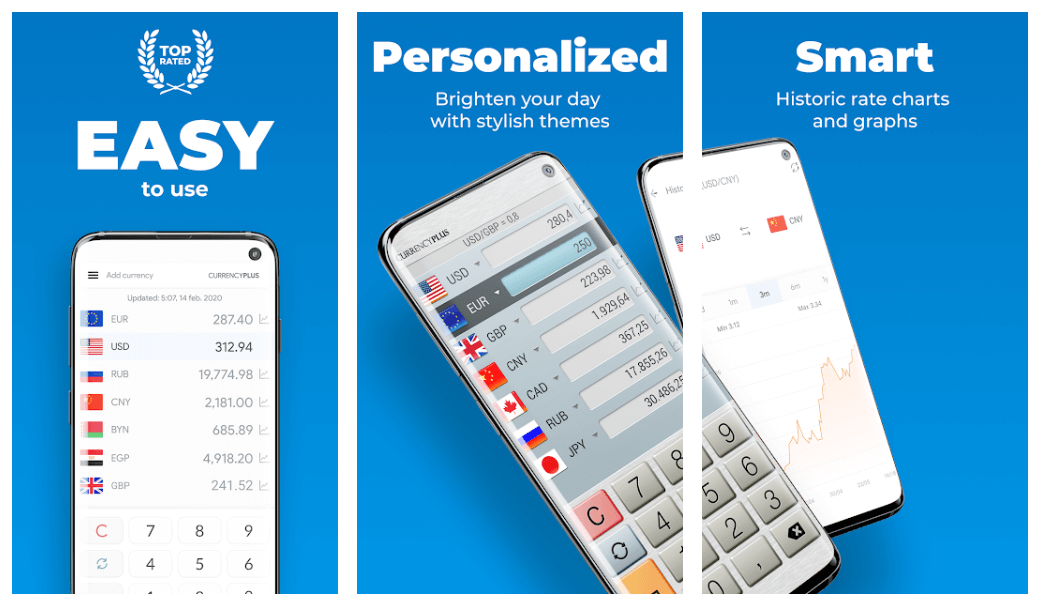 Converting currency in a foreign country can get a bit frustrating at times. Having a dedicated travel app that can convert the local currency for you can be of great help while on the go. 
The app detects your location and gives you possible currency options to choose from. It also comes with a Dark theme option and can be easily upgraded for an uninterrupted ad-free experience. 
Use the below links before you start packing your bags.
Read More: 10 Best Podcast Apps For Android & iOS 2019
6. Triplt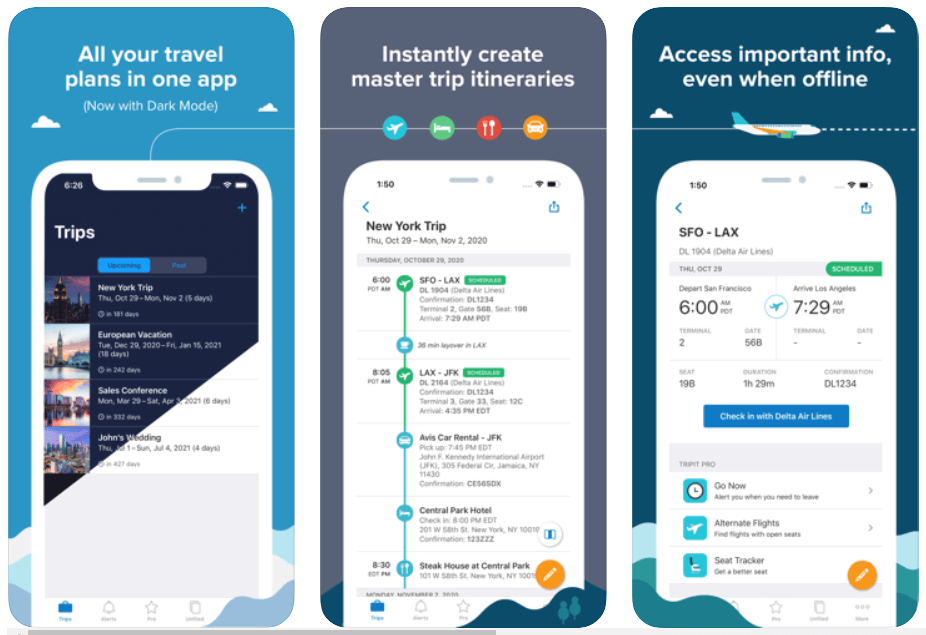 To use this travel app, it is mandatory to create an account and sign up. Once done, the app will ask you for your permission to set up everything for you. 
Use Tripit for book your flights and stay updated with their real-time status along with other useful details like seat tracking, refund, alternative options and many more. 
You can also use it to save your travel documents, including your passport, driving license and tickets. The app also contains a dedicated section known as "Travel Stats" that store all your booking information.
7. Google Maps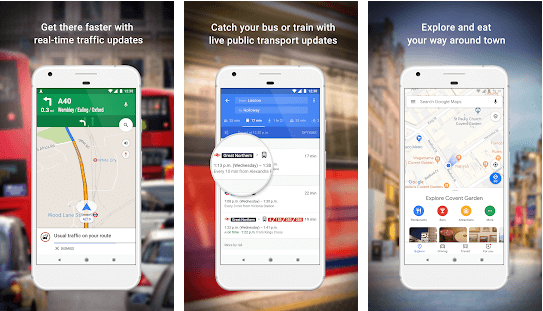 Are you worried about how you will manage yourself through unfamiliar streets and roads in a new location? Well, there is nothing to panic about, Google Maps will take good care of all your related concerns.
It is without fail an unbeatable mapping app and is used worldwide across all ages and groups. Google maps is a must app travel app for people who love travelling. 
To use this incredible application, all you are required to do it, specify your destination, and it will start guiding you with the most convenient and traffic-free route. 
8. Kayak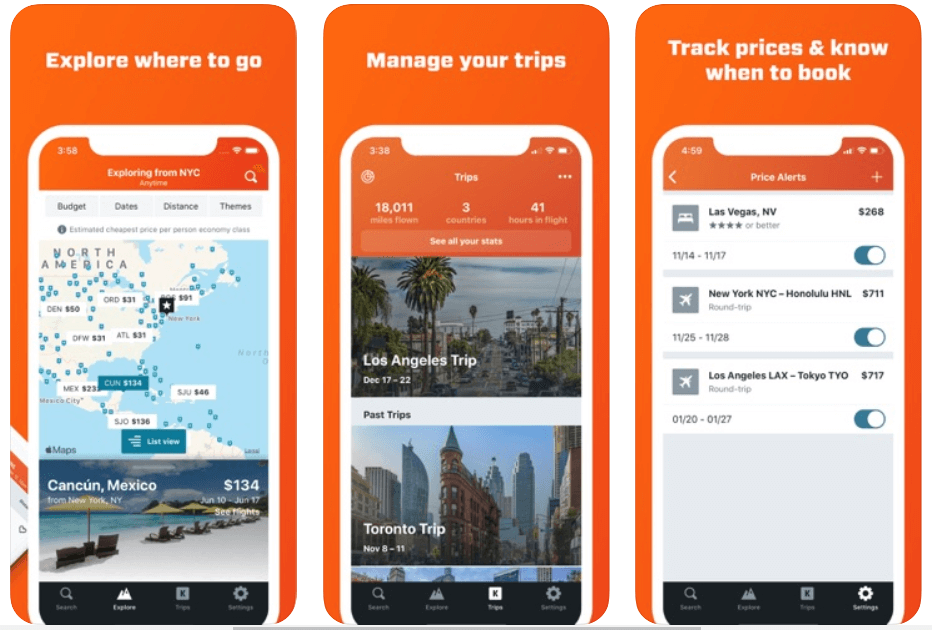 Kayak is an all-rounder travel app and itinerary planner for 2019. Use it to find the best hotels, flights and local travel for your upcoming trip. 
Just mention your requirement along with the travel dates and destination. You can also use it to check your flight status, explore local travel option and measure your baggage according to your budget. 
9. Google Translate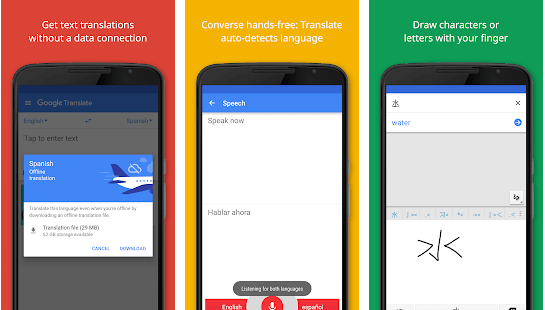 Travelling in a country with a foreign language is extremely frustrating and can spoil your trip all-together. It is a must-have travelling app for all travellers.
Google Translate is one of the most popular travel apps and can translate multiple languages for you in either verbal, written or pictorial form. Moreover, it can also work in offline mode. 
10. Trivago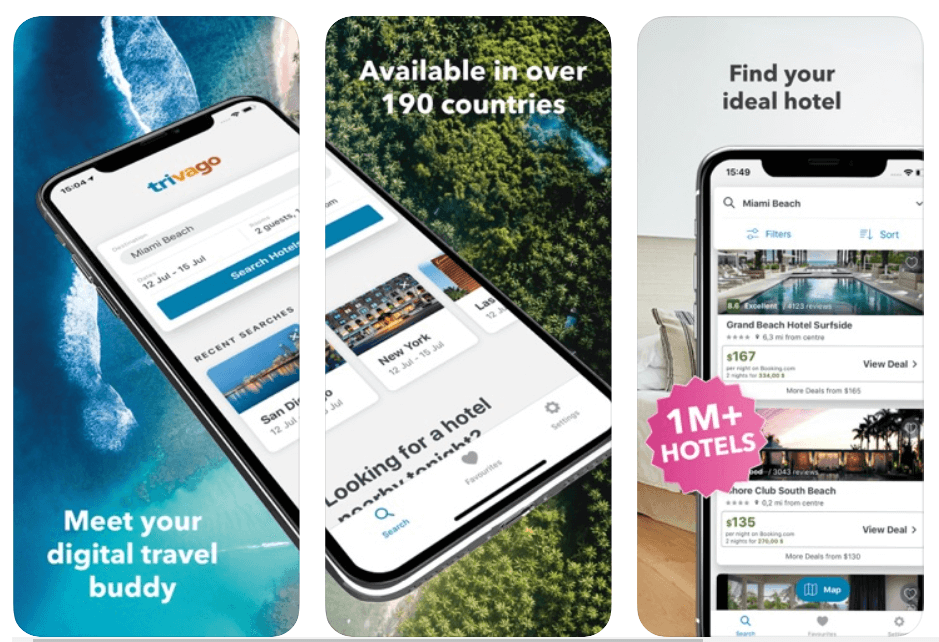 Finding it hard to pick a popular yet budget-friendly hotel, well Trivago does precisely the same for yours. It gives you a well-researched list of the best and reasonable hotels, especially in India. 
It helps you search for popular hotels which fall in your price basket, location and other preferences. Using this app is quite simple, enter your travel dates along with the destination, and you are good to go.
11. Couchsurfing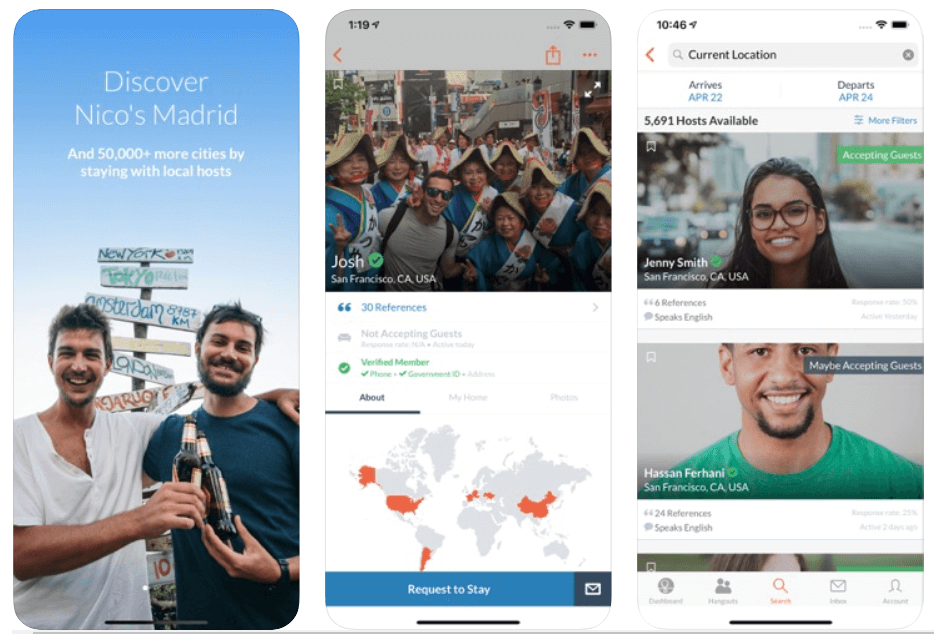 If you like hosting or get hosted while travelling, then CouchSurfing can be of great help to you. The most beautiful and unique feature of this app is, you can enjoy a completely free stay. 
Couchsurfing deserves a sure spot in the list of best travelling apps for Android and iOS devices and comes with five main sections including Dashboard, Messages, Hangout, More and Search. 
You can use it to plan your travel and get in touch with other travellers and local residents. 
12. TripAdvisor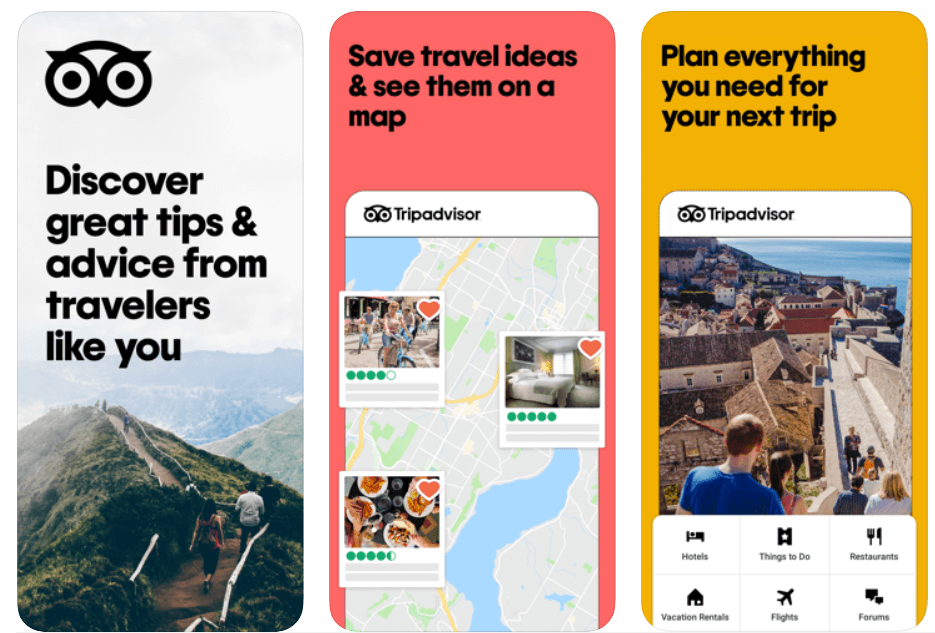 TripAdvisor finds its place amongst the best trip planners and travel apps. From hotels to flights and from restaurants to vacation rentals, you can use it to plan a hassle-free and comfortable trip.
It comes in four sections: Home, Trips, Me and Inbox. This all in one travel application has a massive list of options available for all budgets and ages.
13. XE- Currency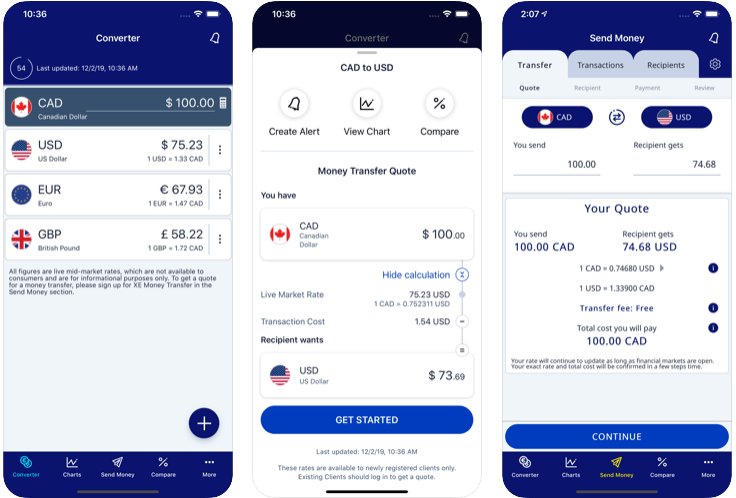 Currency converts form a crucial part of any travel. XE comes with a simple to use UI and require a few necessary steps to perform. 
It comes with multiple functionalities and options including Compare, Send Money, Charts, Convert and many more. 
While travelling, you can leave all your currency-related tension to XE-Currency 
So, these are some of the best travelling apps that you can refer to before planning your long-awaited trip.
Plan your trip and enjoy the ultimate convenience with these itinerary planner apps. 
Prachi Dani is a technical content writer who specializes in areas of science and technology. She is highly up to date with technological transitions and transformations. Writing is not her passion but the only thing that carries satisfaction in life. If not writing, you may find her engrossed playing action games on her treasured smartphone.
Subscribe to Our
Newsletter

and stay informed

Keep yourself updated with the latest technology and trends with TechPout.
Related Posts