This article shares the best commercial and free file managers for Mac to manage files better than the in-built Finder in macOS.
File management on Mac has always been a challenge. Though Apple made Finder more powerful over all these years to handle the management of numerous files on your device, it still lacks the friendliness and features that users desire.
For instance, tasks like backup creation on remote servers, group renaming, archive updating, and even banal moving/copying seem challenging with Finder. Hence, many users have already switched to the best file managers for Mac, and a lot of others are on the way to doing so.
If you are also looking for a Finder replacement, we are here with the file managers for Mac to manage files better.
Let us dive straight into the top commercial and the best free file managers for Mac that have all that Finder misses out on.
List of the Best File Managers for Mac
The following is a carefully curated list of the best commercial and free file managers for Mac. These file management solutions aid better file management with seamless navigation and many other features.
1. ForkLift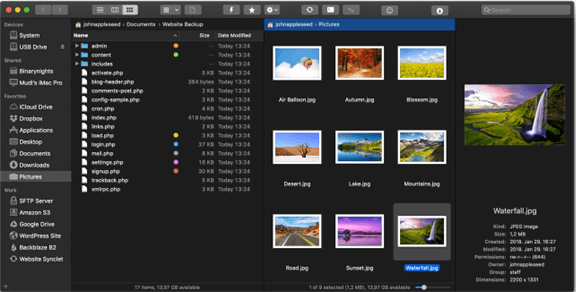 Let us first introduce you to ForkLift. It is an advanced dual-pane file manager with a plethora of features. A few fascinating features include Root Access, app deleter, dark mode, and search via regular expressions.  Moreover, below are other highlights of this software that made it one of the best file managers for Mac.
Key features of ForkLift 
Supports cloud storage, FTP, WebDAV servers, and SFTP
Lets you rename files sequentially in a batch
Excellent folder synchronization
You can split and merge files
Allows you to control and pause the file-copying process
Remembers the folder you last opened
Supports remote editing of files
Preview option to view useful information about a file
Also Read: Best Widgets for Mac
---
2. Commander One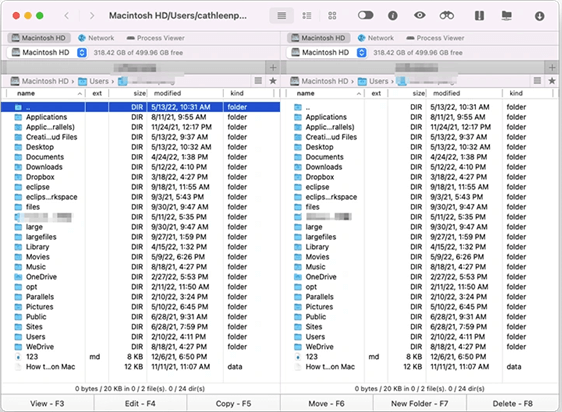 Next, we have Commander One as one of the best free file managers for Mac. It boasts all the essential tools you may need for better file management. For instance, Commander One includes an in-built Terminal, support for search via regular expressions, archive support in reading and creation modes, Root Access, and dual panes.  Additionally, the following features also add to the reasons we have included Commander One in our list of the best Mac file explorer alternatives.
Key features of Commander One
Supports hotkeys to manage files
Lets you view hidden files on Mac
Allows you to manage files in cloud storage and remote servers
Software theme, font, and color customization
Allows you to mount iOS and MTP devices (only for Pro users)
The pro users get additional features like support for TBZ, RAR, 7z, and TGZ archive formats
You can select only those files you wish to work with
Allows file operations queues
---
3. Path Finder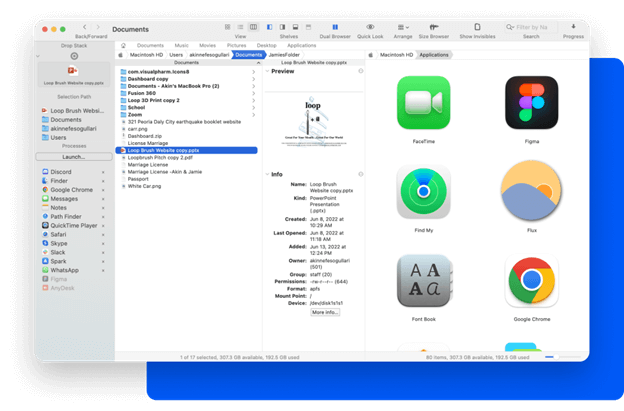 Cocoatech's Path Finder caught our attention for its Finder-like interface. Hence, it can be the best file manager for Mac you can use if you are looking for an interface resembling Finder, but with advanced features. Talking about the features, Path Finder delights users with quick file upload to cloud platforms, dual pane view to copy/move files with one click, and AirDrop integration. Moreover, the following are some other notable features of this Mac file manager.
Key features of Path Finder
A powerful folder synchronization and comparison tool
Secure deletion and file arrangement according to a specific file attribute
Drop Stack places files into a temporary stack to freeze drag-and-drop operations
Supports advanced file selection according to criteria like file name, extension, and attributes
Allows smart sorting by folders, packages, or files
You can batch-rename files
Allows you to view and manipulate hidden items
Bookmarks and tab presets for easy file access
An animated visualizer for your files
Also Read: Best Calendar Apps for Mac
---
4. Transmit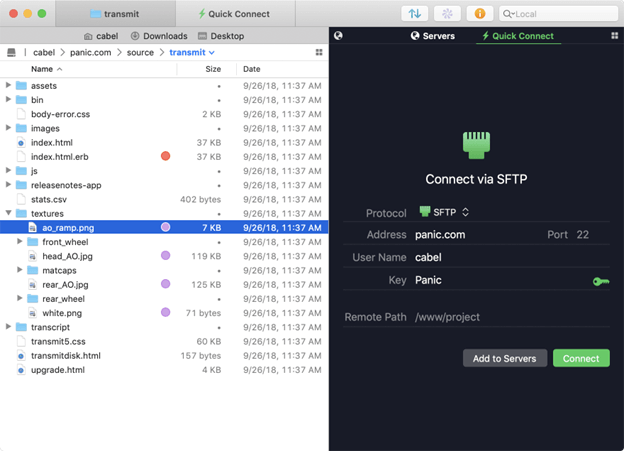 We have to Transmit at the fourth position in our list dedicated to the best Macintosh file managers. It makes file management more efficient with support for cloud storages and remote servers. Moreover, it boasts many delightful features, such as a data transfer manager, fast file browsing with Quicklook, local directory listing, a sync wizard, and view modes for local and remote files. Furthermore, below are some other Transmit features that we found interesting.
Key features of Transmit
Allows you to transfer data between servers and remote drives
Seamless file upload, download, and management on multiple servers
Powerful yet easy-to-use interface
Panic Sync option to securely and quickly sync files across various devices
Supports local-to-local and remote-to-remote sync
Info sidebar to let you inspect items as you browse
Lets you batch-rename files
The places bar allows you to jump to your favorite folder with one click
Availability of a dark mode
Lets you manage and generate keys without exiting Transmit
---
5. Nimble Commander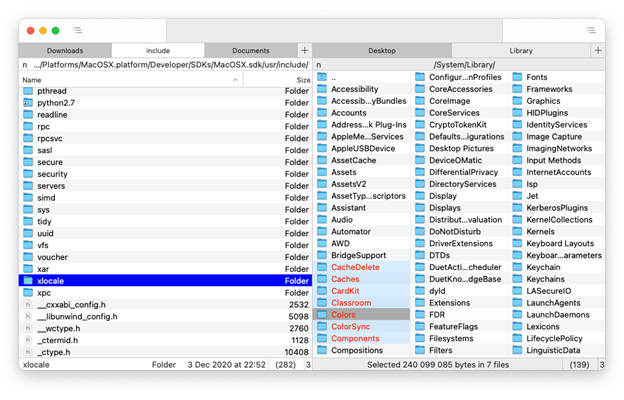 Let us now take a look at Nimble Commander. It is a dual-pane file manager with a classic design and the familiar Mac swiftness. Moreover, it is among the best file managers for Mac due to its efficient performance, quick access to file management operations with keyboard shortcuts, and high flexibility. As far as features are concerned, below are the top offerings of Nimble Commander which make it a great choice for power users like software developers, system administrators, and IT professionals and enthusiasts.
Key features of Nimble Commander
Attribute or content-based file search through custom search or spotlight
An in-built file viewer allows you to view content in a textual or hexadecimal representation
You can mass-rename files hassle-freely
There is an in-built UNIX terminal emulator
Allows you to seamlessly browse and handle archive files like regular folders
Supports compression of files into Zip archives
You can connect to remote FTP/SFTP/WebDAV/Dropbox servers
Provides useful system information, such as free disk space, CPU/RAM usage, etc
Supports customization of UNIX & BSD flags, file times, and the ownership of multiple items
Other useful features like an admin mode, classic mode, hash calculator, and efficient link handling
Also Read: Best Free Partition Software for Mac
---
6. CRAX Commander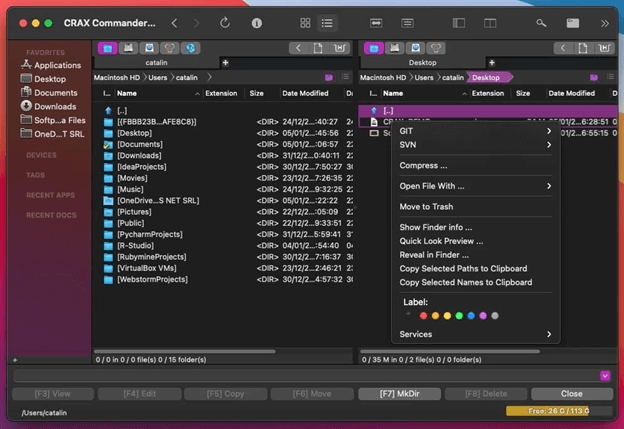 If you are looking for a highly customizable and the best free file manager for Mac, you can try CRAX Commander. It allows you to customize the coloring of files and folders, the toolbar, the definition of external tools, the view, keyboard shortcuts, tabs and bookmarks, and the dual-pane browser.
Moreover, advanced search for files and folders, better table data filtering, excellent archives handling, in-built SVN support, and the following features make it a good file manager for Mac.
Key features of CRAX Commander
Allows you to drag and drop files
An in-built editor with syntax highlighting
Lets you transfer files in the background using a configurable queue
There is an editable path navigator
Boasts all essential features like mass file renaming, remote connection, folder merging, file checksum calculator, folder merging, file split and combine, and content-based comparison of files and folders
---
7. HoudahSpot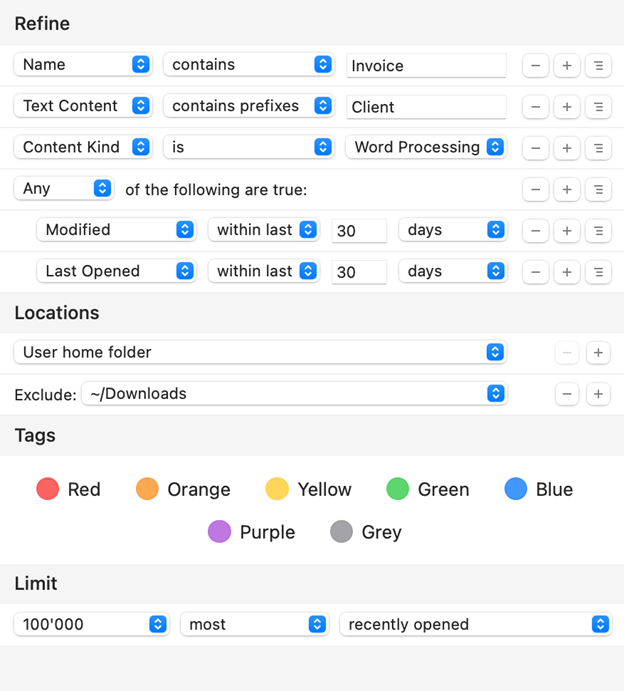 Lastly, we have HoudahSpot to conclude the best Mac file explorer alternatives. It helps with better file management through an in-built Spotlight search which allows you to find documents, photos, and other files hassle-freely.
Moreover, the following are some attention-worthy features of this one of the best macOS file managers.
Key features of HoudahSpot
Refined search by adding criteria and combining them
Convenient and fast file search
Lets you exclude specific folders from the search
Allows you to search files only in selected folders
You can drop files into the Info window to inspect them
Supports automated search via Apple Script
Lets you search using advanced queries
Support for third-party tools, such as Butler, LaunchBar, Alfred, etc.
Also Read: Best Productivity Apps for Mac
---
Concluding the Best File Managers for Mac
This article discussed the best commercial and free file managers you can use as a replacement for Finder on Mac. You can go through all the above-listed software and its features to select the perfect fit for your requirements.
If you have any other better file manager for Mac to add to the above list or have any other questions/suggestions about this write-up, you can write us a comment. We will be delighted to address all your concerns.
Niharika is a passionate soul who finds immense satisfaction in putting all her thoughts in writing. Being a technology enthusiast, she loves learning new things about tech and making everyone technologically literate through her articles. When not composing tech articles, you can find her bringing characters to life in her fictional stories, reading something intriguing, or spending time with her near and dear ones.
Subscribe to Our
Newsletter

and stay informed

Keep yourself updated with the latest technology and trends with TechPout.
Related Posts