7 Best ES File Explorer Alternative Apps For Android In 2021

ES File explorer has ruled as the most-preferred and useful file manager in the crowd of many free and paid file manager apps across the world. The powerful and incredibly helpful features that this app possesses have crowned it as a go-to place to declutter, share and manage the stock of files and folders in devices. 
Above all, it is simple to use and offers this ease for free. But, due to privacy policy issues and recent ban on its use in India, there are some of the best ES File Explorer apps that have come to light. This article has brought you the names of such best alternatives to ES File Explorer that you can use if you are looking for a replacement with the same perks to continue with.
What Are The Best Alternatives To ES File Explorer In 2021?
Here are some of the amazing alternatives to ES File Explorer that offer immersive user experience covering the important functions that you extract comfortable file management from. From smart categorization to file encryption, paid and free, explore this list of such apps and you may find your best one.
1. Files by Google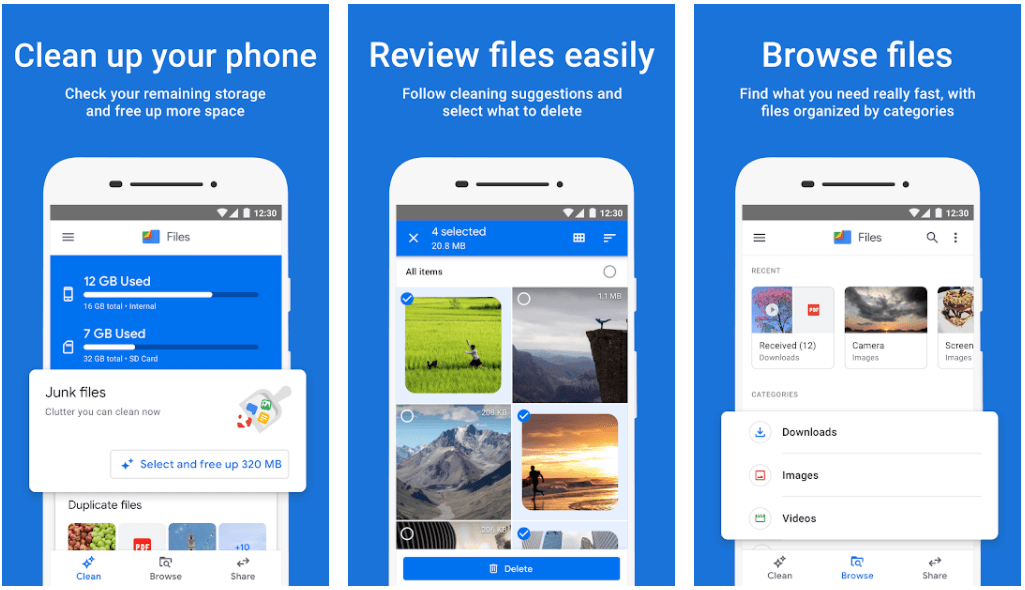 Cost: Free
If the best ES File Explorer alternative means a hassle-free and simple file manager to you then you should give Files by Google a try. It is a lightweight file manager for Android devices and comes with a profile packed with important features. It allows you to perform a clean-up on the storage and free the space from unnecessary files and junk quite easily. 
Besides, you will certainly appreciate its Share feature that helps you to transfer files and folders from one Android device to another effortlessly. Coming to the management part, it allows you to organize your data based on filters like date, size and name, if you select them as your data including images, videos, documents and downloads get categorized automatically into separate realms by Google. 
Read More: 9 Best Cooling Apps for Android
You cannot explore your files on the computer because this tool does not offer SMB or FTP. support which you may feel restricted from. But if you are looking for a friendly tool with smart file management and sharing capabilities (without ads) then this one can make a cool alternative to ES File Explorer.
---
2. FX File Explorer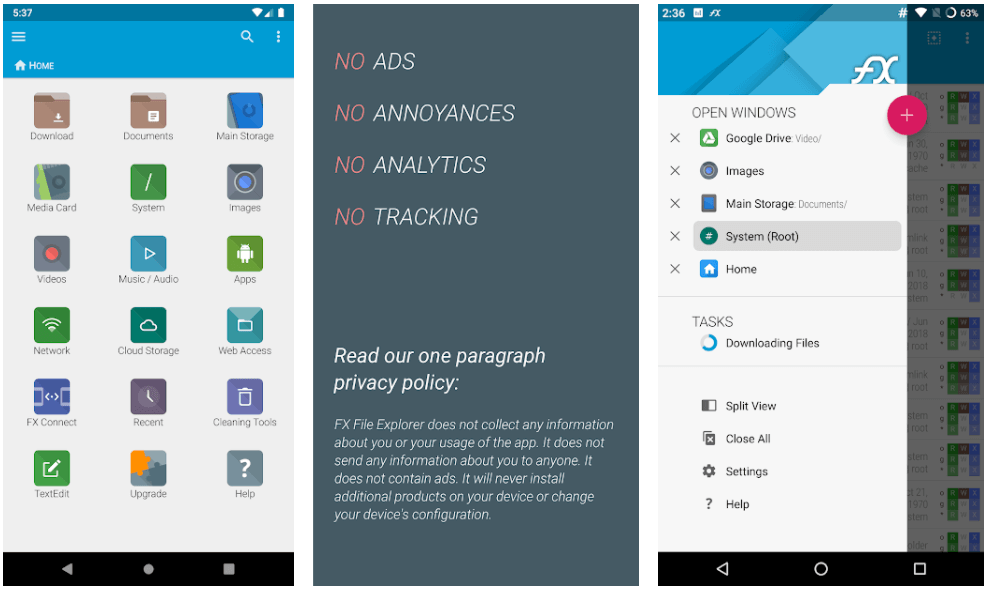 Cost: Free Trial for 7 days; $2.99 for Plus version
Next best ES File Explorer alternative is one of the popular file managers- FX File Explorer. It has a friendly UI and features quite a design. You may spot the similarity between FX and ES when it comes to looks and features. 
Talk about features and we have got to tell you that you can watch over almost every file type and it allows you to increase/decrease the size of folder previews with Zoom in and out. Besides, it supports visual clipboard, gestures and provides you app management which you cannot not like. 
Besides, you get a split view interface in this app with drag and drop and it also offers you several add-ons. Moving ahead, you can enjoy other features like clean-ups, easy categorization, FTP/SMB support etc. in this tool which makes a feature-rich alternative to ES File Explorer. 
It comes with a free and paid, FX+ version. The latter opens the door for you to access more of its incredible features including the ability to hide and encrypt files.
---
3. Solid Explorer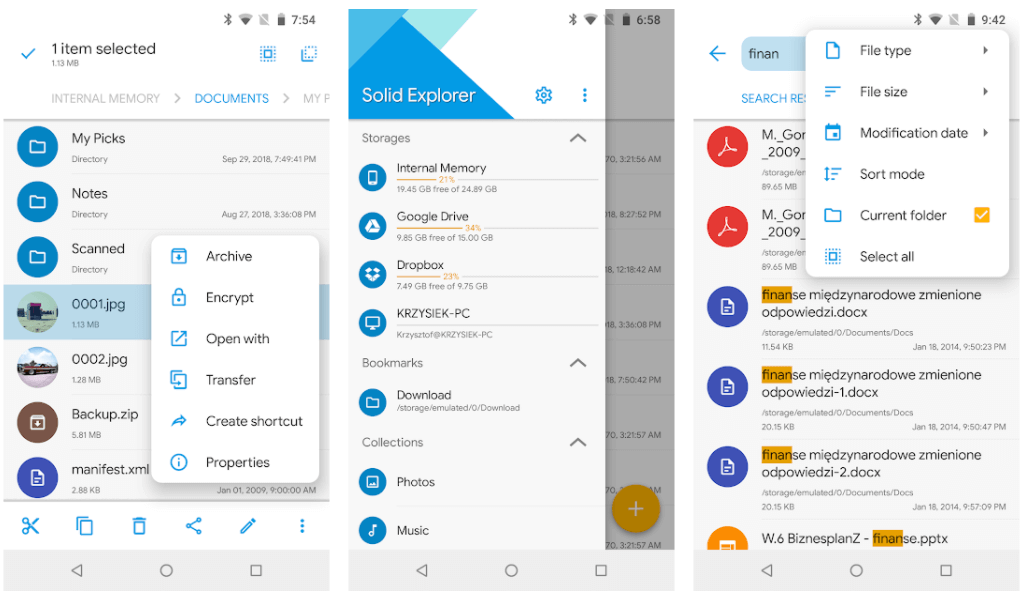 Cost: Free Trial; $1.99 for Premium Version
Here's another best alternative to ES File Explorer to try for file management- Solid Explorer. It features an easy-to-use interface which will make you experience fuss-free management of your data and then it has an attractive UI with a material design which you cannot ignore. Solid Explorer allows you the important features like network sharing and cloud support. 
It features a Recycle bin, root explorer and also provides support for compressed files. Apart from these features, you will love its performance on file and folder encryption and the ability to access over almost every file type. 
This tool lets you drag and drop the files into two windows with its dual-pane multitasking feature and allows functionality on various plugins. Bonus: you have an option to customize its appearance.
---
4. Astro File Manager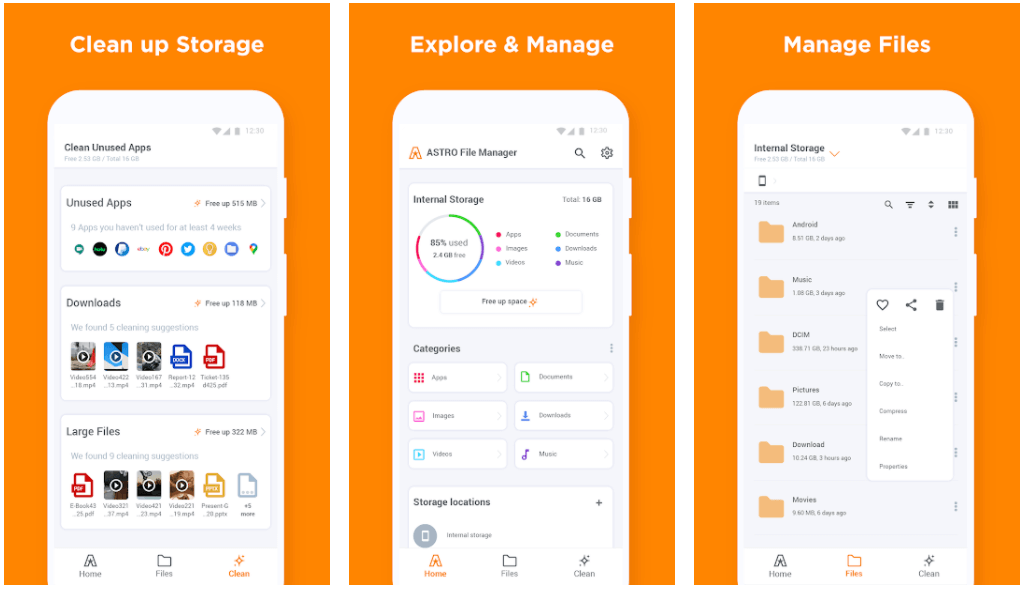 Cost: Free
Astro File Manager counts as another best file manager app for Android. You can completely use it for free and experience the major features that you don't want to compromise on. This app allows you to view and organize your files and folders in simple tweaks. You can effortlessly move as well as backup the files effectively and also get access to the information related to the storage space which helps in enhanced file management and cleanup. 
Apart from that, this app lets you enjoy features like file extraction and the complete file organization with options including move, share, copy and rename. It also provides the feature to clean the storage which can help you remove the junk files and documents. 
Besides, you can enjoy its ability to sync files across Drive, Dropbox and OneDrive. With this app, you get to compress and decompress files with its built-in archiver function.
---
5. MiXplorer Silver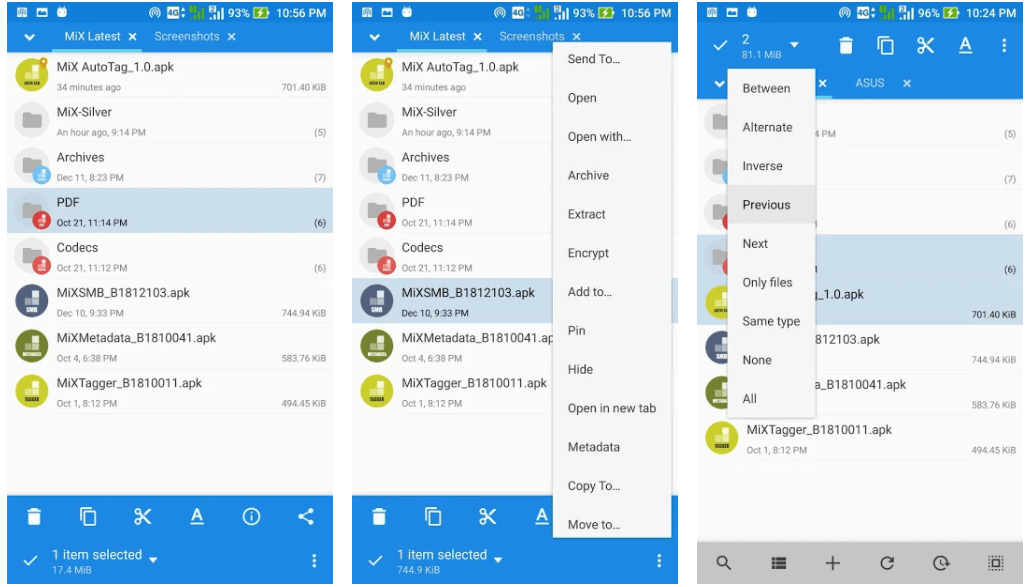 Cost: Play Store – $4.49; XDA Labs – Free
You didn't just spot the MiXplorer file manager app only for all those important functions that an ideal file manager is supposed to deliver but a whole separate world of them. This app comes with an abundance of features and that is beyond ES File Explorer so yes, it is undoubtedly worth the try. 
MiXplorer features an advanced interface with a bottom-bar panel and it allows you to create tabs. It features dual-panel, letting you switch between two tabs. Another amazing part is that it supports a huge number of file formats and allows zip and unzip on files. 
Read More: Best Battery Saver Apps For Android Smartphones
It comes with file encryption with Aescrypt protocol and allows you the password-protect PDFs. Besides, MiXplorer provides access to the root directory and features cloud integration. Then there's its ability to support FTP and SMB which is must-have for many users for accessing files on the computer. 
So if you are confused among the robust file manager apps, MiXplorer may be the best alternatives to ES File Explorer for you in that lane.
---
6. File Commander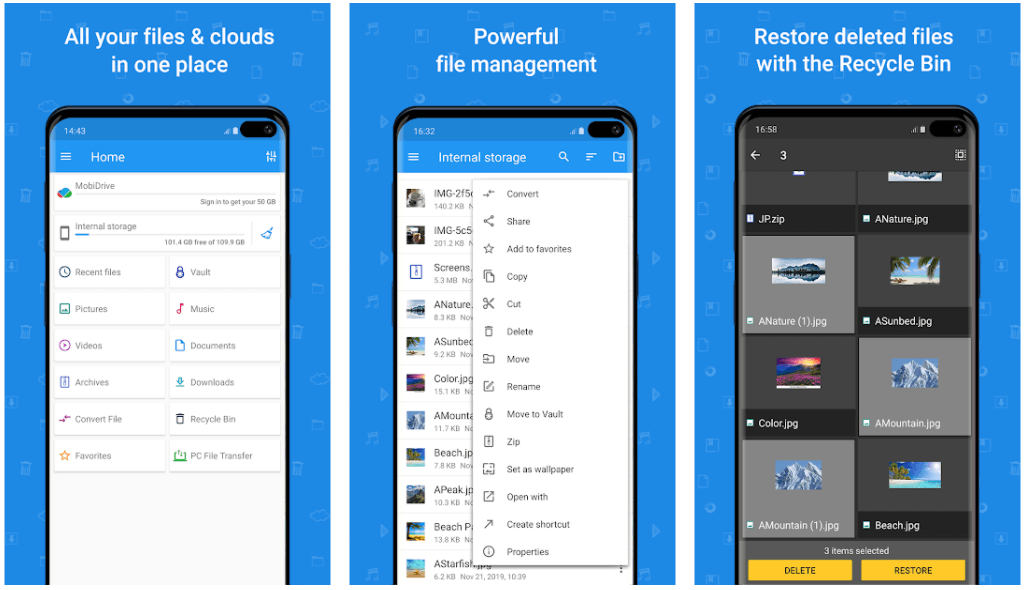 Cost: Free Trial-7 days; $2.99/Year for Premium
Another feature-packed file manager app is File Commander and it shows up at the gathering of the best ES File Explorer alternatives for all the right reasons. Firstly, it comes with file categorization and cloud sync capabilities. It allows network file sharing, USB OTG support and lets you enjoy the file compression which makes it a gateway to all the must-have features. 
This app offers services in free and paid versions where you may only be able to enjoy those extra-rich features on the paid one. The premium version provides features like Recycle bin, Storage analyzer, file bookmarks and it allows you to hide & encryption of files and folders. 
The con lies in its inability to support multitasking but you can always copy and move the files in the background which comes as a relief. So, here's yet another best alternative to ES File Explorer to try for an easy file management experience.
---
7. X-plore File Manager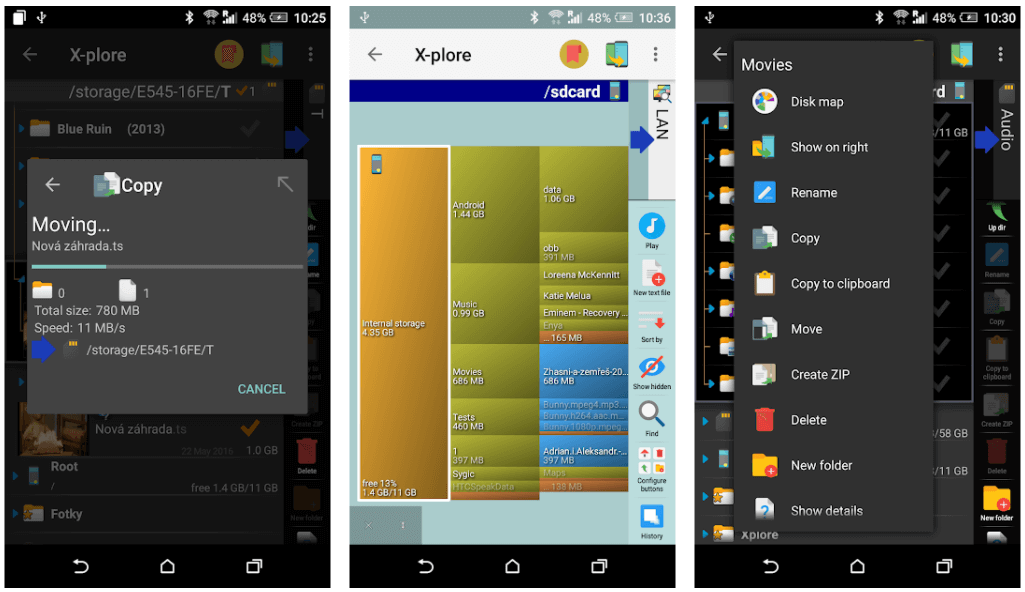 Cost: Free; In-app purchases
X-plore can File Manager is surely one of the best alternatives to ES File Explorer which is best recommended for accessing the root directory because it offers a tree-view to let users move back and forth between root directories. 
The tree view makes navigation through the file path hassle-free. Apart from this major feature, X-plore offers support for FTP/SMB and has Cloud integration. Besides, you can use its dual-pane window feature and have the tree view accessible on both the panels. Then, one amazing feature of this app is that it allows you to bookmark the files and folders without spending extra time in navigation across through the file paths. 
Read Also: Best Xender Alternatives for File Sharing & Transfer
Some of other strong features offered by this app include Batch renaming capability, subtitles support for videos and it even provides the Vault to encrypt the files. So yes, if you are a user who's looking for more advanced features then this one's for you.
---
Find the Best ES File Explorer Alternative for Enhanced File Management Experience
Now that you just had a walk through the best alternatives to ES File explorer, you must have figured out that you have got various powerful options to manage your files and folders, take care of your storage and access the data with super-cool functionality. Let us know about your view on this list and don't forget to tell us which file manager is your go-to.
Jyotsana is a technical writer with a non-technical background. An eye of detail and a knack for writing helps her to write technology related content.Apart from writing, she is a coffee connoisseur and an aesthete who rejoices in poetry and music during leisure.
Subscribe to Our
Newsletter

and stay informed

Keep yourself updated with the latest technology and trends with TechPout.
Related Posts