If you want to use a different application for emails on your iPhone. Then read this article providing the top 10 best email apps for iPhone users.
An iPhone email app lets you set up email addresses so that you can receive, read, write, and send emails from those email addresses. It also has a central place to receive, write, and send emails for all the email addresses you have set up.
When you are at your computer, you might be happy with a web program like Gmail, but when you are emailing from your apple device, you will want a dedicated application. We tested the most famous iOS email apps for several days. This article lists the 10 similar apps for iOS users in 2022.
Top 10 Best Programs For iPhone Users In 2022
Apple has a built-in Mail app that most people will find easy to use and has a good number of features. But it's not your only option on iOS; there are a lot of other great email apps for iPhone and iPad. Here are our choices for the best email apps for the iPad and iPhone.
1. Spark Mail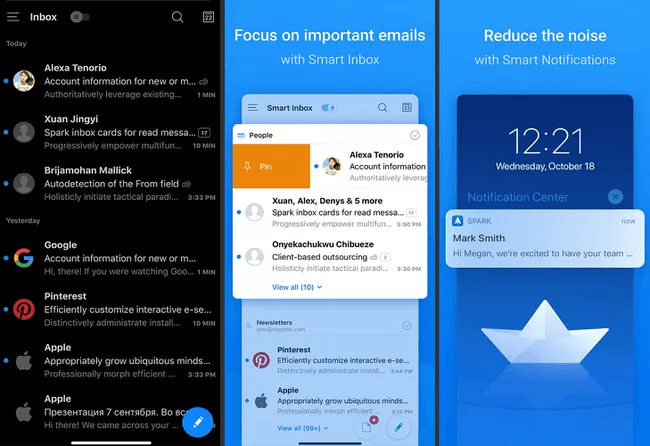 One of the best iPhone email apps is Spark Mail. Apple's choice of "Best of the App Store" for the Spark Mail app says a lot about it. It has a lot of useful features. When you open Spark for the first time, you see an inbox that is automatically organized by type. You can reply with one tap, perform actions by swiping and get quick search results that you can save as smart folders.
You can look at your schedule and add events to it from your email. The push notifications and actions that can be changed for each email account are great. Spark works with IMAP and can be downloaded for free. There are also paid packages for enterprise environments. Spark is worth a try because it can do these things and has options for email signatures.
Key Features:
Customizable actions
Smart notifications
Supports dark mode
Allows you to connect different types of email accounts
Also Read: Best Music Player Apps For iPhone
2. iOS Mail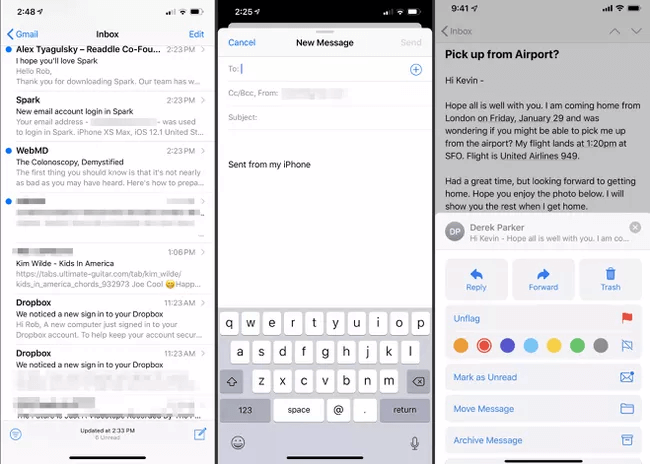 The free iOS Mail app from Apple is a solid email app for the iPhone that works well. The Mail app has simple answers that work for most situations. You can put emails from VIP senders in folders and sort them by status. Use rich text when writing your emails, and swipe to act quickly.
Most importantly, you get emails that look great, don't have a lot of clutter, and are easy to learn. Even though the iOS Mail app doesn't let you make any changes, it does work with Exchange, IMAP, and POP.
Key Features:
Integrates with multiple email providers
User-friendly interface
Synchronizes automatically with Calendar
Regular updates
3. Microsoft Outlook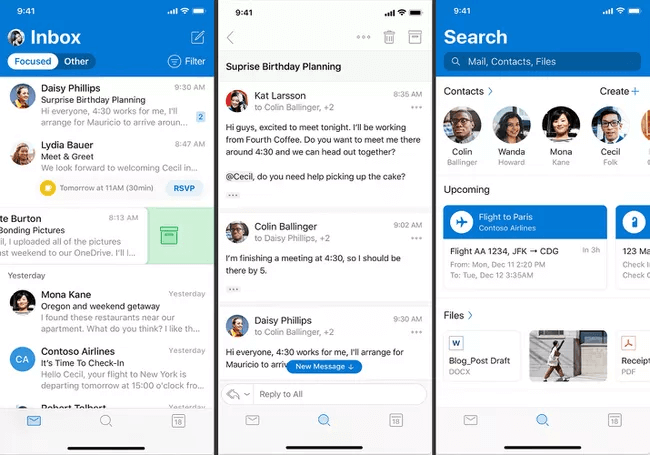 The Outlook desktop app is very different from the mobile app. This is not a big, bloated product for businesses. It's a highly functional, well-designed personal emailing software that adds basic file management (with Box, Dropbox, Google Drive, and OneDrive) and a calendar so you can do things like schedule events and attach files all in one place.
Outlook automatically divides your inbox into a Focused Inbox for mail it thinks is important and the Other Inbox for everything else. Together with the powerful search and the Contacts section, which puts all the emails one person has sent you in one place, this makes it easy to keep track of important messages.
Key Features:
Familiar interface
Regular Updates
Amazing customer services
Tons of features
4. Polymail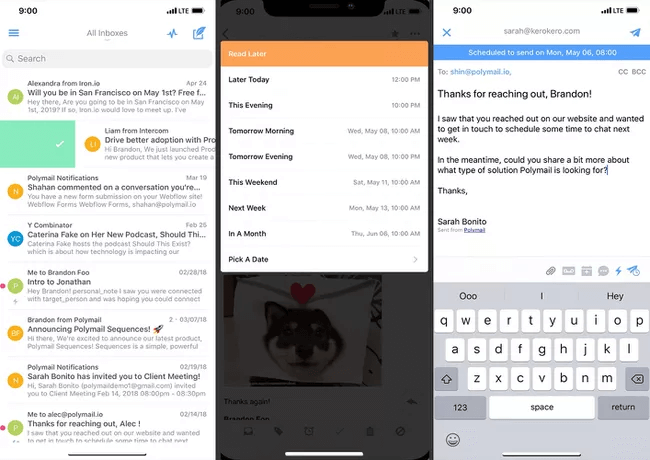 The Gmail iOS app gives your iPhone the same feel as the Gmail web app. Depending on how you feel about Gmail, this could be good or bad. Google's other services, like Google Sheets, Google Docs, and Google Drive, work well with the iOS app. Then, with one tap, it will be saved to your own Google Drive. With this, you can use the Attach option when writing a new email to get to it.
Or, it opens it in the Google Sheets or Google Docs app so you can change or update it. Gmail is still a good email app even without these add-ons. You can change the default view, which shows an icon for each sender and a preview of any attachments. You can also choose "Comfortable" or "Compact."
Key Features:
Provides a detailed report
Allows you to schedule emails to send them later
Provides click and download tracking
Reminders for follow-up emails
Also Read: Best Funny Faces Apps for iPhone and Android
5. Gmail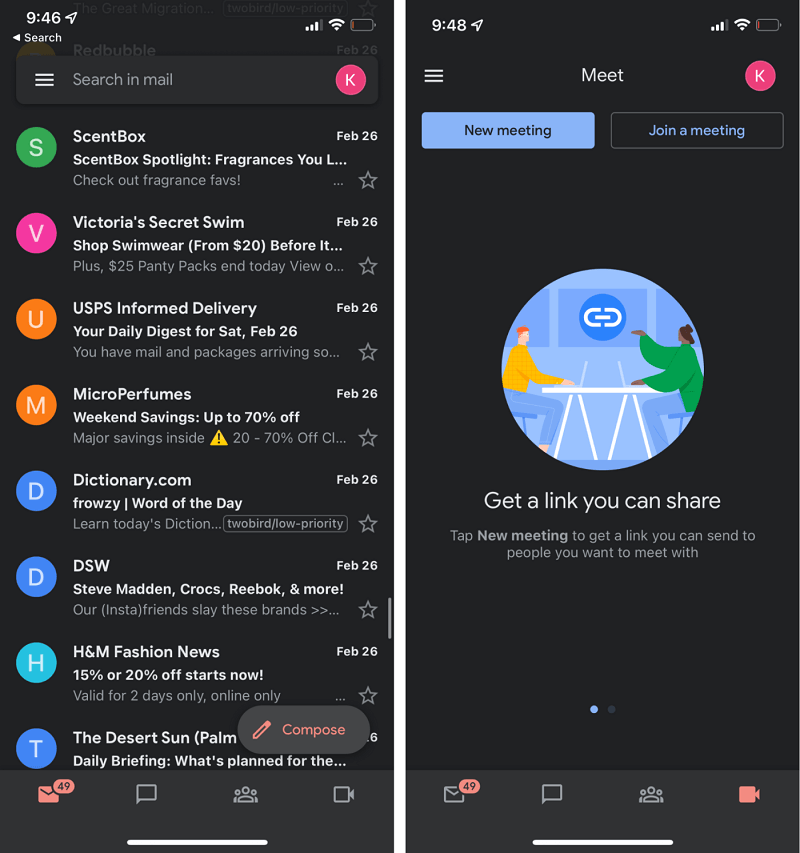 Even though it might seem obvious, people who use Gmail a lot should use the official Gmail app. The Gmail app lets you use more than one Google account, get notifications in real-time, and do a search that works for all of your accounts. Here, you can use the handy Undo Send feature to avoid embarrassing mistakes.
You can also quickly clear out your inbox with simple swipes, organize messages with labels, and respond directly to Google Calendar invites. There are many things to like about the official Gmail app, and if Gmail is your main email account, you should use it.
Key Features:
You can use it offline as well
Get notifications for specific mails only
Request and send money
Allows you to schedule mails
6. Yahoo Mail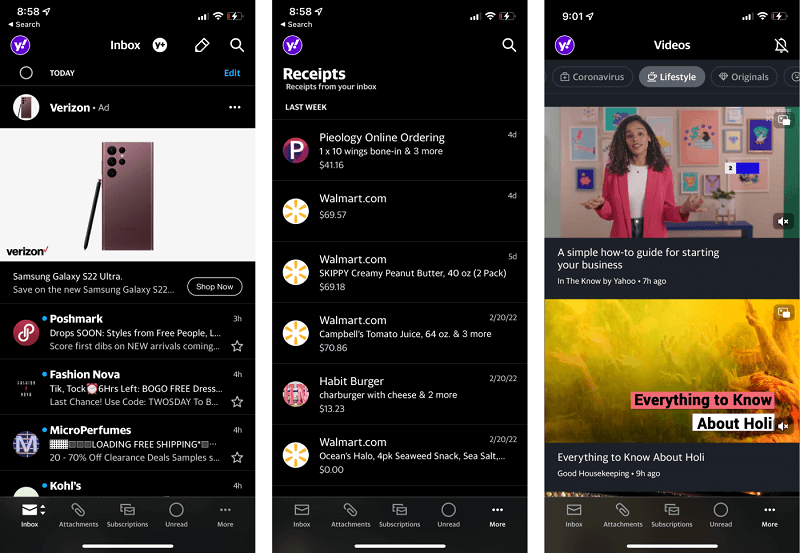 Whether you use Yahoo's mail service or not, the Yahoo Mail app is a good choice to think about. It works with accounts from other places and has a lot of features. The Yahoo Mail app is beautiful to look at, and it's easy to use and move around in.
Other features that stand out include Deals View, which lets you know when an email deal is about to expire, and Travel View, which shows gate changes, delays, and even cancellations. Yahoo Mail also gives users 100GB of cloud storage space, so you don't have to worry about running out of space. Third-party cloud storage solutions can also be used.
Key Features:
User-friendly interface
Gives you 100GB of free cloud storage
Loaded with tools and features
7. Airmail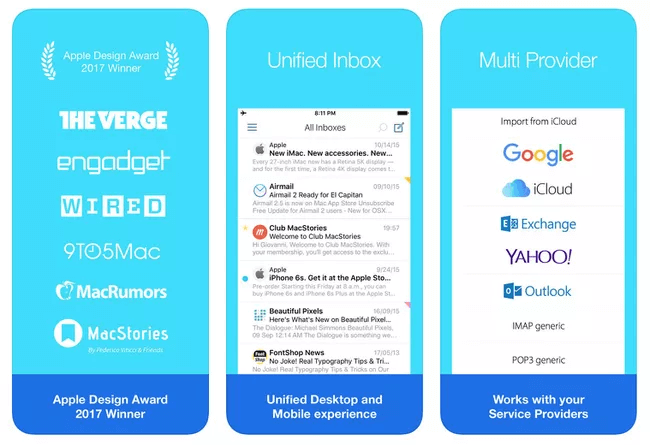 When it comes to being organized and getting things done. In Airmail, you can organize mails by their labels, turn the listicle emails into to-do lists, connect them with your calendar, and schedule email delivery using Gmail, POP, IMAP, and Exchange.
This app also lets you manage your contacts and customize your emails. You can choose to lock your email, block senders, undo emails you've already sent, or "snooze" emails. Airmail also makes it easy to send attachments from the cloud and shows the full source code of an email.
Key Features:
You can use saved mails as a template
Filter features and powerful sorting options
Helps you to filter out things like newsletters
Also Read: Best Bike Rental Apps for Android & iPhone
8. Edison Mail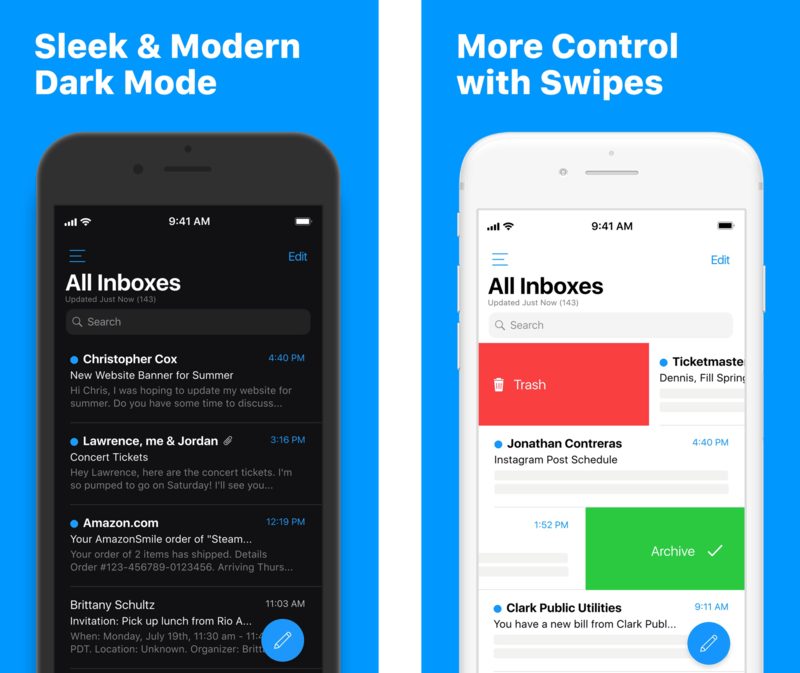 Edison Mail uses Artificial intelligence to sort emails. Package shipping, travel details, purchase receipts, and even subscription details are automatically sorted into the right groups, which you can access from the sidebar. Then you can quickly look through your favorite newsletters.
You can stop getting emails you don't want to read by tapping the "unsubscribe" button once. You can track your packages and see details about upcoming trips like boarding gates and departure times without digging through your email archive. Edison will even use the data that was sent to you with smart notifications.
Key Features:
Simple user interface
Allows you to spam or block emails and senders respectively
Responsive in syncing
Easy unsubscribe feature for mails
9. TwoBird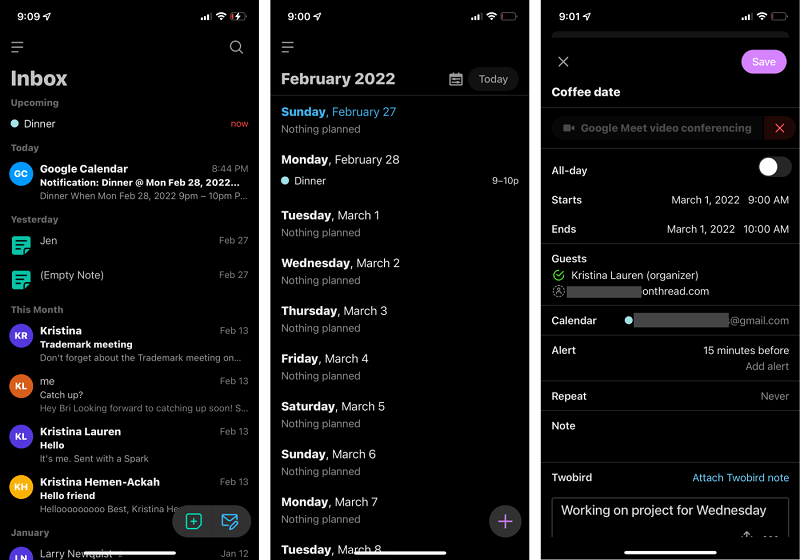 The app works like a normal email app, and it also lets you take some good notes. When you tap the green button at the bottom of the screen, you'll go to a page that looks and works a lot like iOS's Notes app.
You can start typing to make notes, but you can also make checklists, assign contacts to notes, and add comments to existing notes. Then, when you're done, you can share your notes via email or by copying a link to the note, which can be made public.
Key Features:
Appealing UI with in-built dark mode
Inbox connected to calendar, reminders, and notes
Combines to-do list and email functions
10. Triage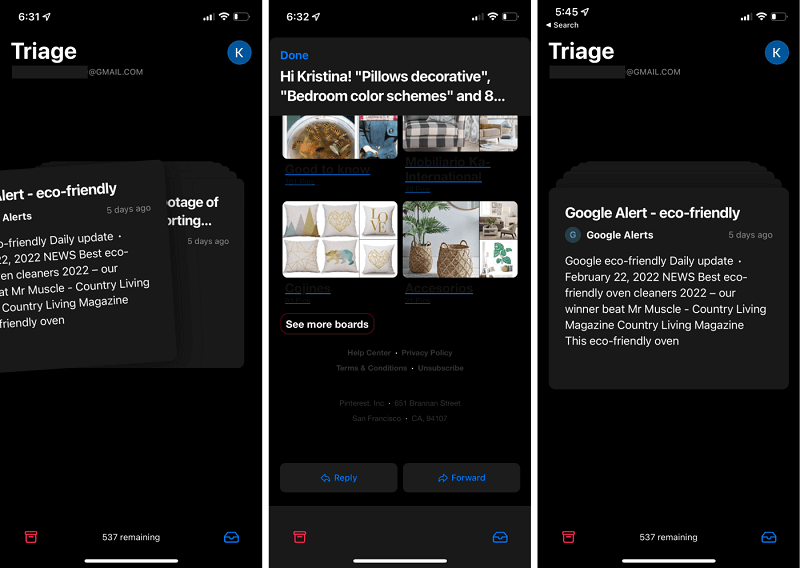 Triage may be the easiest email app on this list, but it's also by far the most innovative. The people who made this app for Apple say that it is "first aid for your inbox." The layout is easy to understand: your emails look like "cards" that are stacked on top of each other. You can archive an email by swiping it to the left, keep it by swiping it to the right, or expand and reply to it by tapping on the card.
Triage isn't meant to be used by itself, but it can be. Think of it as a useful addition to your regular email software that does a lot more. The main goal of this app is to make managing your inbox a little easier, especially if you tend to get a lot of emails.
Key Features:
Does not keep any message or user information
Allows you a secure connection for IMAP communication
Provides an iOS keychain to save your credentials
Also Read: Best iPad & iPhone Teleprompter Apps of All Time
These Were The Top 10 Best Email Applications For iPhone
There are a lot of options for email apps for iOS users. But with so many options, you're sure to find one that fits how you use email or want to use it. Try more than one if you're not sure which one will work best for you. All of them are free or inexpensive, and it can be fun to try out different ways to manage your email on your phone. If you still have any further questions regarding the same, then share them in the comment section below.
Dhananjay is someone with a deep fascination for technology. He loves all tech ranging things from gadgets to applications that make life easier. Apart from the tech world, he derives happiness from translating his knowledge into words that can make almost everyone technologically literate. When not composing any tech-related or other forms of writing, you can find him capturing the beautiful moments of the day in a camera, spending hours binge-watching, and hanging out with dear ones.
Subscribe to Our
Newsletter

and stay informed

Keep yourself updated with the latest technology and trends with TechPout.
Related Posts