Personalize your overall computer with the help of these unique desktop gadgets for Windows 10, 11, or older versions. Continue reading for more information!
We all remember when Microsoft removed the Windows gadgets from Windows 7 and we're all still upset about it. It was a shift that was not huge, but one that we could not ignore either. And the applications available in the marketplace were not a suitable replacement for those desktop accessories. Nevertheless, some third-party companies have devised techniques to bring back the feeling of nostalgia by simplifying the process of downloading Windows gadgets.
You have arrived at the correct place if you are seeking some incredible free desktop gadgets that are compatible with Windows 11 or Windows 10. Because, in this write-up, we are going to discuss the top 7 Windows Gadgets that you absolutely have to download if you want your desktop to seem like anything other than what is considered to be standard. But before we get to the list, let's learn what Windows Gadgets exactly are.
What Does Windows Gadgets Mean?
Gadgets are essentially Mini apps that are mixtures of scripts and HTML codes that offer the capability of managing the display of the system clock, downloading and displaying RSS feeds, and using other software such as Windows Media Player. In a nutshell, the purpose of installing Windows Gadgets is to simplify, speed up, and add some fun to the process of using Windows.
A List of 7 Best Desktop Gadgets for Windows 11, 10, 8, 7
We are going to take a look at some of the greatest Windows 10 Desktop gadgets that you can install on your computer in the following section. Now, without further ado, let's get started!
1. XWidget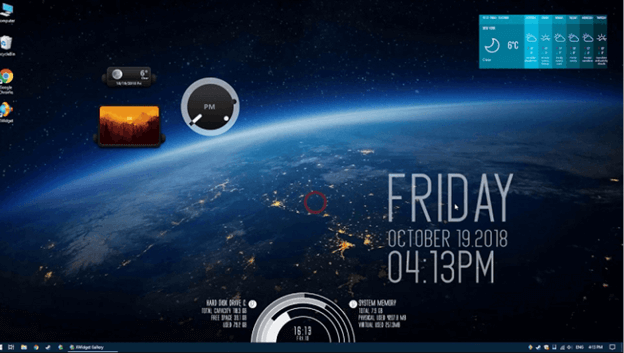 XWidget is a simple but versatile tool that allows you to personalize your Windows PC using some of Windows's built-in capabilities. After its release, it quickly became one of the most in-demand Windows gadgets for Windows 10 due to the high-quality images and motion it offered. And despite this, users still install this widget in order to improve the graphical appearance of their devices.
It will instantly install on your computer, and when you open it, you will see three widgets: a clock, a picture gallery, and the current weather. It is present on the system as a tray icon, which you may use to access more configuration options for its capabilities. XWidget has a user interface that is intuitive and simple to use, guiding the user through each stage of the setup process for this widget on their desktop.
Also Read: Best Free Reminder Apps for Windows 10, 11
---
2. Rainmeter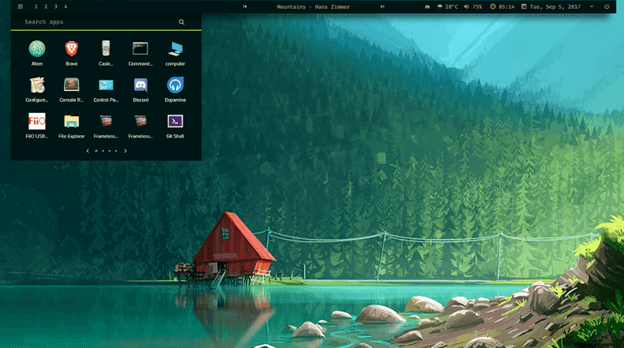 Next on our list of the best desktop gadgets for Windows 11, 10 is Rainmeter. The Rainmeter modification tool is all you need if you want your desktop to seem like a cute little gateway of information, so if that sounds appealing to you, keep reading. It is well known that Rainmeter comes with a large number of skins and programs that can be downloaded in order to make the appearance of your desktop computer more appealing. Because users are able to build their own visuals in Rainmeter and input information into those pictures, the program encourages users to use their creativity and imagination.
Rainmeter is a program that not only makes your desktop more aesthetically pleasing but also allows you to monitor the performance of your system. In addition, this Windows desktop gadget gives you the option to increase the size of the text on the screen, so you won't have to strain your eyes to see it. Rainmeter is, without a doubt, the most useful Windows 10 Desktop Widget in our opinion.
---
3. Fruity Clock Gadget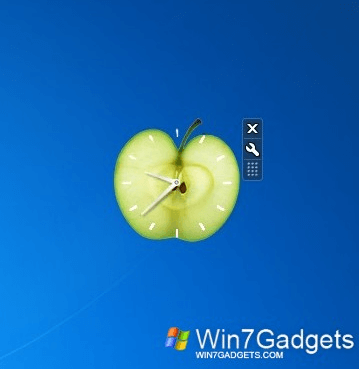 Even though we hear about new Windows 11/10 updates on occasion, the clock design never changes; it is always the same old dull one. Why not include a fun-looking clock to the list while we are talking about the best Windows gadgets for making your Windows 11/10 seem more attractive? Therefore, if you are looking for a fantastic clock, the Fruity Clock Gadget is a product that comes highly recommended.
It looks like a piece of fruit cut in half with clock needles on it. In our opinion, it should be plenty to liven up any desktop wallpaper. In addition to this, Fruit Clock also includes a Fruity CPU management and a Fruity Calendar to make working at your desktop less tedious and more enjoyable. If you are searching for an ideal Windows 10 gadget, then you should make this Fruity Clock Gadget your first priority.
Also Read: Best Win10 Clock Widget to Use
---
4. Moon Phase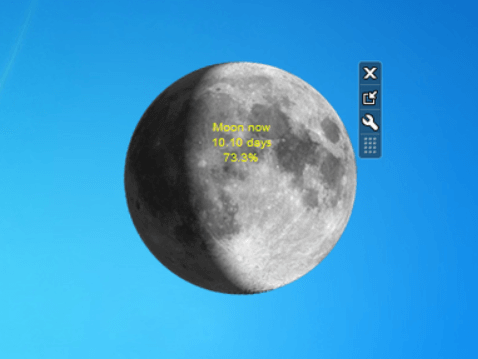 Moon Phase is one of the best Windows Desktop Gadgets you can discover, and it's perfect for anybody who has an interest in astronomy. It illustrates the many stages that the moon goes through at a given location. And with stunning images depicting the many phases of the moon, this Windows gadget or widget has quickly become our favorite. This widget obtained its data from Yahoo, therefore you can trust that it is reputable and that it will display correct information on the phases of the moon.
With this, you won't have to waste time searching for information on the moon since it will be brought directly to your desktop. That means, really, who wouldn't find it fascinating to see the phases of the moon move across their screens? In addition to the Moon Phase, Microsoft also offers an app called Lunar Phase. This software not only displays various constellations of the galaxy and varied views of the solar system, but it also provides information on the various phases of the moon.
---
5. Gadgets Revived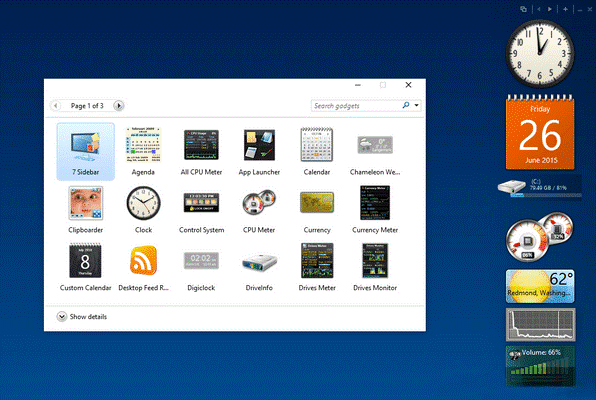 Gadgets Revived is another one of the best desktop gadgets and has emerged to bring back the Windows sidebar gadgets that had been unavailable for a long time. With the help of Gadgets Revived, you are able to download a wide selection of historically significant widgets, like the Clock, MusicRadio, Calculator, and many more.
The organization of the many electronic devices into more than 16 distinct categories is this website's crowning achievement. Gadgets Revived is one of the top websites to visit in order to get desktop widgets for use with Microsoft Windows 10/11 since each category has several iterations of the same widget.
Also Read: Must-Have Software For Windows 10, 11
---
6. Win10 Widgets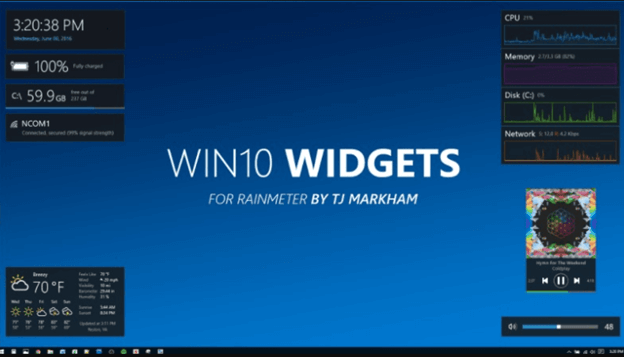 Next on this list, Win10 Widgets is an excellent desktop gadget to try in order to personalize your computer. It is an open-source application that was built utilizing the framework that Rainmeter provides.
You have the ability to install almost any kind of desktop widget imaginable with the help of Win10 Widgets. On your computer screen, for instance, you may place widgets for the weather, music, WiFi, and a great deal of other information.
This app's compatibility with a wide variety of desktop backgrounds, and screen sizes, and the ability to take advantage of Windows 10's color scheme are other important aspects that contribute to its status as one of the most useful desktop gadgets.
---
7. AveDesk
Last but not least, AveDesk is a powerful desktop gadget that you can consider. The AveDesk gadget comes highly recommended as a way to improve the overall appearance of your Windows 11/10 desktop. It gave you the ability to put icons on your desktop that were of a more complex kind and came with plugins that supported the performance of multitasking. This desktop gadget for Windows 10/11 allows you to have desklets on your computer's desktop.
Desklets are little, aesthetically beautiful mini-applications that are not only practical but also a lot of fun to work with. Anything that sits on your desktop may be considered a desklet. It might be anything as simple as a sticky note, but it could also be a calculator, a clock, or a weather forecast. To create any kind of desklet one can possibly imagine, all that is required is a little bit of creative thinking.
The greatest part is that the dimensions of these desklets can be adjusted to fit any space. Additionally, the effects may be customized, so that when the mouse is moved over a desklet, for example, a light will occur. In a nutshell, the only purpose of AveDesk is to improve the aesthetics of your desktop, and the program's little icons include everything that you might ever want to see on your Windows 10 desktop.
Also Read: Best Rainmeter Skins to Customize Your Desktop
---
Desktop Gadgets for Windows 11, 10, 8, 7 to Personalize Your Computer
In this post, we discussed a number of programs that may bring desktop gadgets back to Windows 10, 11 or older versions. You are free to make use of any of them, provided that they correspond to the kinds of desklets that you want to add to your desktop.
You may get in contact with us in the comments area below if you have any questions, recommendations, or anything else to offer about this post. If you found this information helpful, then you can subscribe to our Newsletter and follow us on Social Media so you never miss any tech updates.
Harshita Sharma is a technical writer with quite a distinct understanding of the tech realm. She is a tech enthusiast who believes that tech knowledge should reach one and all and tries to convert the sketchy knowledge into the simplest possible form for making people understand the tech world better. When not playing with words, she loves to travel and explore new places. And, is a coffee & cricket connoisseur.
Subscribe to Our
Newsletter

and stay informed

Keep yourself updated with the latest technology and trends with TechPout.
Related Posts